Many people today relocate constantly. This shifting is not only physically exhausting but also time-consuming. One must consider the feelings and emotions of not only themselves but also their family members. The family's young members must be persuaded that the new location they would relocate to is preferable to the previous one. Denials and other familial pressure must be overcome, and the whole scenario is difficult to describe in words alone. What should one do in such a circumstance? The best option is unquestionably professional assistance from trusted packers and movers! There must be a lot of labour involved in packing and transporting your belongings if you are moving from one home to another. This is why it makes sense to hire a packers and movers company and then assign them the entire work. Hiring packers and movers in Ahmedabad on NoBroker.in has several benefits, some of which are highlighted in this article.
How to book Ahmedabad NoBroker Packers and Movers service
Step 1: Go to NoBroker by downloading the app or go to NoBroker.in.
Step 2: You must express your needs to others. Just as crucial as where you shift from is when and from where you need to go. When the staff receives confirmation of the location, they instantly provide you with the lowest estimate.
Step 3: You must confirm your date and the window of time for shifting and pay the token amount, depending on whether you want to choose a Lite or Advanced package.
Step 4: After you and a dedicated relationship manager have finalised the details, NoBroker's employees will arrive at the agreed-upon time and location and begin packing.
Benefits of Hiring NoBroker Packers and Movers in Ahmedabad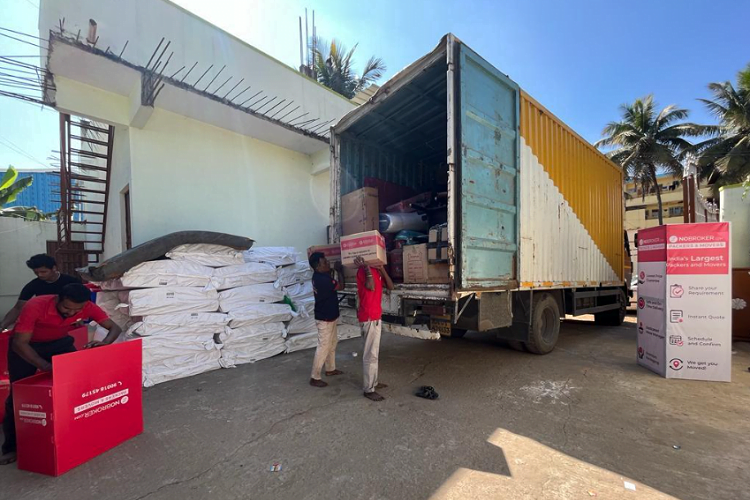 1. Expert highly rated associates
It is advised against utilizing local packers and movers vendors in Ahmedabad as they could endanger your priceless goods. The best movers must be chosen from among the hundreds of businesses on the market through a review of a NoBroker paid service. Nobroker does not use local vendors and only chooses the most reliable and highly rated packers and movers after performing comprehensive quality checks.
2. No fee for cancellation or rescheduling
Schedule your time slot and change the date whenever you choose because it's so simple to book now, make changes at any time, or cancel. With NoBroker Movers and Packers, cancellation of your relocation is free. In addition, one may book reservations far in advance to avoid excessive demand and prices.
3. Saves time
You can avoid the hassle of moving by using packers and movers in Ahmedabad like NoBrokers movers and packers. Since numerous items need to be packed and carried, moving permanently takes time. According to the suggestions, hire qualified packers and movers with a high percentage of positive evaluations, such as NoBroker movers and packers reviews. They will carry out this task and pack all of your possessions and appliances safely.
4. Best value
There are no unpleasant surprises or additional costs on the day of your transfer since NoBroker delivers the finest pricing and service assurances at 100% of the advertised rates. In addition, you may minimize damage, save time, and get accurate quotes based on your relocation information by consulting several NoBroker company reviews.
5. Structured process
A task is successfully finished if it is carried out methodically and without any etiquette changes. Since there is no plan when we move along, we frequently become sick or have accidents. The professionals you hire to assist with the relocation process are knowledgeable about the finest step-by-step technique and strictly adhere to it, which allows them to save time and energy.
6. Safe transfer of fragile items
According to the NoBroker movers and packers review, there is a chance that expensive belongings being transported to another place could be lost or damaged. The vast majority of packers and movers companies guarantee their work with insurance. If experts unavoidably hurt someone, they are responsible for paying compensation.
7. No worry about packing supplies
Packing is undoubtedly the most important task while moving. Have you ever wondered why so many packers and movers offer different prices for transferring the same quantity of goods? Due to the service's high standard overall, which includes packing. There has not been any NoBroker scam. According to the NoBroker Movers and Packers reviews, they pack everything themselves and use multiple layers of boxes to protect it from damage during shipping.
8. Value-added services like rearranging and unpacking
The packing is complete and has reached your location as well. It can now be difficult to unpack, rearrange, assemble furniture, and do other tasks. Movers and packers provide this service, and you won't have any NoBroker complaints; you may ask them to unpack and organise everything for you.
9. Provide loading, unloading, and transportation services
You won't need to seek for labourers to load or unload your things if you've hired movers and packers. The movers have a crew skilled in picking large objects and objects with unusual dimensions, such as double-door refrigerators and cabinets. If you have heavy furniture, you might need help from stronger individuals who can bear the weight of the furniture. Hiring NoBroker removes the stress of handling fragile things and heavy furniture as well.
10. Dispense with transport insurance
For your protection, transit insurance becomes crucial, and movers and packers provide it. As you are probably aware, insurance protects you from any accident. When you engage movers and packers to pack and move your belongings, they provide insurance for any damage that may occur while in transportation.
Packing and moving within the city or to different cities is one of the most time-consuming tasks that many people in India have to face at least once in their life. Taking professional help in shifting not only removes the stress of the huge work but also ensures that the work is done by experienced vendors. Having first-hand experience with NoBroker, I can assure you that they are the best option for the shifting process! Visit NoBroker.in today for hassle-free relocation! You can choose from the best vendors and decide based on verified reviews.