Managing your phone data is a prerequisite to the most common needs of a regular and convenient social reach and adaptability. Revolutions in technology have brought the world inside your phone, making it an obvious need to manage your phone data effectively. However, you may often feel the need to transfer data from Android to Android, owing to various concerns. Whatever the reason may be, it's necessary to ensure a safe and secure phone to phone transfer of your valued data, without any data mismanagement being encountered.
Importance of Phone Transfer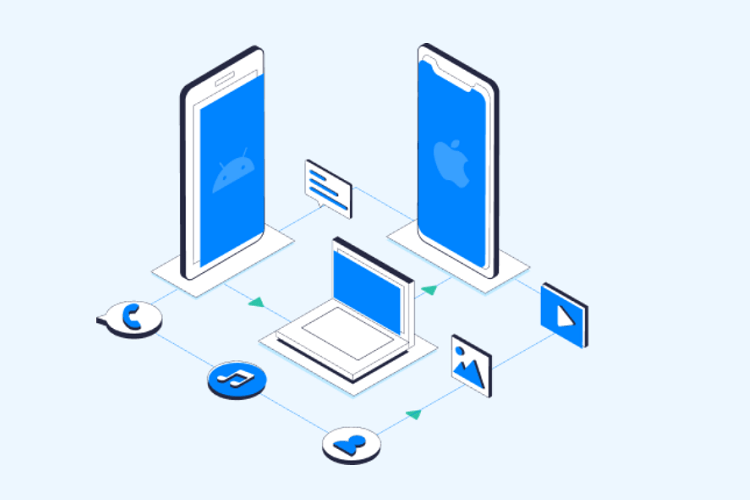 Handling your phone data over different devices may be necessary for various reasons. Regardless of your specific one among a device switch, managing bulk data or others, you require to opt for phone to phone transfer so that you don't run out or suffer a loss of your precious information. While transferring your data between two Android devices, you need to pay attention to the obvious risks of data loss, privacy concerns and time constraints.
User's Guide to MobileTrans – Phone Transfer
Finding an effective solution to the above concern may land you across varied choices. While you are free to select the most suited one for you, the Wondershare MobileTrans – Phone Transfer is an application worth trying to avail the cause. The application is extremely convenient to use, safe and secure from malware and protects your data from possible risks of loss and mismanagement.
Let's have a quick brush up on user guidelines to transfer phone data from Android to Android using the MobileTrans- Phone Transfer application. Here's what you need to follow:
Step 1: Download the Application
Download the MobileTrans – Phone Transfer PC application on your Windows or MacOS PC. Install and open the application to select 'Phone Transfer' on the welcome screen.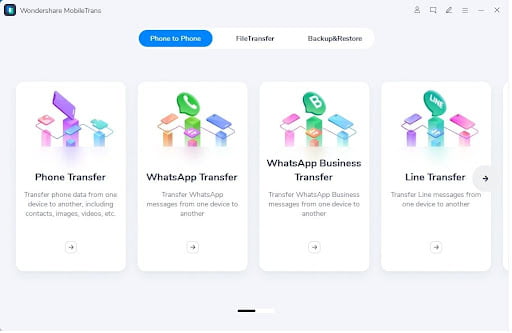 Step 2: Device Connections
Connect your Android devices to the PC. Make sure your devices are accessible by the same. Grant specific app permissions, if required. On proper device connectivity, the Mobile GoConnector application will automatically get installed on your devices to ensure a smooth and uninterrupted data transfer. The PC will designate your Android devices as 'Source' and 'Destination'. Select 'Flip' to swap the devices if you need.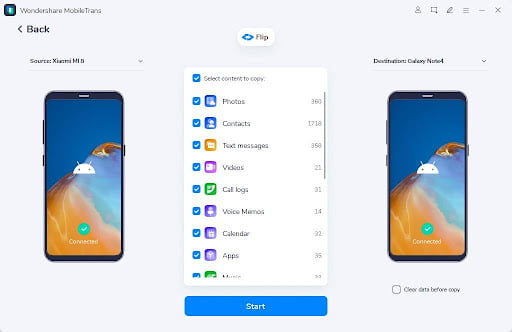 Step 3: Transfer Begins!
Click 'Start' to initiate the transfer process. In a matter of few minutes, all your phone data gets transferred and you can view the same in your destination device. Do ensure a smooth device connection throughout the process.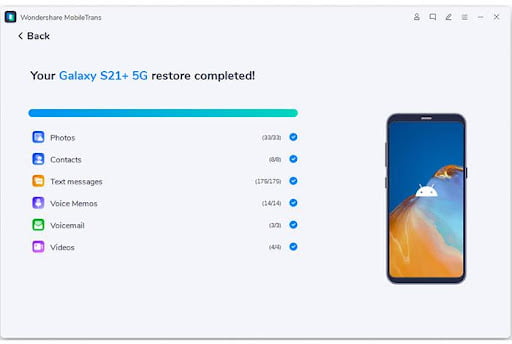 Alternatives to MobileTrans – Phone Transfer Application
If you are on a swing to find some other alternative methods for phone data transfer from Android to Android, you can see through the following options:
Via Bluetooth
Transferring your phone data via Bluetooth is a quite convenient choice. You may take the following steps to accomplish the task:
Enable the 'Bluetooth Connectivity' of your Android devices in the respective notification windows. You can alternatively turn it on by toggling the 'Bluetooth' option in your devices' Connection Settings.
Make sure your devices are discoverable by other devices. Now, use one of your Android devices to search the other. When found, the searched device will appear under 'Available Devices' in the other phone.
Click on the device name and enable pairing between both devices by accepting the device pairing request and entering the common 'pair code'.
From your 'File Manager', choose the data you wish to transfer and click on the 'Share' icon at the top.
In the 'Sharing Options' Menu, click on the 'Bluetooth' icon.
Select your paired Android device in the window that pops up next.
'Accept' the confirmation message to initiate the transfer process.
Data Transfer Via Gmail Application
This method is quite convenient to transfer small sized phone data. Having a Gmail account, all you need to do is as follows:
Open the 'Settings' application of your source Android device.
Navigate to 'Backup Settings' and open the 'Personal' tab. Now, select the 'Backup and Reset 'option.
In the following page, click 'Backup on Google Drive' and select your required backup data.
Select 'Backup' to create a backup of your chosen content on Google Drive.
Log in to your Google account in the destination Android device.
Select 'Restore Backup' and choose the data you wish to restore from your Google Drive by clicking on the respective data files.
Tap the 'Restore' button. Your selected data will now get transferred to the destination Android device.
Advantages of MobileTrans – Phone Transfer Application
Using the MobileTrans- Phone Transfer application for data transfer between android devices is advantageous because:
You can transfer all your data in one go, without having to worry about different data specific tools.
You can enjoy a wireless data transfer with this application, escaping the hustle of establishing wired device connections.
It is a quick and fast application that transfers your data to the destination device within minutes.
This application is compatible with a diverse range of Android devices.
It protects your data against privacy, malware and data loss risks.
Conclusion
There may be a variety of cases where you require to migrate your phone data between devices. Choosing a viable transfer option is an obvious necessity. When opting to transfer your phone data from Android to Android device, you can surely depend on the Wondershare MobileTrans – Phone Transfer application. This one is a visibly fast, safe and secure data transfer tool, which is capable of adhering to all your data migration needs effectively.