Using an iPhone provides you immense technical credibility on everyday smartphone operation. Without a doubt, these technologically enhanced devices are all set to develop your communication and allied tasks into an amazing experience. Nevertheless, however upgraded and appealing the device utilities may sound, there are some potential system issues, like, iPhone stuck in boot loop, device backup and restore, iOS system recovery etc, that still need an effective address by system developers. Yet again, there are some dependable solutions available too.
Solutions to Fix an iPhone in a Reboot Loop
When looking for the best solutions to set your iPhone out of the booting loop, you can see through the methods listed below:
1. Force Restart
This is possibly the most convenient thing to do for breaking the boot loop of your iPhone. Restarting your device interrupts the power input it receives and the iPhone exits the ongoing boot cycle. Here's what you need to do to restart your device:
If you are busing iPhone 6, 6S or an even older version, give a simultaneous long press (10-15 seconds) to the 'Home' and 'Wake/Sleep' buttons. Your device vibrates and exits the reboot loop.
For iPhone 7 or 7 Plus, press the 'Decrease Volume' and 'Sleep/Wake' buttons together to make your device come out of the reboot loop.
For iPhone 8 and later versions, quickly press and release the 'Volume Up and Volume Down' buttons one after the other. Now press the 'Sleep/Wake' button and wait for your device to restart.
During any of these steps, your device will shut down before restarting. Don't release the 'Sleep/Wake' button during this interval.
2. iTunes Method
Using this method is advantageous because you can discontinue the iPhone reboot even loop after enabling recovery or DFU mode. Ensure having the latest iTunes version before starting with this process. Take the following steps:
Launch iTunes after connecting your iPhone to a PC.
After iTunes detects the issue with your device, a pop up message will be displayed on the screen. Click 'Restore' to fix this problem.
In case you don't receive pop up message, you can opt for a manual restore of your iPhone by clicking on the 'Summary' tab on the screen, followed by the 'Restore iPhone' option. iTunes will restore your device in sometime and it will exit the boot loop.
3. Factory Reset
You can choose the factory reset method to fix your iPhone stuck in boot loop if no other processes fail to resolve the issue. However, make sure you have a data backup before you begin with this method, as you might suffer a total data loss during the process. Here's what you need to do:
Connect a data cable to your iPhone.
Give a long press to the 'Home' button while connecting the iPhone to a PC.
Launch iTunes on your PC and release the 'Home' button. Your device has the recovery mode enabled. Now, its backup can be restored on iTunes.
4. Clean Application Data
Your iPhone may sometimes enter the boot loop on account of an application being downloaded from an unauthenticated or suspicious source. You may check this by reviewing your application settings.
Follow the given sequence in your iPhone's application menu:
Settings-> Privacy-> Analytics-> Analytics Data
Uninstall any applications you find repeatedly listed and delete their associated data. Now check whether your device has excited the boot loop. If not, you can follow the other methods explained above to fix the problem.
Other Alternatives: Dr. Fone – System Repair (iOS)
There are several methods to fix an iPhone stuck in boot loop. However, using these methods can render your device prone to potential data risks. You may further encounter issues of iPhone version compatibility with these methods. As an effective solution to the problem, the Dr. Fone toolkit comes with Dr. Fone- System Repair (iOS), an efficient application to make your iPhone exit the reboot loop.
User's Guide to Dr. Fone – System Repair (iOS)
Take the following steps to break the reboot loop of your iPhone with this application:
Step 1: Download and Launch the Application
To begin, download the application and launch the same on a Windows or MacOS PC. On the application's welcome screen, select 'System Repair'.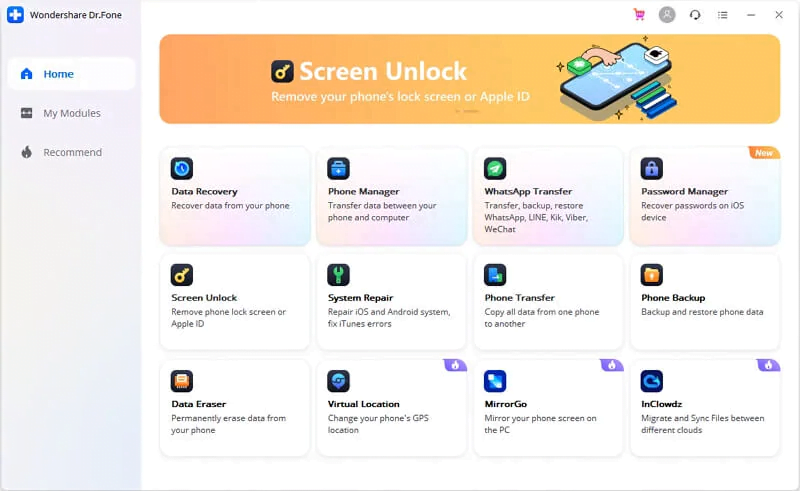 Step 2: Mode Selection
In the 'System Repair' module you will be asked to select repair mode. Click on 'Standard Mode' option.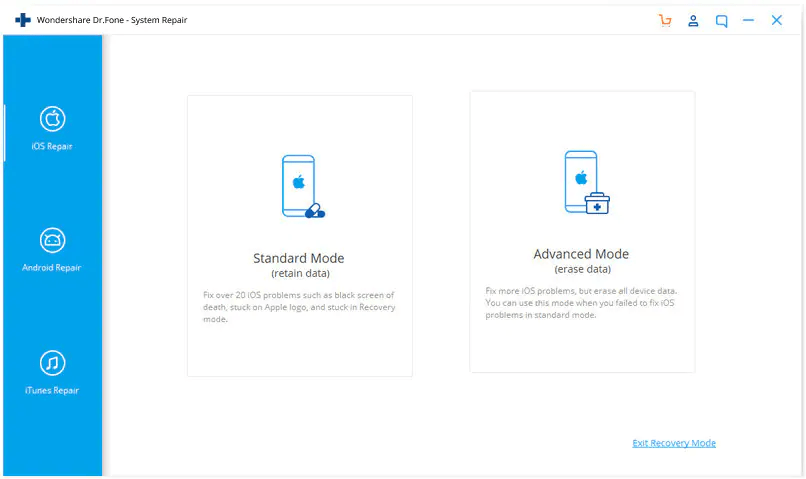 Step 3: Firmware Download
In the next pop up window, provide the necessary and exact version details of your iPhone and click on 'Start'to download the version firmware.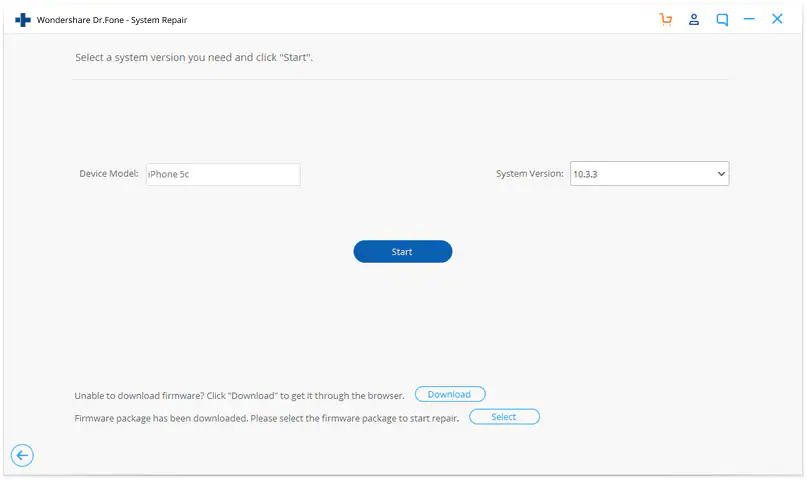 Step 4: Ensuring a Smooth Connection
Ensure a smooth internet supply and proper device connections with your PC while the firmware download is in progress. Wait for the process to finish.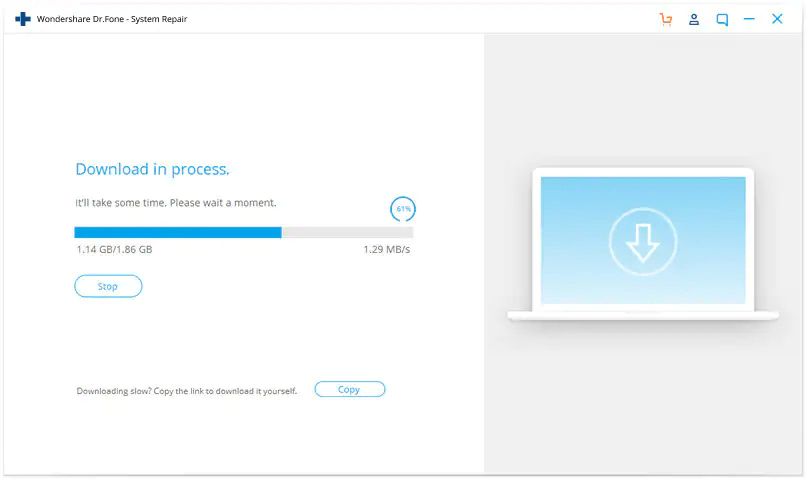 Step 5: Fixing the Issue
Select 'Fix Now' to allow the application to resolve your device's system issue that has possibly caused it to enter the boot loop.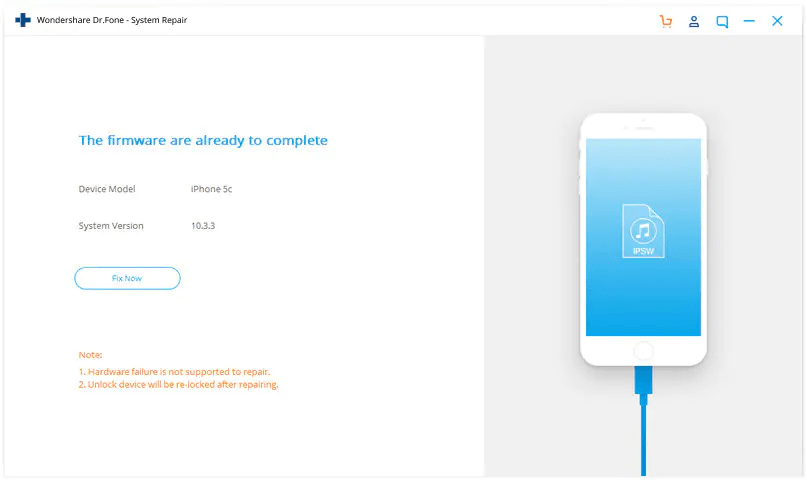 Step 6: Back to Normal
Your iPhone reboots once again to switch to the normal operation mode after Step 5 gets completed. You can check for this once the following screen pops up: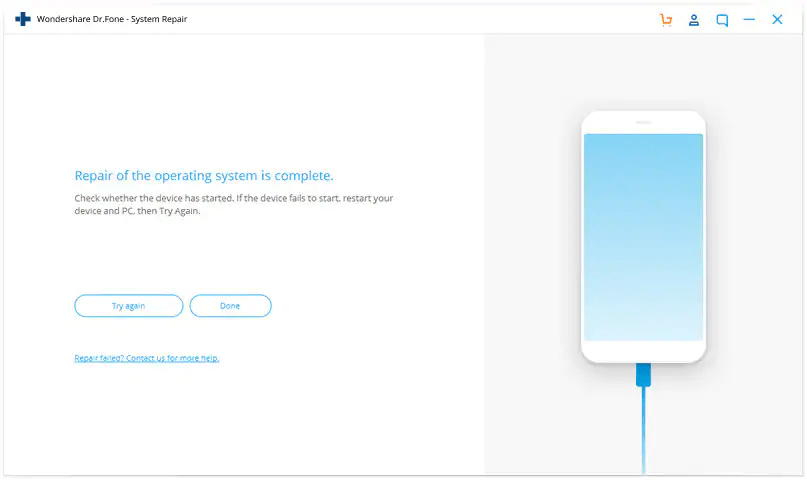 Conclusion
Everyone out there is conveniently fascinated by the smart, AI upgraded; classy iPhones when it comes to choosing technically enhanced communication devices. However, loopholes in the technical compatibility of iPhones are something that is encountered with regular usage. These devices are often heard to suffer from issues of iPhone stuck in boot loop, effective and complete data backup, etc. Among several methods available to resolve the issue, the Dr. Fone- System Repair (iOS) application has achieved notable user satisfaction. Enabled with features of data band privacy protection, user friendly interface and quick fixation process, this application promises to break your iPhone's boot loop in a matter of few minutes.