Pakistani migrants have no idea how an integral part of their expatriate life can help them win one of the two massive cash prizes to the tune of Rs 10 million each or one of the 91 small cash prizes of Rs 1 lac each.
Yes. Do not be surprised.
All Pakistani migrants who send money to Pakistan from the UK, Europe, Canada, Australia, and Switzerland have a big chance of winning the massive cash prizes stated above.
ACE Money Transfer has launched yet another exciting campaign to dole out several cash prizes to its valued customers through many lucky draws.
The company has launched this exciting campaign in collaboration with Bank Al Habib, which is one of the largest banks in Pakistan, with over 1,080 branches across the country.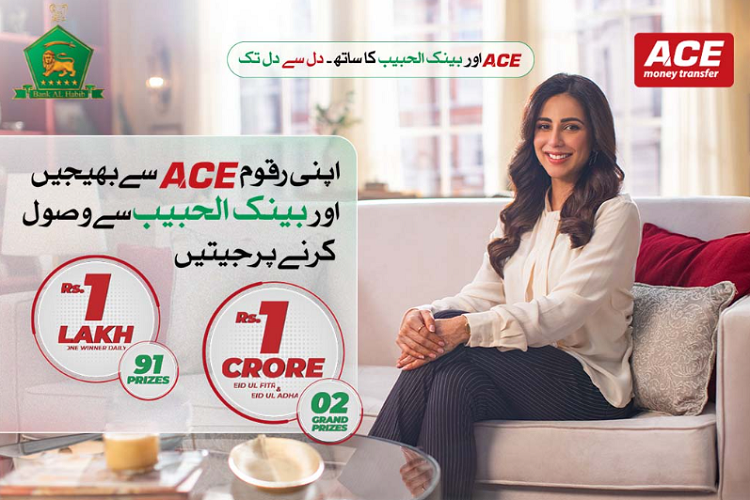 Introduction Of Exciting Current Campaign
The two financial giants have entered into a partnership again to benefit their valued customers in ways they could not have imagined before.
ACE Money Transfer and Bank Al Habib have joined hands yet again for this current campaign in which the Pakistani migrants stand a chance to win one of the two massive cash prizes of Rs 10 million each and 91 small cash prizes of Rs 1 lac each in a series of lucky draws.
What is more exciting than the campaign and the prizes being doled out is the easy ways to participate in it.
Think about it.
They say the most beautiful views come after the hardest climbs. Right?
Here, the firm proves it wrong!
In this campaign, the views are most beauteous with the easiest climbs.
Pakistani migrants need to send money to Pakistan from the UK, Europe, Canada, Switzerland, and Australia to any of the over 1,080 branches of Bank Al Habib during the campaign duration.
The campaign duration starts on the 1st of April and ends on the 30th of June, 2023, both days inclusive.
Taking these two simple steps will make them eligible to participate in this current campaign.
Ascertain here the Complete Campaign Details.
Why Do Pakistanis Travel Abroad?
Pakistan has one of the largest diasporas worldwide, with about 9 million Pakistanis living abroad, according to a report by Pilot Guides.
A few reasons why they travel abroad are discussed below.
Unemployment And Poverty
A majority of the country's population is bearing the brunt of unemployment due to economic policies. This unemployment breeds acute poverty, which makes it difficult for people to make ends meet.
They, therefore, travel abroad in a bid to find better job opportunities.
Lack Of Quality Education
In almost all developing countries, including Pakistan, the provision of quality education to people on a large scale has always remained a grave challenge. The available quality education is expensive and out of a majority of parents. On the other hand, the kind of education that is largely available and accessible to a majority of parents is not worth consideration due to its low quality. So, people travel to developed countries for quality education.
Because in developing countries, one's financially secure future largely depends on the kind of education they get and from where.
The Misery Index
The misery index is the total of inflation and unemployment rates for a specific time. The level of misery index in Pakistan rose from 15.2 to 36.8 in the recent past and is the highest in the country's history, a former governor of the State Bank of Pakistan (SBP) is quoted as saying.
The Flailing Economy Of Pakistan
In 2021, the country's nominal GDP was $348.26 billion, according to a World Bank report.
Pakistan's GDP per capita income was $1,505, according to another World Bank report published in 2021.
The Burgeoning Population
According to the undeclared results of the latest census exercise, Pakistan is home to about 246.5 million people. About 40 million souls have been added to the total headcount since the last census exercise of 2017.
This surging population is burdening the country's resources beyond its strength and capacity, making it difficult for a majority to live a financially decent life.
The Lack Of Savings
The limited financial means the people largely have are barely enough to make ends meet, and that too with a huge compromise on the quality. In such a scenario, savings is next to impossible. But working abroad can enable them to save for the future and rainy days.
This is precisely where ACE Money Transfer steps in with its current exciting campaign to dole out 2 massive and 91 small cash prizes to Pakistani migrants through several lucky draws.
Partnership Between ACE Money Transfer And Bank Al Babib
The reason behind this partnership is to promote the use of legal channels, which are being slightly missed in the wake of rising taxes and stricter government regulation of inward remittances.
One party in this partnership is ACE Money Transfer which operates within the legal bounds, and the other party, Bank Al Habib, is also one of the most reputable banks in the country whose number of branches only can testify to the fact that the institution operates within the government regulations.
Increase Chances To Win
Simply spread your transactions across the campaign duration and keep sending money daily to any of the branches of Bank Al Habib through ACE Money Transfer. Avoid sending your funds in bulk just once.
Schedule your transactions according to the guidelines explained above, which will increase your winning chances.
ACE Money Transfer – Send And Surprise
Yes, you will surprise the recipient when they receive funds in just 7 seconds in exchange for low fees, live exchange rates and much more. And your luck can surprise you with winning one of the 2 massive cash prizes of Rs 10 million each or one of the 91 cash prizes of Rs 1 lac each.