Looking for a comprehensive, more effective method of managing your field service operations? You've arrived at the right spot. Find your ideal fit among the top field service management software options available on the market right now.
If you have been working in this industry for some time now, you know how challenging the tasks can become. Field service management is an elaborate and intricate process that involves connecting all the dots—from receiving incoming service orders and matching them with trained, available technicians to monitoring task progress, keeping track of work hours, and everything else in between.
If you've done everything manually up to this point, congrats on accomplishing the impossible!
With that being said, it is also important to remind you of the inevitable: you are missing out on the biggest competitive advantage that you can probably get your hands on at this point. With the advent of modern technology, the traditional way of doing business has gone through a massive overhaul, and the field service industry is not beyond its scope either. If you look around, every leading service company is taking advantage of cutting-edge digital tools to make the most of its resources and simplify operations. As an immediate result, they are reaping huge benefits in terms of productivity, efficiency, and, most importantly, profitability. If you want the same for your service business, you need to shake things up and embrace digital transformation.
This might seem like a lot, especially for a small business or someone who has just started in the field. But in reality, managing a field service business has never been easier. There are various software solutions and mobile applications that can help you achieve this goal. You just need one digital tool—a Field Service software solution.
The current market, however, is flooded with multiple software options. It could be overwhelming for you to find the right fit for your business.
To help you with the task, we have lined up the best field management software solutions in this article. Here you will find everything you need to know about this smart piece of technology– how it works, how it benefits your business, and above all, detailed reviews of the top field service management software solutions. So read on to find the perfect fit for your company.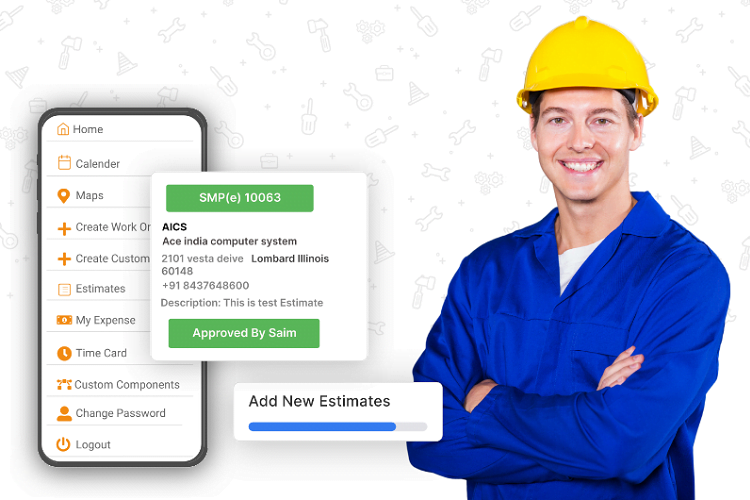 What is Field Service Management Software?
Field service management (FSM) software is a cutting-edge technology created to support field service business owners and managers in maintaining control over all the moving parts by automating specific tasks and providing valuable information such as real-time updates, customer insights, and many other capabilities, while also offering remote access to the field team.
In other words, it is a piece of software that enables companies to manage all the resources needed for field service management tasks. Companies that offer on-site services and technical know-how, such as equipment maintenance, cleaning, repairs, relocation, and delivery, frequently employ FSM software. Other sectors that frequently employ field service management software include telecommunications, utilities, healthcare, and transportation. These software programs have functionality for work order management, inventory control, route optimization, scheduling and dispatch, analytics, and reporting.
With field service management software, you can manage your daily operations with total convenience and efficiency using just one straightforward application instead of this time-consuming and difficult process.
What to Look for in Your Field Service Management Software
The following characteristics and features should be considered when searching for quality field service software:
Ease of Use: It provides an intuitive user experience and is simple to set up.
Mobile access: It is available for use on mobile devices so that you and your field crew may view and update information while on the move.
Scheduling and dispatching: Using information about the availability, skill set, and location of your field personnel, you may efficiently dispatch and schedule them.
Work order management: You may create, assign, and monitor the progress of work orders.
Time tracking & billing: You may create accurate billing bills and keep track of the time spent on each assignment and the number of hours worked.
Customer management: You and your staff are able to track customer satisfaction, view client information and history, and engage with customers.
Inventory management: You can keep track of your inventory and assign the equipment and supplies your field team will need for the project.
Data & reporting: All data logged in the system, including real-time insights, is available for viewing and reporting.
Customizability: It is customizable to fit your team's structures.
Support: It has good customer service to assist you with any problems.
Price: It is affordable and works with your budget .
Top Field Service Management Software
1. Field Promax
Specifically created for service delivery companies, Field Promax is a cloud-based field service management software solution. The smart, effective digital tool is well-known all over the world for its extensive feature set and outstanding capacity to standardize and streamline corporate processes.
With this amazing piece of technology, one can essentially manage and thoroughly automate the entire corporate process. For practically all tasks, including scheduling and dispatching, estimating, monitoring, reporting, invoicing, and a lot more, Field Promax offers digital solutions.
For management and field technicians alike, it has an integrated mobile application. The app allows technicians to do a variety of tasks, including clocking in and out, accepting or rejecting work orders, updating their job status, alerting management to the amount of time spent on a particular assignment, adding materials and parts to the work order so that they are included in the final invoice, and much more.
The app effectively connects field technicians with management operations back at the office using GPS technology, enabling the most organized, effective, and remote field service management collaboration.
Furthermore, Field Promax provides seamless support for QuickBooks integration. Using the two-way sync, you can organize all your data on a single platform and use the same for a host of critical tasks, including work orders, repeat order management, customer database management, billing, and invoicing, among others. This way, Field Promax helps you avoid redundant data entry, and other manual errors such as double entry or mismanagement.
The best feature of Field Promax is how simple it is to use. Despite having a wealth of sophisticated features and operations, the system requires almost no training. Additionally, it is accessible through computers and smartphones, without the need to purchase expensive equipment or install complicated software.
For every service delivery organization, Field Promax is the ultimate end-to-end field service management software solution. It is designed to increase your company's efficiency, transparency, agility, and flexibility, all at a shockingly low cost.
2. Workiz
Workiz is a one-stop shop for small to medium-sized on-demand field service businesses.
Field service professionals can use Workiz to build their businesses by abandoning outdated business administration methods like pen and paper, Excel spreadsheets, and Google Calendar. Workiz provides a simple platform for them to handle their scheduling, invoicing, payment processing, and other tasks.
Workiz contains a number of valuable tools that can assist service organizations in increasing income and optimizing operations. Online booking, quote management, invoicing, online payments, and reporting are among the capabilities available. Workiz also includes call booking, which is not available at several of its major competitors.
3. mHelpDesk
mHelpDesk is a field service solution that assists customers in automating everything from initial customer interaction to payment. This comprises customer management, quoting, dispatching, invoicing, billing, and reporting. The efficient field service software is quite robust and can handle a wide range of scheduled and unscheduled workflows, as well as one-time and recurring appointments.
mHelpDesk includes a number of features to help a field service-oriented organization, including accounting integration with both QuickBooks Online and QuickBooks Desktop. It also has an offline mode, which allows technicians to use the mobile app even when there is no internet or phone reception.
mHelpDesk's invoicing system is fully linked with simple scheduling software, allowing for one-click billing with work monitoring and reporting that ensures you get paid quickly and consistently. It also offers the benefit of eliminating double data entry when working with third-party accounting systems like Quickbooks. Estimates and invoices are also configurable, allowing businesses to develop templates that are appropriate for their operations and clients. The system also interacts with any one-of-a-kind company website, supplying functioning widgets, forms, and login boxes.
mHelpDesk is available on any mobile device with internet connectivity because it is totally cloud-based. This enables field technicians to obtain all job-related information directly from their mobile device. mHelpDesk also gives visibility into personnel schedules, which aids in dispatching and alerting field employees.
4. FieldEdge
For companies that require additional assistance with client management, FieldEdge is the best field service management system. Users can access the history of contracts, quotes, bills, equipment, and work orders using FieldEdge's customer management tool. It offers a thorough overview of each client and previously completed work.
To help clients and provide them with a better experience, the software enables field service technicians to share photographs with them. Customers can get a comprehensive rundown of installation procedures, maintenance issues, and equipment by uploading photographs to a work order. Customers can also see how a problem has developed by looking at pictures captured over time. Additionally, it offers a thorough history of each piece of equipment. This aids professionals in deciding whether it's necessary to replace any equipment that's inside a customer's home.
Every piece of equipment has a shape that technicians can create. The smartphone app allows technicians to access and upload electronic versions of equipment specification papers.
5. Service Fusion
Service Fusion is a popular web-based field service management software that offers a variety of features to streamline and automate service businesses. With the help of Service Fusion, small-to-midsize service providers may maximize their business potential.
Service Fusion is an all-in-one field service management system. With enterprise-level features, the software enables businesses to run their operations from anywhere. It enables service teams to design invoices, schedule and dispatch, and create estimates and jobs. Currently, Service Fusion provides support to businesses in a wide range of field service sectors, such as HVAC, plumbing, electrical, appliance repair, IT services, A/V, and smart home automation. It gives small to midsize field service companies the tools they need to handle jobs, estimate requests, and customers better, which helps them stay competitive.
Service Fusion also offers automatic voice and text notifications, simplified scheduling and payment, and customer and field worker mobile apps. The technology helps field service businesses win over clients, ease staff burdens, and expedite payment without breaking the bank.
Service Fusion is highly versatile, allowing a wide range of customization for the application of user-specific preferences and rights to the system's numerous modules. For Apple and Android mobile devices, the program also provides native mobile apps.
The Benefits of Field Service Management Software
Evolving from paper-based legacy methods, field service companies can gain a huge advantage with field service software. The major benefits for small and medium enterprises include:
Increase productivity by streamlining and automating routine tasks like work order management, dispatching, and scheduling.
Enhance customer satisfaction by enabling you to handle service requests quickly, assign jobs, and provide staff members immediate access to pertinent job data to deliver quicker and more individualized service.
Increase revenue by enabling service contractors to bill consumers more properly and rapidly, minimizing the time and effort needed for invoicing.
Enhance visibility and control over operations using real-time access to staff location, performance, work status, and inventory levels and be able to make data-driven decisions and pinpoint areas for performance improvement.
Ensure safety and compliance by giving you and your team the ability to discuss problems immediately and stay up to current on appropriate work processes.
With any of the field service software solutions mentioned above, you can easily achieve these goals in your business operations. However, depending on your specific business needs, it is only you who can decide the best fit. So, before you make a decision, make sure you understand the purpose and see whether it meets your requirements.
Final Thoughts
Given the direction the field service sector is taking, technology is the only way to go. Customers don't want to wait; they want the answers instantly, and using antiquated techniques may be costing your company money. To avoid losing customers to the expanding competition, your operations must be effective.
With so many field service management choices available and a wide range of features, making a decision shouldn't be challenging. When you have real-time access to reports and other data, you'll wonder why you didn't convert earlier.