How can we exercise and stay fit? It is a huge question, and there could be thousands of answers. The application market is full of free and paid fitness and diet applications, but we have selected only five of those which come with no or limited ads and work well without any difference between free and paid versions. These applications can help you reach your goals, be it losing weight or just maintaining your fitness.
Best Free Fitness Apps
Use these Best Free Fitness Apps for Android to find clear instructions on each exercise, generate customized workout plans based on time or repetitions (for example, three sets of ten reps), track how much weight you've lost, set goals, monitor your progress with pictures and statistics, share workouts with friends by e-mail, social media networks, etc., use timers. The possibilities are limitless.
adidas Running App Run Tracker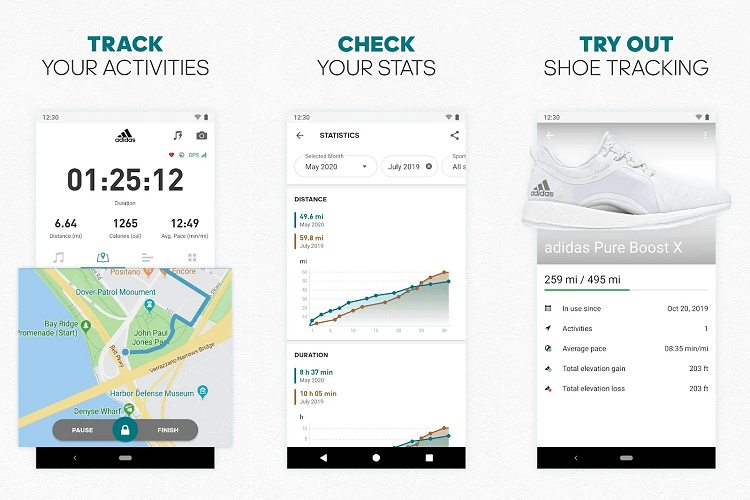 If you are into running, jogging, or walking, then you must try Runtastic. It is the best free fitness application for Android, which helps you track your activities and progress without wasting time on counting steps and tracking speed. What if someone told you that it could record your mileages as well? Yes! This android application has got all features under one roof.
Runtastic offers a lot of options via GPS: Speed & Cadence Sensor, Distance, Duration, Calories Burned, etc. You can also use Google Fit and Apple Health to monitor your activity automatically and sync it among different devices and applications of yours. The great thing about Runtastic is that you don't need any external devices to utilize its features completely. However, Runtastic can sync with Heart Rate Monitor, Foot Pod, Cycling Speed & Cadence Sensor devices.


Strava Tracker
Linking this fitness app with the Strava account will let you save all your activities to Strava's servers, where they can be analyzed, shared with friends, or pushed towards third-party sites. One downside of the application is that the overwhelming amount of data collected by Strava might take hours or days to sync via mobile network depending on your location or use an unlimited Wi-Fi connection if available. Apart from that fact, Strava offers a very clean interface for recording activities that can be easily synced among different platforms. It has settings for Apple Health as well if you are using iOS-based devices.


HealthifyMe – Weight Loss Coach & Diet Plan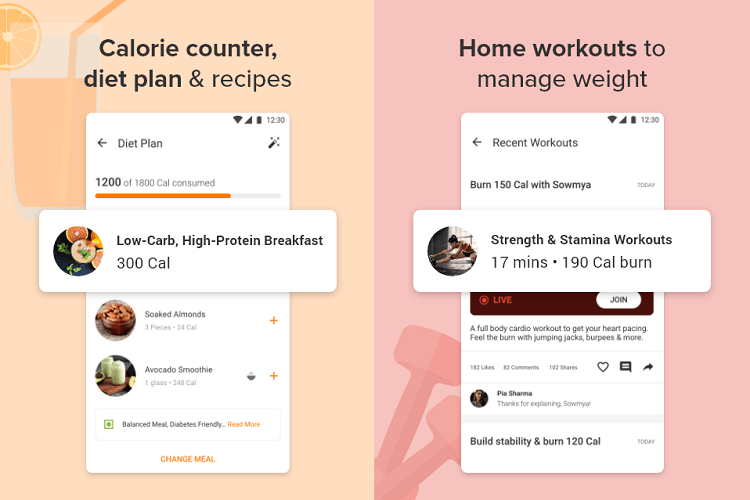 For those struggling to lose weight or searching for a weight loss coach, HealthifyMe is the best free fitness application for that purpose. The application asks you simple questions about your lifestyle and daily food habits and calculates how many calories you can eat in a day so that you burn out all your fats within a few weeks.
The app uses "Weight Loss Coaching" to provide healthy diet plans with weekly updates so that people won't feel hungry or bored of eating the same kind of meals every day. It also lets users record their body measurements on a regular basis so that they can measure their BMI (Body Mass Index) to track their progress. This android application is just like having your own personal trainer at home waiting for your morning and night.


Fitness Point – Diet & Exercise Diary
This android application is like having your own personal trainer at home. The best thing about Fitness Point is that it is absolutely free and has got everything you need to keep track of your progress in the form of a weight loss calculator, diet plan generator, and calorie counter with exercise logger.
It lets you count steps, log food items, set goals, monitors sleep patterns, etc., unlike any other fitness app available on Google Play Store. You can also share workouts among friends by sending e-mails or via social media networks so that they can participate with you in achieving common goals.


Google fit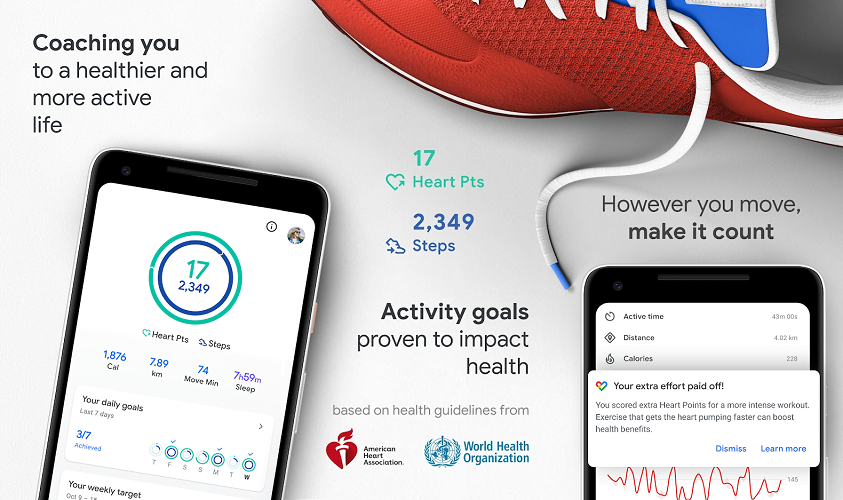 Google Fit is the official app by Google Inc. It is designed for fitness purposes, and it tracks your heart rate, walking, biking, and running. It can also be valuable if you wish to track your sleep patterns. Google fit shows you some valuable data in a graph format.


MyFitnessPal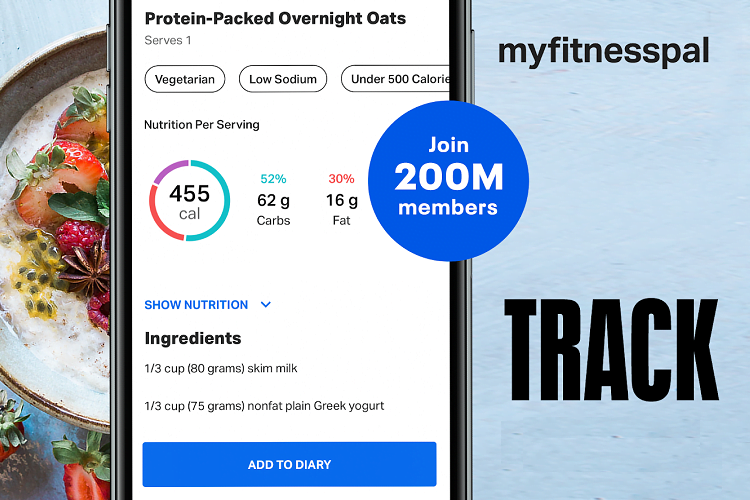 My Fitness Pal helps you achieve your weight loss goals by setting calorie goals and tracking them right away with its food database. This free app also allows exchanging recipes with friends over Facebook and Twitter platforms. This is one of the best apps available for android users to track their calories intake easily.


Nike Run Club
Nike has designed this smart training club especially for athletes or fitness lovers all around the world. This app tracks your time, distance, and calories burned during running.


Runkeeper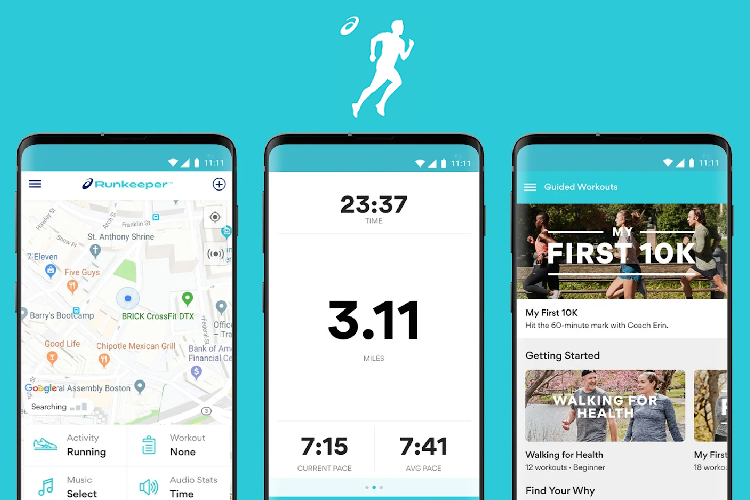 This android app can track multiple activities like biking and walking and shows you real-time updates about your speed, distance traveled, and even weather around your location. It has a simple interface that makes it easy for users to record their performance while working out sessions easily.


8fit Workouts & Meal Planner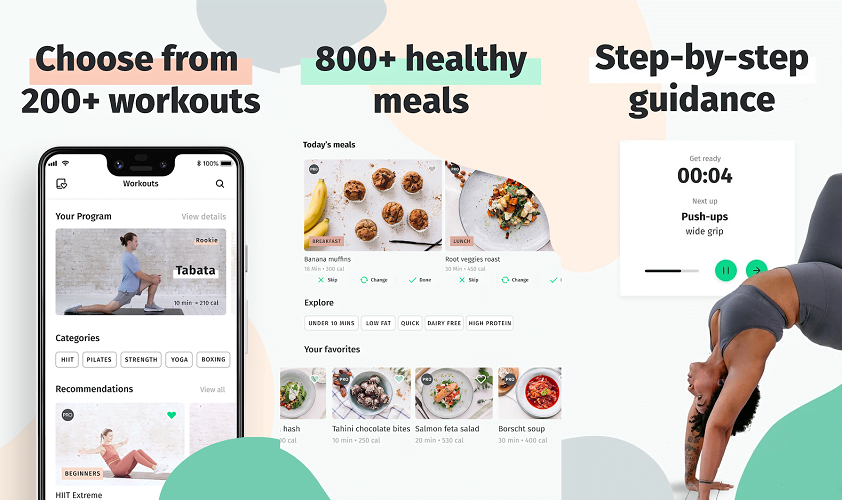 This is best app for fitness freaks. This app offers a free workout plan that will motivate you in your training session. It can also manage your meal list to keep track of calorie intake and macronutrient count.


7-Minute Workout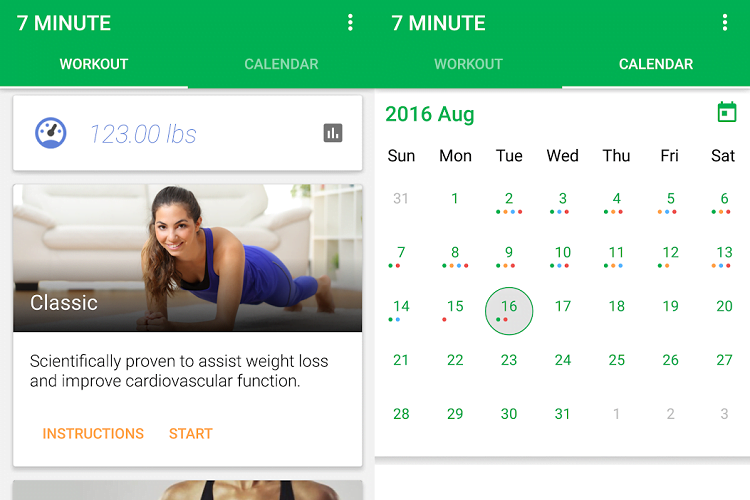 If you are too busy or everyone around you wants time from you, there is no other option than the android app 7-minute workout. This app does not teach you how to do physical exercise, but it offers preset workouts; we suggest you follow all the steps regularly and see the results after using it.


Jefit – Workout Plan & Gym Log Tracker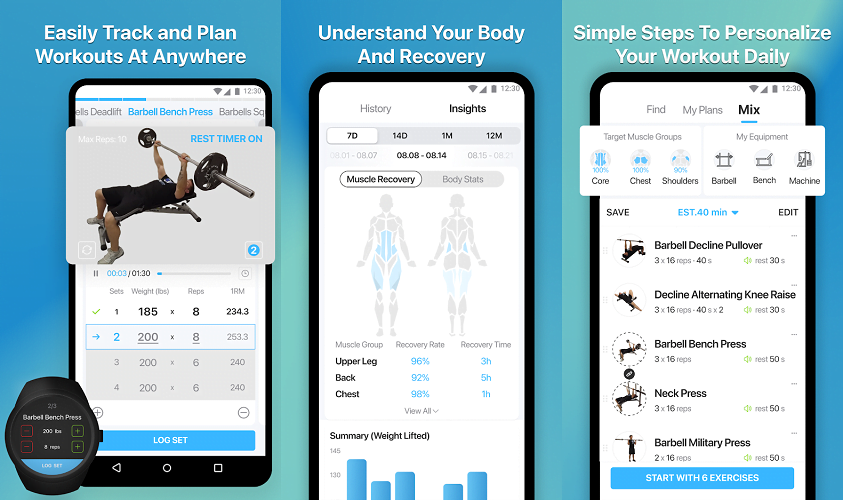 This app looks good enough because it has features only available in paid apps; it can track progress after completing a workout session; likewise, many other features make it the best app for fitness freaks. You can also watch YouTube videos for specified body routines right on your smartphone.


Daily Yoga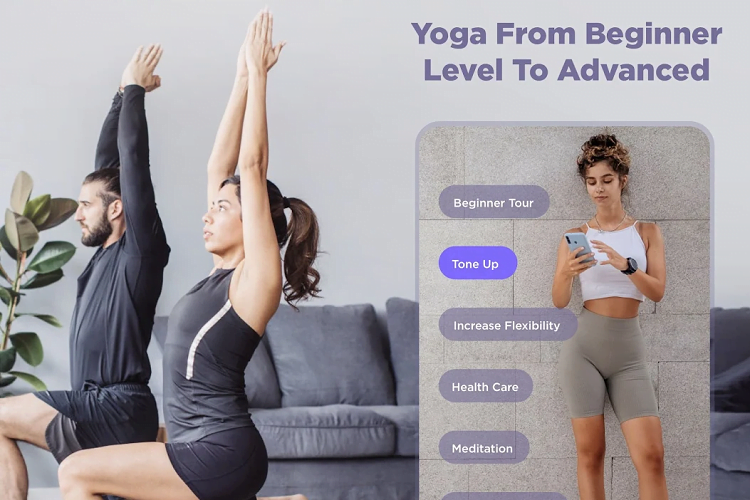 If you want to do yoga daily or are interested in learning yoga, then this app is best for you. This app has a vast collection of yoga videos that you can access right from your mobile phone itself.


Daily Workouts – Home Trainer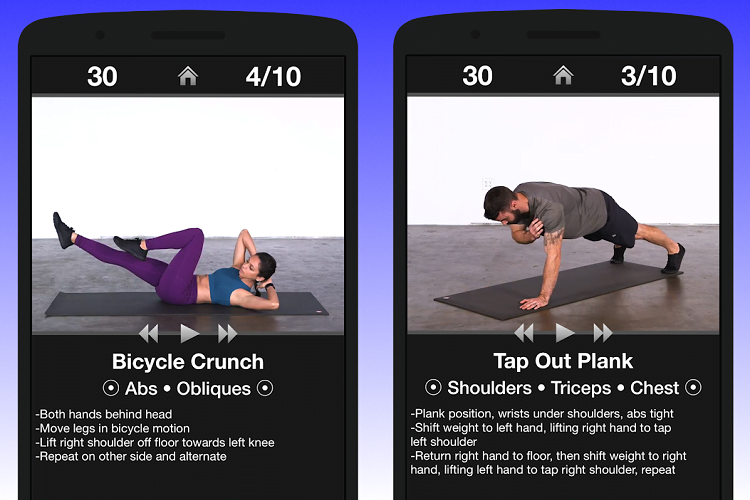 This app is ideal for cramming in a quick workout while you're busy throughout the day, whether it's for five minutes or an hour. A certified trainer demonstrates each routine and exercise. The best part is that it allows you to target any major muscle group. It also comes with video instruction and a stopwatch to help you plan your exercises.


Workout Trainer: Home Fitness Coach
Do you just want to work out without having to worry about having the appropriate equipment? The Workout Trainer app includes hundreds of home exercises that do not require much or any equipment. You may also get expert-curated and expert-guided workout plans with detailed analysis of your heart rate and performance, as well as instructions delivered in videos, pictures, or voice notes.


How do you choose a Fitness App?
Even if you perform exercises like deep breathing exercises regularly, you will most likely need these free fitness apps if you wish to maintain that consistency. Now, although thousands of fitness apps promise to deliver the best results, it is very important to pick the right application according to your goals and requirements. It has been seen in the past that people have wasted their hard-earned money on expensive gym memberships or exercise equipment at home just because they picked a wrong workout plan app that failed to deliver desired results within the stipulated time frame. So, here are some important factors you should consider while choosing an android app for losing weight:
Your Fitness Goals
The first and foremost thing you need to consider before choosing any workout fitness app is your health goal. If you want to lose weight, pick an application that provides a diet plan generator for free so that you can monitor calories intake on a daily basis. But if you are looking for increasing strength or building muscles, go with the one which calculates fat percentage in kilograms to monitor progress and track heart rate.
Training Plan Availability
It is not necessary that every fitness app has its own training plans, just like gym machines, because most of them rely on user-submitted content such as workouts videos and pictures, among others. So it's better to choose a fitness application which offers scheduled training videos developed by professional trainers at home or maybe in studios with the latest equipment. Such applications can motivate you to reach your goals within the stipulated time frame because they are developed by fitness experts who know ways to exercise different body parts efficiently for maximum benefits.
Android OS Version Compatibility
It is advisable to choose a fitness application that offers support for all major versions of Android OS, including Ice Cream Sandwich (ICS), Jelly Bean, KitKat, and Lollipop, among others. It is good to go with the one which provides the latest features because developers are constantly improving their apps based on user feedback received via social media platforms such as Facebook, Twitter, etc. So, don't be hesitant to share your thoughts with the app development team if you are stuck somewhere while using any workout plan app through Android devices.
Cross-Platform Compatibility
It is also good to choose a workout plan application that offers support for devices including Windows Phone, iOS, and BlackBerry OS, among others. If your Android device is not compatible with such types of fitness apps, you should consider buying other mobile phones because an app developed for one specific platform cannot be used on another. So, always go with the one which supports multi-platforms without requiring any additional investment from your side to stay healthy and fit at home or workplace while staying in touch with friends and family members via social media messaging platforms.
Community Sharing Feature
Research says that you are more likely to meet your fitness goals by taking help from friends and family members who have already achieved similar body measurements after using a particular program for losing weight. By using this method, you can motivate each other to work harder to achieve fitness goals on time. So, choose an application that allows users to share their progress with others, just like Facebook, by posting workout videos and pictures taken at the gym, among others, to be involved in healthy discussions related to post-training recovery or diet plans.
Custom Workout Plan Feature
Choosing a workout plan application that offers a customization option is advisable because one size cannot fit all in terms of body measurements and fitness goals. The benefit of choosing an app that allows users to create personalized training plans lies in flexibility because you can design customized exercise plans according to specific body parts rather than going through the entire routine listed within the official website of the app development company.
Entertaining Workout Mode
You may find several workout plan applications that offer an entertaining mode, i.e., users can perform workouts while playing music stored on their phones to not feel bored during gym training sessions. But, many app development companies are now providing this type of facility by offering support for third-party music streaming apps such as Spotify, etc. So, it is better to check whether your chosen fitness application supports these types of applications or not because entertainment mode is a must-have feature when performing workouts at home without personal trainers.
Conclusion
While there are several free fitness apps, it is advisable to pick one that works best for you. Follow these simple tips while choosing a workout plan application for your Android device to avoid wasting money buying separate applications to track body measurements and heart rate. Just pick the best which offers support for both cardio equipment and Android OS because it will save you extra bucks in the long run.