Customer experience and satisfaction are some of the most vital and deciding factors behind the flourishing and success of a business or enterprise. With the tremendous advancement of technology, more people are relying on smartphones and electronic devices to conduct a personal online search and place their purchasing based on it. Thus, nowadays, it is trending to opt for chatting with a customer service staff or an answering chatbot for clarifying our doubts regarding the service or product of a company when we're visiting a company's website.
The live chat software are quick, easy, and require minimum effort from the consumer side to gain beneficial and valuable output from trustworthy sources. And it is slowly becoming more popular than calling and posting our doubts to the customer care center as it takes a lot of time and mostly leaves many inquiries unheard. But to understand how it works, let us first understand about live chat.
What is Live Chat?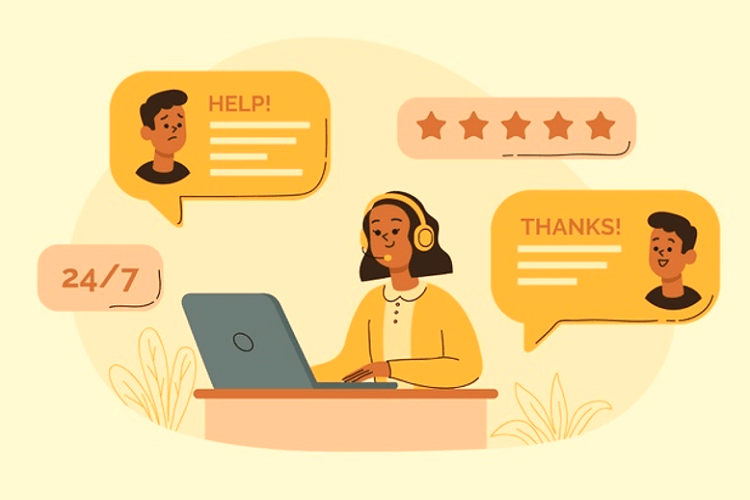 Live Chat is accomplished through software and allows quick support and connection to the customers who are visiting your website. It is a type of messaging facility through which customers can interact and chat with you or any of your service-providing staff to clear their doubts and get answers to their questions.
Many companies and established franchises, online educational websites, traveling and tourism sites, and so on make use of live chat to connect and chat with anyone who visits their official page and guide them to help them have a smooth and no-complaining experience on their website.
How is Live Chat Beneficial for Businesses?
The real-time and live communication assures the users about their doubts and demands being listened to and cleared quickly. The easy and immediate response and genuine answers give your customers a smooth and enriched shopping and online service experience that is necessary for making any business successful. And it will eventually increase your website rating and boost ROI for your company.
Here are some of the reasons why live chat is advantageous to use:
A convenient method for the customers to enhance their online consumption experience.
It generates more revenue for your business.
It will increase the traffic and user visitation density on your website and business web pages.
It is a cost-effective way for boosting your sales while not missing out on providing user-friendly services.
Develops and strengthens the customer-company bond.
It gives you an upper edge in the market against your competitors as you're focusing on addressing the source of pain and dissatisfaction of the consumers.
You can extend your business presence and expand your company further as a brand.
It provides you with more subscribers and loyal customers who slowly become your regular users and create backlinks to your site.
Now that we understand the importance of live chats, the next step comes in figuring out what software interfaces are reliable and the best to use for any business.
Top 5 Live Chat Software
With an ocean of available choices, it is often difficult and confusing to go for the perfect pick on the first attempt. To help you out in this situation, we've prepared a list. So, without any further delay, let us now look at the best live chat software in this year.
#1 FreeChat
FreeChat is one of the most sought out live chat software in the commercial and business market. It helps you to include the facility to add the option of live chat on your company's website without having to worry about it slowing down your web pages. It requires no coding; it is also 100% free and very easy to set up and use.
Though not very handy for large-scale or medium-sized businesses, you can still use it to immediately respond to your customers and make the best out of your startup or small-scale enterprise. Once you reach a higher spot and expand your company, you can use paid live chat software that is more suitable for bigger scale companies.
Special features –
It follows the SaaS business model and is highly capable in desk software and analytical support structure.
It is comfortable to implement and use due to its modernized chat design attributes and provides perfect live chat services without any cost.
There are facilities to add many social media networks in the live chat of your website.
You can customize its sleek design and choose to match the chat button and box according to your website.
It gives you the option to reply and chat with your clients from other messaging apps like Instagram or WhatsApp Business.
#2 Olark
Olark is a live chat software interface known for providing a seamless experience to both the company and the customer visitors. Its easy and hassle-free customization options are beneficial for setting up your chatbox, and the chatbot fits in your business theme and heightens the overall website form and exterior appearance.
The chat types are pre-custom, real-time, and offline solutions for starting the conversation with your customers by collecting some references in advance. The chatbots are easy and quickly responsive to work with. It also has a transcript archive that the visitors who come to your website can use to get immediate and reliable answers for their queries.
Special Features
Olark is uncomplicated to use and has an impressive live chat media interface.
It offers comprehensive and real-time live chat updates for you to work on new details.
The clients can also save the complete text of the chat for use in any searchable database.
It is very resourceful to use and affordable for any business company. You can either go for the monthly, annual, or two-year plan.
The real-time and offline chat interface options allow you to work and text your visitors with situation justified and quick trigger messaging facility.
#3 Tidio
Tidio is another popular and widely used live chat software that helps you to respond and interact with your clients on your webpage or website. Using it, you can quickly connect to your customers in real-time and implement chatbots for generating automated text and messages. Available in both free as well as premium plans, you can select the desired pack according to the requirements of your website and business size.
Its good-quality customer support system and customizable interface are very reliable for setting up a perfect live chat facility on your web pages. Its clean and simple setup allows you to create quick and descriptive chat boxes that are simple to use for the customers.
Special Features
Its shared inbox allows you to send in quick and canned responses to your visitors and users.
Integrable with various other software platforms like WordPress, Shopify, and Wix.
Its free plan includes 3 chat operators, the provision of the chatbots to conduct unlimited chats with 100 distinctive clients every month, and being able to send around 500 automated emails per month.
There is the provision of CRMs (Customer Relationship Management) for your users and visitors along with email automation devices for enriching their customer support experience on your business website.
#4 Intercom
Intercom is one of the best live chat software that aids you in establishing the best connection between you and your customers in the easiest possible ways. Trusted by several business partners, it is known for providing proactive and industry-leading human services.
Apart from its Messenger feature, it also comes with a complete customer communication set that has bots, product tours, apps, and a help center where the visitors can connect to you and get a complete guide of your business. Its live chat platform is very similar to the email messaging facility. Thus it is easy to use and set up on your web pages and accessible in simple steps.
Special Features
It authorizes you to track the activities of your customers and send them alerts and messages via the apps.
It helps you to self-promote your business and build personalization experiences with your clients.
You can evaluate your performance and utilize the live chat option to amplify the user experience on your web pages.
Your visitors can access the support center and get answers to their doubts and requests without the help of any bot or a staff representative.
Its affordable pricing is available in different plans, and each of them is user-friendly and easy to set up and integrate.
#5 Tawk.to
Tawk.to is a well-sought and appreciated live chat software that is easily available without any cost. Its operation is based on a small JavaScript through your website and is available for use on your website or a customizable web page and inside your smartphone app. Its simple interface helps you to track your visitor activity and which group members have replied and chatted with a customer.
Apart from its free-of-cost and live chat features, Tawk.to also comes with plenty of customizable facilities to blend in with your business website and make it more appealing and refreshing to any client.
Special Features
Availability of canned messages for giving fast responses to the customers.
You can also communicate and chat with foreign customers on your website in your built-in or resident language through different Tawk.to chat options.
There is the option to chat through your mobile using the iOS and Android app facilities provided in the Tawk.to software solutions.
It allows you to monitor the client location and activities like which links and sites they have clicked and what webpages are frequently checked by them and have more visitation density.
Its browser-based service doesn't require any extra software installation.
The final wind up
The above list was all about the topmost and high-quality live chat software. We hope it will be useful to use and reference in the future. It might have been possible that your favorite or prioritized live chat software wasn't included, but it ultimately depends on what you feel is the necessary selection for you. When it comes to choosing, only you can decide what's right for you based on different options like – customizable, value and pricing, third party software integrations, your company scale and requirement, mobile support, security, anytime support facility, and so on. Now it's your time to decide what would be the right pick for you to enrich the customer experience and user-friendliness on your website.