Let's start by defining NFTs. NFT stands for "non-fungible token," which is a digital asset used to represent unique and one-of-a-kind objects, such as digital art, music, videos, and paintings. Think of NFTs like signed paintings or antique objects that hold significant value for collectors and fans. To acquire NFTs, you can use a special marketplace where sellers offer their works. If you're wondering how to create an NFT marketplace, this article will provide you with detailed information.
One has to initially enter the market by way of an NFT exchange to engage in the trading of different digital assets. Assets can be worth anything, ranging from single works of art and musical compositions to entire virtual worlds and everything in between. Visit a market designed explicitly for NFT Marketplaces if you want to have the most fun playing them. You may think of alternative trading markets as the real-world equivalent of online retailers like Amazon.com.
What is an NFT Marketplace?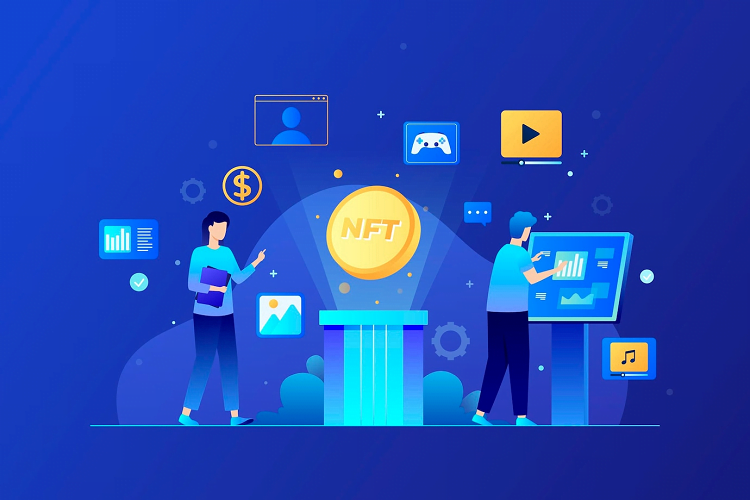 The NFT marketplace is a platform where users can buy, sell, and trade digital assets in the form of NFTs. These marketplaces operate on blockchain technology, ensuring transaction security and guaranteeing the authenticity of each NFT. OpenSea, Rarible, SuperRare, and Nifty Gateway are some of the most popular NFT marketplaces available.
NFT marketplaces are similar to traditional marketplaces, but specialize in the sale and purchase of unique digital assets in NFT format. Unlike traditional platforms, NFT marketplaces allow for the creation, sale, and purchase of digital assets that possess unique characteristics and cannot be copied or counterfeited. These assets can take the form of digital art, music, videos, games, collectibles, and other digital objects.
NFT marketplaces typically use blockchain technology to create and manage NFTs, which gives each one a unique, non-fungible code that enables unambiguous identification on the network. Blockchain also ensures the authenticity and ownership history of each NFT, which increases its value and appeal to collectors and investors.
Moreover, blockchain technology enables creators to earn significantly more than before. In the past, artists sold their work for a one-time payment. But NFT art has a special code that acts as a commission, allowing the artist to receive a percentage of each purchase and sale of their painting. This makes art a more lucrative business for artists, and NFT marketplaces are becoming increasingly popular compared to traditional art auctions.
By 2023, the NFT marketplace is expected to have a trading volume of over $13 billion, which is 400 times greater than the trading volume of $33 million in 2020.
11 Best NFT Marketplaces
There are presently hundreds of different NFT marketplaces, most of which are geared toward experts in a specific industry or sector of business. These specialists may be in any number of fields. Which marketplaces for non-fungible tokens are typically considered to have the highest levels of competitiveness, and what considerations should you consider before making a final choice in this matter? If you were looking for more specifics, you might find best NFT marketplaces here.
1. OpenSea
OpenSea is one of the largest NFT platforms, where users can create, purchase, and sell NFTs. In 2021, OpenSea facilitated 88% of the total NFT trading volume, making it one of the largest marketplaces worldwide.
NFT collections are organized by category, including art, sports, collectible cards, music, domain names, and 3D objects. Here, buyers and creators can easily find and showcase the NFTs they desire.
OpenSea supports the Ethereum, Solana, Polygon, and Klaytn blockchains, and is integrated with popular crypto wallets such as MetaMask, Coinbase Wallet, and Portis.
Authors receive a 2.5% commission on the sale of each NFT, providing them with a steady stream of income.
Creating an account on OpenSea and exploring the broad catalog of goods and services offered by the network are free of charge. In addition, OpenSea gives users access to various digital assets. It also helps manufacturers and artists by providing a precise method to create their own NFT, which benefits both groups (known as "minting").
The name is appropriate given that users of the network can choose from among more than 150 different digital currency tokens when making purchases. Since it offers a stable platform upon which to conduct one's exploration of the NFT cosmos, OpenSea is an excellent place to get started in this endeavor.
2. Binance NFT
The Binance NFT marketplace is a top-tier platform that has attracted a large and active community of NFT enthusiasts, thanks to its high liquidity, large trading volumes, and versatile offerings. Whether you are interested in IGOs, mystery boxes, or standard tokens, Binance NFT has got you covered with a broad range of collections and categories to choose from.
Binance NFT takes security seriously and provides users with a variety of tools and resources to protect their assets and minimize the risk of fraud. The platform supports Binance Smart Chain and Ethereum blockchain, and works seamlessly with popular crypto wallets such as MetaMask, Trust Wallet, MathWallet, or Binance Chain Wallet.
One of the key advantages of Binance NFT is its low commission rate, which is only 1% of the NFT value. This makes it an attractive choice for creators and investors who want to maximize their earnings and minimize their costs. With Binance NFT, you can rest assured that you are getting the best value and quality for your NFT transactions.
3. Axie Infinity
Axe Infinity gives players access to a simulated shopping center called the Axie Marketplace when they purchase the game. A user can buy legendary animals called Axies, develop their abilities through training, and compete with other users of Axies to earn rewards. Players have the opportunity to buy and sell Axies, as well as lands and several other in-game commodities, in the Axie Marketplace. The term "non-fictitious tokens" refers to these in the industry lingo (NFTs).
Axie Infinity coins are a form of digital currency constructed on top of the Ethereum distributed ledger. They are also known as Axie Shards. This indicates that in addition to trading cryptocurrencies on exchanges such as Coinbase Global, you will also be able to trade them on various NFT marketplaces (NASDAQ:COIN).
4. CryptoPunks
In particular, the contributions made by Larva Labs to the CryptoPunks NFT project were the ones that attracted the most attention. In 2017, they were made accessible to anyone who desired them at no cost, but in succeeding years, numerous CryptoPunks have been purchased for several million dollars. In addition to the Autoglyphs project, Larva Labs is currently working on several app development initiatives built on the Ethereum blockchain. Additionally, the company is participating in various other digital art projects, such as the Autoglyphs effort.
Even though Larva Labs has discontinued selling CryptoPunks NFTs directly to customers, the tokens can still be purchased on various secondary markets. Keeping track of the multiple projects that Larva Labs is working on is essential. As an illustration, let's look at Meebits, which may be purchased through the use of an internal market made available by the company.
5. NBA Top Shot
The National Basketball Association (NBA) and the Women's National Basketball Association (WNBA) are dipping their toes into the waters of live shooting competitions with the introduction of NBA Top Shot. Major basketball leagues worldwide are represented in their marketplace, where they sell memorabilia such as video clips, play highlights, and works of art. These are the most significant basketball leagues; you can find them on virtually every continent.
The NBA developed this marketplace as a private network and constructed it with the Flow blockchain technology from Dapper Labs (meaning that you can only purchase and sell on Top Shot). Becoming a member of the Top Shot marketplace and making purchases through the site is easy to complete. You can get on a good number of common collectibles for a few dollars or less.
6. Rarible
Rarible is another well-known marketplace similar to OpenSea, where customers have access to a diverse offering of NFTs to pick from. Users in the creative industries, such as musicians, filmmakers, collectors, and artists, can utilize the site to buy, sell, and share their works. On the other hand, the Rarible token, the marketplace's native cryptocurrency, is essential for buying and selling (CRYPTO: RARI). On the other hand, OpenSea is not like this at all. Rarible is built on top of the blockchain that underpins Ethereum (although artwork can also be managed on OpenSea using Rarible tokens).
The formation of strategic partnerships between this one and many other significant corporations has resulted in their joining forces. Rarible has received some promotional artwork courtesy of the Taco Bell restaurant chain owned and operated by Yum! Brands, Inc. (NYSE: YUM). In addition, Rarible has established a strategic agreement with Adobe (NASDAQ: ADBE), the industry leader in cloud computing software, to safeguard the producers of NFTs' intellectual property.
Compared to OpenSea and Binance NFT, Rarible offers more diverse NFT categories and has a more user-friendly platform. It is much easier to launch your own NFT auction on Rarible than on OpenSea or the Binance NFT marketplace.
Rarible supports the Ethereum, Solana, Polygon, Flow, and Tezos blockchains, providing users with more options for their NFT transactions.
The commission for both buyers and sellers is only 1% of the NFT value, making Rarible a cost-effective option for those looking to trade NFTs.
7. SuperRare
The development of a marketplace for digital creators, similar to Rarible, is currently underway at SuperRare. In addition to displaying artwork, documentaries, and 3D visualizations, the website also enables users to purchase works of art using Ethereum, which is convenient for art fans.
The cryptocurrency developed by SuperRare and based on Ethereum has been released to the public. The tokens will be put to use in the process of scouting out fresh talent and organizing the skills that are currently for sale on the market. On OpenSea, purchasing and selling SuperRare NonFugitive Tokens (NFTs) works the same way as it does for Rarible NonFugitive Tokens (NFTs).
Associated: If you are interested in gaining additional knowledge, make sure to read The Ascent's in-depth examination of SuperRare.
8. Foundation
Using the Foundation. App, placing bids on various forms of digital artwork has never been more straightforward. Ethereum can be used to bring transactions to a successful conclusion. Since the beginning of 2021, when the marketplace first started accepting customers, it has generated more than one hundred million dollars in revenue from selling non-fungible tokens (NFTs).
For customers to begin making purchases on the Foundation platform, they only need to have a cryptocurrency wallet funded with Ethereum. The members of the Foundation community reach out to artists whose work they appreciate and invite them to become members of the site. If you want to quickly and easily get started making your own NFT marketplaces, beginning with Foundation is not the ideal place to start. If this isn't what you're looking for, you should keep looking. On the other hand, a vast selection of art can be evaluated based on a clear framework available on the market.
9. Nifty Gateway
People and Grimes, two well-known digital musicians, have reaped significant benefits from Nifty Gateway's promotion of their careers as a result of the latter's ability to sing and play many instruments. This platform, which allows for the exhibition and sale of art pieces, is made possible via the Gemini cryptocurrency exchange (controlled by the Winklevoss twins). On the Ethereum network are developed non-fungible tokens, often known as Nifties. These tokens have no utility value.
Nifty Gateway is not just a curated platform, but it also functions as a vault for newly acquired NFTs belonging to its users. Instead of being stored in the customers' wallets, the customers' NFTs are retained in cold storage by Nifty Gateway and Gemini. Because transactions can be performed with fiat currency like US dollars, you can purchase and sell without needing first to acquire cryptocurrencies like bitcoin or ether. Examples of cryptocurrencies include ether. If they desire to diversify their investment portfolios, art collectors who already have shares in privately owned corporations (also known as NFTs) might not have this option available.
10. Mintable
A possible open market that goes by the name of Mintable has the support of a billionaire entrepreneur named Mark Cuban. Mintable's goal is to attain the same degree of success as OpenSea. On Mintable, non-fungible tokens can only be bought and sold using Ethereum. This is the only accepted payment method. You won't be able to participate in the activity if you don't have it. Additionally, the platform makes it possible for users to mint NFTs, which can then be used by visual and performing artists hoping to make money from their creations by selling digital assets. Artists who desire to sell their products online may find this helpful assistance.
Before beginning any substantial production or collecting of NFTs, you will first need to buy some Ethereum through a cryptocurrency exchange. The next step for users is to integrate their payment method with Mintable so that they can participate in auctions and make purchases.
11. Theta Drop
Theta is a platform built on blockchain technology that was developed to decentralize the streaming television shows and movies industry. On Theta Drop, a market for non-fungible tokens, the World Poker Tour was launched the following year, in 2021. (NFTs). The World Poker Tour was one of ThetaTV's earliest customers and continues to be a dedicated service user.
Theta has developed its very own blockchain technology and uses it. To participate in the Theta Drop NFT marketplace, you must have Theta Tokens in your possession. That is required of you to participate in the event (CRYPTO: THETA). Support for the Theta token has just been added to many cryptocurrency trading platforms, one of Binance. To store tokens and NFTs that have been obtained through the usage of these marketplaces, one can make use of a cryptocurrency wallet or the cryptocurrency wallet software that Theta provides. Binance, a marketplace for cryptocurrencies, is where one may purchase Theta.
Features that should be included in an NFT Marketplace
If you're creating an NFT marketplace, there are several key functions that you should consider to ensure its success. Firstly, your platform should have a well-designed homepage, along with additional pages for different categories or filters, depending on your target audience. Since NFTs are often associated with art, it's important that your platform is visually appealing and provides a pleasant browsing experience. Additionally, integrating easy-to-use tools for buying, selling, and trading NFTs will encourage engagement and help to build a thriving community.
NFT trading – purchased tokens must be promptly displayed in the buyer's account or wallet. It's crucial to establish unambiguous terms of sale and purchase and address any copyright issues to prevent conflicts among users.
NFT information – tokens should be priced transparently, indicating the minimum collectible item price and trading volume as indicators of NFT popularity and liquidity. Moreover, providing a token's past purchase history, such as previous owners, can influence its value and attract buyers. For example, if the history shows that a popular person owned the token, it may become several times more expensive.
Search and filter options – integrating search and filtering by categories, names, authors, or prices will significantly enhance the user experience by simplifying the interaction with the marketplace.
Payment options – accepting various payment options such as fiat and multiple cryptocurrencies can help attract and retain customers. Integrating crypto wallets and platform accounts will also provide a competitive edge.
How to create an NFT Marketplace
Creating an NFT marketplace involves five crucial steps. It is recommended to carefully consider each step to minimize the risk of errors and bugs and gain a competitive advantage. Here are the five steps to follow:
Planning and research – before creating an NFT marketplace, it's crucial to research the market and understand your target audience. This step includes identifying your competitors and analyzing their strengths and weaknesses.
Design and development – create a user-friendly platform with an intuitive interface that enables users to buy, sell and trade NFTs easily. Consider adding features such as search and filter options, as well as detailed information on each NFT.
Smart contract development – use secure smart contracts to manage transactions and ensure that the buying and selling of NFTs are transparent, fast and secure.
Integration of payment systems – provide your users with a variety of payment options, including fiat and cryptocurrency payments, as well as seamless integration with digital wallets.
Testing and launching – before launching your NFT marketplace, thoroughly test it to ensure it runs smoothly and securely. Consider offering a beta test to a select group of users to gather feedback and improve the platform.
By following these five steps, you can create a successful NFT marketplace that meets the needs of your target audience and provides a secure and user-friendly platform for buying, selling, and trading NFTs.
Advantages and Disadvantages of Developing and Owning an NFT Marketplace Platform
As the popularity of NFTs continues to rise, more and more people are interested in developing and owning an NFT marketplace platform. While there are certainly advantages to creating and managing such a platform, there are also some drawbacks to consider.
One of the biggest advantages of developing and owning an NFT marketplace platform is the potential for significant profits. With more and more artists and creators looking to sell their digital artwork as NFTs, a well-designed and user-friendly marketplace platform can attract a large number of buyers and sellers, generating substantial revenue.
In addition to the financial benefits, owning an NFT marketplace platform also allows you to be at the forefront of a rapidly growing industry. As more people become interested in NFTs, being a part of the development and evolution of this market can be an exciting and rewarding experience.
However, there are also some potential drawbacks to consider. One of the biggest challenges of developing and owning an NFT marketplace platform is the technical expertise required to create and maintain a platform that is both user-friendly and secure. Without the necessary technical knowledge and expertise, it can be difficult to build and maintain a platform that is both functional and reliable.
Another potential disadvantage of owning such a marketplace is the risk of fraud and other forms of illicit activity. As with any online marketplace, it can be challenging to prevent fraudulent transactions and other types of criminal activity, which can put the platform's reputation and the safety of its users at risk.
Conclusion
Ultimately, the decision to develop and own a non-fungible token platform is a complex one that requires careful consideration of both the potential benefits and risks. With the right approach and a commitment to ongoing development and improvement, however, it is possible to create a successful and profitable NFT marketplace platform that benefits artists, collectors, and enthusiasts alike.