A company travel policy is a document that explains the guidelines about your company, tracking, spending, and reporting details. The finance and operational team designs these guidelines to ensure employees comply with these policies and know the business reimbursements or expenses. The policies lay the basic foundation for the travel management process in an organization.
Creating an effective travel policy is essential for travel management companies, as it balances business mobility and costs. To build a company travel policy, you must understand best practices for drafting and incorporating travel policy into your booking platform. Let's discuss how one can create an effective travel policy and what are its best practices to implement.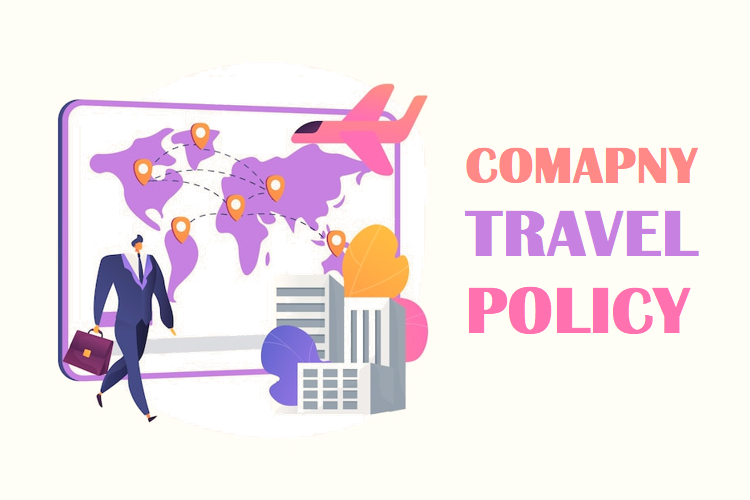 Key Components of creating an effective company travel policy
Travel policy includes guidelines and rules for the employees to travel, complying with the company's objective. The travel policy helps employees understand what to do and what not so that they can align their requirements with the company's guidelines.
1. Clear objective
To create a good travel policy, add a clear and concise objective of your business. Employees must understand the objective of the company's policy so that they can follow steps to achieve those goals. For instance, if the priority of your travel management process is to control the travel cost, increase the travel flexibility for the employees.
2. Ease the booking process.
While creating a company travel policy, keep it uncomplicated so that employees can easily understand the guidelines and make bookings. Try mentioning something catchy that encourages employees to make their bookings. Always put all your company's objectives and goals in bullet form so employees can read them easily. Moreover, mention the benefits of your services and attract employees from policy compliance.
Keep domestic and international guidelines separate.
Creating general guidelines for all travelers may need to be clarified for the employees. Therefore, keep your domestic and international guidelines separate. Have different sections for both so employees can see only particular travel details and comply with the policy easily.
Centralized booking process 
A centralized booking system can help employees make their bookings and comply with the travel policy. You can book employee bookings via travel management software or travel agents on your platform. If you are using a travel software solution, ensure to link the platform to get the booking details of travelers.
Include booking periods in your company travel policy so employees can book their trips in advance and avoid last-minute bookings. Keep the latest booking period different for domestic and international travel. The updated booking period always eliminates the high-cost travel and gives you wide options for your travel.
Policy regarding cancellations and rebooking
Last-minute cancellations or re-bookings can spike up your travel costs. Thus, always clarify cancellation charges, missed flight charges, or rebooking fees in your employee policy. This eliminates any uncertain cancellation and reimburses you the amount without any loss.
Mention rewards for employees.
Always mention details of rewards that you offer for the economical bookings. This drives heavy savings on every business trip. Let your employees understand the loyalty points or rewards through your policy.
3. Guidelines for expenses
Categorizing expenses in travel policy is essential for companies. It allows employees to know about the expense details that will occur. Include all the charges for flight services, accommodations, meals, after-transportation, telephone usage, etc. This way, you can create the expense policy template for your employees.
4. Awareness of travel safety
To create an effective travel policy, remember to include safety information and customer assistance to ensure the safety of travelers. Safety information features like tracking employees, insurance policy details, 24/7 multi-level support, etc., must be mentioned in the policy. Also, provide pointers on travel insurance, emergency numbers, etc., to provide travel support for employees.
5. Mention non-reimbursable expense details.
In your company travel policy, clarify all the details about the incurred expenses that the company will not reimburse. Provide a list of non-reimbursable items like in-flight purchases, extra baggage fees, alcohol consumption, staff tips, etc. Moreover, clearly state the expense reporting and reimbursement process information in your policy for better compliance with the policy.
Best practices for company travel policy
The best practice for company travel policy is to create a clear document and guidelines for the employees and clients. A proper policy can be implemented in the travel management software for easy bookings. To draft the right travel policy, remember the following best practices.
1. Prioritize employees' requirements
Employees' needs should be the priority of the company. While creating a travel policy, it is important to keep employees' needs in mind. Make sure that the employees do not struggle while booking their flights or hotels. While they book their tickets, show them the required travel policy so that they can understand the guidelines they need to follow. This ultimately will enhance the booking experience of the employee.
2. Keep it clear and concise.
Travel policy needs to be clear for the employees to comply with. Employees may get confused and cause policy violations if the policy is unclear. Therefore, keep your policy clear and well-defined. A concise and to-the-point policy helps employees follow the policy terms easily. Do not overstretch the guidelines while mentioning even small details. Find a better structure and ways to define your guidelines.
3. Avoid rigid policies
Creating rigid policies always leads to policy violations. Employees ignore to comply with the guidelines while booking if the policy is so restricted. Therefore, create a policy with more flexible options. Furthermore, make cancellation and rescheduling options flexible for employees, declaring any extra charges needed before the booking only.
4. Welcome feedback and reviews of employee
Get feedback from your employees about the travel policy for best practice of drafting policy. Let them give reviews on post trips, accommodation facilities, booking services, reimbursements, and the expenses policy template that you offer. All these elements must be taken into consideration while creating and incorporating the travel policy into the travel management solution. Having the views of shareholders and employees in the policy creation process increases policy compliance and flexibility.
5. The care plan enhances the travel policy.
To increase the compliance of policy among the employees, you need to make sure that your policy includes safety features offered by your company. A duty of care plan is one of the most important elements that employees look for while booking. The proper care plan inclusion minimizes the safety risk for employees going on business trips. Including all the safety initiatives like SOS alerts, 24/7 support, tracking, and customer assistance makes your policy far more effective.
The bottom line
As you understand how important company travel policy is, you must create an effective one for your travel business too. Keep all the above-mentioned points in mind while drafting a proper travel policy or expense template for your employees. Incorporate the finalized policy into the booking system through an automated travel management solution to give your employees the best-ever booking experience.
Once you create a flexible and appropriately drafted travel policy, it will eliminate the policy violation. The policy compliance with employees and clients will increase, resulting in huge savings and profits for your travel management business.