There's camping, and then there's glamorous camping. It's a new trend called glamping that affords you many of the comforts of home but in a rustic and natural setting. If you always shied away from camping because you didn't want to rough it then glamping trip is your answer so you can still spend some time in nature.
The idea is that you can be out in a natural setting, but your tent is set up more like a cabin with a lot of modern conveniences and comforts. The days of always feeling cold and wearing the same damp clothes for days on end are over if you want. In this article, we will go over several of the ways that you can ensure a successful glamping trip.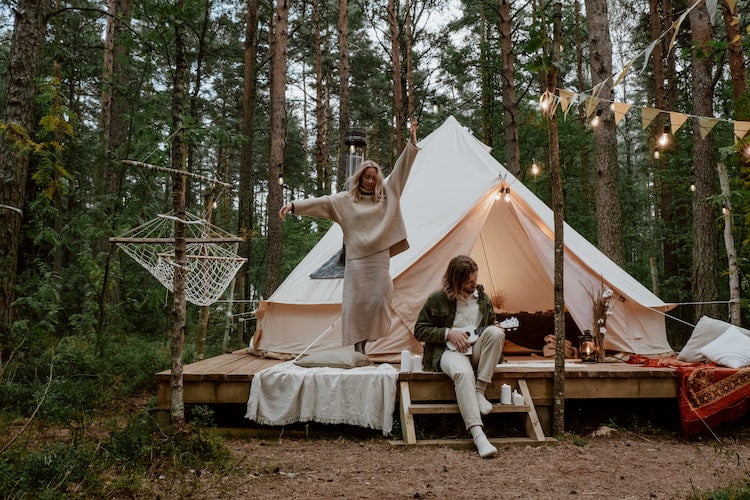 1. Have a power source
Some campgrounds that offer luxury accommodations are going to allow you to hook up to their electrical supply. However, you might want to opt for a place a bit further afield and more natural. In this case, you'll need to provide your own power.
The most obvious way to go is to bring along some portable solar panels so you can enjoy renewable energy. One problem with that is you may not have much sun where you are or there could be a lot of cloud cover for some of the time you are out. In this case, you'll need to have a portable generator. There are many that are small and provide you with enough power for your basic needs when glamping trip.
2. Plan your menu out
One of the best reasons to go glamping trip instead of camping is for the food. Instead of hot dogs on the grill with soggy buns, you can have filet mignon with a side of asparagus. Or, you can use the campfire to come up with some other gourmet meal such as a lobster bake with clams and corn on the cob. Pair it with some prosecco and you are living in style.
The way to make sure that you can eat this way is to plan things out ahead of time. This way you can create a shopping list and have all the ingredients ready for you for each meal. Think ahead and do a daily plan for food so you can have breakfast, lunch, and dinner as you would get in a restaurant.
3. Pick a dramatic location
Camping is great because you can truly see some parts of the world that would normally not be accessible. When you are glamping you should consider the location so it can add to the experience. Imagine a fine dinner with a glass of wine while looking over a valley in front of your cozy tent.
The backdrop is going to amplify the ambiance of the experience so choose the location wisely. You may need to stay away from campgrounds to achieve this. It's not very romantic to look at people's laundry while you eat your dinner, after all.