Glass link extensions are not only visually impressive architectural elements for any home style, but they also have practical benefits. Here are insights on how to perfectly implement them.
Glass link extensions add an aesthetic and practical dimension to a broad array of home styles, including ultra-modern properties, traditional houses, and refurbishments.
A glass link is an excellent solution to various design challenges. It could be a means to connect a standalone garage, outbuilding, or barn to your main house or a way to build an extension that needs to be linked to the existing structure due to the new extension's location.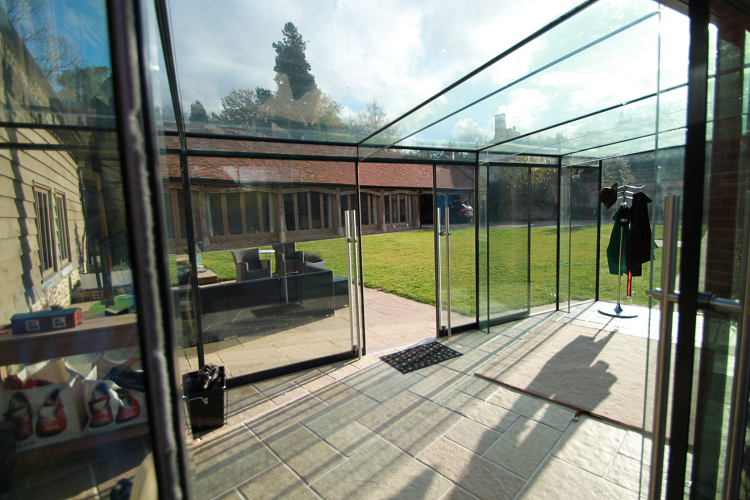 Designing a link that smoothly integrates two structures is not a straightforward task, though. So what should you consider to get it right?
This guide covers design, structural, and practical aspects, providing the top ten ways to guarantee your glass link extension shines with success.
1. Conceal the Frame for a Glass Link Extension
One key factor in perfecting a glazed link extension is the installation process. The most effective techniques are those that hide the link's supporting frame, leaving the glass as the sole visible element.
This can be accomplished by inserting the glass panes into a steel or aluminium frame and securing them with structural silicone. Ideally, a neat look should be created by concealing a channel within the adjoining structure that masks the frame. The glass sheets and connections are then slid into this channel and structural silicone secures it.
Bolted connections can be used, but structural silicone is commonly employed by expert glass suppliers. A competent structural engineer will know how to handle this.
2. Opt for a Glass Supporting Structure
While steel or aluminium framing is a conventional way of supporting the glass, if your budget permits, you might consider using glass as a supporting structure. This would let you create a completely seamless, elegant glass box, including walls, roof, and supporting elements.
There are numerous instances of glass used structurally as beams and columns. Your ability to pursue this approach will depend on the structure the glass will be connecting to.
In some cases, your structural engineer will design a way to insert the glass into the structure. The key is ensuring that the glass and the structure it's set into can move independently, preventing any issues with differential movement. Structural silicone usually allows for this to occur.
3. Choose Laminated Glass
There's often a debate regarding the type of glass to use: toughened versus laminated.
Laminated glass won't shatter into countless pieces and fall away if damaged — it's similar to car windscreen glass. On the other hand, toughened glass is much more resilient and can endure more damage before shattering, but when it does get damaged, it will shatter.
In such scenarios, laminated glass is usually preferred. It might not be as robust as toughened glass, but it will remain intact.
4. Pay Attention to Orientation When Designing a Glass Link
If you decide on a seamless glass link extension, bear in mind a few aspects regarding solar gain. If the space faces directly south, you'll need a means of managing solar gain. This can be achieved by using some of the structure as shade, like structural overhangs.
There are also specialist solar control glass products that lessen solar heat gain, so you should explore these options with your specialist glass supplier.
5. Don't Neglect Ventilation
Even though a glass link primarily serves as a corridor from one building to another, it's vital to consider ventilation. External doors, windows, and skylights are all suitable options. While this may seem like a clear design detail, it's one that shouldn't be neglected.
6. Utilize Standard Sizes to Reduce Expenses
Though visually impressive, a glass link can be a costly addition to your home.
The most cost-effective glazed links are those bridging the smallest distance between the new and old buildings and using standard lengths of extruded steel or aluminum, as opposed to custom sizes and shapes for roof inclines.
7. Pay Attention to Your Glazed Roof Design
The roof of a glazed link could be composed of solid laminated glass, or you could choose an insulated lantern configuration that can be flat or sloped. A fully-glazed roof should never be completely flat. To allow for water runoff, it should have a gradient between 3º and 5º.
Designing a solid roof with a central glazed roof lantern can draw light into the link's center. A significant issue here will be thickness. The simple solution for roofs is to go for a flat roof with solid laminated glass. The glass chosen for such a roof (or wall) is unlikely to exceed 75mm, even if laminated in several layers.
8. Increase Your Probability of Gaining Planning Permission
Securing planning permission for glass links invariably involves working within the confines of what your local planning authority considers acceptable. Therefore, this should be factored into your project from the outset.
If your property is listed, located in a conservation area, or an area of outstanding natural beauty, you'll need to engage with the local conservation officer. They're responsible for advising and safeguarding any heritage assets within a specified area, judging each proposal on its own merits.
In many cases, conservation officers will favor pure, transparent structures like the ones we're discussing here, as they allow existing historically significant structures to remain visually undisturbed.
9. Understand the Costs Associated with Glass Link Extensions
Using glass for the entire structure, including beams and columns, will always be the priciest option. If your structural engineer recommends laminated glass, which has a heat-treated outer pane for increased strength and damage resistance, the cost could be around £1,500/m2.
10. Think About a Low-Maintenance Glass Link
Maintenance considerations are crucial when it comes to glass links — and how you might minimize them. To keep the glazing an attractive feature of your home, it must stay clean.
There are specialist coatings available that can be applied to the glass to facilitate maintenance and decrease the amount of residue left on it, including various water-repellant applications.