Welcoming someone to their new home is a time-honored tradition that fortifies connections and brings joy to new beginnings. However, choosing a perfect housewarming gift can be a tad challenging. How can you ensure your choice will resonate with the homeowners and find a place in their new sanctuary? This comprehensive guide will help you navigate these questions and provide you with an inspired selection of housewarming gifts that are both thoughtful and unique.
Best Housewarming Gifts for Friends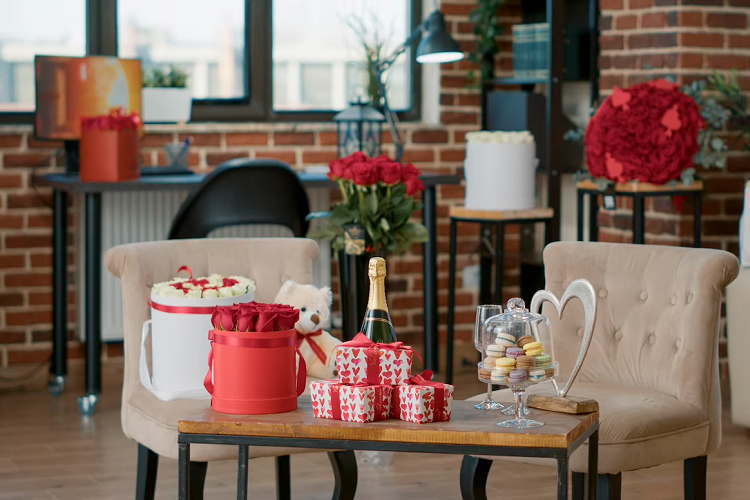 Housewarming gifts are a great way to show your friends and loved ones that you're happy for them and excited about their new home. Here are some ideas for housewarming gifts.
1. Gourmet Gift Basket
An overflowing gourmet gift basket is the epitome of thoughtful indulgence. Filled with an assortment of delightful treats like chocolates, exotic teas, gourmet coffee beans, and delectable cheeses, such baskets cater to a variety of tastes and preferences. Personalize it further by sourcing products unique to your locale or the recipient's favorite delicacies. This gift is a testament to your thoughtfulness, offering homeowners an opportunity to savor their new setting while indulging their palates.
2. Customized Artwork
Art, in its myriad forms, adds character and warmth to a living space. A personalized piece of artwork, such as a bespoke wall hanging or a custom-made family name sign, can become a treasured piece of decor. Whether it's artwork that celebrates their new neighborhood or one that echoes memories from their previous home, it serves as a constant, beautiful reminder of this major life milestone.
3. The Quintessential Kitchen Gadget
Every new kitchen deserves a statement piece that elevates the cooking experience. A top-tier kitchen gadget, like an espresso maker or a smart air fryer, can be a delightful addition to the homeowner's culinary arsenal. Not only does it enhance functionality, but it also brings an element of modern sophistication to the kitchen.
4. Gift Boxed Candles
The enchanting flicker and soothing fragrance of scented candles can instill a sense of serenity in any home. Consider gifting one or more premium candle gifts, each elegantly packaged in its own gift box. The recipient will not only enjoy the calming effect of the candle but also appreciate the aesthetic appeal of its packaging.
5. Indoor Plants
A vibrant indoor plant can breathe life into any room, making it a lovely housewarming gift. Depending on the homeowner's preferences and the amount of natural light their home gets, you could choose from a variety of options – from hardy succulents to exotic orchids. A properly maintained houseplant not only purifies the air but also adds an organic touch to the interior decor.
6. Home Spa Essentials
Help your friends transform their new bathroom into a personal spa with a curated selection of home spa essentials. Luxurious bath salts, artisanal soaps, soft, plush towels, and aromatic essential oils can transform an ordinary bath into a rejuvenating experience. Every use becomes a relaxing retreat, a moment of pause in their daily routines.
7. A Collection of Classic Books
For the book-loving homeowner, a handpicked collection of classics can be an extremely thoughtful gift. It could form the cornerstone of their new home library, providing countless hours of immersive reading. Choose titles that you think the recipient would enjoy, or stick to universally admired classics for a safe bet.
8. Personalized Housewares
Last but not least, personalized housewares can be both practical and heartwarming. A set of monogrammed bath towels, a personalized cutting board, or a customized welcome mat can bring a touch of personality to any new home. These items, while useful, also carry an emotional resonance, constantly reminding the homeowners of your thoughtful gesture.
Conclusion
Remember, the best housewarming gifts reflect the recipient's taste, preferences, and needs. Consider their style, hobbies, and interests when selecting a gift, and it's sure to be appreciated.
The art of selecting the perfect housewarming gift lies in thoughtfulness, personalization, and a deep understanding of the homeowners' tastes and lifestyle. Whether it's the indulgence of a gourmet gift basket, the artistic flair of customized artwork, the usefulness of a kitchen gadget, the organic beauty of an indoor plant, the soothing appeal of a home spa kit, the charm of a scented candle, the intellectual treasure of a book collection, or the personal touch of customized housewares – there is a gift for every home and every homeowner.
So, the next time you find yourself seeking the perfect present to celebrate a friend or loved one's new home, remember: the best housewarming gifts come from the heart. They are meaningful, personal, and always treasured. Keep this guide handy, and you're sure to find the perfect offering for every new homeowner in your life. Here's to many shared memories and joyous times in their new abode!