Customer relationship management (CRM) software are valuable for various businesses, as such software helps them collect, store and manage the critical sales data. That's why companies strive to build CRMs to satisfy their business requirements.
This post is prepared for you to consider what is required to build a CRM software from scratch and how this system may be your trustworthy assistant in saving time and money for other needs of your company.
What is the CRM Software?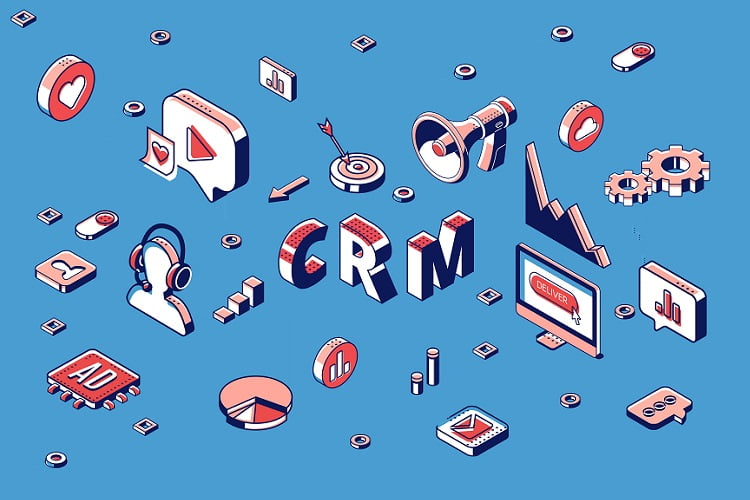 CRM software are a practical approach to assist entrepreneurs in studying and monitoring client interactions throughout the customer lifecycle. For such purposes, CRMs use databases for gathering, saving, and analyzing valuable client data.
So, if you are a small organization or a bigger one, needing customer acquisition and retention — CRM will effectively help you handle these tasks and improve customer experience.
What is The Reason to Build a CRM Software?
Statistical resources predict that the worldwide CRM industry is expected to be worth $128.97 billion by 2027 year-end. It's explicable because as the business grows and new customers come, the company owners start searching for a software product, flexible enough to manage the gathered piles of data.
Let's dive deeper into the reasons for a customized CRM necessity for your business. They are the following:
Need in specific integrations. Off-the-shelf CRM products are easily integrated with social media analytics instruments or e-mail services. However, if your case is a more peculiar one (e.g., need in a corporate database integration or custom online call systems), you need more than out-of-the-box solutions.
The necessity for specific functionality. If your business requires focusing on one functional area (e.g., sales), the multi-featured ready-made CRM solutions will not suit your company.
Providing individuality. As the off-the-shelf CRMs are built for the mass market, they cannot deliver a personalized user experience. The custom CRM system, on the contrary, lets customers choose unique designs and add features according to their own preferences or needs of the business.
The Common Advantages The Customized CRM Systems Bring
Pre-packaged systems such as Zoho CRM, Freshsales CRM, or Hubspot CRM can help you deal with various company needs. But if you need functionality for a particular business case, you should better think out your own CRM system creation. It will provide the following advantages for your business:
Getting the perfect product. Developing a custom CRM product with the help of a tech partner, you may receive a solution with features your business highly requires.
Improving workflows. Companies will benefit from developing a CRM from scratch, as it helps them track and manage several departments' data.
Reaching scalability. CRM can be used as a foundation for other company applications. It allows you to leverage a single database to create several applications for various departments.
CRM Software Types
Having decided to build a custom CRM software, let's consider the most popular CRM types and find the appropriate one for your particular company.
Operational CRM helps companies streamline and automate sales, customer support, and marketing processes. Its common functionality (such as contact management, lead management, helpdesk, sales pipeline) provides entrepreneurs with an opportunity to perform their responsibilities more effectively.
Analytical CRM may collect and process a large amount of data from various resources. You can get insights, statistics, and analytics data from the system.
Collaborative CRM enhances communication and teamwork in an environment where data can be transparently shared. Users may effortlessly share files and watch activities being streamed.
All of these CRM kinds can be merged into a single, flexible system.
Features of CRM Software
CRM software are typically built for sales specialists, marketers, and customer service managers. The required functionality will vary depending on the business sector, as each department handles various tasks.
We'll talk more about common functionality for CRM. For your convenience, it's divided into three blocks whose meaning will be told later.
The core CRM functionality list includes the following: reminders setting, contact management, tasks and contacts management, report generation, etc. All these features assist CRMs in proper function performance.
The key CRM features. The above-listed features are essential for CRM flawless functioning, but not enough to build the all-in-one product with more specialized features that may be used in a variety of sectors and businesses. File sharing, pipeline view, e-mail marketing, or invoicing are examples of such peculiar features.
The advanced functionality for CRM contains third-party services integration, chatbot use, call center management, and so on. The advanced features will be critical for large enterprises to manage their data.
To implement the above features, you should find a coder (or even a team, depending on your business needs) with the appropriate skill set for your project. The experienced tech partner can help you handle this question, so, collaborating with them, you'll hire the required specialists as soon as possible.
Tips to Consider Before Starting a CRM from Scratch
Building your custom CRM, consider the following aspects:
The company goals and development strategies. It's vital to figure out why you need CRM software before incorporating it into your business operation.
A required feature set. You should set specific goals for your CRM, describe the functionality, and explain how you want it to help your business operations run more smoothly.
Roles in the CRM system. Care about a role breakdown (e.g., sales, marketing, support, etc.) in CRM. Employees in each job will have access to particular pieces of data and capabilities. This can assist you in avoiding data breaches across departments.
Internal Software vs. SaaS Platform. You need to start building the technical background from the very first iteration of product development in case you want to turn your CRM platform into a SaaS one.
Quality. Write down CRM quality criteria (e.g., operational speed, security access, built-in analytics, or database integration) to be compliant with quality standards, such as ASTM, ISO, etc.
Legal issues. Any business activity is subject to legal constraints ( e.g., gathering potential clients' data in healthcare establishments may be difficult owing to privacy policies). Such peculiarities should be taken into account in the project specification.
Staff members onboarding. Having built a bespoke CRM, make sure your employees are ready to use it. Otherwise, you can fail.
Software Requirements Specifications (SRS). Before describing the feature list and final tech requirements, you must examine each corporate department to understand their activities and how they connect with clients.
Wrapping Up
We've touched on the essential points to know to build a CRM software. But if you need to know more, you can apply to a skilled software development company. The experts will answer all your business questions, make a functionality list for your future customer relationship management software, and assist you in building a modern, competitive and efficient CRM system.