Organizations need a bottom-up approach, and there remains a place for senior leadership to serve the onus of leading the company. A new paradigm of organizations has emerged wherein the role of managers is emphasised significantly. Among several senior leaders, the title of senior manager comes with many duties and responsibilities. The title is mostly used in large organizations having multiple layers of management. A senior manager has a broader scope of responsibilities, and success entirely depends on skills and expertise. A business strategy online course can help you explore the senior executive domain by explaining the roles and duties.
Senior executives have the least number of managers and top the hierarchical pyramid. The executives are responsible for the performance of the entire organization. Senior-level managers, such as the board of directors/chairman, acquire power for effective functioning in an organization. It can be challenging to outline the scope and responsibilities of senior executives in a nutshell. Hence, in this article we will explore the responsibilities in depth to understand the same.
Who is a senior executive?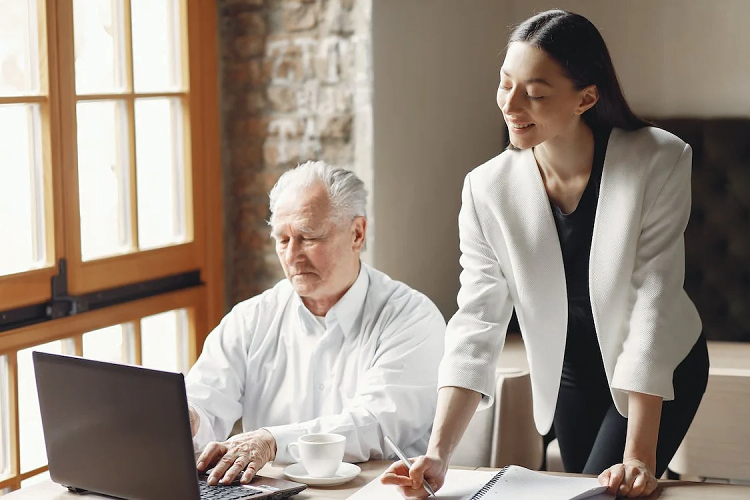 The role of a senior executive entails many duties and responsibilities and is the position of authority in a company. The person oversees making decisions whilst implementing them. You will also support the CEO, CTO, CFO, and higher-ranking professionals and provide strategic administrative support. A master's degree is the most common educational requirement for a senior executive post. The typical hourly wage for the profession varies depending on organizations and their pay scale. The position comes with many obligations; however, one is well compensated for this when paid well. Do not worry if you are not ready to serve the position yet. Enroll in a strategic planning course to learn the role and responsibilities of a senior executive.
Key Responsibilities of a senior executive
1. Improve organizational communication
Without effective communication, your team might otherwise break down. It is undoubtedly one of the most crucial elements of any team and is exponentially more important than any other factor. A senior executive is responsible for passing on information and this becomes exponentially more critical as the team expands. The professional is equipped with knowing how to convey messages which people can truly understand and act on. The communication style is different and distinguished from talking directly to a small team. Learning the right communication style becomes easier in a business where all employees are encouraged to share their viewpoints.
2. Coach the team members
An effective team leader teaches and coaches members on achieving goals and learning necessary skills. The act of coaching involves training the team members to improve their performance, offering feedback and demonstrating the desired work skills and ethics. A coach-style leader works closely with the members to develop the necessary skills. An executive strategy course can help you learn the art of coaching.
3. Push the strengths and improve the shortcomings
Motivating others is one of the most significant challenges individuals face at work. Senior leaders step up and are responsible for embracing strength-based approaches to attain increased motivation and performance. Moreover, it is also a worthy investment, especially after comparing the cost and impact. Several practical tools can help leaders capitalise on a strength-based approach. At first, the leader prioritises focusing on strengths. When leaders concentrate and identify their strengths, employees are more likely to perceive the managers as resources bringing success and positivity to the workplace. Secondly, the leader must assess strengths before putting them into final practice. This skill can be improved with an online executive strategy course teaching leadership essentials.
4. Handle conflicts
The role of a senior executive involves managing conflicts. The role demands swift and smooth conflict resolution. Conflicts are harmful to any organization, and they delay work. Conflicts are inevitable; however, with the proper attention and communication, they can be easily resolved before they become more severe. A senior manager must be able to identify the severity and complexity of the situation. Similarly, they also should ensure that the team members communicate with one another during tough times.
5. Promote the right people
This is the most crucial choice that you make as a senior leader. It signals to the organization what you reward and wish to see more of. In addition to this, it also determines how the teams will perform as employees leave managers and not companies. It is crucial not to promote someone simply because they are a good individual contributor. The responsibilities are primarily focused on people, processes, and meetings. Training people and putting them through their paces will help you identify the ones best equipped to step up.
6. Help new leaders be successful
It is the senior executive's job to make managers successful. This certainly stands true for new managers who require guidance as an essential. The seniors tend to give them more support through frequent one-on-one. They extend their help by developing a strong foundation of fundamentals and learning how to build rapport, listening carefully, asking questions, and fostering interaction with the team. It also offers the flexibility to learn from their mistakes and coach them accordingly.
7. Focus on success
Senior executives must focus on success and demonstrate the need for achievement by focusing on results. They also need to balance their short-term achievements with the long-term. In addition, they need to respond to specific pressures in the organizational environment. Finally, they must focus on establishing the organization's long-term strategic direction within the environment. A senior executive strategic program typically teaches individuals to work on the bigger picture and position the organization in the limelight.
8. Development and monitoring of policies
As policymakers, senior-level managers are rapidly involved in developing and monitoring policies and processes. They determine the best approach to introduce a policy to employees based on the nature of the organization. Company policies maintain order within the organization to ensure that people are treated well, and fair policies are followed. The senior executives also write policy guidelines conveying the rules and regulations to be followed under all circumstances.
Conclusion
A workplace involves several working operations and challenges on a day-to-day basis. A senior executive is an employee entrusted with the responsibility of managing  daily operations and ensuring seamless management. Therefore, taking full accountability for the workplace is critical, and enrolling in a business strategy online course helps you learn the proper management guidelines.