Selfies with Mickey and Minnie Mouse and exhilarating rollercoaster rides might be at the top of your Orlando bucket list, but it might not stop the sports fanatic inside of you.
The good news is you don't need to sacrifice football, golf, or basketball for Disney magic, as many Orlando resorts allow you to embrace your sporting passion between theme parks.
Make your stay in the city complete and check out the six best Orlando resorts for sports fans.
1. Westgate Palace Resort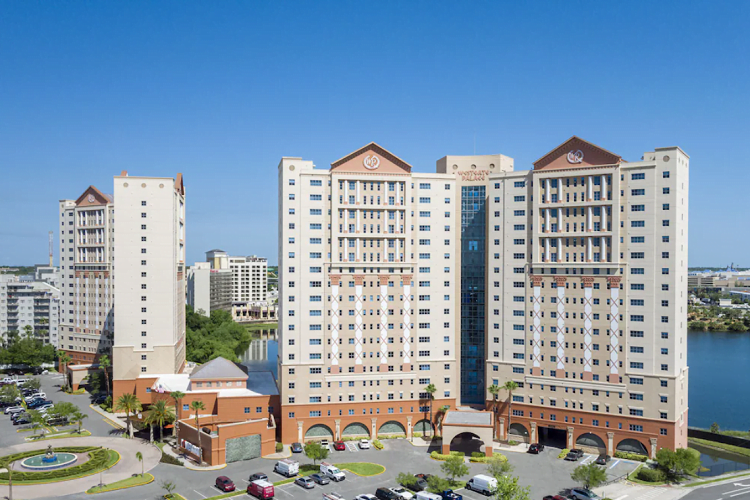 Sit back, relax, and watch a game at Drafts Sports Bar & Grill Express at Westgate Palace Resort. The juicy burgers, cold beers, and delicious chicken wings provide the perfect way to cheer on your favorite team in Orlando.
Westgate Palace Resort on International Drive is a must-book for sports fans who don't want to miss out on an important game on vacation.
The onsite Drafts Sports Bar & Grill Express is the ultimate place to watch your favorite team in action after a busy day at Walt Disney World or Fun Spot America.
The casual eatery serves breakfast, lunch, and dinner, ensuring you can catch a sporting event at any point in the day.
The laidback vibe makes it the perfect place to grab a beer and watch a game while your other half, children, or friends relax in a spacious, stylish villa.
Also, you can treat yourself to one of the many delicious dishes on the menu when watching football, basketball, or another sport.
Sink your teeth into the sports bar's juicy signature burgers, or enjoy a lighter bite by ordering some homestyle chicken tenders or jumbo wings.
When you're not indulging in a beer and a burger at the sports bar, you can enjoy many sporting activities at the resort, such as playing basketball, volleyball, or ping-pong.
Plus, you can unleash your competitive side inside the arcade or game room, and you can even rent board games to play with your family or friends in your spacious two-bedroom villa.
Visit https://www.westgateresorts.com for more information on this two-bedroom villa resort on International Drive.
Source: Instagram, posted on September 18th, 2022, Reunion Resort's official profile.
2. Vacation Rentals at Reunion Resort & Golf Club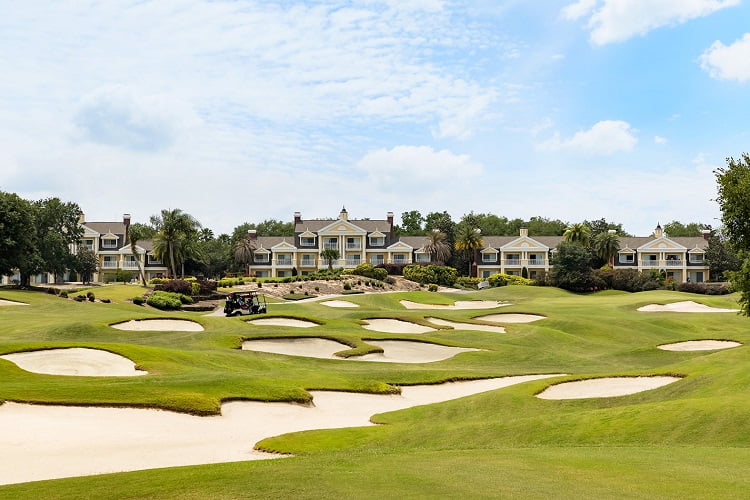 Watch the biggest sporting events in style in one of the high-end vacation rentals available at Reunion Resort & Golf Club. Cheer on your team in a private home theater, unleash your gaming skills at the arcade, or hit the golf course to lower your handicap.
Do you like the sound of waking up inside an opulent mansion every morning in Orlando?
If so, you might want to learn more about the vacation rentals available at Reunion Resort & Club, as they will cater to your inner sports fan.
For example, the sprawling Legends Palace is an elegant estate offering 13 bedrooms and 15 baths.
Most importantly, it features a bowling alley, an arcade room, a home theater to watch a big game, a swimming pool, and a gym.
In addition to all the above private amenities, you will have access to three signature golf courses to practice your swing in the glorious sunshine.
Also, all vacation rental guests will receive unlimited entry to the resort's water park and are free to use the complimentary shuttle service to the theme parks.
Of course, staying in a mansion will cost a considerable sum, and it is best enjoyed as a large group. It could be the perfect way to celebrate a major sports game, such as the Super Bowl or NBA Final.
Source: Instagram, posted on December 21st, 2021, Disney Parks' official profile.
3. Disney's All-Star Sports Resort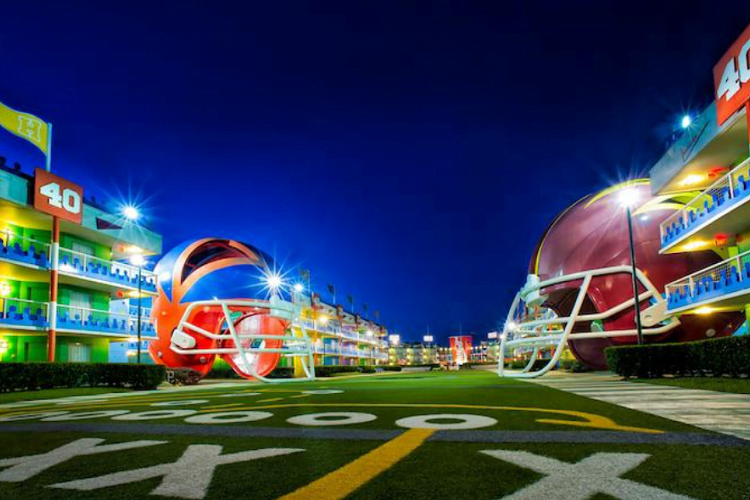 Sprinkle a touch of Disney magic over your love of sports by becoming a guest at its All-Star Sports Resort in Orlando. Offering sports-themed accommodations, a football-inspired food court, and 200ft tall helmets integrated into the exterior, you will happily spend every day of your vacation at this fun resort.
Disney has scored a touchdown with its All-Star Sports Resort. Every room celebrates the diverse world of competitive sports, saluting the likes of football, basketball, tennis, baseball, and surfing.
Your much-loved game will have a magical twist at this cool resort, as you will spot iconic Disney characters embracing various sports.
If you can take your eyes off the sports-inspired accommodations, you should make your way to the End Zone Food Court, which offers all the dishes a sports fan could want before a game, such as burgers, pasta, pizzas, and desserts.
Also, MLB fans will adore the Grand Slam pool, as it is in the shape of a baseball diamond. It even features a fun Goofy fountain that squirts water at you as you swim.
Source: Instagram, posted on July 24th, 2022, Camping World Stadium's profile.
4. Marriott Orlando Downtown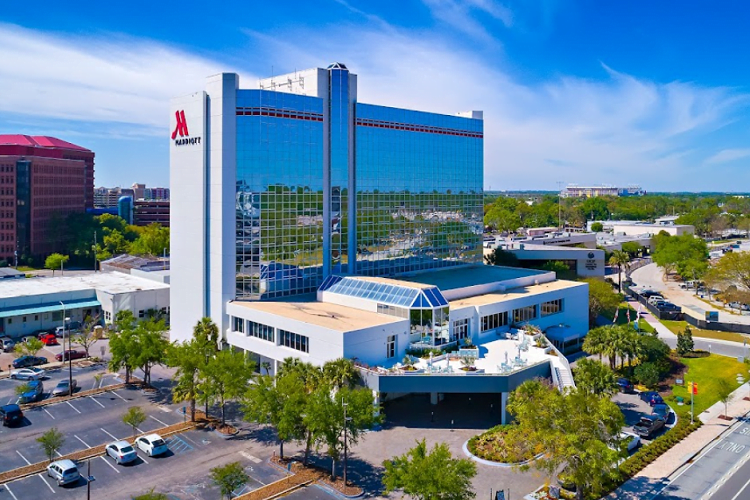 Stay as close to the action as possible by booking a stay at Marriott Orlando Downtown. You can relax and unwind close to the best stadiums in the city, such as Amway Center and Camping World Stadium.
If the location to stadiums is more important to you than a fun sports theme, Marriott Orlando Downtown is a smart choice.
The hotel, a preferred partner of Florida Citrus Sports, is a short walk away from Camping World Stadium, Orlando City Stadium, and Amway Center.
Therefore, you will stay in a prime spot for catching a live football, basketball, or soccer game at a stadium.
After an adrenaline-fueled event, you can relax in a comfortable room or watch the highlights at the hotel's Shade Bar and Grill while enjoying a burger and a beer.
Alternatively, you can rest your tired muscles and order room service to watch the sports news or catch another game on TV.
Source: Instagram, posted on March 6th, 2022, AP Bay Hill Club's official profile.
5. Arnold Palmer's Bay Hill Club & Lodge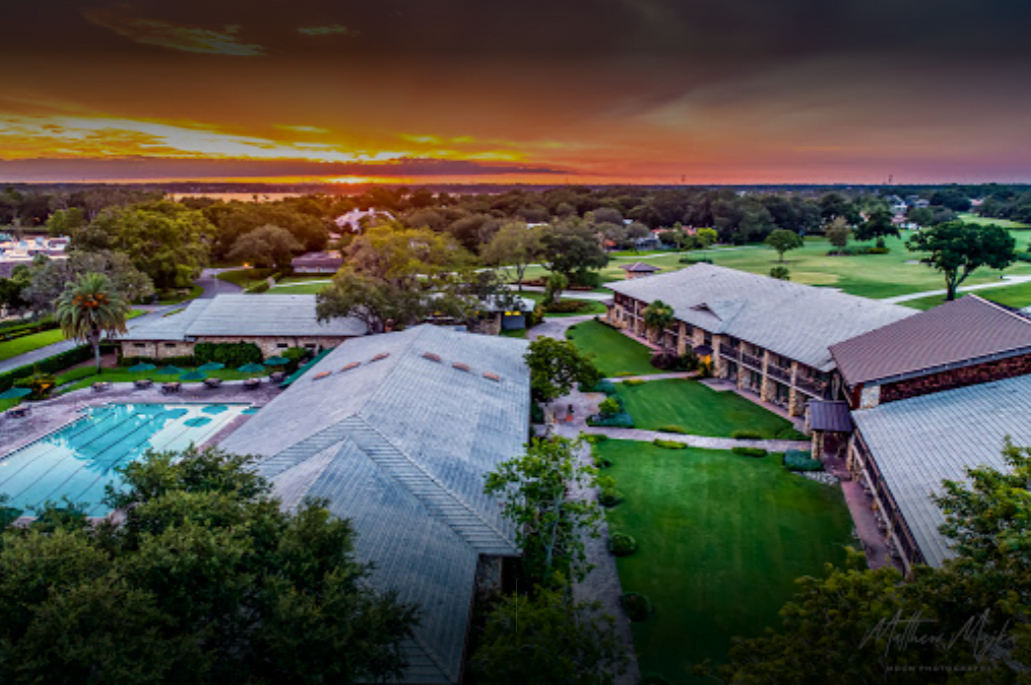 Don't waste a second of the Florida sun and spend your vacation playing golf or tennis at Arnold Palmer's Bay Hill Club & Lodge. Open to exclusive members and registered guests, it's one sun-filled vacation you won't forget.
Arnold Palmer is one of the finest golfers in history, which is why people from across the world flock to the private golf club and hotel in his name.
If you are an avid golfer, you can trust Arnold Palmer's Bay Hill Club & Lodge will not disappoint.
It is, of course, home to a 270-acre golf course along the Butler Chain of Lakes Shores.
Also, amateurs and pros will want to test out their skills on The Champion, Challenger, and Charger Links, which feature a combined 27 holes.
Golf isn't the only sport you can enjoy at this exclusive hotel, as you can organize private and group tennis lessons at one of six stunning courts.
You don't have to bring any sports clothing or equipment with you, as you will find all the apparel and kit you will need at the hotel's tennis shop.
After many busy days of golf and tennis, you can loosen up your tight aching muscles at the hotel's spa.
It will help restore your body to ensure you feel fresh and fit for hitting a course or court the next day.
Source: Instagram, posted on August 15th, 2022, Marriott Hotels' official profile.
6. Orlando World Center Marriott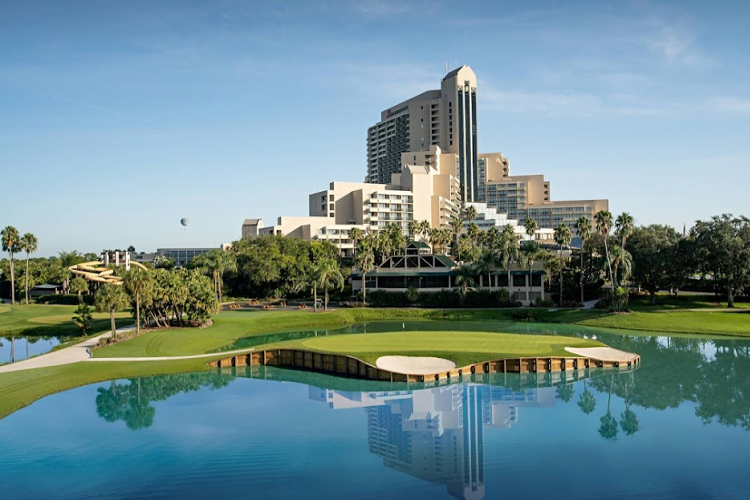 The family-friendly Orlando World Center Marriott is a perfect spot for sports-crazy parents and children. When you are not squeezing Donald Duck at the nearby Walt Disney World theme parks, you can catch an exciting game at High Velocity sports bar.
Orlando World Center Marriot has it all when it comes to elegance, comfort, and fun.
Featuring an elevated interior, spacious baths, oversized balconies, and family-friendly suites, it's a perfect choice when looking for a resort near Walt Disney World.
Of course, as a sports fan, you might be eager to stay in a hotel that will allow you to watch the game in comfort.
Thankfully, Orlando World Center Marriott will satisfy your needs, as it is home to High Velocity sports bar, which is the perfect place to watch an NFL, NBA, or NHL game.
You and your friends or family can gather in the sleek bar to cheer on players and call on the ref while enjoying a beer, burger, or wings.
It is the perfect way to finish a fun day of swimming in the lagoon-style pool, lounging in a cabana, or splashing in the water park.
A fun vacation with family or friends doesn't mean you need to give up your favorite sports, especially when visiting Orlando.
The City Beautiful is full to the brim with exceptional hotels and resorts, competitive activities for all ages, and heart-racing events at various stadiums.
Enjoy the best Orlando resorts of the worlds by considering a stay at one of the above, which will allow you to embrace your passion for a game while making memories with those closest to you.