Tiles are a building material as diverse as they are versatile, having long since emancipated themselves from sanitary spaces such as bathrooms and kitchens. It can be used to visually design living and working spaces. It come in all imaginable colors, patterns, shapes and sizes, allowing for a completely individual design of walls and floors. With tiles you can completely change proportions and perceptions of your home.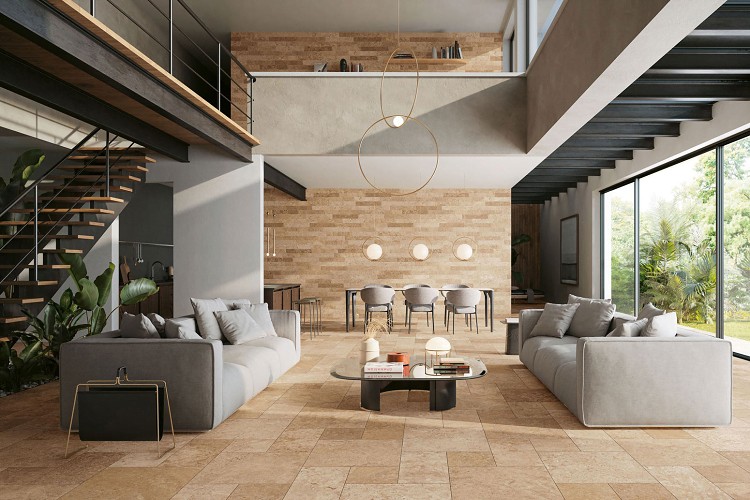 Tiles: Visual and practical advantages especially for small rooms
Tiles offer not only visual advantages, but also have many practical properties. It have an insulating function and are extremely easy to maintain. With tiles of larger format, such as those of 120×120 cm tiles on novoceram.com, rooms appear larger and thus more spacious. Urban living space in particular is often limited in terms of space, because it must remain affordable. But even small rooms can be furnished practically, comfortably and generously by means of tiles and a well thought-out room concept. This requires a sense of proportion and flair, but also knowledge of a few tricks of the trade that can be used to transform smaller and darker rooms such as kitchens, hallways, bathrooms or chambers into a bright and spacious living landscape.
Work with light and colors, especially in small rooms
A well thought-out wall design is the be-all and end-all if rooms are to appear visually larger than they are. It is also better to do without bulky furniture and often superfluous home accessories. Small rooms are better designed with light and bright colors. These can be pastel shades, but also natural gray and beige tones. With dark colors should be set only accents, because large-scale dark colors narrow rooms. Light wall tiles should also be laid in harmony with the floor. This dissolves the contours of the room and makes a bathroom, kitchen or living room look larger.
Ensure that the tiles are laid in such a way as to create space
In the case of wall tiles, care should be taken to lay them in such a way as to gain space. Long tiles, laid crosswise, visibly widen walls and rooms. Laid on edge, a room with the same tiles appears higher. Visual width can be created overall by large-format tiles. Few and hardly visible joints favor this effect. It goes without saying that walls with few joints are easier to clean. In general, large-format tiles with elegant, plain surfaces are increasingly replacing small-format tiles. Color accents are of course allowed. These can be small mosaics or a colored band. Such accents can also be used to pull wall and floor tiles together.
Light and well-chosen furniture create spaciousness
Small rooms in particular should be perfectly illuminated to make them appear larger and brighter. For this purpose, ceiling washers and spotlights are more suitable than floor lamps or lamps mounted on walls or hanging lamps on the ceiling. Large monochrome color areas look calm and spacious. This should also be taken into account when choosing furniture. For small rooms, light-colored furniture is a better choice, in harmony with the walls and wall colors. Upholstered furniture, curtains and blinds are also better to be monochromatic, although they can certainly contrast with bright colors.
The floor influences the effect of the room
Let's return to the floor, because the flooring has a great influence on the overall appearance of premises. If the floor is to be tiled, you can stretch it in a certain direction with elongated tiles. The same applies to parquet and floorboards. Here, too, light colors should be chosen. In addition, planks are laid in the longitudinal or transverse direction of the room, depending on whether you want the room to look longer or wider.