The Internet is full of marketplaces, where businesses can sell their business products or services online to customers. The report shows that more than 2.14 billion customers globally will purchase goods and services online by 2021; this number is relatively high, from 1.66 billion global digital buyers in 2016. It merely shows that shoppers turn to the online marketplace to compare prices, search for a product, make a purchase, etc.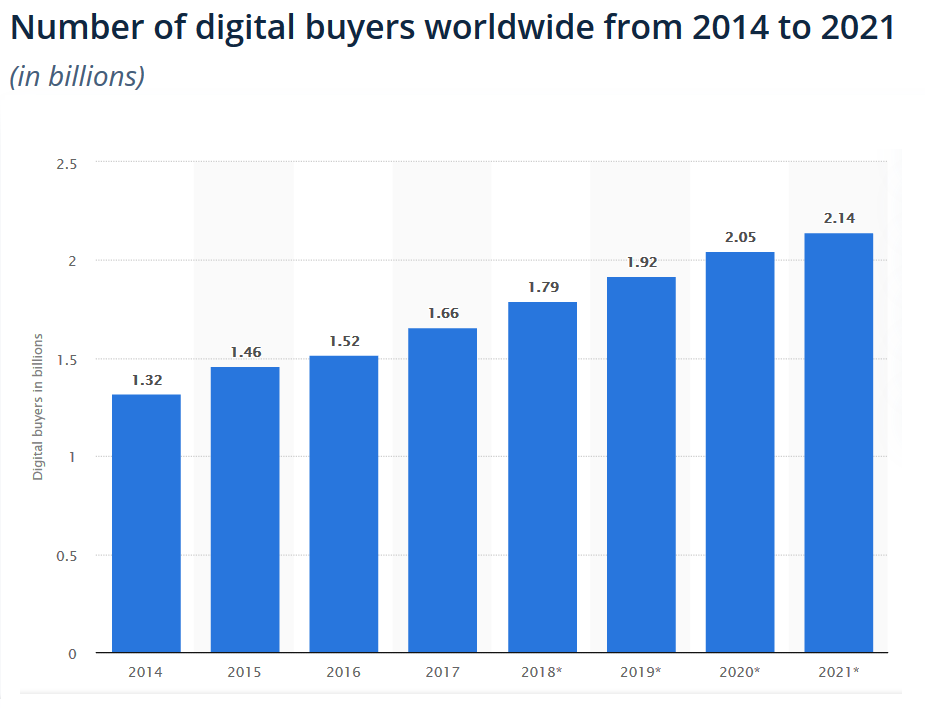 Image: (Source)
Today most shoppers love to shop from the online marketplace as it offers them great convenience. The survey found that more than $1.86 trillion was spent by shoppers online globally in 2018. There are numerous benefits which retail businesses can leverage by selling their business product or service in the marketplace. Retail business owners can consider different marketplace platforms to sell their business products online.

Image: (Source)
Check Complete List of Top Marketplaces to Sell Your Business Products Online
Statista report shows that retail eCommerce sales worldwide are expected to reach around 3.53 trillion U.S. dollars in 2019, and e-retail revenues are estimated to grow and reach 6.54 trillion U.S. dollars in 2022. Online shopping and selling are considered as the most popular online activity worldwide. In 2016 alone, China experienced a 19% jump in retail sales; shoppers used internet-connected smartphones for shopping online. (Source)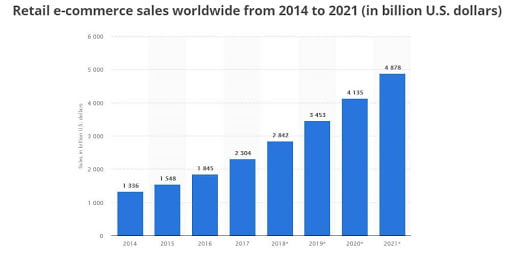 Image: (Source)
Globally, around 50% of eCommerce sales were made through online marketplaces in 2019. The market is projected to contribute around $1.7 trillion to the economy. It is estimated to reach around $7 trillion by the end of 2024. Most retailers are opting for a marketplace, helping them to promote online sales. (Source)
Most retailers who sell online are familiar with business giants like Amazon, eBay, and many other marketplace platforms. But many retailers don't know which platform to select to sell their business product or service. There are many questions which retail businesses can consider to choose the best marketplace platform to sell their business product or service; these questions include:
Which are rising marketplace platforms?
Who are big players dealing globally?
Which is the best marketplace platform to sell your product?
Best Marketplaces to Sell Your Products Online
There are numerous marketplaces that businesses can consider leveraging to reach their potential customers. With the increasing popularity of online sales and eCommerce marketplaces, most online marketplace channels are continually opting for new ways to engage customers and make them happy. All marketplaces are very beneficial for third-party sellers; explore a complete list of online marketplaces where retailers can sell their business products without any hassle.
Amazon
Amazon has approximately 100 million Prime members; hence it wouldn't be wrong to say that it provides the retailer businesses with a vast customer base. Shoppers spend an average of $1,400 on Amazon per year, making it a goldmine for retailers.
Once a brand starts selling their business product on Amazon, there are numerous aspects which they have to take into consideration. Hence business owners must choose the best selling plan for themself Amazon to leverage all the platform's benefits to the businesses. If you want to start immediately, then Amazon's selling plan is a perfect match for your business. The professional selling plan starts at $39.99 a month; moreover, businesses have to some additional amount as:
Selling fees per items (vary by category)
Variable closing fees
Referral fees
eBay
If you are looking for a marketplace platform covering vast market share globally, then eBay is a perfect option to choose from. The expansive marketplace provides businesses with access to more than 168 million active buyers. It is projected that the online shopping platform generates around $95 billion in annual gross market value. It has around 190 markets worldwide; this provides enormous opportunities to businesses guaranteeing their business growth and profit.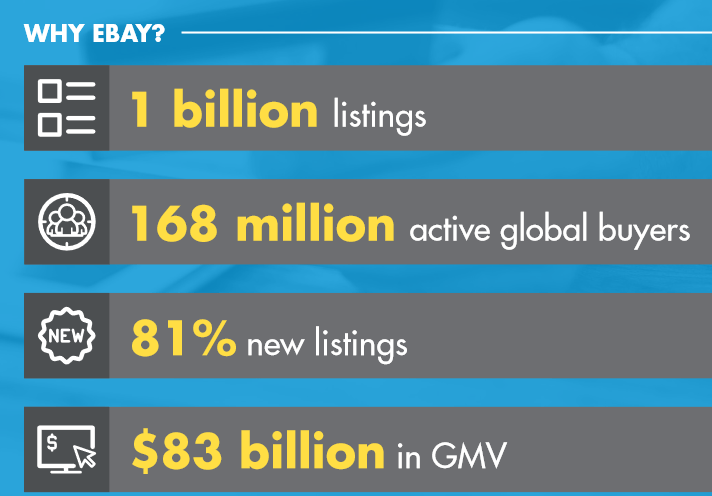 Image: (Source)
There are mainly two types of selling fees that businesses have to pay while using the eBay platform for selling their business product or service; these selling fees include:
Insertion fees.
Final value fees.
Moreover, there are no monthly or annual charges that retail businesses have to worry about while selling the product on the eBay platform.
Walmart
Walmart has more than 265 million members accessing approximately 11,500 stores under around 56 banners. The platform provides its service in more than 27 countries; hence it offers numerous benefits to retailer businesses who register themself with the platform. Walmart charges a commission from the brand; they need not have to worry about initial setup fees, monthly, or annual fees. (Source)
Etsy
Etsy is the first choice of shoppers who are in search of unique products. Etsy is an ideal online marketplace, especially for businesses that possess expertise in selling vintage or handmade products. Like other marketplace platforms, Etsy sellers can use the Etsy platform to sell their business products independently.
Alibaba
Alibaba is one of the eCommerce giants. The company has broken $400 billion recently, and it covers around 80% of China's online sales alone. Alibaba is considered as one of the best marketing engines for businesses. Still, vendors who want to leverage fruitful results on the platform have to stay calm as it can take a reasonable amount of time to reach on top of Alibaba's search. (Source)
Jet
Jet was launched during 2015 but has grasped massive popularity among the sellers. It is considered an ideal online marketplace for businesses that are ready to cater to shoppers' specific segments. The online marketplace platform has more than 400,000 monthly active users and approximately 2,400 sellers. Compared to marketplace giants like eBay and Amazon, Jet has more repeat buyers.
Jet is based in the USA and is growing dramatically; its Gross Merchandise Volume (GMV) is projected to reach around $20 billion by the end of 2020. It works on a practical algorithm that offers discounts to shoppers on different items purchase. Recently it introduced a new module known as dynamic pricing to grasp the attention of Americans. (Source)
Rakuten
It is the fourth largest eCommerce platform globally. Japan based Rakuten connects sellers with an audience base as more than 80% of the local population is purchasing the same marketplace platform. It is the best choice for medium and large sellers helping them to grow their business internationally. What makes the platform different from others is that it provides personal space to sellers, the platform ensures to provide the best quality and personalized experience to customers. Important metric about Rakuten: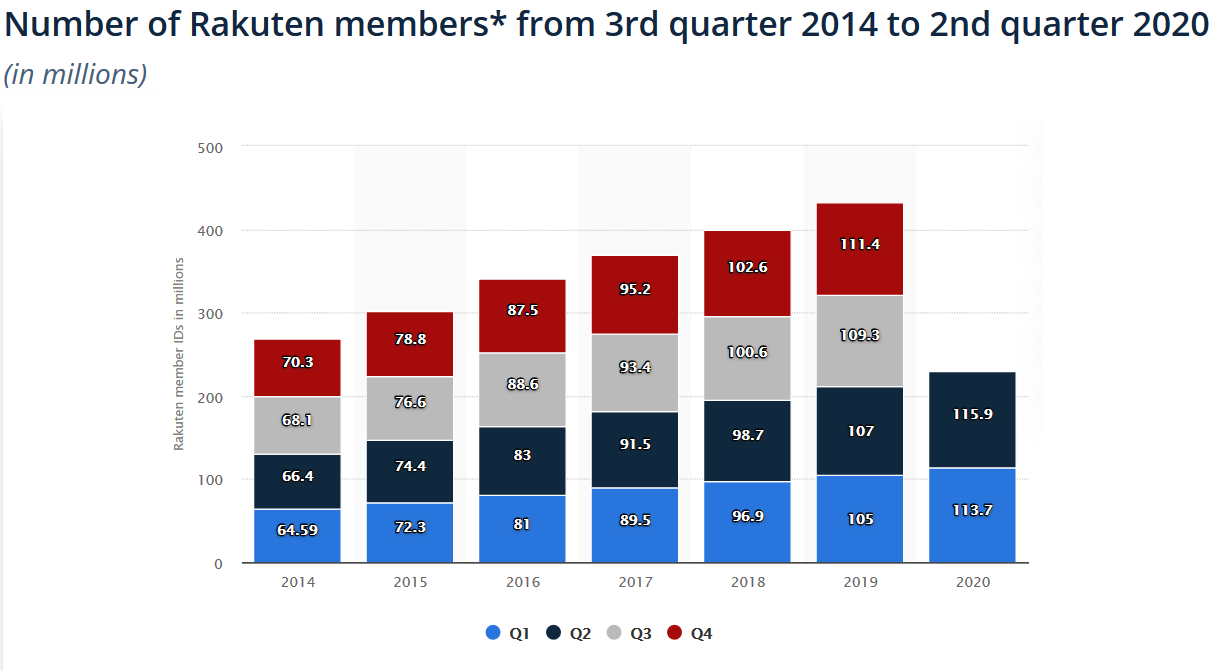 Image: (Source)
Number of active users: 116 million
Seller fees: 8 to12 %
Monthly fee: JPY 19,500
Newegg
Newegg is a tech-centric online marketplace platform that has more than 30 million customers. Businesses who want to enhance their business can consider using Newegg as it operates in more than 50 countries. The online marketplace is different and specializes in tech products. The platform is also considered a good fit for seasonal sellers, guaranteeing a reasonable amount of traffic for your business. It is found that there are more than 20 million shoppers subscribed to the Newegg platform annually; this helps you enhance your business presence online.
Square
If you want to launch your online marketplace business, Square is the best option to choose from. It is a free SEO and design tool that helps businesses develop their personal space in the digital market. It enables you to develop a website that strengthens your business presence online; you can also invest in a ready to use marketplace app like gojek, ensuring complete control over marketplace business. It also helps you offer a fantastic shopping experience for shoppers on-demand.
Houzz
A Scandinavian based Houzz is an online marketplace that features a vast range of sellers. The platform has more than 900 categories of home-based products. It is the best platform for those sellers who want to enhance their home-based business reach globally. The seller can list their products on the marketplace platform to sell it on the platform. Explore some exciting things about the marketplace platform, which makes it different from all other platforms.
Houzz has stringent product listing guidelines. Therefore businesses who want to list their product on the platform have to make sure that their listings are adequately formatted, categorized, descriptive, clear, and highlight benefits.
As a seller, it's your duty to keep the product data up-to-date and accurate. Hence keep updating your product data whenever needed.
Keep all the cost-competitive, Houzz works on a simple rule that shoppers can't exceed the industry rate.
Concluding Note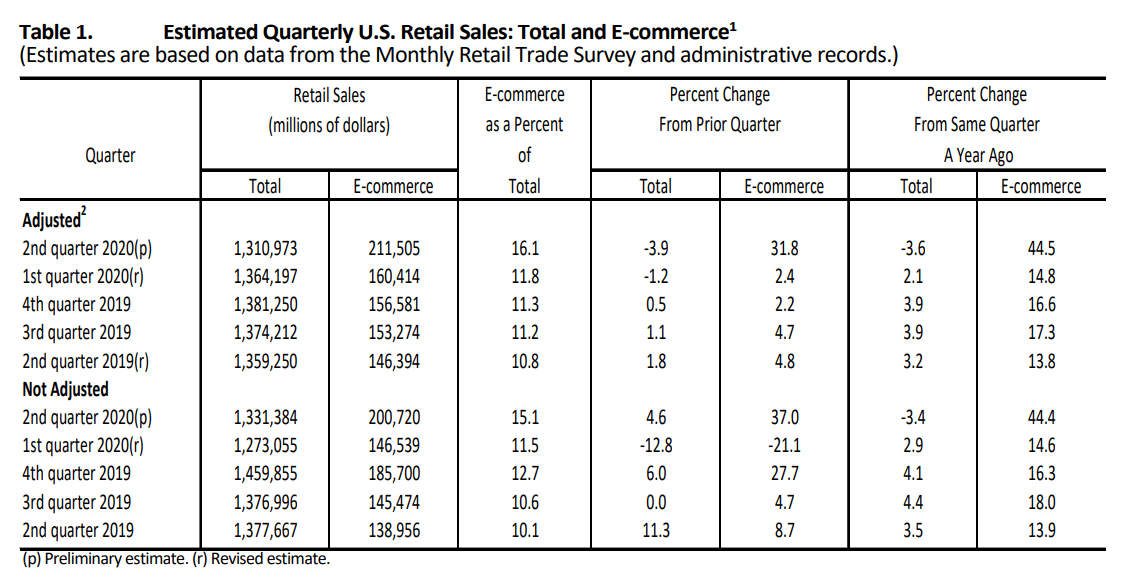 Image: (Source)
Online shopping has increased significantly faster than brick and mortar stores. U.S. Census Bureau data shows that online businesses have brought nearly half a trillion dollars in the United States alone over last year, with 9% in the total sales. The report also shows that online sales are growing by 15 to 17% per year. Undoubtedly the marketplace is robust globally. It was found that around 1.66 billion online shoppers spent roughly $2.3 trillion in 2017 alone. However, the sale is going to double from today's level by the end of 2021.
Meanwhile, most of the businesses are moving aggressively towards one or another marketplace platform. They are leveraging the advantage of online trends and considering the same to protect their business. Hence if you aim to achieve success and want to leverage competitive advantages for your business, it becomes vital for you to take your business online with any of the marketplace platforms. Consider making smart choices to ensure your business survival in today's tech-driven market.