Are you ready to Ace Your Chemistry Syllabus for NEET? With so much competition to get into the top medical colleges, it can be difficult to stand out from the crowd.
But with the right strategy and preparation, you can ace your NEET Chemistry syllabus and secure your place in the medical college of your choice!
This guide will provide you with essential strategies to help you make the most of your studies and ensure you stay ahead of the competition.
Strategies for Mastering the NEET Chemistry Syllabus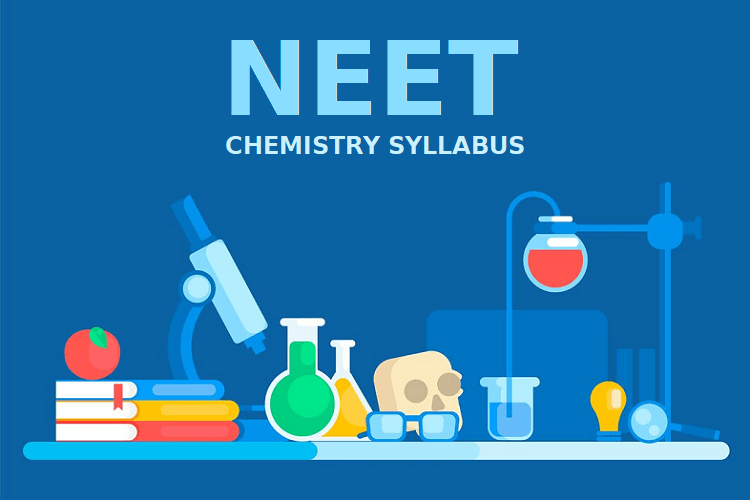 1. Understanding the Basics
The first step to mastering the Chemistry syllabus for NEET is to understand the basics. This includes learning and understanding basic concepts, such as atoms, molecules, bonds, and chemical reactions.
Understanding these concepts can help students to better understand more complex topics such as thermodynamics, kinetics, and organic chemistry.
2. Practice Makes Perfect
The next step is to practice and perfect the concepts. This can be done through problem-solving and practice exams. Students should set aside time each day to practice the concepts, as this will help them to become more comfortable with the material.
Additionally, students should use online resources, such as textbooks, to better understand the topics.
3. Utilizing Memorization Techniques
Another step is to use memorization techniques. This includes using mnemonic devices, flashcards, and other memorization techniques. Additionally, students should use diagrams and other visual aids to help them better understand and remember the concepts.
This will help them to better recall the information when taking the exam. Additionally, students should practice the topics regularly to ensure that they are not forgetting any important concepts.
4. Using Study Groups
A study group can be a great resource when preparing for a Chemistry exam. This is because it allows you to discuss difficult concepts with other students and ask questions that you may not have thought of on your own.
Additionally, it allows you to practice your problem-solving skills with the help of others. When forming a study group, try to make sure that everyone in the group has the same goal and that they are all prepared to work hard.
5. Being Organized
Staying organized is key when preparing for the Chemistry exam. It is important to be familiar with the syllabus and to create a study plan for yourself that outlines what topics you need to cover and when.
Additionally, make sure to keep your notes and other materials organized and accessible. This will help you stay focused and ensure that you are not wasting valuable study time searching for materials.
6. Mastering the Exam Format
It is important to familiarize yourself with the exam format before taking the NEET exam. This includes understanding the types of questions that will be asked, the structure of the exam, and the time limits for each section.
Additionally, practice taking practice tests and reviewing the answers to ensure that you are prepared for the actual exam.
7. Seeking Help from Instructors
Having an experienced instructor to guide you through the Chemistry syllabus is one of the best strategies for mastering it.
A good instructor should be able to provide you with the right resources and advice on how to approach the syllabus, as well as provide tips on how to remember and apply the concepts learned.
Additionally, instructors can help you develop problem-solving skills and provide support and motivation during difficult times.
8. Utilizing Technology
Technology can be a great tool to help you master the Chemistry syllabus for Neet. By using online resources such as video lectures, practice tests, and online forums, you can gain a better understanding of the syllabus and how to approach it.
Additionally, utilizing technology can help you keep track of your progress and quickly pinpoint areas where you need more practice or review.
9. Developing Problem-Solving Skills
Problem-solving skills are essential to mastering the Chemistry syllabus. Taking practice tests and solving sample problems can help you identify areas of the syllabus that you need to focus on and develop your understanding of the topics.
Additionally, having the ability to solve problems quickly and accurately can help you save time and increase your confidence when taking the NEET exams.
10. Working on Time Management
Time management is key to mastering the Chemistry syllabus for NEET. With the vast amount of material that needs to be studied, it is important to plan out your study schedule and make sure you are making the most of your time.
Additionally, it is important to take breaks and make sure you are not overworking yourself. Taking regular breaks can help you stay focused and motivated, and be more productive when studying.
Conclusion
Ace Your Chemistry Syllabus for NEET UG 2023 by making use of the best resources available. Utilize the available online resources, such as videos, tutorials, and practice tests, to build a solid foundation of chemistry concepts.
Make use of books and other reference materials for developing a better understanding of the topics.
Lastly, get regular guidance from an expert mentor like Infinity Learn to stay on track and clear your 2023 NEET UG with flying colours.