In the digital age, convenience is king, and this extends to managing your finances. Gone are the days of lengthy paperwork and multiple trips to the bank to apply for a credit card.
Today, you can easily apply for a credit card online from IndusInd Bank in 3 simple steps. In this blog, we will guide you through the process while highlighting the benefits of choosing IndusInd Bank for your credit card needs.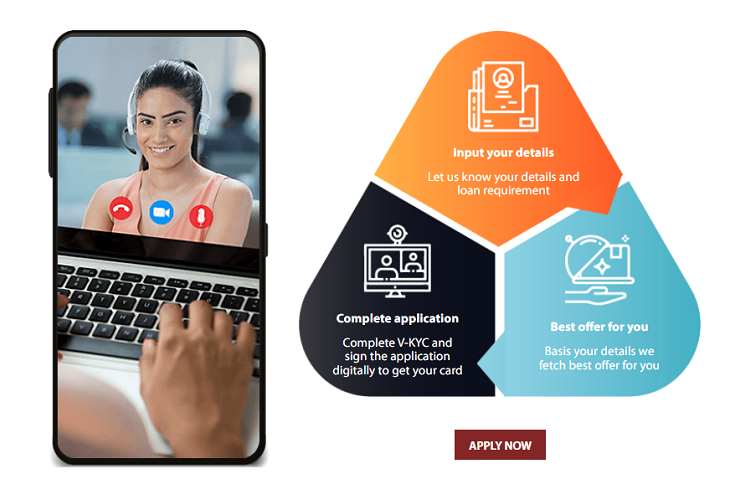 Research and Choose the Right Card
Before you dive into the online application process, it's essential to research and select the credit card that best suits your needs. Consider your spending habits, lifestyle, and financial goals. Different credit cards offer various rewards and perks, such as cashback, travel benefits, or discounts on specific categories like dining or shopping.
IndusInd Bank offers a wide range of credit cards designed to cater to diverse needs. Whether you're a frequent traveller, a shopaholic, or someone who wants a card for everyday expenses, IndusInd Bank has options like the IndusInd Bank Platinum Aura Edge Credit Card, IndusInd Bank Club Vistara Explorer Credit Card, IndusInd Bank Legend Credit Card and more. Each credit card comes with unique features and benefits, so choose the one that aligns with your preferences.
Why Choose IndusInd Bank for Your Credit Card?
While there are many banks and financial institutions offering credit cards in India, IndusInd Bank stands out for the following reasons:
1. Diverse Range of Credit Cards
IndusInd Bank offers a wide variety of credit cards, ensuring there's an option for everyone. Whether you're a frequent traveler, a foodie, a shopper, or someone focused on saving and rewards, you'll find a card tailored to your lifestyle.
2. Attractive Rewards and Benefits
IndusInd Bank credit cards come with attractive rewards programs, including cashback, travel rewards, and discounts on dining and shopping. You can maximize the benefits of your credit card based on your spending habits.
3. Online Account Management
Managing your IndusInd Bank credit card is easy and convenient. You can access your account online via the IndusMobile app to check your statements, pay bills, and redeem rewards without the hassle of visiting a physical branch.
4. Security and Customer Support
IndusInd Bank places a high emphasis on the security of your financial transactions. The customer support team is readily available to assist with any queries or concerns.
5. Easy Online Application
As highlighted in this blog, applying for an IndusInd Bank credit card online is a straightforward process, making it even more convenient for customers.
Apply Online in 3 Steps & Get Instant Approval
Now that you've selected the credit card that suits you best, it's time to start the online application process. Applying for an IndusInd Bank credit card online is a hassle-free and paperless experience. Here are the 3 simple steps to follow:
Step 1: Enter your mobile number, PAN and address
Step 2: Select the desired credit card
Step 3: Complete Video KYC
You do not need to provide physical documents. All you need is:
 Aadhaar and PAN number for online verification
 Residential proof if the address mentioned in Aadhaar is different from your current address.
Once the application is completed, your credit card will be delivered within 2-3 days.
Conclusion
In conclusion, applying for a credit card online in India has never been easier. By following these three simple steps, you can access the benefits of a credit card tailored to your lifestyle and financial goals. And when you choose IndusInd Bank, you're not only getting a credit card; you're gaining access to a range of features and benefits designed to enhance your financial experience. So, why wait? Explore IndusInd Bank's credit card offerings and take the first step toward securing your financial future today. Apply credit card online and get instant approval to unlock a world of convenience and rewards.
Disclaimer: The information provided in this article is generic in nature and for informational purposes only. It is not a substitute for specific advice in your own circumstances. Hence, you are advised to consult your financial advisor before making any financial decision. IndusInd Bank Limited (IBL) does not influence the views of the author in any way. IBL and the author shall not be responsible for any direct/indirect loss or liability incurred by the reader for taking any financial decisions based on the contents and information.