Statista reports that the total number of active mobile internet users in the world by the end of the year 2021 stands at 4.67 billion. According to data released by BuildFire, on an average every smartphone owner uses at least 10 apps a day! Now do you understand every entrepreneurs' obsession with mobile app development!
These firms code apps from ground up using PHP and JavaScripts, html 5, websites, plug-ins, etc. They'll take at least a decade to develop a fully-functional and mature app that is ready for launch.
This mobile tech software industry is very dynamic in nature! With every passing second, a new software is in the town! And within seconds, old software becomes suddenly redundant! So, by the time you launch your app, the technology used to build it up would have become obsolete! This process is not just time-consuming but will also burn a hole in your pocket. The initial investment of coding an app asks for a minimum of quarter of a million us dollars!
What is app marketplace?
It is an e-commerce site that deals exclusively with buying and selling of source codes, WordPress websites, PHP scripts, plugins and even html 5 for designing! One can call it the amazon of source codes. Such app marketplaces have made the process of on demand app development simpler and cooler!
Who is the buyer of mobile app source codes?
It could be anyone. The person need not necessarily be an entrepreneur to enjoy the perks of app marketplace. It could be the founder of an NGO that runs an orphanage who wants to build a website to enable donors to send money. One can ask for just WordPress website only. But in this blog, we'll focus on best app marketplaces and how mobile app development company can register as a seller on this platform!
Top 10 mobile app marketplaces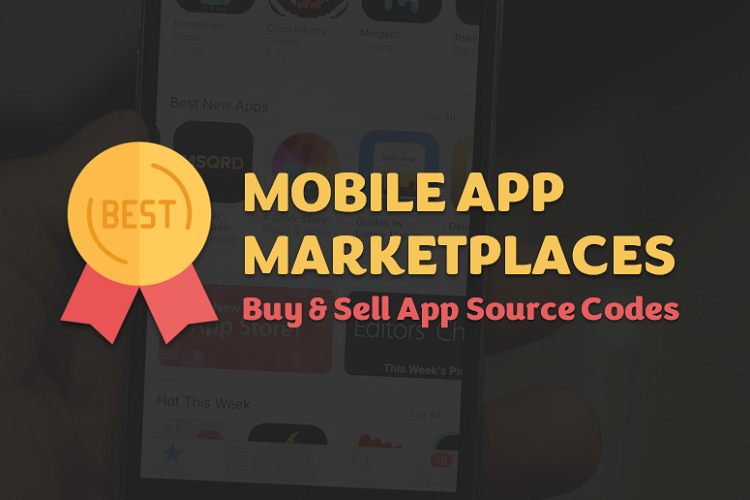 This app is one of the earliest marketplaces and has carved a niche for itself for providing more than 2000 high-end video gaming source codes. For example: billiards multiplayer – 8 ball pool clone unity is one of their most popular video gaming apps. You'd have to splurge $699 USD for a single app license.
Interestingly, it has a policy of 14 days money-back guarantee.
Yes, as a fitness enthusiast and a certified yoga instructor, you can buy a health & fitness app! you'd have to pay $99 USD to get source code for one domain. But if you want it for multiple domains, then the cost is $299 USD! Launch this app which would replace personal gym trainers and would help your customers to lose belly fat, say goodbye to man boobs, etc.
Owned by Australian company Envato, this app marketplace is a digital platform to buy and sell source codes. You want to add a new covid-19 feature to your taxi app, then simply buy a plugin.
You'll have at least 25525 plugins to choose from. With over 2300 PHP scripts to choose from, and over 7700 app templates, you can do wonders with your app. Mobile app development has never been this merrymaking and recreational in nature!
Each and every mobile app development company wants to register as an official seller with this platform. It is a dream come true for web application developers! because it is one of the largest platforms to buy scripts, apps, plugins, themes, and templates.
Its digital presence and online visibility is remarkable! it is the pacific ocean of source codes, so you have got to use the mobile app template filter to start off with. It is broadly categorized into iOS, Android, Unity Games, Corona and Tatanium source codes.
4. iBuildApp
It is the newest addition to the list. It has a unique revenue-generating model – monthly subscription plans for those developers who want to regularly buy app source codes. Many popular tech magazines have given a shout out to iBuildApp for its gigantic code portfolio.
But its USP is enterprise app development solutions. What it does is that it allows corporate organizations to create an app for employees, contractors or even their business partners. The on demand app development industry has been streamlined because of iBuildApp.
A genuine entrepreneur like you can either buy or sell Android & iOS application entrepreneurial ventures by logging into this platform. What if i tell you that you can negotiate charges online which can be either accepted or rejected by sellers who are essentially a mobile app development company. There is a reason why it is coder-centric! a coder has developed a mobile app and has registered as a seller with Flippa. One has to simply provide details such as earning statistics, selling price, etc.
6. Sell My Source Code
They have earned the reputation for selling mature and fully-optimized 3d video games source code. They also sell codes for unity, android, iOS, and windows platforms. But the real reason it is a raging hit among buyers is because it enables them to download lifetime source code for free!
Customizations and enhancements of source code is an integral part of on demand app development. They have a separate team of experienced it professionals who are legit mobile app developers who'd reskin and do everything at a reasonable price.
7. APP.NET
This app marketplace offers two choices to its registered buyers:
No hidden charges! go ahead and develop your app online for free!
Place an online order and app.net will deliver the app to you
Mobile app development company registers with this platform because it offers premium app development features. This marketplace proudly claims that 10 % of all the mobile phones in the world have their tools built-in.
8. AppnGameReskin
It has caught my attention because in a short span of time, it has become one of the trusted brands to buy or sell source codes from. What is interesting to observe is that highly-experienced coders are registering with this platform because it puts sellers on a pedestal. Weekly payments, high commissions, Facebook paid campaigns, product promotions, blogs by on demand app development companies!
Vendors can sell app and game templates, graphic assets and launch apps at lightning speed. They offer to modify code with new features such as level map orientation, user interface and flow of your app, levels design, and leader board. And all of it is done at the price of reskinning.
9. Dovemobi
It is undoubtedly the world's best video gaming source code provider. This platform does need you to be a qualified and experienced coder. Just register yourself as a vendor and obtain source codes, reskin it, and then launch it at google play, iTunes store and even amazon store! Mobile app development was earlier seen as a painstaking process that only nerds would enjoy but that's not the case anymore! You just need to be curious and a little self-motivated to be a profit-making vendor.
Dovemobi also have their own highly-specialized team of developers and designers who'd guide the amateur vendor in times of need.
10. Game Gorillaz
This is the only platform that pays vendors on a regular weekly basis. Even the big corporate names who fall under the category of gaming studios come to Game Gorillaz. They rose to fame because of the quality of products that they have in store! It has source codes for various game development platforms such as unity, Cocos, BuildBox etc. This marketplace has altered the landscape of on-demand app development by offering game background music and 2d game art. Most importantly, the prices of these video gaming codes are very economical!
To develop an app, you have to first code its prototype
This is an alternative for those experienced entrepreneurs who are in no rush to enter the competitive market of mobile app tech and oodles of hard cash! Because building an app from ground zero won't just cost you $250,000 USD and will take up at least 8-10 years of your life before the app is ready for launch.
Prototype: can't get it right in the first attempt itself
Your team of it professionals will need a time period of 3-4 years before they can successfully code a working model of the prototype ready. Then, it is in the next stage that is the most critical phase in app development – perfecting it so that it can become a fully-operational app with features.
Can't launch it unless you test in real environment
Bear in mind, it is going to take up minimum of 2-3 more years. Hypothetically speaking, even if your app is ready by the beginning of the 8th year, you have to first it in real-time.
Beta-testing for a at least six months and then rigorous market testing that can take anywhere between 9-12 months!
Now, go ahead and launch!
But before that you need to get your apps approved by both Google Play Store and iOS App Store!
Conclusion
Mobile app development company is mushrooming on a grand scale! and with increased penetration of smartphones into the masses, higher the usage of mobile apps. Therefore, the demand for mobile apps are only going to increase with each passing year.