In recent years, there has been a dramatic increase in the demand for food delivery services. By 2024, revenue in the online food delivery sector in the United States is expected to exceed $32 billion (with a 5.1% annual growth rate between 2020 and 2024).
On-demand food delivery apps have played a crucial role in the restaurant industry's recent growth. Services like Grubhub and Uber Eats make it easy to get your food from local restaurants delivered to your doorstep. The best food delivery service is both timely and safe, and wallet-friendly. With so many options on the market, it can be challenging to know which one to choose.
As a help to make an informed decision, we have rounded up for you a list of the 15 best on-demand food delivery apps for this year to help you decide. We've considered factors like ease of use, delivery time, and cost. Whether you're looking for a quick bite or a gourmet meal, one of these apps is sure to meet your needs.
A market analysis of food delivery apps
The food delivery mobile app market is booming, with actual revenue stats projected for 2022. It was valued at $67 million in 2020 and is expected to reach $62.8 million by 2030. This market is expected to see annual growth of 25% between 2021 and 2030.
There are a lot of new businesses that are springing up because of the increasing availability of internet access, so they can capitalize on the opportunities it provides. Some major players in the food delivery market are Doordash, Grubhub, Postmates, and Zomato.
Now that we've discussed some basics let's go into more detail about the best food delivery apps.
List of The Best Food Delivery Apps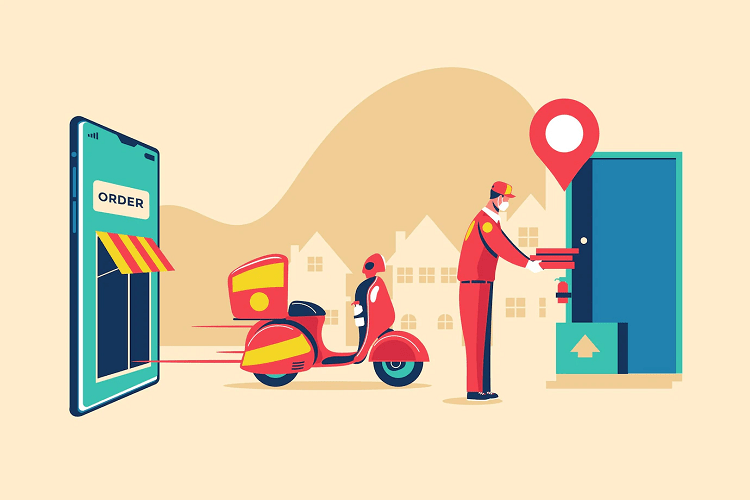 It's not uncommon for users to have vastly different experiences on the platform. They may receive their food late or find the quality isn't up to par with what they were hoping for. If users can't get what they want from a restaurant, it could lead to big problems down the line in terms of productivity and quality control.
We know that you, as a consumer, don't want to wait when you're hungry or eat at a subpar restaurant. To fix this problem, we've compiled a list of the best food delivery applications based on the quality of service and the deliciousness of the food.
1. Zomato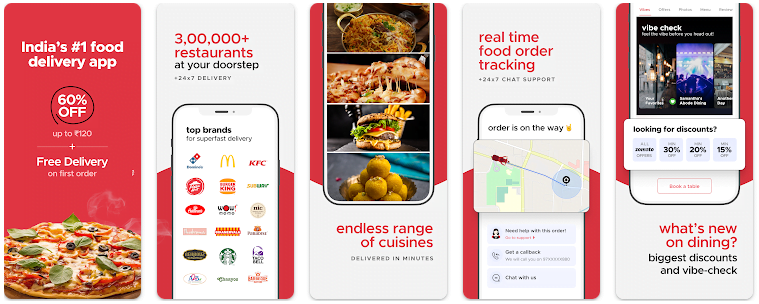 Zomato is a food delivery app that delivers food from restaurants directly to your door. It's known for its speedy delivery and wide range of restaurant options. With Zomato, you can either choose to pick up your order or have it delivered. Using Zomato, you can order food online. It brings you delicious burgers and pizzas while also looking after your health by delivering various salads. You may order whatever you want through Zomato and deliver it to your home.
---
2. Uber Eats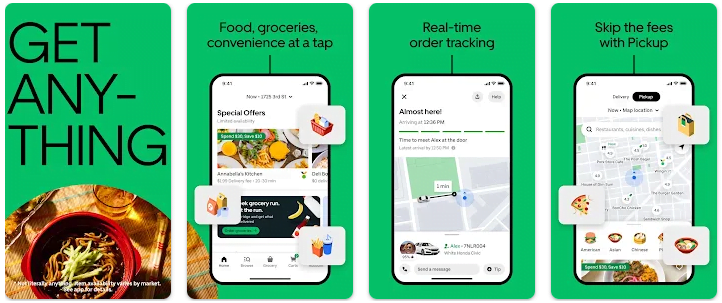 Food is delivered straight to your door by Uber Eats, an app that delivers food from restaurants straight to your door. Aside from its fast delivery service, it also offers a wide variety of restaurants across the country.
When you use Uber Eats, you will have the option of either picking up your order or having it delivered to you. Uber Eats offers you a discount on your first order, one of the best things about this service. If you are a new customer, you are eligible for a discount.
---
3. Grubhub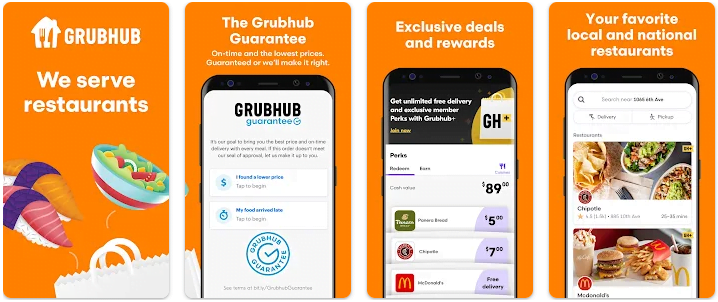 Looking for the best food delivery app? Look no further than Grubhub. In terms of popularity, it is easy to see why this is one of the most popular platforms. There are over 80,000 restaurants in Grubhub's database, which means you can find a wide variety of cuisines in its database to choose from.
Food delivery apps like Grubhub provide users with an easy-to-use interface to find the best food near them. With a fine menu that lists every restaurant in detail, you can check what each one has to offer and tap on your favorite meal. Then, place your first order from the best ordering app for food!
GrubHub offers several easy-to-use filters to assist its clients with more complex searches if needed. You may use discounts on cards to lower the price of your meal, and you get up to 50% off your first dinner if this is your first time ordering.
You may place your order and have it delivered to your home. Grubhub charges a fee for delivery, as well as any additional expenses.
---
4. DoorDash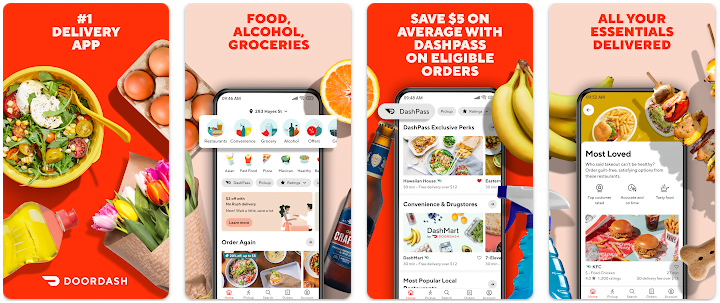 DoorDash is a comprehensive food delivery service from wholesome meals to fast food and beverages. With just a click, the excellent search engine provides you with information about all kinds of dishes available. You can also get orders for both local and national customers. Under the review section, users can quickly find out specific info about meals they are interested in trying.
DoorDash is different from other food delivery apps because it offers its customers a flat $0.99 delivery fee, no matter how large the order is. On top of that, there are also no markups on the prices of menu items.
This app also has a unique feature called "Dasher Direct." This allows users to order food from local restaurants that don't ordinarily deliver.
Who want a flat delivery fee.
Looking to order from local restaurants that don't ordinarily deliver.
Who want to find out specific information about meals before ordering them.
---
5. Postmates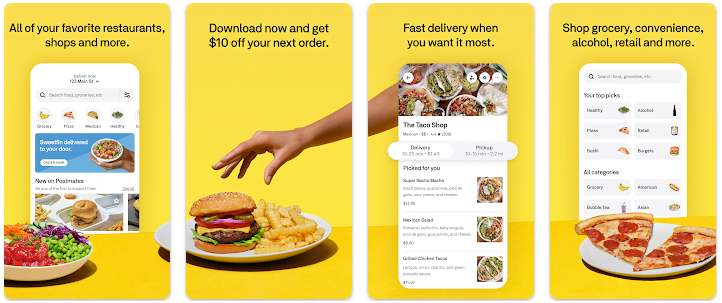 On the market, Postmates is an app that has become very popular for the delivery of food. It's known for its speedy delivery and wide range of restaurant options.
This app has a very user-friendly interface. You can enter your location and it will show you a list of all the restaurants that deliver to your area as soon as you enter your location. You can then browse through the menus and make your selection.
Postmates has the advantage of not having an order minimum requirement, which makes it one of the most convenient services available. So, if you want a single item from a restaurant, you can place your order.
---
6. Instacart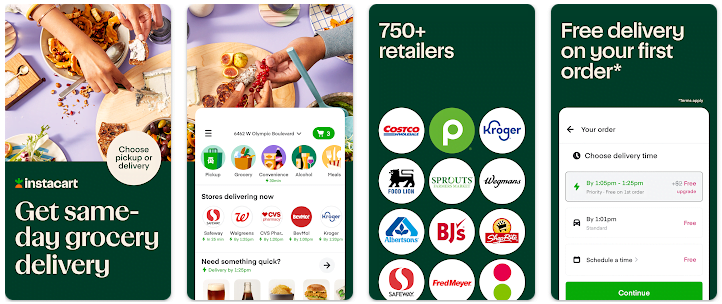 Using the Instacart app, you are able to order groceries from your favorite stores and have them delivered to the doorstep of your home. Depending on how you want to receive your order, you can either pick it up or have it delivered to you. If you prefer delivery, there is a $35 minimum order requirement.
The best thing about Instacart is that it offers same-day delivery. You can use this app if you are in a hurry to get your groceries ASAP, this app is for you. What's excellent about Instacart is that it delivers from multiple stores, not just one. As a result, you have a wide variety of options to choose from when placing your order. You can also schedule your delivery for a time that is convenient for you.
---
7. Seamless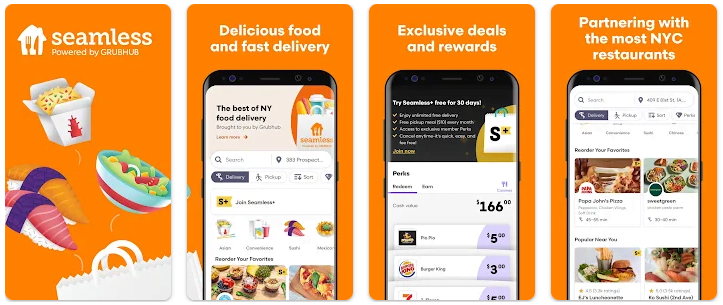 Among the most popular food delivery apps is Seamless. It's known for its ease of use and wide selection of restaurants. Depending on your preference, Seamless allows you to either pick up or have your order delivered to your door. If you choose delivery, there is a $15 minimum order requirement.
One of the best things about Seamless is that it offers discounts on your first order. In this case, if you're a new customer, you'll get a discount on your order. Another great thing about Seamless is that it has a "Favorites" feature. This allows you to save your favorite restaurants so that you can quickly and easily place an order with them in the future.
---
How to develop a food delivery app?
To build a successful food delivery app, you will need to keep the following factors in mind:-
User experience: Your app's user experience should be smooth and easy to use.
Delivery time: Make sure that your delivery times are fast and efficient when doing food Delivery App Development.
Restaurant selection: Offer a wide range of restaurant options so that users can find what they're looking for.
Discounts and promotions: Offer discounts and promotions to new and loyal users.
Now that you know the best food delivery apps, it's time to start planning your app development project. Create a successful food delivery app by keeping the above factors in mind.