When you purchase a new mac, you surely have tested various applications both paid and free before getting on to the decision of what suits you the best.. Being a robust operating system as compared to Windows installing and removing an application on the mac is never a problem.
However, sometimes uninstalling an application from mac may become a problem especially when the conventional procedure of removing an app from mac, i..e moving an app to Trash doesn't remove the app completely. Yes, this is true. The normal method of removing an app doesn't remove the app data completely, i.e. the attached files and data of that app which gets installed while setting up.
And as a result, although you no longer see the app icon and feel that you have completely removed the app, you still have a lot of add data and residue that still resides on your mac and eat up the space unnecessarily. In case you have to remove that app residue as well then you have to search for the app files manually, which itself is a daunting task.
Therefore to ease up that daunting task we have come up with an article on best free mac uninstaller in which we listed some amazing mac app uninstallers that not only delete apps on mac but also clean all the associated files that comes with an app.
So without further delay, let's check out some best Mac uninstallers.
What is the Best App Uninstaller for Mac
This question might have struck your mind: what is the best app uninstaller for mac that can help you to remove the app and all its left over data. We can name an app and label it as a best mac uninstaller but that may or may not be true for you.
Therefore instead of giving you a particular name we will provide you with a list of some mac app uninstallers, and you decide what suits and works for you the best.
How To Select An Uninstaller For Mac?
Before using a mac uninstaller to delete apps on mac, it is important to first figure out how to select the best free mac uninstaller for your mac. But believe us it's not that much difficult and you have to just keep a few important points in your checklist, which are as follows:
The Mac app uninstaller you are trying to use must be user friendly, so that all the features and tools offered by the app must be easy to use.
The Mac app uninstaller should provide desired results when removing an app entirely from Mac.
The best Mac uninstaller should make the task of removing the apps and its left over data files as easy as possible.
The best Mac uninstaller should be light on system resources.
And finally the most important point of all it should come from a trusted and reliable source.
Best Uninstallers for Mac to Delete Apps
If the Mac uninstaller you are trying to use has all the above listed qualities, then obviously it would be a best Mac uninstaller that will ease up the process of removing apps and its residue from the mac.
CleanMyMac X
CleanupMyMac X is one of the best free mac uninstaller apps which is available at Mac App Store. This amazing app helps you to manage installed applications and completely remove unwanted software, along with their corresponding files without leaving any leftovers. Apart from deleting apps on Mac, CleanupMyMac X also helps you to restore system speed, free up storage space and improve the productivity of your Mac. This means CleanupMyMac X is an all in one solution to get the best performance from your Mac.
Main features of CleanupMyMac X
Smart One click care to tune up your mac with a single click to make it run faster.
Privacy Protector to clear cookies, browsing and download history, and other browser data to maintain your online privacy.
Large Files module to identify large and old files taking the space unnecessarily.
Manage startup items and remove the ones that are unnecessarily set to launch at system startup.
Identity Protector to delete and secure your personal information.
Delete Apps
Delete Apps is one of the best free mac uninstaller apps for uninstalling an app and removing all its associated files from the mac. Available on Mac App Store this app is completely free to use with no hidden charges.
Developed by FIPLAB Ltd this app will easily remove all the related library files that are attached with an app like cache, preferences, logs and container files while removing the app.
And what more the app will give you a detailed description of what type of data the app is deleting for each app. Also, Delete Apps will give you a clear visual indication of how much space will be freed up after removing the application and its corresponding files.
Salient features of the app
Sort Application results by size and name.
Search for specific apps to delete
Free up valuable space on your Mac that was formerly occupied by the app and its data.
Boost up the Mac's performance by cleaning the disk from app and its residue,
Regular free updates
Support for Apple Silicon M1
Note: In case Delete Apps is unable to remove some of the applications due to sandbox restrictions, then it will direct you to the specific location and allow you to remove any apps or its files manually.
AppDelete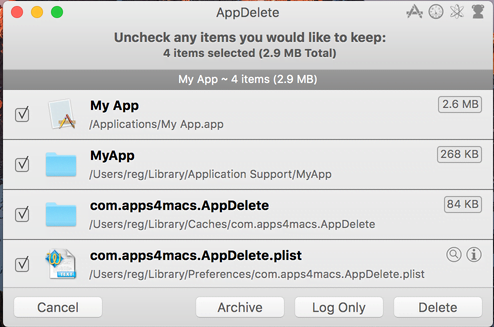 Another best free mac uninstaller that we have included in our list is AppDelete by Late Reggie Ashworth. This mac app uninstaller not only removes the unneeded applications but also their plugins, preferences, widgets, screensavers and all other associated files.
And once all these associated files are deleted along with the app, then only you will be able to completely remove an app and free up a considerable amount of space on your mac.
Although the app is not completely free, yes it has a trial or free version that will give you 5 uses to test and explore the app before you go ahead and purchase the app.
Main features of AppDelete
New intuitive user interface for an easy experience to delete the apps.
Advanced and improved search engine to find the most files ever.
Fully compatible with Retina displays
New additional Preferences such as Protect Running Apps and Ignore List.
Multilingual support: Supports upto 16 different languages.
Search filters for faster scanning and deletion of apps.
Keeps a complete log of all the performed activities and has the feature to Undo a deletion if required.
App Cleaner
Next app in our list of best free mac uninstaller apps is AppCleaner. It is a fairly small and modest app that helps you to delete apps on your mac along with their left over data.
App Cleaner for Mac can be downloaded from many different sites for free, however, if you consider only the apps that are available on App Store then you may be disappointed a bit as the application is not available there.
Removing an app using App Cleaner is simplest of the thing as you just have to drag and drop the app icon that you wish to remove to the App Cleaner window, and then the App Cleaner will search for all the files and file system created by that app and remove them all in a jiffy.
Apart from that App Cleaner has a unique feature that we personally like the most is its SmartDelete feature that can be toggled on and off from the Preferences menu.
Now when this feature is enabled, it automatically notices when you put an application to the Trash, and detects all files related to that app. And then it prompts to delete those associated files of the app as well to remove the application completely.
Salient Features of App Cleaner
Easy to use. All you need to do is drag and drop an unneeded application to the App Cleaner window.
Removes all the orhan files and folders of an application.
Cleans widgets, plug-ins and everything else that has been installed along with an app.
AppCleaner lets you individually check each file before removing them.
Magoshare AweUninser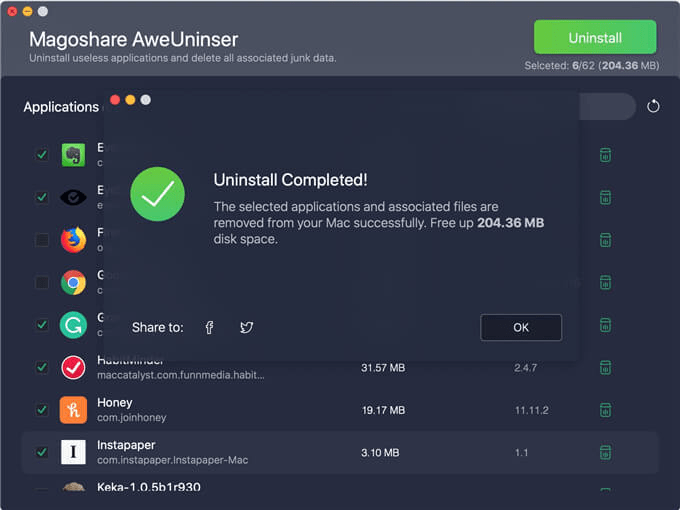 Magoshare AweUninser is one of the best free Mac uninstallers that not only uninstall unwanted programs from your Mac but also remove all associated data files of that app including registry files, app junk, caches, traces, etc.
Magoshare AweUninser is quite simple to use and a novice user can also selectively uninstall apps from his Mac completely like a professional.
The program is completely free for uninstalling the apps, however it also has a paid version which helps you in deeper cleaning of your mac.
Main features of Magoshare AweUninser
Completely safe and free Mac uninstaller to delete apps and its corresponding data files.
Power engine to remove any kind of apps, programs, malware and clean up all their leftovers.
Easy-to-use and remove all corresponding data of application from every corner with a single click.
Junk cleaner to clean all the junk inside your mac i.e. App junk, email junk, etc(Paid version)
Find and remove duplicate files and large files on Mac(Paid version)
Conclusion
So readers this is all from our side. We hope that now after going through this entire list you will be able to decide what is the best app Uninstaller for your Mac.