Are you struggling with hair loss and fall and cannot find a good cause behind it? Well, there are many reasons for your hair fall, but one of the biggest causes can be harsh shampoo containing sulfates, parabens, and SLS. The toxins can have adverse impacts on your hair health. At the same time, they strip off the natural oils from your scalp, leaving your hair brittle and more prone to breakage.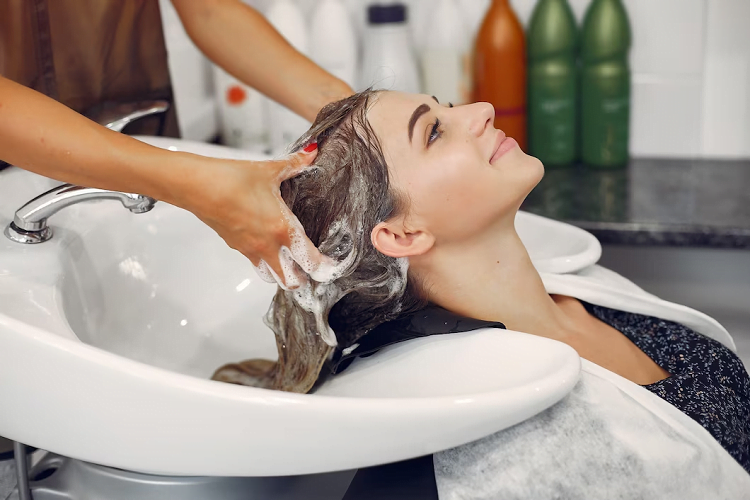 Here is a list of India's seven best mild shampoos for hair fall control.
1. WOW Skin Science red onion and black seed oil Shampoo
Red onion is scientifically proven to be excellent for hair health. Since it is rich in sulfur, it helps in hair regrowth, minimizes hair thinning, and prevents hair from premature graying. Moreover, it is a very good source of antioxidants. Further, the antimicrobial qualities of red onion help treat dandruff.
When used with red onion, black seed oil will strengthen your hair follicles and prevent hair breakage. Being free from harmful chemicals, it stands to be one of the best shampoos for hair loss. [Link]
2. Himalaya anti-hair fall bhringraj Shampoo
As we all know, bhringraj is called 'The king of Herbs.' Bhringraj justifies the title, as when used correctly, it increases blood circulation to the scalp when used correctly, thereby promoting hair growth. An adequate amount of blood that reaches the scalp will significantly reduce hair loss and breakage. It will also aid in reducing dandruff.
It is pocket-friendly and gives a mild experience after every wash. Since it is free from toxins, it would not leave your scalp dry and itchy.
3. mCaffeine Naked and Raw Coffee Shampoo
The caffeine shampoo uses the natural and active ingredients of coffee. The shampoo also works as a scrub and exfoliator for your scalp. When your scalp is clean and healthy, the overall hair health improves. A healthy scalp means lustrous hair shafts. After using a coffee-infused shampoo, you may not need to use a conditioner, as coffee acts as a voluminous conditioner.
It is cruelty-free, and PETA certified. It is favorable for damaged and bleached hair. It is "good for you and good for the planet." Moreover, we know that coffee is a superfood for your hair. It gives you a blend of coffee extracts, protein, and argan oil, providing an effective yet gentle fight against hair issues.
4. Bella Vita Organic Growth Protein Shampoo
It follows the concept of one shot and many targets. The shampoo helps treat hair fall, removes excess oil and dandruff, controls frizz, and provides shine and strength. It falls under the category of cheap and the best. With an affordable price, it delivers the best quantity and quality.
It is a blend of natural ingredients that are soft and gentle on hair. According to the reviews, it is the best remedy for treating problems like hair loss and dandruff.
5. Zequz Multi-Function Shampoo (Paraben-free)
Zequz Shampoo is the best product available in India that is extremely beneficial in preventing hair fall. Suitable for all hair types, it moisturizes your scalp and promotes overall health. The formulation has the goodness of aloe Vera, vitamin E, almond oil, soya lecithin, L-Arginine HCL, octyl methoxycinnamate, and guar hydroxypropyltrimonium chloride.
The shampoo helps you remove harmful pollutants from the scalp and hair. It is the perfect gentle cleanser if you are someone who washes your hair every day.
6. Blue Nectar Hair Fall Control Shampoo
The shampoo is a unique mixture of amla, honey, and mulethi. It is a paraben and sulfate-free shampoo. We all know honey acts as a natural conditioner for your hair. It smoothes the hair strands like silk, which makes hair more manageable and easy to brush.
On the other hand, amla is a natural remedy to treat conditions like hair loss and thinning. Similarly, mulethi, when used with amla, can help promote blood circulation, thereby reducing hair fall.
7. Re'equil Hair Fall Control Shampoo
The shampoo has a promising formulation with Indian cress and watercress infused. It is rich in vitamin B3, which reduces hair fall; B5, which keeps your hair strands and scalp nourished and hydrated at all times; and B7 improves the overall health of hair follicles.
It strengthens your hair from roots and hair strands that will prevent breakage while brushing your hair. In addition, it also makes your hair voluminous and adds and restores natural shine.
It does magic if you have curly, dry, straightened, or chemically treated hair.
Conclusion
Mild shampoos can be a good addition to your hair care routine. Since mild shampoos are user-friendly and environment-friendly, you must consider buying one. It keeps hair fall and all the other hair problems at par.
Moreover, the above-listed mild shampoos go easy on your pocket. Hence do not waste a split second and go for it.