Choosing the best paint type for furniture is a way of giving your old furniture a new look and a new lease of life. No matter what kind of furniture you have in your home, like a chair or a dresser, the paint is essential for bringing a sense of refreshed life into the most treasured piece.
There are many options available to you as far as painting your furniture is concerned. One big factor that needs to be considered is the best paint type for your furniture that you choose to use.
What are the Different Paint Types for Furniture?
Before choosing a paint for your furniture it is important to be aware of the different types of paint available for furniture. Here in this blog, we're going to help you find the best paint types for your furniture. So, let's get started.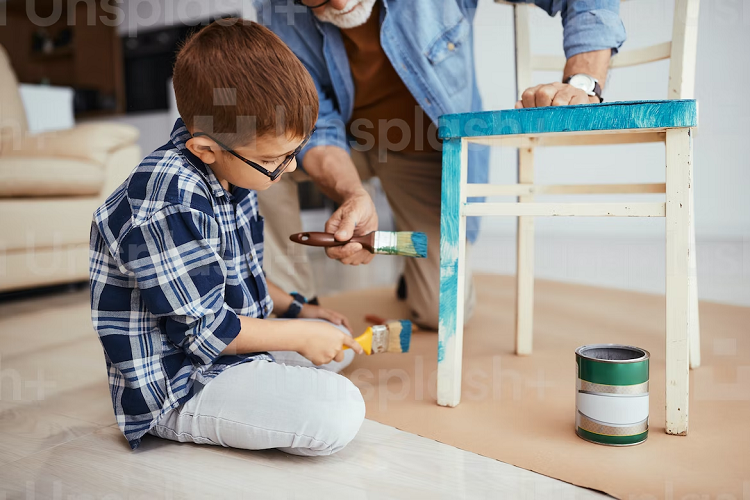 1. Chalk Paint
Generally, chalk paints are water-based paints that have a matte finish, making them ideal to use when painting ornaments made of wood.
Chalk paint is one of the favorite types of paint among DIYers because it's incredibly easy to use: you don't have to sand chalk paint before you apply it, and it has a low to non-VOC rating, so it works perfectly for indoor projects.
Chalk paint can also be distressed so it can look antique, which is why it is used frequently by those seeking to achieve an antique look.
Chalk paint is water-based and can be used for indoor projects, but if you wish to use it on a high-contact object (such as a dresser), you'll need to seal it first.
2. Spray Paint
Spray paints can be easily applied to furniture using the same method as chalk paints, but spray paints have a much longer life expectancy than chalk paints.
Spray paints are available in a variety of products for indoors and outdoors. They can be applied to virtually any surface, such as metal, wood, plastic, ceramic, glass, and many others.
With this paint, it is also very easy to achieve a smooth look without brushstrokes. Aside from being an inexpensive solution, it is also an easy one to use. Spray paint, on the other hand, has the disadvantage that it emits a lot of fumes when used, so it needs to be used outside, and be used with respirators and goggles when used.
It's important to allow the spray painted pieces some time to offgas before bringing them indoors, as the paint can smell like chemicals for a few days.
3. Latex Paint
As one of the most popular options for furniture painting, latex paint has the advantage of being readily available.
Although latex paint's drying time is pretty quick, its curing time is long, and its finish is fairly soft and susceptible to chipping and scratching even after it is dry. For furniture that's going to be used heavily on a daily basis, this might not be the best choice.
Conversely, one of the biggest advantages of latex paint for furniture is the large number of colors that are available to choose from. A custom shade can be created to match your piece of furniture by the paint counter, or you can choose from one of the paint counter's color chips. Paint is available in an abundance of shades, allowing you to select the shade that fits your vision and the décor of your room perfectly.
4. Milk Paint
When looking for a natural paint with a tighter weave than chalky paint, a natural paint with a thin texture may be the right choice. In essence, this nontoxic paint is made up of milk proteins, and is either activated with lime or borax, which is one of the most common activators used in the manufacturing process can be taken from a bar stool manufacturer.
The paint is tinted by adding colored pigments in order to make the paint look different. There are three finishes available for milk paint: smooth, matte, and textured. The smooth, matte finish is preserved by light sanding, while the textured finish can be left intact for a smooth, matte look.
There are some unique properties of milk paint that make it a popular choice for painting furniture because of its eco-friendly ingredients and the fact that it is free of chemicals and pollutants. One of the major benefits of milk paint is the fact that it comes in a powder form, so you can put it on just about anything. Put the paint in a container and add water to make it smooth, then store the leftovers for later use or for touch-ups.
5. Acrylic Paint
Similarly to latex paint, acrylic paint is also a water-based paint that can be applied to furniture. An acrylic polymer suspends color particles in this product, resulting in a product with rich pigments and a smooth finish. With the ability to apply it on a variety of surfaces, this type of paint for furniture can be used for many different purposes.
As the product is being sold in small containers, it makes it perfect for small-scale projects, such as console commercial bar tables, picture frames, and accent pieces, which are great for the home.
6. Oil Paint
A paint that is based on oil, sometimes referred to as an alkyd paint, is one of the best types of paint to be used on furniture because it is durable. There is, however, a price to pay for this durability. A major disadvantage of oil-based paints is their high price, a long drying time, the presence of volatile organic compounds, and the high level of moisture they contain.
In order to ensure that your furniture is durable and not prone to chips and scratches, it is a good idea to paint the pieces with oil-based paint. As a result of the oil paint's strength, it makes it an excellent paint for furniture since it is suitable for almost any surface and adheres nicely to it due to the strength of its pigment. It saturates any porous surface and is self-leveling for easy application. Designed to saturate porous surfaces and self-level, it can easily be applied to any porous surface.
How to Choose the Best Paint For Furniture?
The selection of the best paint for furniture is depends on the number of factors as mentioned below:
1. Type of Surface
What type of furniture are you painting? Is it wood, metal, or laminate? When deciding on which type of paint to buy, the first factor to take into account is the type of surface.
2. Indoor or Outdoor Use
There are a wide variety of applications that furniture has in our daily lives. For example, if you are going to paint a piece of furniture that is going to be used as an indoor piece, then it is important to choose the color that will result in the best results inside the building. Similarly, outdoor use can be said.
3. The Shine
A variety of finishes are available for oil-based and water-based paints. There are matte (flat), satin, semi-gloss, and gloss finishes, as well as fine finishes. A flat finish does not be as washable as a semi-gloss finish, making it less suitable for furniture in high use situations. Your piece will last longer and be more durable if you apply a low-sheen protective topcoat over your matte paint.
4. Cost
This is by far the most important factor to consider while choosing the best paint for furniture. Learn your budget and filter your choice of colors according to your budget to make sure your furniture painting job goes well.
Final Take
Now I hope you have information regards how you can choose the best paint type for your furniture. When you are searching for high-quality furniture paint, using the best quality of paint, then Suren Space is the one that you should contact.
Suren Space has a wide range of furniture available in a broad range of colors that are painted using the high quality paint and used to give the furniture the perfect appearance while maintaining durability.