It is now easier to let out your creativity on an android device than before. No longer is it a must to get a computer before you can make simple designs. There are several graphic design tools and poster maker apps that you can use to display your creativity in 2021.
Best Poster Maker Apps for Android
In this article, we will consider some of the best poster maker apps you need for android in 2021.
Canva

Canva is a top choice and is arguably the most popular graphic design tool currently. This app provides several design templates that you can access for presentations professionally, with several animations and themes to move across texts. It helps you be creative in many ways, and its editor app allows you to create videos that can be shared across social networks.


Desygner

This is another top android graphic design tool with millions of templates that help you create perfect presentations to promote your business brand. You can add logos or texts to the designs, which will be reflected in the last slide. It has a drag-and-drop editor that makes logo editing easy, and the massive library of graphics, fonts, colors, and shapes allows you to create your logo from scratch.


PosterLabs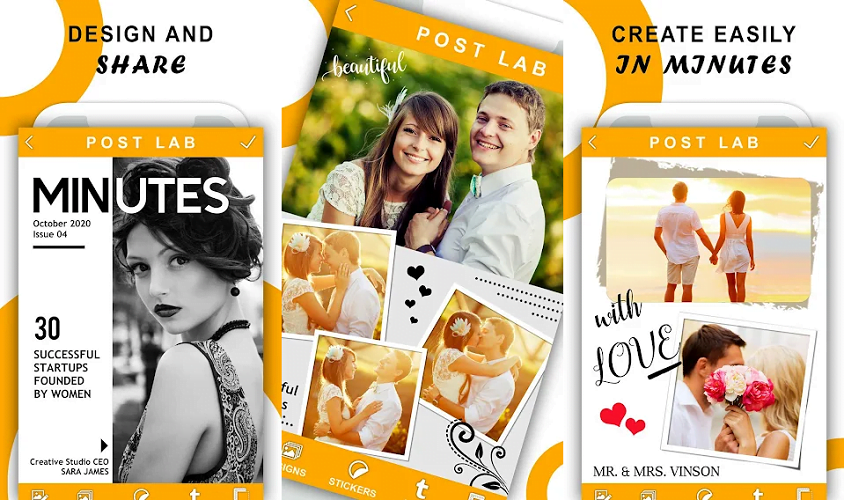 With the PosterLabs app, you can exhibit your poster-making skills within a few steps and develop a professional design. It also has several customization options that you can choose from if you don't have excellent design skills. As a learner, this is the perfect app for you as you can quickly learn to make high-end posts such as movie posters and magazines.


Poster Maker by Photo Cool Apps

With this app, several backgrounds can be used, and it has a decent collection of fonts to choose from, but the stickers are probably the most exciting feature. It has several categories ranging from simple geometric figures to animals, and each category has its style. Thus, the app is an easy-to-use app to make posters on android.


Poster Maker, Flyer Maker

This app gives its users an array of choices to make, which is why it stands out. You can choose from the array of fonts and templates to create your designs and share online. It also allows the users to put added content or write texts over an image. It provides templates for birthday parties, weddings, job posters, sales posters, etc. So, it is not restricted for use on social media alone. It also caters to professional requirements. This app is fast gaining popularity in the android market for these reasons, and apart from being free, it also does not have in-app purchases and is compatible with most android devices.


PostWrap – Poster Maker
Some poster maker apps are not for professional use. However, sometimes you need a tool that meets your everyday needs, and one of such is PostWrap. This app is designed for regular use, and it allows users to turn boring texts into fun posters and create custom text posters. With this app, you can design beautiful posters that you can hang on your wall or gift a friend.
This app is available for free download, and it is also ad-free, but it doesn't offer as much customization as other apps, and users can add images on texts. However, users can use several downloadable fonts after downloading, and you can decide the text size for posters. This app is compatible with almost all android devices.


Poster Maker by Splendid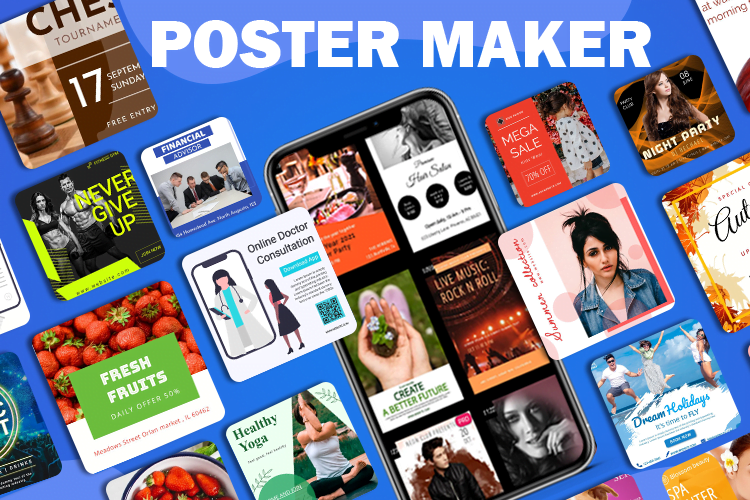 This app allows the users to either create their posters from scratch or use some of the numerous templates provided on the app. On this app, users will find content that relates to almost every event and season of the year, such as Christmas, Halloween, etc. The android poster maker app has over 1000 background images, textures, icons, and stickers for use. You only need to search for a particular season or event, such as "Birthday," and it will show you several birthday stickers, background images, invitation card templates, and so on.


Posters

If you need an app to make free posters and stickers that you can use on your Instagram Story, then you have it right here with Posters. This app allows you to create an awesome personal poster with multiple graphic templates that can be used on social media. In addition, it has editing tools that can be used to create banners and posters on social networks for advertising campaigns and business purposes.


Posteroid

The Posteroid app is created specifically for beginners in graphic design. So, it is a user-friendly design app and is available for free. This app contains several admirable features, and one of them is the user's ability to write quotes on clicked photos or downloaded images. Several edited posters can be used as background images and wallpapers on phones or hung on your living room wall. You can insert borders and add texts with different fonts to give the poster an enhanced look. It is also possible to set the texture and customize the opacity to enhance the poster's look. And you can determine the image size before you save it.


Cover Maker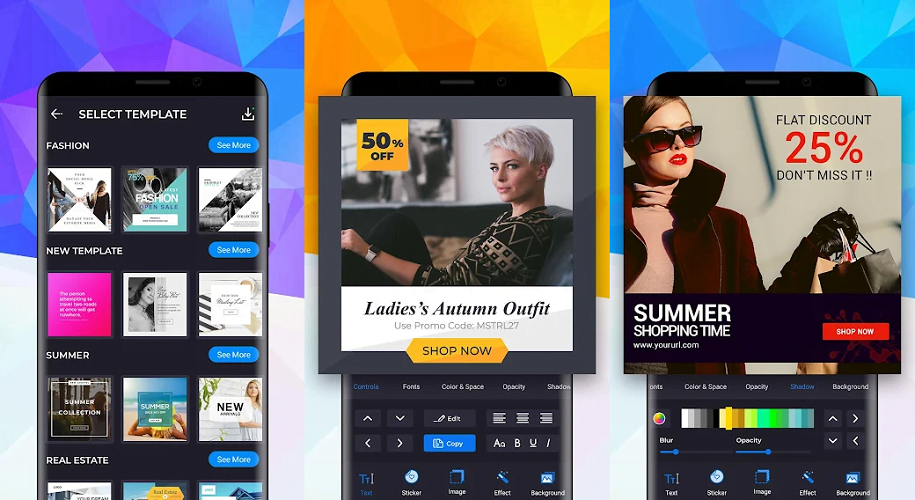 This app is referred to as the cover photo design app for social platforms, and it has lots of features to this effect. It has 80 fonts and over 200 custom-picked textures that can be used to design cover photos. It also uses several unique filters on single posters with different textures and fonts, and it can be used to edit photos without limits to the size. This app is created especially for social platforms and is available for free downloads but with plenty of ads. It works like magic for beginners as everything is easy and ready-made. It is also compatible with almost all android devices without any special equipment.


Conclusion
There are several poster maker apps available for android devices in the market in 2021, and these are some of the best ones dominating the market. With these apps, it has become easy and seamless to create different types of designs without needing a computer.