Fueling your body is absolutely essential before a workout, to make sure that you have the energy you need to perform at your best, as well as to help with recovery quickly afterwards.
The best formula for vegan pre-work out meals are a healthy balance of carbs, fats and protein, which is what we have achieved with all of these recipes!
Many people believe that it's not possible to have a fully healthy and balanced diet as a vegan, but we are here to prove that's not the case and to show you how you can fuel your body for any workout with these best vegan pre-work out meals for any time of the day!
1. Scrambled Tofu on Toast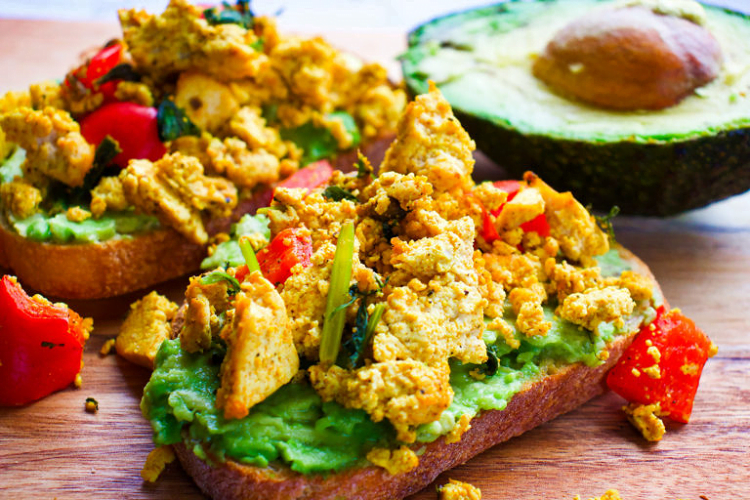 The first meal on our list of best vegan pre-work out meals, it's one of our favorites is scrambled tofu on toast. Ready in around 15 minutes, this dish is full of amazing nutrients, it will give you all the energy you need and it tastes amazing! Plus, the majority of these ingredients can be stored in the cupboard, so once you have them, you can make this over and over again.
Ingredients
1 teaspoon of vegetable oil
1/2 an onion, diced
1/2 block firm tofu
1/2 block silken tofu
1 teaspoon turmeric
1/2 teaspoon salt
1/2 teaspoon pepper
1/2 teaspoon paprika
1 tablespoon nutritional yeast
15g vegan butter
Slice of bread (sourdough works great)
A handful of chives
2 spring onions
Method
In a pan, heat up the oil and add your diced onions. Cook for around 5 minutes until starting to brown.
Crumble in your firm tofu and use a wooden spoon to break the tofu down further into small pieces. Cook for a couple of minutes.
Add the turmeric, salt and pepper, paprika and nutritional yeast, stirring well until you get a nice vibrant color.
Add the silken tofu, which adds a really lovely, creamy texture to the dish.
Cook for a further 3-4 minutes, until piping hot.
To finish, add the vegan butter and chopped chives then stir well.
Toast your bread and then top with the scrambled tofu and finely sliced spring onions. If you like a bit of spice, fresh chilli works really well as a garnish!
Full of flavor, texture and amazing nutrients to fuel your body, you can't beat this as a pre-workout meal.
2. Chocolate Protein Oats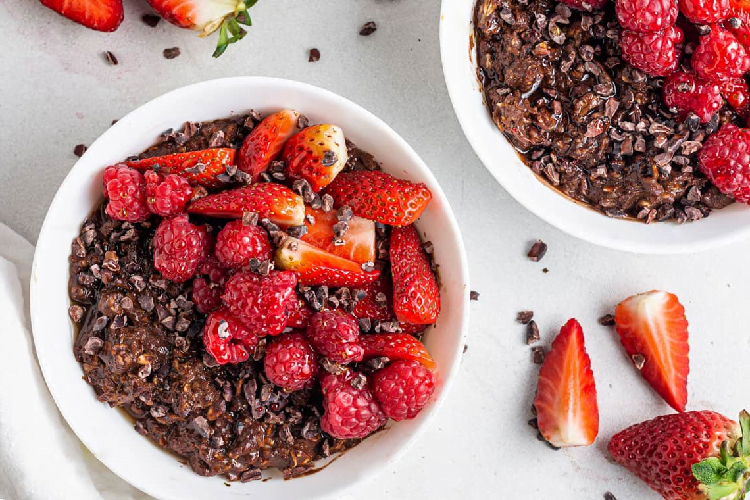 If you have a sweet tooth, then chocolate protein oats are a nutritious and delicious start to any day. Feel free to get creative with the toppings as well to keep things interesting!
Ingredients
75g rolled oats
150ml of plant milk (we like oat)
30g chocolate or vanilla protein powder
10g cocoa powder
Toppings of your choice (raspberries, dark chocolate chips, crushed peanuts, peanut butter or banana all work really well)
Method
All you need to do to make your chocolate protein porridge is to combine all of your ingredients (minus the toppings) into a saucepan and cook on a low heat for 6-8 minutes.
Depending on how thick or thin you like your porridge, you may need to add a bit more milk to make it slightly runnier, but this is completely up to you!
Then, add your toppings and you're done!
If you are using this as your morning pre-work out meal and you are short on time, then you could make overnight oats by adding all of those ingredients to a jar, stirring well and leaving in the fridge overnight!
The great thing about this method is that it is super easy and requires no washing up!
3. Avocado Toast with Tomatoes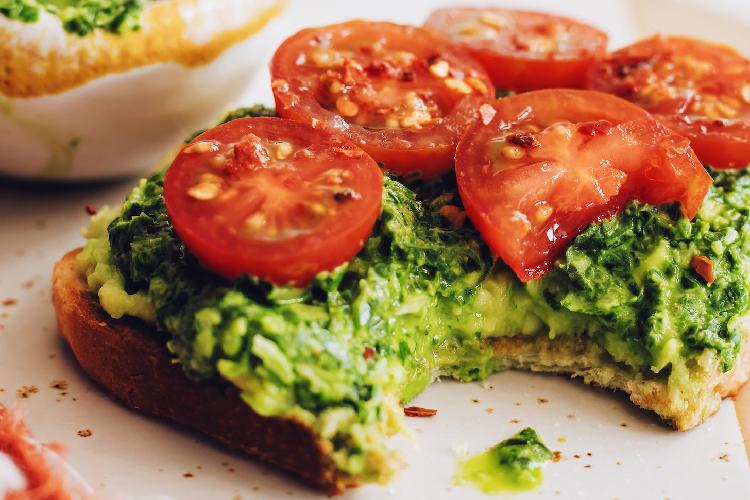 Another really quick and easy toast recipe is avocado toast with pan roasted tomatoes. This is such a delicious dish that will definitely help you get in the mood for a work out!
Ingredients
1/2 an avocado
1/2 a red onion, diced
Handful of parsley
1 teaspoon chilli flakes
Lemon juice
1/2 teaspoon salt
1/2 teaspoon pepper
Good quality bread
10 cherry or plum tomatoes
Method
In a bowl, mash the avocado and add the red onion, chopped parsley, chilli flakes, lemon juice, salt and pepper. Set aside.
In a saucepan, add your cherry tomatoes and cook on a medium heat until they start to char slightly, as this gives a wonderful flavour. Turn the heat down slightly and cook for around 5 minutes, when the tomatoes will start to soften.
Whilst this cooks, toast your bread.
Time to serve! Spread the avocado over your toast, then top with the tomatoes.
A quick and easy savoury snack to get you ready for the gym!
4. Peanut Butter and Banana Pieces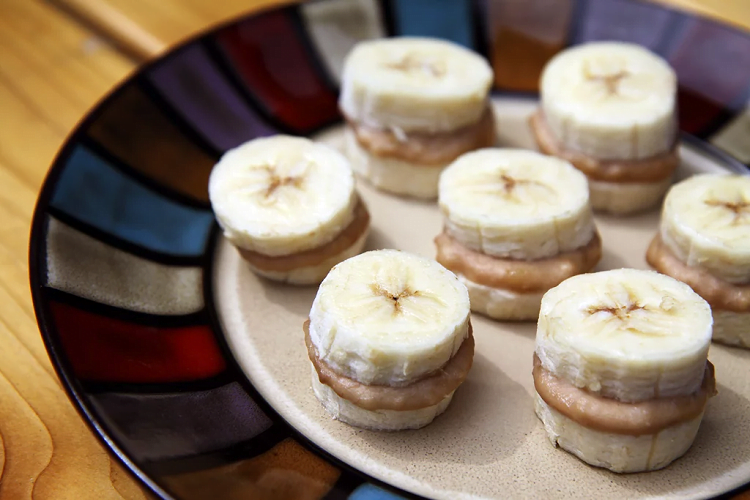 If you're in a rush and don't have time to cook, these peanut butter and banana pieces are ideal!
All you need to do is chop up a banana into chunks, spoon a small amount of peanut butter onto each and then sprinkle with chia seeds. Super delicious, quick and easy!
Baked Sweet Potato, Houmous and Crispy Chickpeas
If you have a bit more time and have a big workout coming up, then this is an amazing dish! It's high in protein, healthy fats and it tastes unbelievable.
Ingredients
1 medium sweet potato
1 teaspoon vegetable oil
Salt and pepper
1 tin of chickpeas, drained
15g tahini
Juice of half a lemon
Smoked paprika
Garlic powder
Chilli powder
Method
Start by preheating your oven to 180 degrees Celsius. Once heated, use a fork to poke holes in the sweet potato and then cover with the vegetable oil, some salt and pepper. Place in the oven wrapped in foil and bake for 1 hour.
Meanwhile, add half of the chickpeas to a blender with the tahini, juice of half a lemon, salt and pepper and half a teaspoon of smoked paprika. Blend really well until nice and smooth, then set aside.
Finally, add your chickpeas to a saucepan with a drizzle of oil, salt, pepper, garlic powder and chilli powder. Cook until nice and crispy, which should take around 10-15 minutes.
Now it's time to assemble! Take your sweet potato out of the oven, place on a plate and cut open. Spoon on the houmous and then the crispy chickpeas.
Finish with a drizzle of olive oil, a sprinkling of paprika and chopped chilli if you fancy it!
Super simple and delicious, this will become your pre-work out staple. You could batch cook 3 sweet potatoes and create a larger batch of houmous, then all you need to do is heat the sweet potato in the microwave, add the houmous and crisp up the chickpeas when you want to eat it!
5. A Protein Smoothie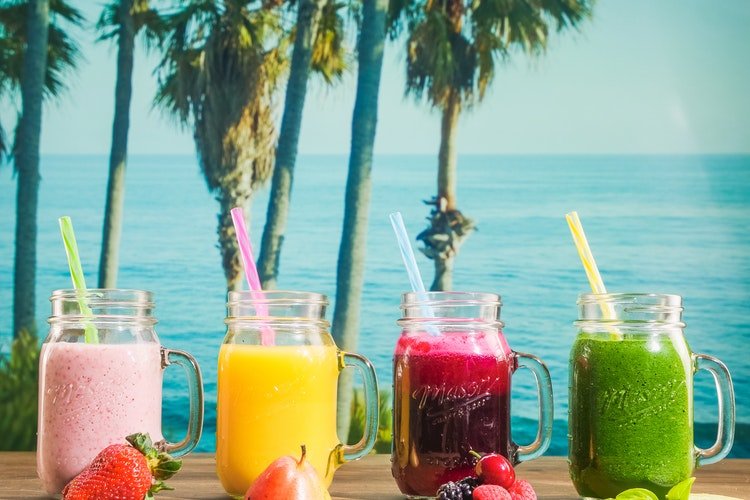 Another great choice if you're short on time is a protein smoothie, this one is refreshing and tropical!
Ingredients
30g vanilla protein powder
1/2 cup pineapple (fresh or frozen)
1/2 cup mango (fresh or frozen)
150ml plant milk
100ml water
1 tablespoon chia seeds
1 tablespoon almond or peanut butter
Method
Again, another really easy one! Add everything to a blender and blend really well until smooth.
Drink on your way to the gym or enjoy before you head off!
6. No Bake Oat and Peanut Butter Balls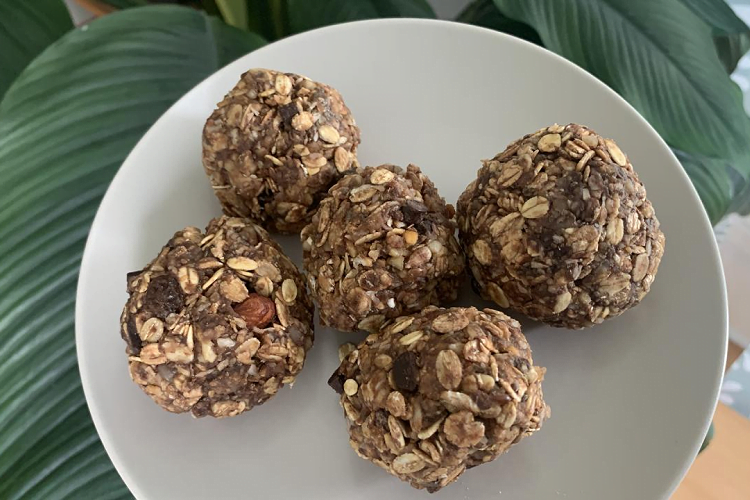 For those of you who have a packed schedule, these no-bake oat and peanut butter balls are perfect as this recipe makes around 15, which you can make on a Sunday and keep in an airtight container all week long to grab when you're ready! Plus, they taste amazing.
Ingredients
350g rolled oats
1 cup peanut butter
1 tablespoon maple syrup
1-2 tablespoons plant milk
1 cup dried fruit of your choice, chopped (cranberries, raisins, apricots, banana chips)
1/2 cup dark chocolate chips
Method
Start by adding 50g of your oats to a blender. Blend until you get a really fine oat flour. Add to a large mixing bowl.
Add all the rest of your ingredients to the large mixing bowl and mix really well together with a wooden spoon. You may need to add a bit more milk depending on the texture, as it should be relatively easy to mix.
Line a baking sheet with baking paper and roll out your mixture into golf ball sized balls. This should make around 15!
Perfect for weekend meal prep, these quick and easy snacks will keep you going through any work out.
Final Thoughts
With a mixture of sweet and savory, super quick, big and small choices, you will find the best vegan pre-work out meals for you. If you really struggle for time, you could fill the gaps in your weekly meal with delivered vegan meal prep, just to make life easier.
If you currently eat meat or dairy, but are trying to cut down, doing so with best vegan pre-work out meals are a great way to start. Give it a go for a few weeks and you'll see just how amazing you will feel.