We all love georgette and chiffon outfits as they are lightweight and sheer in texture but the confusion is also at its peak when it comes to choosing between the two fabrics. With each passing day, innovations are on a rise in the textile industry. So many types of different and unique fabrics are produced giving birth to more and more doubts. Before choosing which one is better for you, one should know some facts about both fabrics as there are certain similarities which make them loved by everyone and dissimilarities which will make you distinguish between Chiffon vs Georgette fabric.
Chiffon
The history of this fabric can be traced back to colonial times. The fabric was originally made with silk but with Industrial expansion, the production of chiffon was done using textiles also. The non-silk chiffon was made available in 1938 for a layman. From then, once known as the fabric of Royals became the hot favorite of everyone as it became much cheaper than silk chiffon. It doesn't matter which category it is, there are some properties you will find in all types of chiffon fabric.
It is a sheer fabric. Whenever you put it under the sky, you will feel it is more like a fine-quality net.
It is a lightweight fabric that clings to your body very easily. No matter what the type of garment, you can easily drape the fabric.
It is a skin-friendly fabric that has a delicate and feathery touch.
Also, the outfits made with chiffon look elegant and graceful.
The breathability makes it an all-weather fabric with room for ventilation.
The semi-transparent fabric serves the purpose of charming overlays.
The price of the fabric depends on the factor from which fabric it is made. If it is made using silk, then it will be expensive as compared to when it is made with cotton or any other synthetic fabric.
With advancements in textile design, there are so many different types of chiffon fabrics available. These can be differentiated on account of organic or synthetic fibers and also some of the properties differ like the technique of weaving. Some of the prominent types of chiffon which are readily available in every Indian Fabric store are:
Popular types of Chiffon fabric
Silk crepe
Jacquard chiffon
Silk satin chiffon
chameleon
Chiffon with coating
Pearl chiffon
Lurex chiffon
Ways to use Chiffon Fabric
Silk or crepe chiffon can be used to make flowers with or without a beaded center. A single large piece can be added to the shoulder of a line-evening gown.
For a satin petticoat, multiple layers of crepe or polyester chiffon cloth can be used for a voluminous and ruffled look. One can also use a single or multicolored cloth that will increase the chrome density of the skirt.
With an elastic band, a pleated chiffon skirt can be made with the only difference of normal plates, these skirts will have multiple such creases that run directly on the seam of the skirt.
'Poncho' tip is the best idea for a stylish look. Poncho style design has loose arms and low length. But it is made of different types of chiffon.
Chiffon is also used for making formal shirts with patterned or monochromatic designs, especially on striped chiffon shirts or polka dot chiffon shirts. These are quite comfortable to wear during the summer season.
You can also use chiffon material to make frills and drapes in bridal dresses or evening gowns. Chiffon can be used to give twists to your dresses and form beautiful drapes around the gown.
Chiffon sarees are quite popular in countries like India where sarees are a part of the culture. With Silk Chiffon or Cotton Chiffon, you can choose any type of drape in western style to make an appealing dress for an elite event.
Georgette
Georgette fabric is made out of plain and strong fabric. It has tear-resistant and lightweight properties. Clothes made from georgette have a semi-sheer and gritty look with a flowy look. It is believed that chiffon is the source of inspiration behind the georgette fabric. Georgette is long-lasting and has been strong.
Properties of Georgette fabric
Silk georgette is lightweight and sheer and has a dull and matte finish.
Crepe georgette is made from twisting yarns which have a crinkle effect on the surface.
Silk georgette is very similar to silk chiffon which is a kind of crepe fabric but georgette is not as sheer as compared to chiffon because of tight weaves.
Georgette fabrics are sometimes sold in different solid colors but georgette can be printed and boasts colorful floral prints.
How to care for Georgette fabric?
Let's know how we can care for Georgette fabric.:
Can Georgette fabric be washed?
Even though we are having different types of Georgette fabric, hand washing is recommended for all users. You can also do dry cleaning but it should not be washed with your washing machine. When hand washing your Georgette dress, always use a mild detergent in cold water to wash the dress. Gently mix the detergent in the water and spread it across the fabric. One cautious thing to remember is that save your georgette dress from direct sunlight otherwise will fade the color.
How should Georgette be ironed?
Ironing the georgette can cause it to lose its crispness and texture. Before you start ironing your costly dress, it is recommended to iron on the first small piece to know the ironing effect. This is true with the cheaper Georgette clothing.
What is Georgette fabric used for?
As we mentioned, Georgette fabric is a breathable and lightweight fabric that will be suitable all around the year. It is commonly used for dresses like tunics, blouses, salwar kameezes, saris, and scarves. It is also a popular choice for evening gowns and bridal wear.
Which Georgette fabric is best?
The results of your chosen clothing will determine how wise your buying decision is. For a decorated or embroidered saree, you should go for faux or viscose Georgette. If your wedding dress has a heavy drape effect, go for 100gm Georgette fabric instead of 20 gm fabric. Jacquard Georgette has a beautiful reverse effect because the weaving style creates a pattern on both the outside side and the inner side.
You should also consider the cost of the Georgette fabric and the more your georgette cloth is closer to silk, the more it will be costly. The cheaper versions of georgette fabric are polyester type and faux viscose. Also, you must know that your dress will be used for everyday wear or a special occasion one? Do you stick to hypoallergenic clothing or are you happy with your man-made textiles?
So, the type of Georgette should be selected for the georgette cloth.
Chiffon vs Georgette Fabric – Differences Explained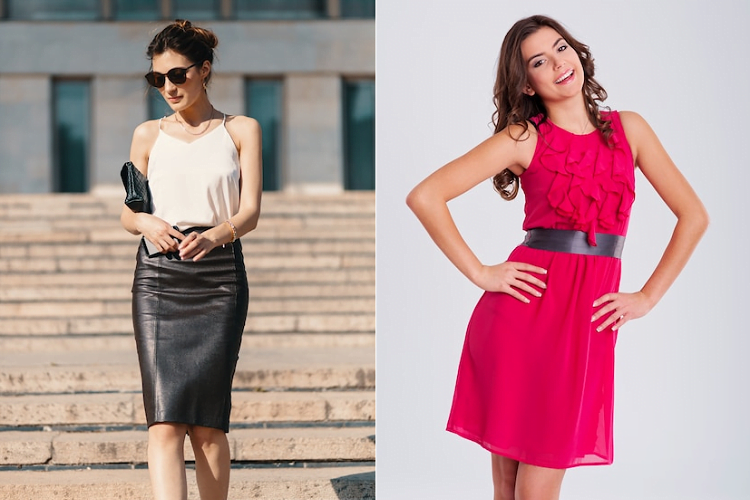 1. Fiber content
Georgette is made of polyester and cotton. There are several different types of georgette fabric made with different blends of natural and synthetic fibers. Whereas the chiffon fabric is made out of silk or synthetic fabric only. Chiffon can be made from organic fabrics but georgette is made from synthetic or unnatural variations.
2. Weaving finish
Georgette fabric is made of twisted threads and gives an abrasive texture when touched. Chiffon's puckered texture is caused by the twists in the crepe yarns which give fabric elasticity and abrasive texture.
3. Appearance
Georgette cloth is a lightweight fabric with a semi-transparent look and grainy texture. Chiffon is lightweight, simple, and flowing fabric available in the market. It is also sometimes found to be sheer. The material used in the mix can make it transparent or translucent with a balanced shininess or sheerness.
4. Drape and usage
Georgette is duller than chiffon. The ends of the chiffon can be softer and more fragile. Chiffon drapes are better than georgette in layers and volume because of their superior sheerness. Whereas the georgette is thicker and sturdier making it perfect for the blouse due to its support.
Chiffon is incredibly fluid and lightweight which does not stick to the body and is found ideal for empire waist dresses. Compared to Chiffon, Georgette has a wider ply and bulkier fabric than Chiffon and is sheerer as compared to silk. It somehow reduces the drape but slightly increases the body. Now, you can choose them according to your preferences and budget.
Conclusion
Chiffon is incredibly fluid and lightweight which simply means that Chiffon fabric does not stick to the body and is ideal for designs that include a lot of draping like empire waist dress. When compared, Georgette has a wider ply, leading to bulkier fabric and transparent and sheerer as compared to silk. It slightly reduces the drape but increases the body. The most important criteria for the difference between Chiffon vs Georgette is what appearance you want and your budget.