Whoever said bigger is better clearly never experienced the peace and Zen that comes from having less. Downsizing is a hard decision for some and easier for others. Maybe you need to move for work and can't afford a bigger home there. Or, perhaps, you're looking to save money right where you are. Of course, just wanting to live a simpler lifestyle is also valid.
Whatever the reason, downsizing requires planning. You'll need to decide what to keep, how to arrange a smaller living space, and how to use more functional furniture and storage. Here are some tips and ideas to help you on the journey.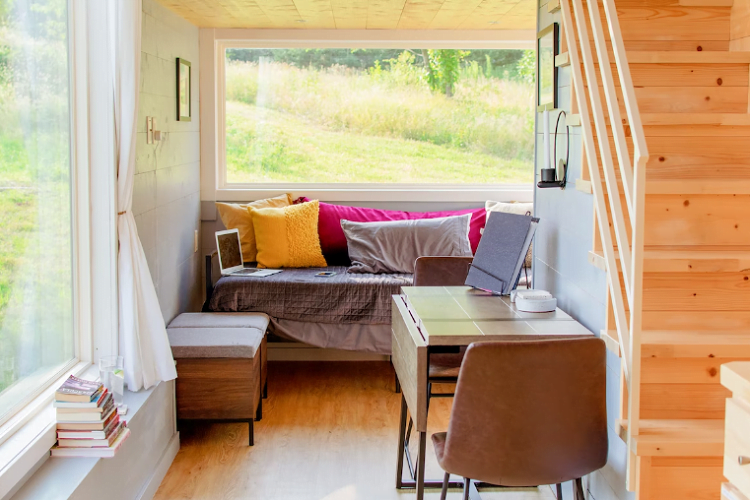 Give Away or Throw Away?
Moving to a smaller home means that some of your stuff will have to go. It simply won't all fit, or at least not reasonably or comfortably, in a smaller living space. Think of the positives here. Not only do you get to de-clutter, but you also have the opportunity to help others. If you struggle to get rid of things, keep reminding yourself that you're doing good.
Sort through the things you can't bring with you and determine which items you can donate and those you should toss. Anything that is too used, broken and unfixable, or otherwise completely invaluable should go in the garbage.
Consider donating furniture that will be too big for your new space and clothing in good condition if you're downgrading to a smaller closet. Other items to consider donating include kitchen appliances and utensils, books in good condition, mirrors and wall art, and window treatments.
Don't Jump the Gun on Special Items
One of the most rewarding aspects of downsizing is reducing clutter. On the other hand, it's hard to let go too. This is true even for items with no particular sentimental value. Try to be practical and consider the things you both don't need and can't fit in your new space.
Avoid making a quick decision for the items you're holding onto most tightly. This is most important for meaningful items. You don't want to do something you'll regret. Pack these items in a box and let them sit for a while. After a few months out of sight, they're important enough to keep if you still feel you want them.
Sentimentality isn't the only reason you might hesitate to get rid of something. One thing that can be hard to let go of for comfort reasons is a large bed. If you've gotten used to a king-sized bed, it's tough to go smaller.
To make the process easier, look into getting something new and of higher quality. A retailer for quality mattresses can help you choose between material, style, and even deciding on a bed that can fit in your space, with the most popular options, full vs queen size comparisons you can consider before making a final decision.
Make Money for Your Move
As you sort through items to donate or throw away, also consider those you could sell if you need more money for the move. Consider which things have value and what other people might want. This could include furniture, clothing, kids' toys, or shoes. Sell higher-value items online individually and consider having a garage sale for smaller or less valuable items.
Functional and Multi-Purpose Furniture
A fun part of downsizing is getting creative about how to make the most of a smaller living space. Your larger furniture, for instance, might not fit in the new home. You'll need smaller pieces but also multi-functional furniture. For instance, a sofa bed will give you living room seating as well as a guest bed.
Storage will be one of your biggest challenges. Look for furniture that includes hidden storage. For example, an ottoman that opens up to hold blankets and books is a great idea for a small living room. A dining table with drawers underneath gives you more storage for kitchen items.
Look Under the Bed
An often-overlooked space for storage is right under the bed. It's not just for dust bunnies. If you're buying a new smaller mattress and bed, get one with plenty of room underneath or a frame with built-in storage. If it doesn't come with storage, you can slide a set of drawers or sturdy plastic bins underneath for shoes and clothing.
Embrace the Smaller Space
Living small is so much more rewarding than many people realize until they finally do it. A lot goes into planning for a move to a smaller home, but when you do it right, you'll reap all the benefits. Enjoy the simplicity of life with fewer things, less time spent cleaning, and improved mental health.