The work landscape has significantly transformed in today's fast-paced and digital world. With the rise of the gig economy, freelancing has become a popular choice for many professionals seeking greater flexibility and autonomy in their careers. Whether you're a seasoned freelancer or just starting your freelancing journey, having the right technology can make a difference in your productivity and success. This article will explore some essential tech needs for freelancers to thrive in their chosen fields.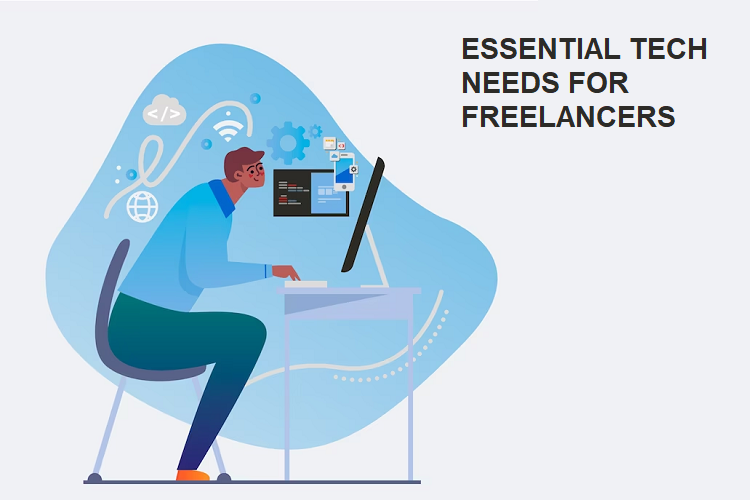 List of Essential Tech Needs for Freelancers
Freelancers rely heavily on technology to manage their work, communicate with clients, and deliver high-quality services efficiently. Here are some essential tech needs for freelancers:
1. Reliable Hardware
One of the cornerstones of a successful freelancing career is having reliable hardware. Investing in a high-quality laptop or desktop computer with sufficient processing power, RAM, and storage is crucial. Your hardware should be able to handle the demands of your work, whether it's graphic design, web development, content writing, or any other field. Additionally, a backup system, such as an external hard drive or cloud storage, ensures that your important files and projects are safe in case of unforeseen technical issues.
2. Efficient Project Management Tools
Freelancers often handle multiple projects simultaneously, quickly becoming overwhelming without proper organization. Project management tools can significantly improve productivity and help you meet deadlines more efficiently. Popular tools like Trello, Asana, or Monday.com enable you to create task lists, set deadlines, and collaborate with clients and team members. These tools keep your projects on track and provide a visual overview of your workload, making it easier to manage your time effectively.
3. Communication Software
Clear and effective communication is vital for successful freelancing collaborations. Having reliable communication software allows you to stay in touch with clients and team members, regardless of location. Platforms like Slack, Microsoft Teams, or Zoom provide seamless communication through instant messaging, video conferencing, and file-sharing features. Maintaining consistent and open communication fosters trust and strengthens your professional relationships.
4. Time Tracking Applications
As a freelancer, accurately tracking your work hours is essential for billing clients and understanding your time allocation. Time-tracking applications like Toggl or Harvest can help you monitor the time spent on different tasks and projects. This data can be valuable for setting realistic project timelines, evaluating your productivity, and ensuring you get compensated fairly for your work.
5. Financial Management Software
Freelancers are not only responsible for their craft but also for managing their finances effectively. Financial management software, like QuickBooks or FreshBooks, simplifies invoicing, expense tracking, and tax calculations. These tools help you maintain a clear overview of your income and expenses, enabling you to make informed financial decisions and ensure timely payments from clients.
6. Cybersecurity Solutions
In today's digital age, cybersecurity is a top priority for any freelancer. Protecting sensitive client information and your data is crucial to maintaining trust and credibility. Invest in robust antivirus software, enable two-factor authentication for your accounts, and use a virtual private network (VPN) when working from public Wi-Fi networks. Regularly back up your data and stay informed about the latest cybersecurity threats and best practices.
7. Cloud-Based Collaboration Tools
Cloud-based collaboration tools have revolutionized how freelancers work with clients and team members. Platforms like Google Workspace (formerly G Suite) and Microsoft 365 offer applications that allow real-time collaboration on documents, spreadsheets, and presentations. These tools enable seamless editing and feedback sharing, eliminating version control issues and streamlining the review process.
Conclusion
As the freelance workforce grows, staying equipped with the right technology becomes vital for success. By investing in reliable hardware, project management tools, communication software, time-tracking applications, financial management software, cybersecurity solutions, and cloud-based collaboration tools, freelancers can enhance their productivity, professionalism, and overall work experience. Embracing these essential tech needs will empower freelancers to thrive in their chosen fields and stay ahead in the competitive freelance landscape.