The year 2023 has come and everyone is excited to see new arrivals in the showrooms. While you prepare to usher in 2023, make sure you are planning your ethnic wardrobe with the latest designs such as sequin, jacket lehenga, and organza as well as fashion statements like attached dupattas and colliding colors. Few people like pastels, cut-out choli, and ethnic block prints which were extremely popular last year and will continue to dominate the current ethnic fashion trends.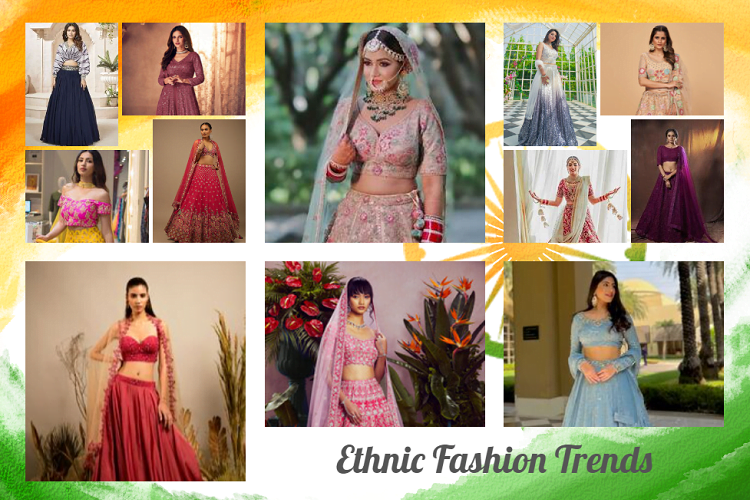 List of The Best Ethnic Fashion Trends
Based on the fashion week that took place this year, the one-sixth sense, and the opinion of experts for fashion, we bring you some best ethnic fashion trends that you will love to try.
1. Lehenga skirt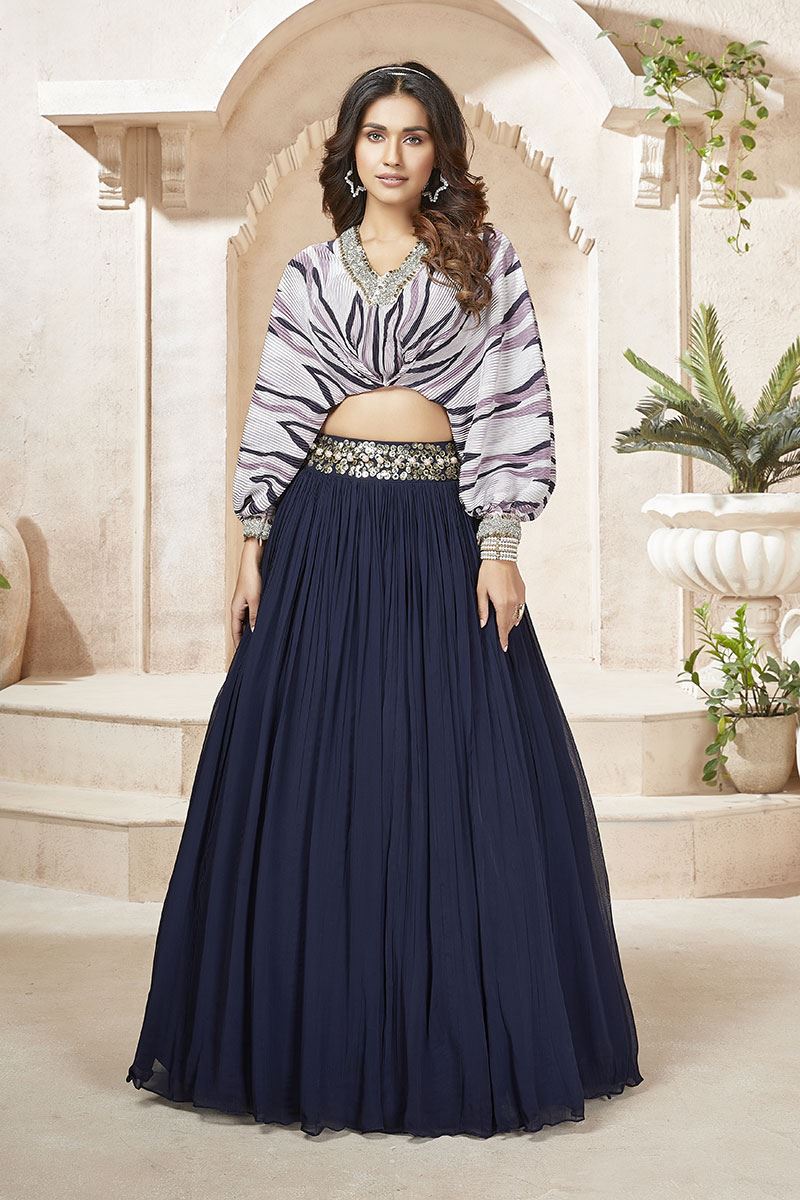 The lehenga skirt is a classic and will always stay in vogue in 2023 and will give priority to experimental cuts which we discussed below. The other important elements of lehenga are choli and dupatta etc. and it is all shifting to new ethnic fashion trends. 2023 is expected to give some new lehenga designs in different traditional silhouettes.
2. Monochromatic lehenga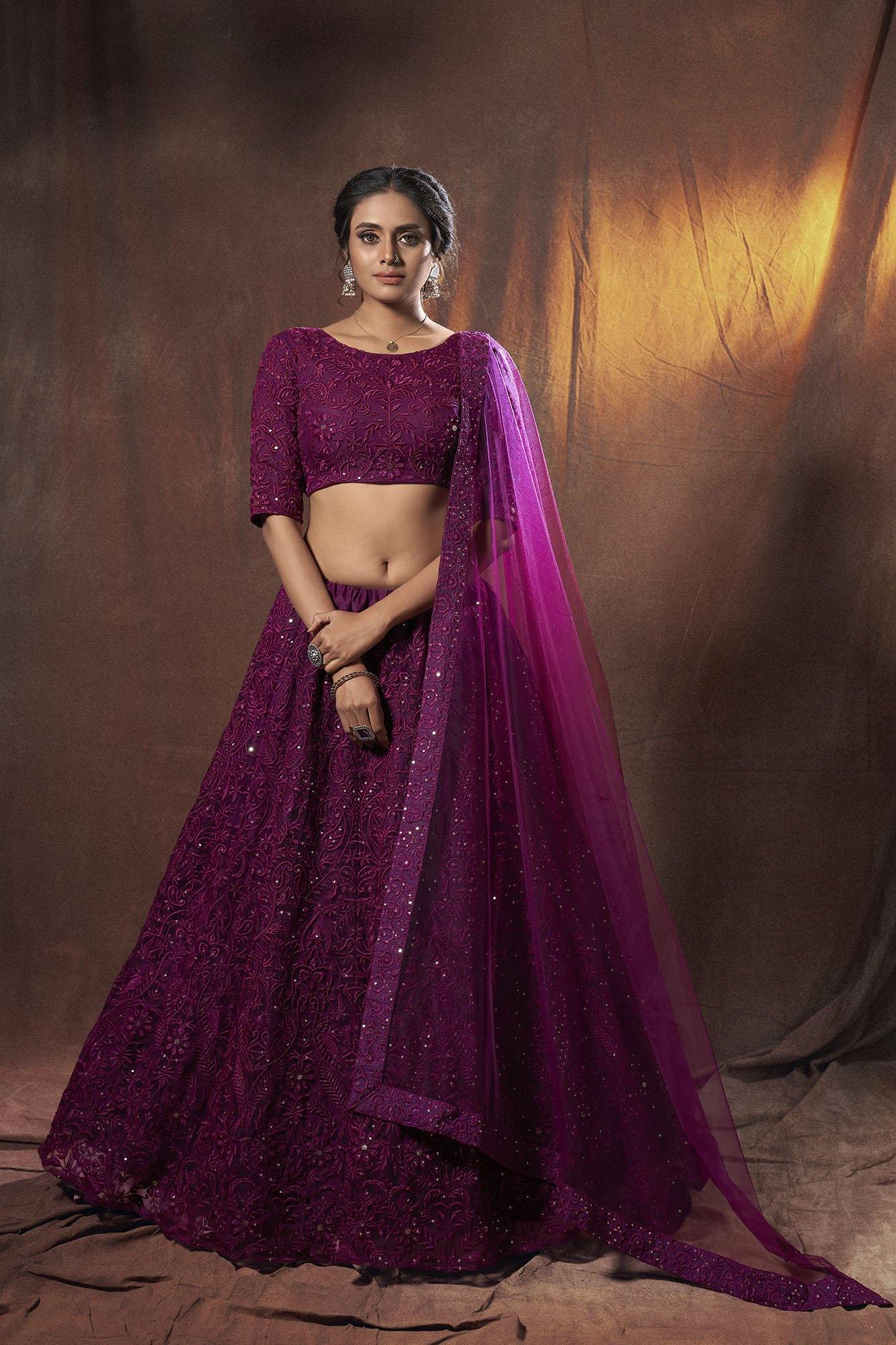 Monochromatic looks are admired by lots of people and its looks are like a single tone for all components of the lehenga is a comeback. But we are expecting to see a surge in monochrome lehengas in pastel tones.
3. Anarkali lehenga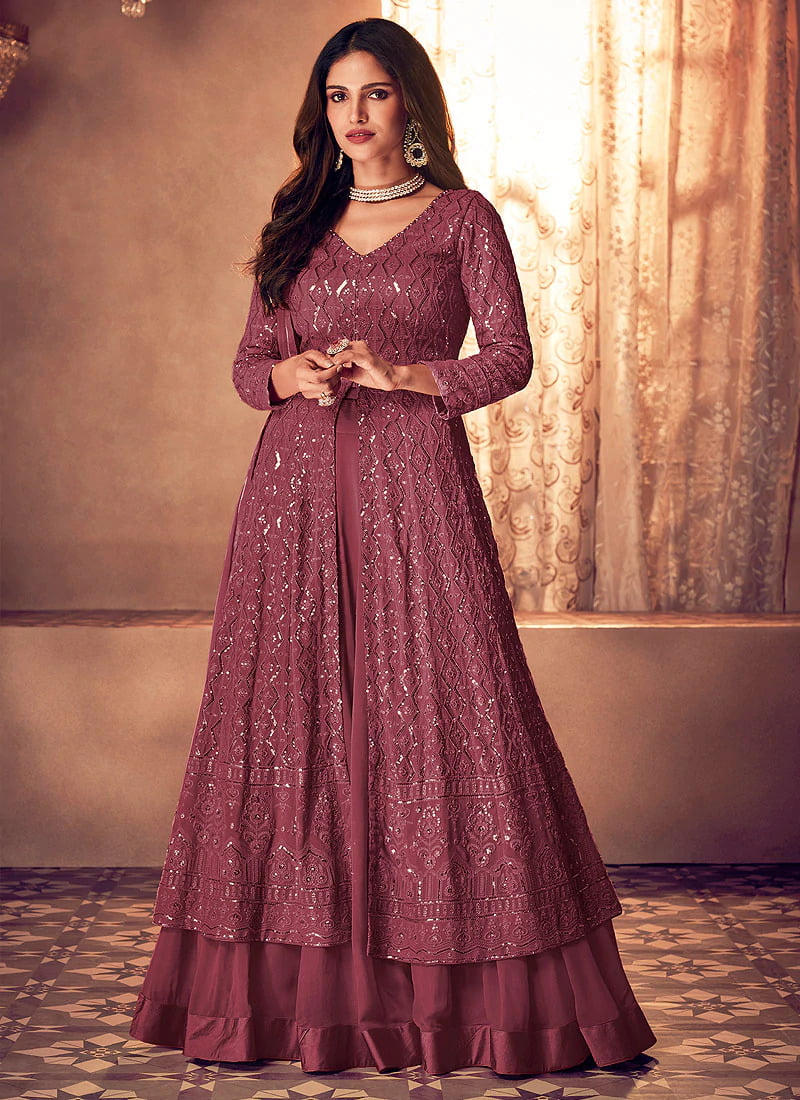 The Anarkali lehenga is basically a lehnga with a long kurta-style choli and it also has a slit down in the middle and possibly sometimes on the sides too which exposes the lehenga skirt. This kurta choil has the cut of Anarkali kurta. This kind of lehenga design has gained popularity in the local market and is expected to enter the elite scene soon. The number of Kalis like 16 or 32 or more gives a mesmerizing look to your lehenga.
4. Full Sleeve Lehenga
2023 witnesses a lot of experimental choli sleeve looks. It is more conventional and not experimental. This full-sleeve lehenga is much more sophisticated and graceful. Long sleeves have great embellishment, embroidery on the net, and sequin work. Dope or puff shoulders look great too with full sleeves.
5. Off Shoulder Lehenga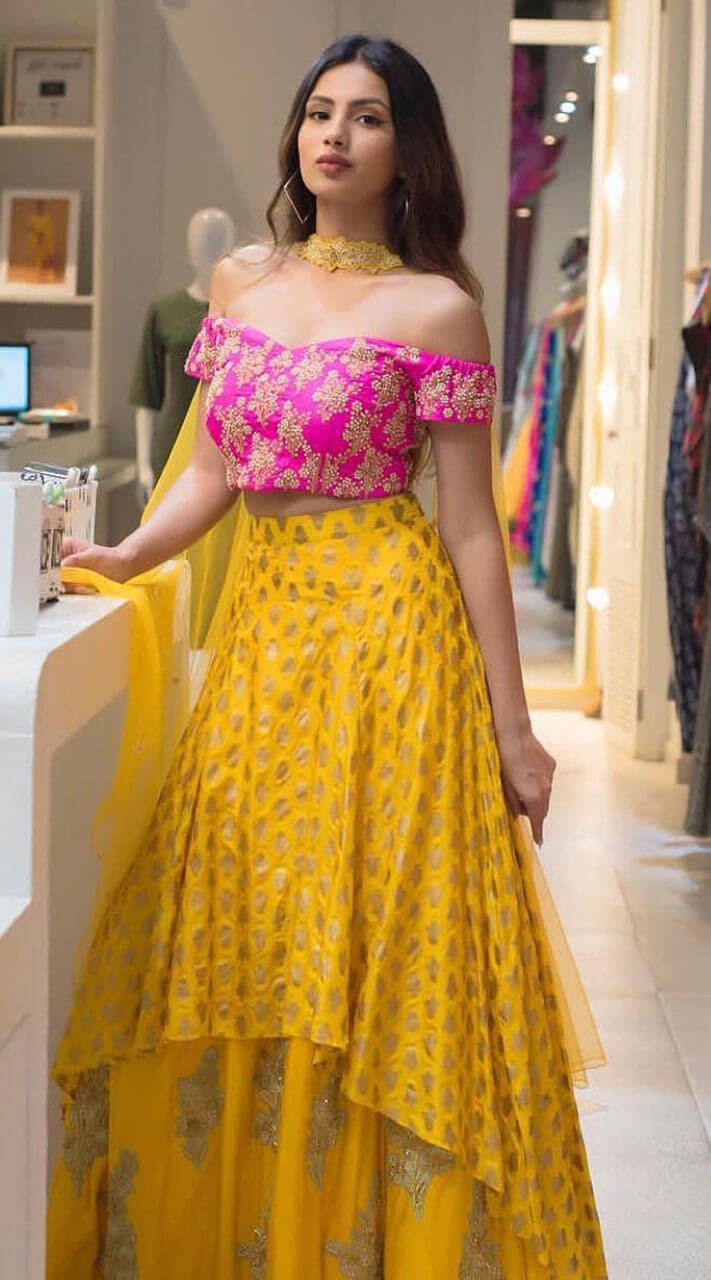 Though off-shoulder lehenga is not new in the market and you must have seen Tara Sutaria and Sara Ali Khan who has worn this outfit and looked superb in this. Designer Tarun Tahilani has created off shoulder lehenga look and lots of feathery fringes, beadwork hems, and texture design add elegance to this outfit.
6. Bustier Choli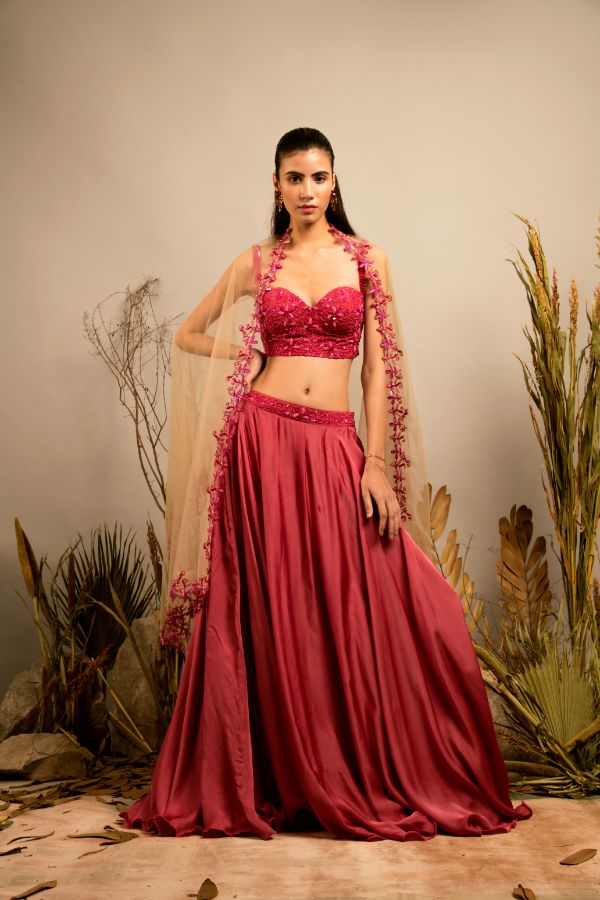 A bustier choli is a traditional Indian blouse that is often paired with a saree or lehenga. It is a form-fitting top that is designed to accentuate the curves of the wearer and give a supportive fit, unlike traditional blouses which feature separate sleeves, and are often made from single fabric like printed silk fabric that covers arms and torso. The bustier choli is similar to a corset, with a flattering supportive connection and hour shape glass that helps to shape and lift the bust.
Bustier cholis are made from luxurious fabrics like satin, silk, and velvet and can be embellished with beading, embroidery, and sequins. They are often designed with a great neckline which gives a more feminine and flattering look and can also feature spaghetti or off-the-shoulder design for a more contemporary and trendy look.
7. Sequin Lehenga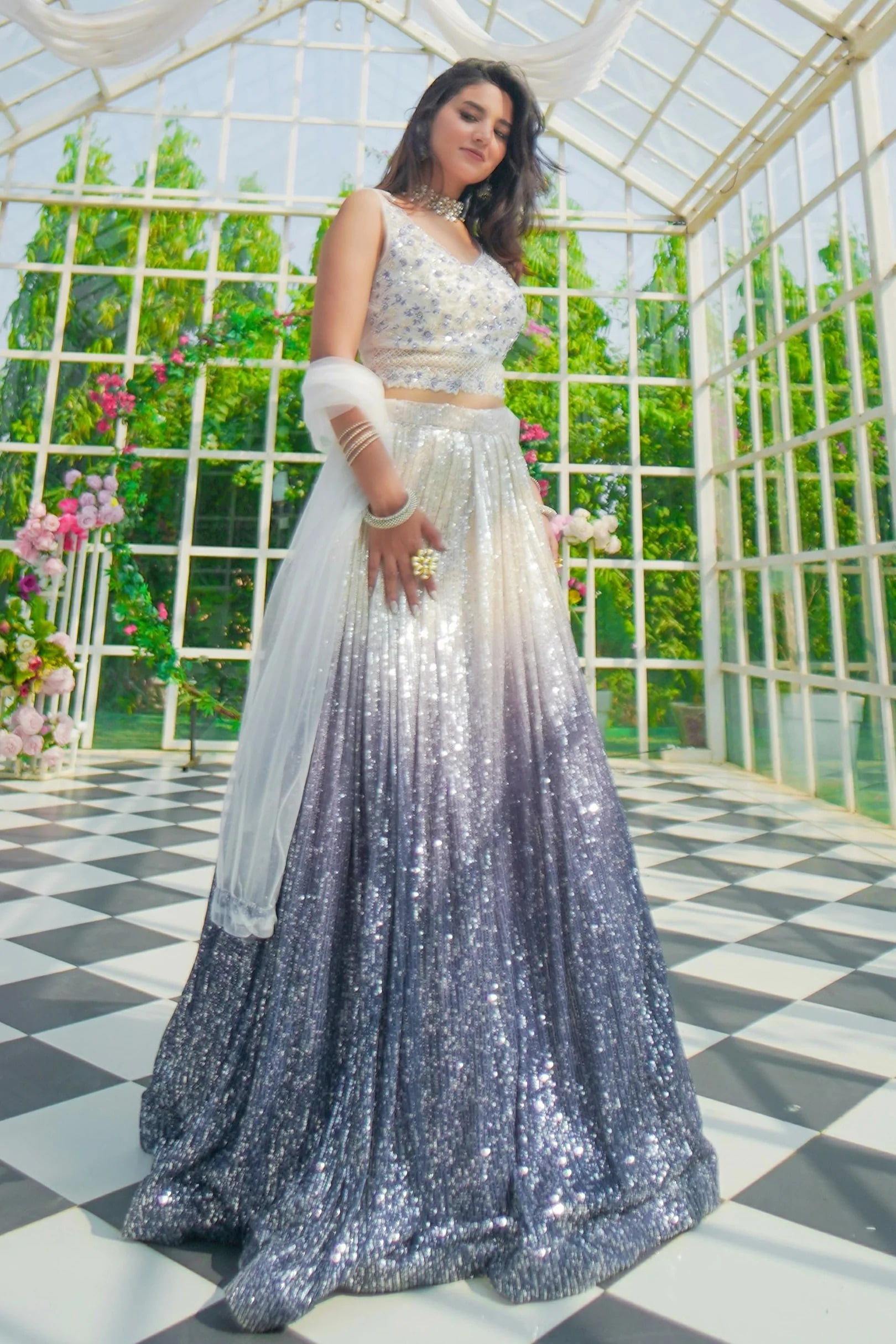 A sequin lehenga is a traditional Indian skirt with sparkling sequins. The sequins can be sewn in intricate designs, creating an eye-catching and shimmering effect. Sequined lehengas are made with flowy and lightweight fabrics like print cotton fabric, net, or chiffon to make them dance and twirl. They are available in a variety of styles and colors from bright, bold hues to delicate pastel shades, so there is a sequin lehenga to suit every occasion and event.
Sequined lehengas are a popular choice for festivals, parties, and weddings where they add a touch of sparkle and glamour to the outfit. They are often paired with a matching dupatta, scarf, and blouse to complete the look. The sequined lehenga can be sewn into the fabric in intricate designs and patterns making it unique and beautiful.
8. Fuschia Pink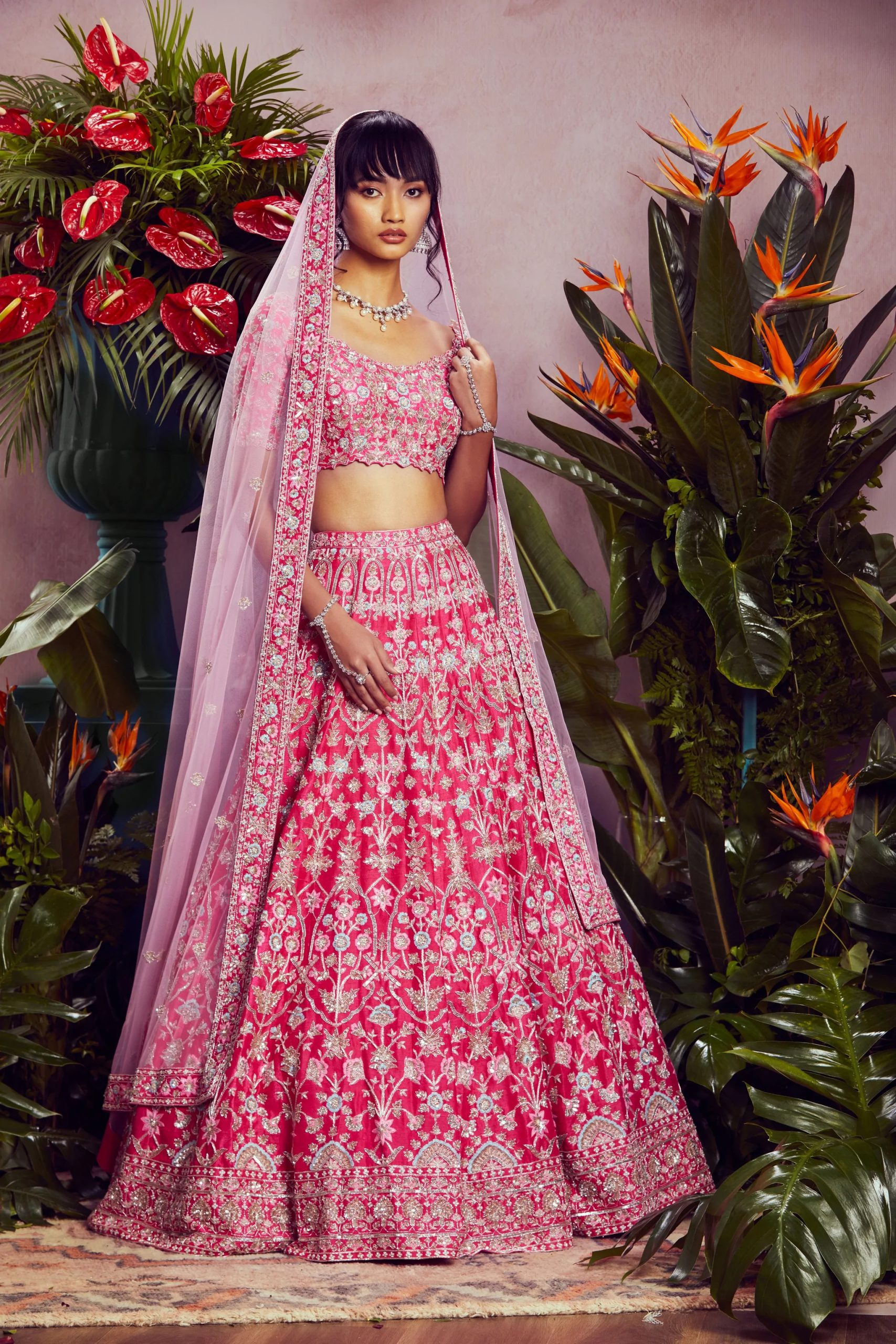 Fuschia pink is a bright and bold shade of pink that is named after Fuschia pink. This vibrant hue is known for its energetic and playful vibe which makes it a popular choice for home decor and fashion. In fashion, Fuschia pink is often used to add a pop of color to the fabric and make it a statement piece dress or a more subtle accent like shoes or handbag. When paired with other bright colors like green, yellow, blue, or Fuschia pink gives a unique and youthful look this wedding season.
It can also be used as drama to room in home decor. Whether it is a statement piece of furniture or a bold accent wall, it can make your room energetic and alive. When it is paired with neutral colors like white, black, or gray, it provides you with a strong contrast that adds interest and depth to the space.
9. Pastel Tones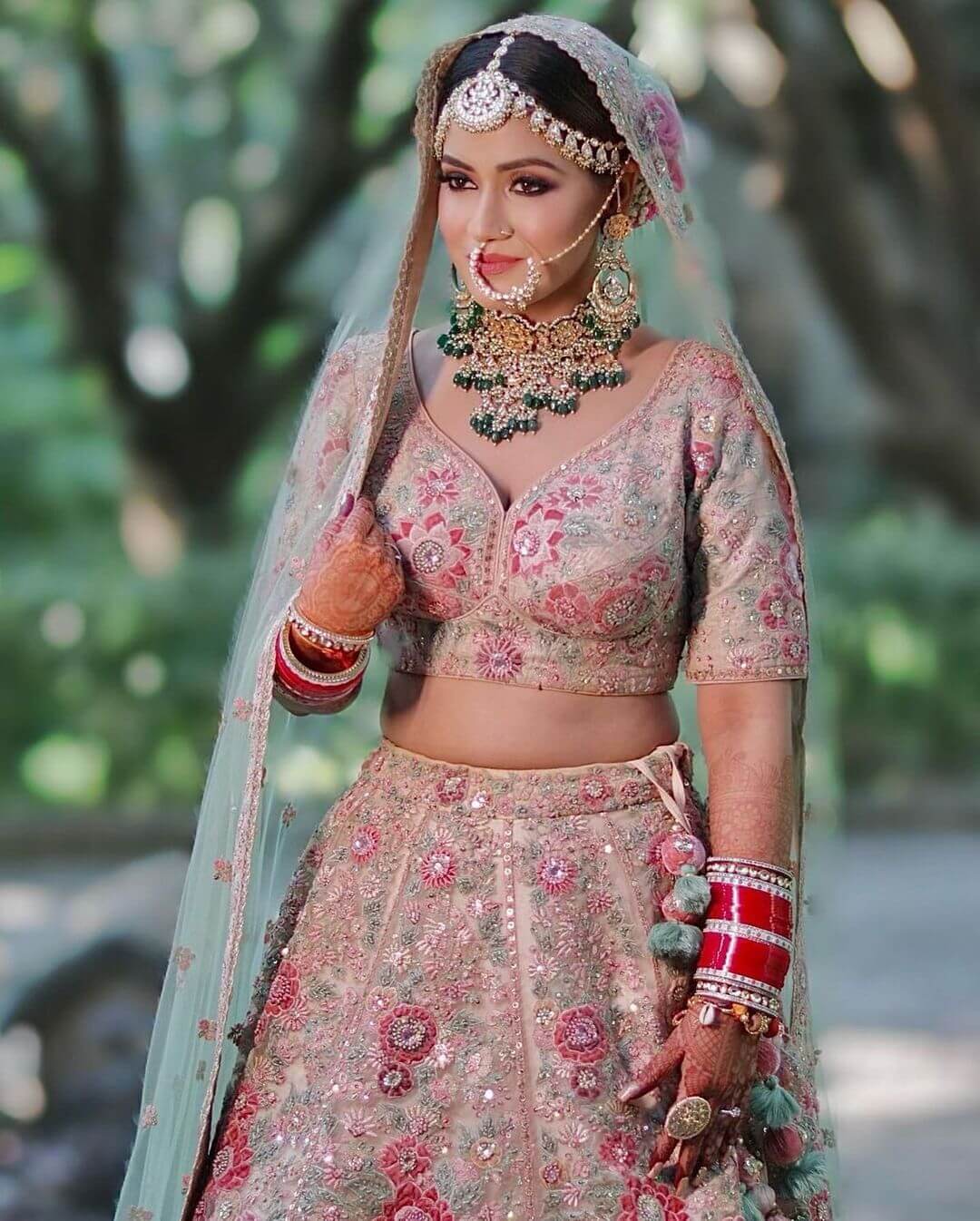 Alia Bhatt chooses pastel tones for her wedding. Pastel tones have ruled ethnic wear shade cards for a few years now and going by Gaurav Gupta and Anita Dongre's latest designs. This wedding dress is going to be the popular design for the wedding season and why not? Pastel work beautifully creates an understated, matte, and more subtle and contemporary look this wedding season, and you won't hesitate to ditch the traditional maroons and reds.
In fashion, pastel tones are popular for creating an effortless and relaxed look and can easily be paired with other pastel shades for a bold and monochromatic look to create a playful and fun contrast. Pastel shades are versatile and can be dressed depending on the occasion, making them popular for various weddings and occasions.
10. Cut Out Choli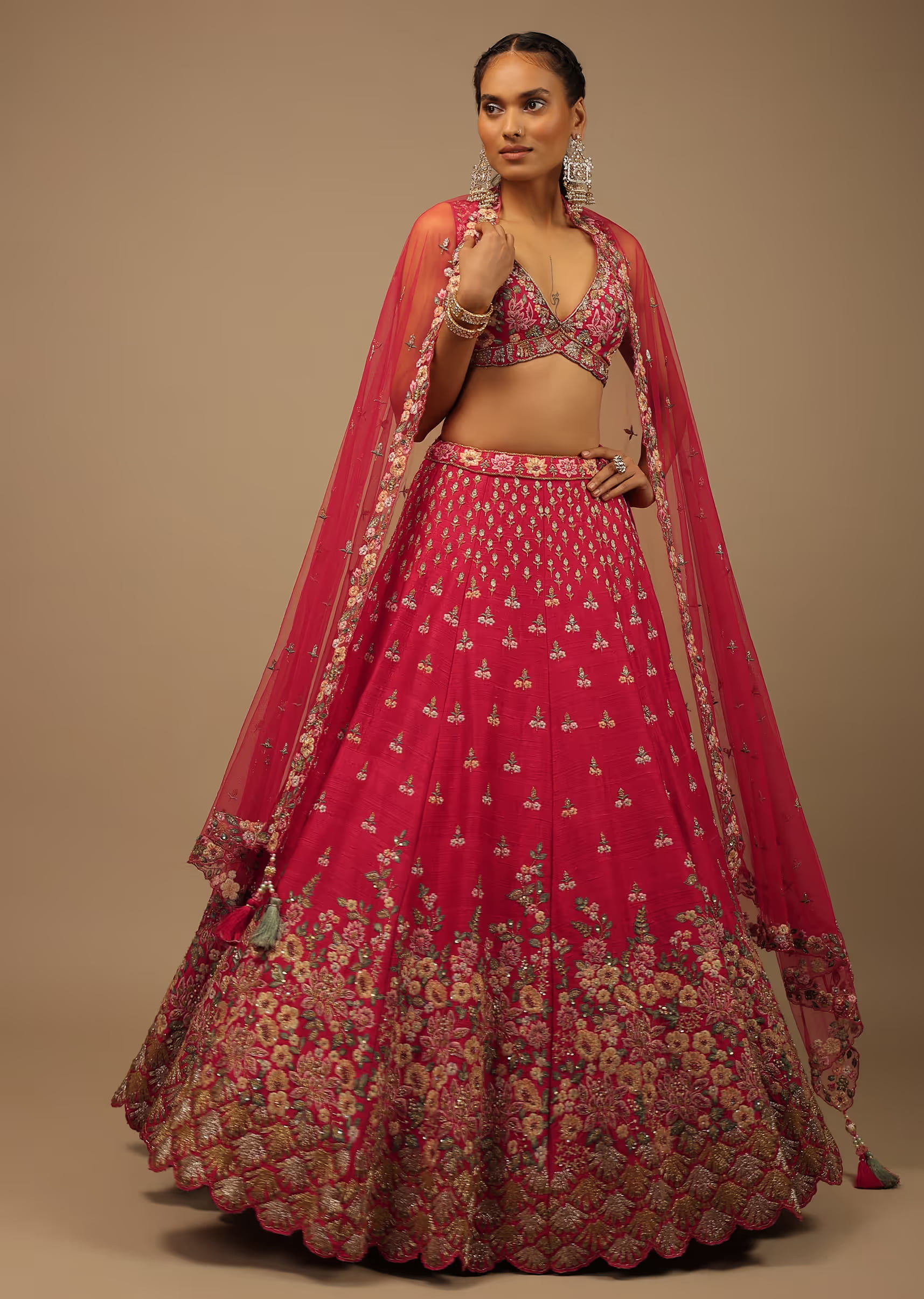 These cholis flaunt a triangular cut from the sides to the back. They show off the skin a tad bit making them sexy and sensuous without being vulgar. This trend left the backless choli work which was popular earlier. This choil design is a bit daring and complements the lehenga look. Designers like Shane Peacock, Manish Malhotra, Falguni, and Tarun Tahilani seem to be working on this look this wedding season 2023.
A cutout choli is a kind of blouse that is characterized by a cut design on the front, back or sides of the garment. Cut-out choli is often made from breathable and lightweight fabric like silk, cotton, or chiffon making them perfect for summer events and warm weather. Cut-out choli adds a touch of glamour and sexiness to the outfit. The cut-out design comes in a wide range from small slit to large opening that reveals a great amount of skin. A cut-out choli can make a style statement that turns your head.
11. Multicolor Juxtaposition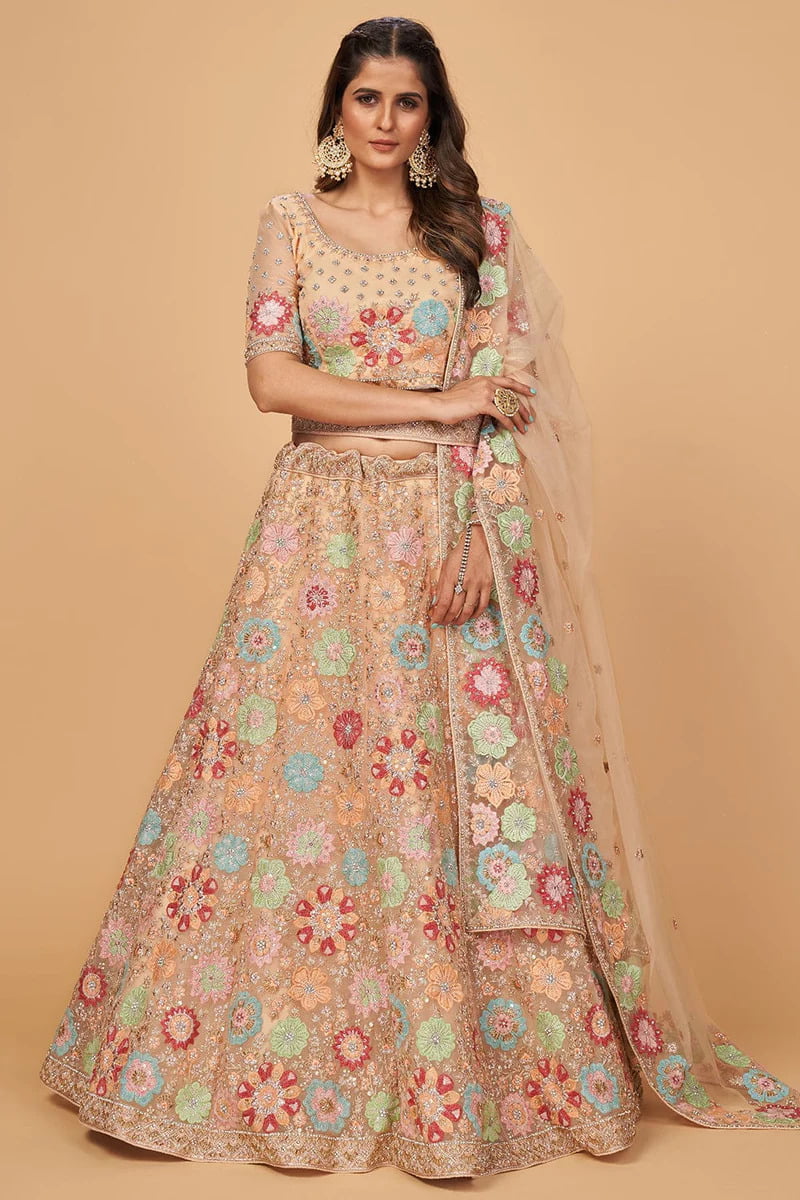 Bohemian looks are not popular this year and the juxtaposition of different colors will play an important role this wedding season. Various designs, patterns and will be brought together by weaving techniques or sewing weaves. Multicolor designs will rule the lehenga this year.
Multicolor juxtaposition is the art of combining different colors in a single outfit or design to create a visually dynamic and striking effect. This technique includes pairing colors that are complementary or contrasting to each other which makes a harmonious balance of hues.
Multicolor juxtaposition is often used to create playful and bold looks. With this outfit, you can create multiple color designs. For example, using a bright orange sofa with a green and blue area rug, or pairing it with pink or green accents can add a pop of color and life to the room.
12. Quirky Dupattas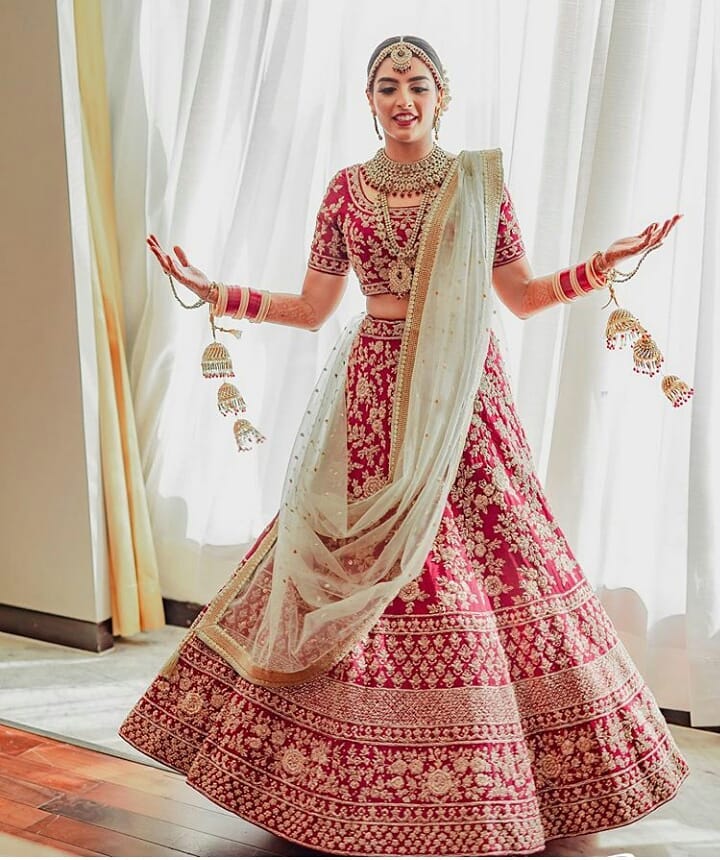 Banarasi dupattas with lehenga were a popular genre in the recent past and in 2023, the quirky dupatta is all about sheer and fluffy textures like shimmer, organza, and tulle. We are also expecting to see more feathered textures, ruffled looks, and embellished finishes in both popped-up colors and somber ones.
Quirky dupattas have become very popular among fashion-forward women looking to add some fun to their dresses. From geometric prints to abstract designs, animal prints to floral prints, the options are unlimited.
A quirky dupatta can be paired with a simple salwar suit or a simply colored kurta to get a contrasting look. They can be carried as a wrap, scarf, or cap to add a touch of drama to your attire. These are versatile and are a must-have staple for your wardrobe. Whether you are looking for dupatta for a formal wear or a special occasion, this is perfect to dress up like a queen. So, go and try this dupatta for your special event with a quirky dupatta.
Conclusion
Fashion has a big impact on our life in 2023 due to increasing ethnic fashion trends and types of ethnic wear. From traditional Indian wear to fusion styles, ethnic fashion trends are becoming popular due to increasing our cultural values and soothing our modern fashion senses. Also, the demand for modern ethnic wear is increasing and people are accepting this change. So, whether you prefer classic, timeless pieces or bold eclectic styles, there is something for everyone who is looking for modern fashion stylish outfits. Grab your pieces online for variety!