By all means, the outbreak of COVID-19 has created a new normal. More than 70% of the countries came under lockdown from March itself. And so, millions of people have been spending most of their time confined within the walls of their homes. Furthermore, due to everything remaining canceled or closed, we have spent all of our time scrolling through various digital platforms like Facebook, Instagram, Google, etc. The way of living has definitely changed in the post-pandemic world. So, dealing with this solitary confinement while looking for different ways to spend time has been quite hard on us.
Everyone is on the lookout for things to pass off the boredom with nothing productive left to do. It is here that we have come up with a list of Top 5 games that you can play to pass your time during the quarantine. Being the perfect choice to kill off some time, these games emerged as the ultimate happiness source. Nowadays, not just kids but even grandparents are used to playing smartphone games. And so, rising as a stress-buster for all of us, during this unprecedented time, online games are the perfect option to reconnect with friends, families and have fun at the same time.
Therefore, let's discuss the Top 5 games you can play to pass your time during quarantine and maintain your sanity without wasting any more time!
Ludo King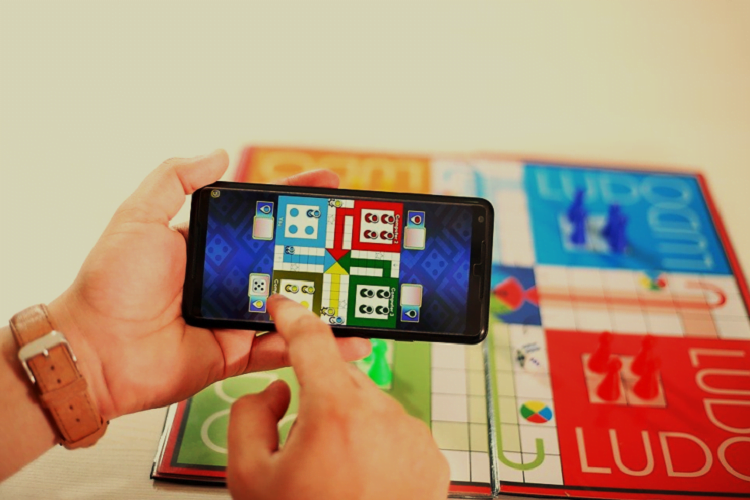 Being one of the best offline/board games, with time, Ludo King has become available on all android and IOS phones bringing in a wave of modernization. There is not a single child who doesn't recognize this word. The rules are simple: a dice is rolled to move the tokens out of the houses onto a new path around the board to reach the final destination. A maximum of 4 players can play this game. The game isn't very calculative, so the first person who sends his four tokens into the main designated cottage wins the game. As it isn't much work, anyone can play this game.
So, with a handful of modes to choose from, the door to happiness from boredom is just one tap away. One can plan to enjoy this game online with friends, cousins, or family members (by inviting on Facebook or sharing codes on Whatsapp) or offline, i.e., with a bot. Also, there is a chatbot with interesting emoticons, as a bonus, to make the game more fun and competitive.
House Party
Though launched in 2016, it has gained a lot of popularity recently. With self-isolation at its peak, it is just like a video chat but with a social feed. However, what sets it apart from others is that it has in-built games (like UNO, Heads Up, and Pictionary) in them. Hence, with the capacity to create a room with up to eight people at once, it offers the opportunity to play trivial games while video chatting.
PUBG
PUBG, which is short for Players Unknown Battleground, was already well-known before the quarantine. But with the lockdown, it earned so much fame that it topped almost all the list of top games that you can play to pass your time during the quarantine. Being introduced by a Chinese company, it is the most frequently played multiplayer game, no matter the age. It features 100 players who jump off a plane using a parachute on an island.
Though the choice to play solo or in a team of four depends on the player. The aim is to survive while the play area decreases by defending oneself and killing the enemies using various tactics, weapons, and equipment. The last player/team that stands becomes victorious.
Thus, it revolves around fighting, strategizing, and in the end, plundering to win a 'chicken dinner.' But not to forget, it also has various modes and maps to choose from and an in-game chat and converse option to make it more fun and exciting.
Among Us
Being obscurely launched in 2018, this online version of various offline games like 'wink murder' or 'Cluedo' has gained so much significance. This online deduction game centers around ten crew members on a spaceship who are completing menial tasks to keep the vital systems going so that it doesn't crash. However, there is a twist. Out of these 10, either one or two members are imposters/ aliens (that looks like everyone else) who want to sabotage and eliminate the whole crew before the spaceship reaches home (earth). They do this by sneaking through vents, deceiving, and then framing others.
However, to remain undetected, they complete tasks as well. Whenever death is reported, the surviving crew, including the alien, debates who the imposter is through chat (now even through discord) and so by guessing votes them off. If the guess is right, they win, or else the game continues until everyone is dead or the imposter is identified.
QuizUp
Though an old multiplayer quiz game, this trivia app is suitable for adults and kids to keep the knowledge growing while locked inside. With thousands of categories to choose from (like sports, songs, movies, general knowledge, cars, celebrities, and many more), this game matches the player to compete with a random stranger from around the world. What makes Quiz-Up more incredible is that only 10 seconds on the clock are allotted to each question, so points are added based on how fast one answers. Thus, the person with the highest point at the end wins.
However, this trivia benefits not just intellectually but also increases the social network. The game provides adding and chatting with people who have the same taste for a category. Thus, it is suitable for people who believe that gaming is not their cup of tea.
Conclusion
While this whole situation has been an unprecedented event, absorbing and getting oneself addicted to these games has been a saving grace that can lead to an unhealthy future. Thus, we need to schedule and learn to draw a line. However, till the situation settles down, distracting oneself with these is not deadly. So let's hope and pray for the case to get normal.