Unwind and spend quality time with friends by organizing a pleasant and safe girls' night out. But it's crucial to ensure everyone enjoys themselves and keeps safe all night. According to the FBI, restaurants are now the eighth-most likely location for an attack because of the rise in violent crime. Therefore, staying safe while out having a great time with your friends becomes even more critical.
You undoubtedly want to let your hair down and have a good time when you go out on the town with your pals. Even though you shouldn't let the possibility of an assault stop you from having fun, being careful is always safe.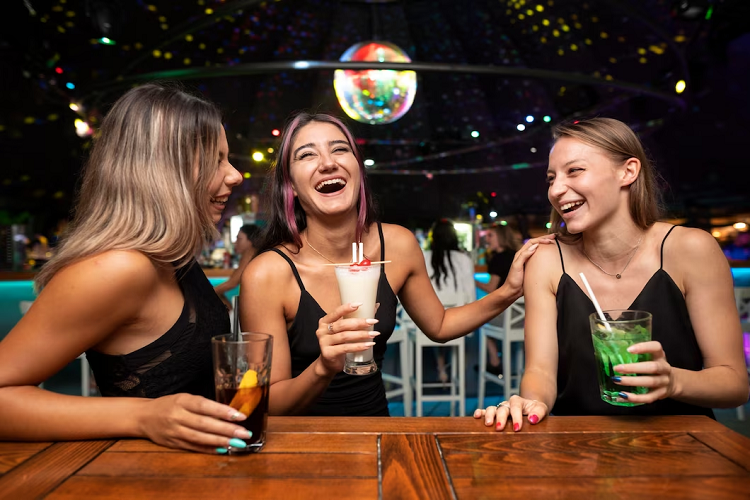 SafetyRights.com asserts, "Everyone has a right to their safety on someone else's property." Therefore, following vital safety measures like choosing a safe place and hanging out in a group while keeping your drinks in check can guarantee that everyone has a good time and is safe on your girls' night out.
9 Tips to Plan Safe Girls' Night Out
Planning a safe girl's night out involves several important considerations to ensure everyone's well-being. Here are some steps to help you plan a safe and enjoyable outing
1. Plan in advance
Planning is the first step to organizing a good and safe girls' night out. If you do this, you and your pals will have plenty of time to choose a date and time that works for everyone. You can also make reservations for any events or eateries you want to attend during this time.
2. Pick the appropriate location
For a girls' night out to be successful, the location must be chosen carefully. When selecting a location, take your friends' preferences into account. Bars, clubs, dining establishments, and movie theaters are a few well-liked alternatives. Take into consideration the ambiance of the location. Do you prefer something lively and energetic or more laid back and relaxing? Try to find a place that exudes the vibe you hope to achieve.
Additionally, picking a location that is both safe and accessible is crucial. Consider renting a hotel room or employing a ride-sharing service to ensure everyone gets home safely after drinking.
3. Special activities
After choosing your location, it's time to choose your activities. Think about the interests of your pals and make plans accordingly. Dancing, karaoke, wine tasting, and spa services are popular. If you intend to visit a club or pub, consider hiring a DJ or a bartender to enhance the experience.
4. Plan a budget
Planning a girls' night out requires creating a budget. Establish the maximum amount each person will spend before making your plans. To further assist you in saving money, you can search for offers and discounts on events and dining establishments.
5. Dress appropriately
When organizing a girls' night out, appropriate attire is crucial. Ensure everyone is dressed adequately and consider the venue's dress code. Wear comfortable shoes if you intend to visit a club or pub to prevent painful feet next day.
6. Drink sensibly
Responsible drinking is essential for a safe girls' night out. Ensure everyone has a designated driver or plan for getting home safely, and encourage your pals to drink responsibly. Consider hiring a professional bartender or server to ensure everyone's drinks are being watched.
7. Be careful
It's crucial to maintain your safety throughout the entire evening. Ensure that everyone has a charged phone and is aware of their destination. Stay together as a group and refrain from going out on your own. Never be reluctant to leave if you feel uneasy or endangered.
You should know your comfort and control zones when you're out. Never drink more than you can handle; if you do, make sure you have pals you can rely on to stick by you, and be clear about what you do and don't agree to.
8. Do eat before, during, and after
Drinking when you aren't hungry will ensure that your stomach and intestines absorb alcohol far more quickly than if you were eating. Unfortunately, you'll soon become intoxicated when so many poisons are suddenly introduced to your body.
Consider eating something to provide you with a buffer before you spend the evening drinking with all of your girlfriends. Consider purchasing some bar appetizers if you plan to drink for several hours.
9. Having fun
Having fun is crucial to organizing a girls' night out. Make enduring memories with your buddies while having fun. Create a group chat and take many images to keep in touch the next day.
While out on the town, there are many things you should be cautious of, but you shouldn't allow them to ruin your mood. There are many risky situations, but it shouldn't stop you from living your own life. Likewise, it shouldn't ruin a night for you and your closest friends, which is more important.
Remember, safety should always be the top priority. By following these steps and remaining vigilant, you can help ensure a safe and enjoyable girl's night out.