In the dynamic world of nightclubs, where energy, excitement, and entertainment abound, one aspect remains vitally important: ensuring safety. Among the various precautions club owners take, verifying the age of patrons is crucial.
Underage drinking poses serious legal and ethical issues, and nightclubs must rigorously guard against it. It is where the role of an Fake ID scanner becomes significant. ID scanners have become an essential tool for nightclub safety, helping to verify the age of patrons, detect fake IDs, and ensure adherence to laws and regulations.
Now it's time to discuss the importance of ID scanners in promoting nightclub safety, how they work, and the benefits they offer. We will also touch upon the future of digital identity verification and its potential impact on the nightclub industry.
Understanding the Mechanics of ID Scanning
So, what is ID scanning, and how does it work? In essence, an ID scanner is a device that reads the data stored in an ID's barcode, magnetic stripe, or chip. With this information, the ID scanner can verify age, check ID authenticity, and even flag fake IDs.
The underlying technology in ID scanners is far from simple. Most scanners employ optical character recognition (OCR) to read the information on an ID card. Advanced models use machine learning and artificial intelligence to recognize patterns, spot anomalies, and identify even the most sophisticated counterfeit IDs.
The Role of ID Scanning in Nightclub Safety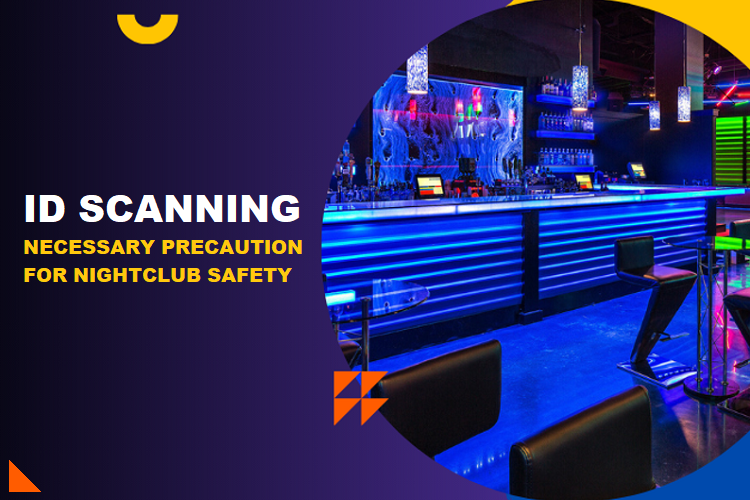 In recent years, the availability of sophisticated fake IDs has posed a serious concern for nightclub owners. Fake IDs aren't just a legal hassle; they expose businesses and individuals to significant risks and security threats.
According to the Journal of Studies on Alcohol and Drugs, an estimated two-thirds of underage students have used a fake ID to purchase alcohol at least once.
In the context of nightclub safety, ID scanning plays a crucial role, acting as the first line of defense against underage drinking and identity fraud. Modern ID scanners for nightclubs not only validate an individual's age but also authenticate the ID's legitimacy, bringing a new level of safety and security to these venues.
Ensuring patrons are of legal age to consume alcohol is the responsibility of the nightclub owner. Failure to meet this obligation can result in severe legal consequences, including hefty fines, license revocation, or even imprisonment in extreme cases.
As technology advances, so does the sophistication of fake IDs, making it increasingly difficult to identify them through manual checks alone. This is where an ID scanner for nightclubs comes into play.
These devices can read the data stored in the barcode or magnetic stripe of an ID, accurately determining the individual's age. Besides age verification, these devices cross-check the ID data against established databases or use advanced algorithms to ensure the ID is legitimate and hasn't been tampered with.
Moreover, the role of ID scanning extends beyond age verification and fake ID detection. In cases of altercations or incidents within the nightclub, having a reliable record of individuals in attendance can be vital.
ID scanners can store data from scanned IDs, providing a log of patrons on any given night. This can assist law enforcement investigations if necessary and demonstrate due diligence on the part of the nightclub.
Therefore, ID scanners play a multi-faceted role in nightclub safety – they act as a deterrent to underage individuals attempting to gain entry, help detect and prevent identity fraud, and assist in maintaining a safer, more secure environment for all patrons.
The Importance of Age Verification in Nightclubs
Age verification in nightclubs isn't just an option — it's a legal requirement. By their very nature, nightclubs serve alcohol, which legally can only be consumed by individuals above a certain age threshold, varying by location. Failing to verify a patron's age can lead to underage drinking, with potential legal and social consequences for the club owner.
On the legal side, penalties for allowing underage drinking can range from hefty fines to suspending or permanently revoking the club's liquor license. This could lead to significant revenue loss or, in extreme cases, force the business to shut down.
From a social perspective, underage drinking carries potential health risks for the youth involved, including the risk of developing alcohol dependence and other alcohol-related problems later in life. Thus, by ensuring strict age verification, nightclubs can play a part in safeguarding the well-being of young people in their community.
Moreover, verifying age at the entrance contributes to maintaining a safe and suitable environment inside the club. It can help prevent potential problems associated with underage drinking, such as disorderly behavior, fights, or other forms of misconduct.
Hence, age verification, facilitated by a reliable ID scanner, is a crucial precaution that nightclubs must take. It helps them adhere to legal regulations, prevent underage drinking, and maintain a safe and secure environment for all their patrons.
The Benefits of ID Scanning in Nightclubs
There are numerous advantages to integrating ID scanners into the safety protocols of nightclubs.
Preventing Underage Drinking: An ID scanner effectively combats underage drinking by validating the age of each patron.
Avoiding Identity Fraud: ID scanners can prevent identity fraud, a concern that's increasingly prevalent in nightclubs.
Enhanced Customer Data Capture: ID scanners can help nightclubs gather demographic data about their customers, leading to more targeted and effective marketing.
Improved Operational Efficiency: A quick scan is faster than manual age checks, ensuring seamless operations at the entrance.
Improving Security: ID scanners provide a record of the individuals who have entered the club on a given night. In the unfortunate event of a dispute or incident, this information can be critical for law enforcement and legal proceedings.
Detecting Fake IDs: As technology advances, so does the sophistication of fake IDs, making them increasingly challenging to detect with a manual check. ID scanners come equipped with the technology to verify the authenticity of an ID, providing an effective solution to the rising problem of fake IDs.
Compliance with Local Laws and Regulations: Certain jurisdictions require establishments like nightclubs to maintain a log of their patrons for specific periods. ID scanners can automate this process, ensuring compliance with local regulations and providing a reliable record in case of audits or legal proceedings.
Customer Profiling and Personalized Service: ID scanners can provide invaluable insights about the demographics of the nightclub's clientele, including age ranges, gender breakdown, and peak times for patron visits. This data can help nightclubs tailor their services, music, and promotions to better cater to their audience's preferences, improving customer satisfaction and loyalty.
Digital Identity Verification: The Future of Nightclub Safety
As we move further into the digital age, how we verify identities is bound to evolve. The future of nightclub safety appears to be steering toward Digital Identity Verification—an advanced, tech-driven approach that offers an even higher degree of security.
Digital Identity Verification takes the concept of ID scanning a step further by leveraging technologies such as artificial intelligence, biometrics, and machine learning. These technologies allow for comprehensive identity checks, encompassing facial recognition, fingerprint scanning, and more, which are cross verified with the information on the ID. This process assures that traditional methods cannot match, offering a more reliable way to confirm a patron's identity.
One of the significant advantages of digital identity verification is its ability to keep pace with the advancements in fake ID technology. As counterfeit techniques become more sophisticated, so must the methods used to detect them. The application of AI and machine learning enables the system to continually learn and adapt, ensuring it remains effective even as new types of fake IDs emerge.
Additionally, Digital Identity Verification can also offer benefits in terms of data security. While traditional ID scanners store the data they scan on a local database, digital identity verification systems can encrypt and securely store this data, protecting patrons' personal information and ensuring the nightclub's compliance with data protection regulations.
Hence, Digital Identity Verification represents the future of nightclub safety—providing a robust, adaptable, and secure method for verifying the age and identity of patrons. As this technology advances and becomes more accessible, nightclubs must consider investing in it to ensure they stay at the forefront of safety and security measures.
Selecting the Right ID Scanning Solution
Choosing the right ID scanning solution is a crucial decision for nightclub owners. The right scanner can drastically improve your establishment's safety and efficiency. However, with a plethora of options on the market, making the right choice can be a daunting task.
Here are some key considerations to help guide your selection process.
Accuracy and Speed: An effective ID scanner needs to be both accurate and fast. It should reliably read and interpret data from IDs and do so quickly to prevent bottlenecks at the entrance. Look for solutions that promise high accuracy rates and rapid scanning capabilities.
Fake ID Detection: Not all ID scanners are equipped to detect fake IDs. Considering the rising sophistication of counterfeit IDs, having a scanner with built-in fake ID detection is becoming increasingly essential. Check if the scanner uses advanced algorithms or cross-referencing databases for this purpose.
Ease of Use: Your staff should be able to use the ID scanner effectively. A device with a complex interface can slow down operations and lead to errors. Choose for a scanner that is user-friendly and requires minimal training to operate.
Data Management: Consider how the scanner handles data. Does it store information for later reference? Can it integrate with your existing systems? A good ID scanner can do more than just verify age—it can also serve as a tool for data collection and integration.
Durability and After-sales Support: Nightclubs are high-traffic areas, and your ID scanner needs to withstand constant use. Choose a sturdy, well-built scanner. Additionally, consider the after-sales support provided by the manufacturer. Good technical support can save you a lot of trouble in the long run.
Futuristic: As we move towards digital identity verification, it's wise to consider a scanner that can adapt to future technological advances. A scanner that is upgradeable or compatible with digital verification methods could be a smart investment.
Selecting the right ID scanning solution requires careful consideration of your nightclub's specific needs and the features that different scanners offer. The right ID scanner can streamline your operations, enhance safety, and offer valuable insights about your clientele, making it an asset for your establishment.
Legal Recommendations for ID Verification in Nightclubs
Bars and nightclubs must legally verify the IDs of all individuals under 21 years old. To be on the safe side, many states advise checking the IDs of anyone who appears to be under 35 years old. Police departments also often suggest using ID scanning technology, as it decreases mistakes and demonstrates a more substantial commitment to following the rules.
By following these requirements and recommendations, nightclubs can ensure they are on the right side of the law while promoting a safe and responsible environment for their patrons.
Final Takeaways
In today's world, where technology and innovation are rapidly transforming industries, using ID scanners in nightclubs has become integral to enhancing safety and improving operations.
ID scanning has emerged as a non-negotiable safety measure for nightclubs. With fake IDs on the rise and the legal and ethical implications of underage drinking, a reliable ID scanner is no longer a luxury but a necessity. It's time for nightclubs to upgrade their security measures and prioritize patron safety above all else.