Today Instagram is the world's 4th largest social media platform. It has around 2 Billion active users who upload millions of posts daily. This means that Instagram is filled with numerous posts. So to become popular on the platform, your content needs to stand out from the crowd. There are many different tips and techniques available that can make your content interesting enough to stand out. Making interesting content is one thing but to get maximum interaction, your post needs to be visible not just to your followers but to the maximum number of people. This is a task that can be easily done using Instagram hashtags.
Read further to know what Instagram hashtags are, their importance, uses, and types.
What are Instagram Hashtags?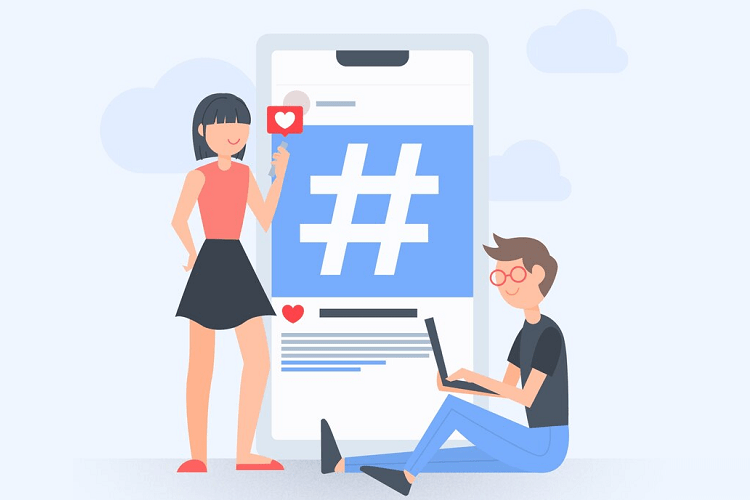 If you look at it, hashtags are just some simple words or simple phrases, these are usually made of one to three words. Hashtags are not a very new feature of Instagram as it was introduced by Instagram in January 2011, many must be used to them, and many influencers and users must have mastered the technique of hashtags. Many different users are effectively using hashtags for their benefit and are showing good growth on the platform.
Hashtags can enhance the visibility of your post to a large extent, using hashtags effectively will not only increase the visibility of your post among your followers but also among new people. Learning the way to use Hashtags effectively will not only help on Instagram but on other social media platforms too.
Importance of Instagram Hashtags
Hashtags can be considered as the sorting process of Instagram. Around 95 million posts are uploaded on Instagram daily and this makes it difficult for Instagram to deliver accurate content to the accurate people. Using hashtags on your post can make it effectively reach the users who are interested in seeing it. Hashtags are not only important for users but also for viewers as using hashtags will help the viewers to search the posts narrowly and within less time than usual. It will help your post to gain more interaction and will also help your posts like Instagram Reels to reach the explore page of many viewers who are interested in that post. It will help your post to reach the targeted audience and also the new audiences who are searching for posts of the same niche.
How to use Hashtags most effectively
Since hashtags are so important for every kind of post, whether it's photos, reels, or IGTV videos. There were many surveys conducted to find out which hashtags are most useful and for which niche. Every hashtag has its importance and if the niche of your post matches with your hashtags then it can prove to be highly effective and efficient for your content. Through different surveys conducted all over the internet, it was found that:-
82% of business profiles use hashtags as their marketing strategy.
There are around 85% of brands have documented their hashtags strategies for Instagram.
81% of brands find their hashtag strategy very useful.
52% of them say that most markets they visit use branded hashtags.
62% of brands use around 4 to 9 hashtags in their feed posts.
46% of brands say that the most effective place to use hashtags is in the captions and the comment section.
Types of Instagram Hashtags
Instagram is filled with several different posts of different niches. There are many hashtags that when used with the correct post can increase the engagement and visibility of your post to a large extent. Many hashtags are very common and can be used with almost every post. Instagram hashtags that are very suitable for feeds of both business and individual profiles can be very useful.
If we talk about some top hashtags and their respective niche then they can be classified as follows:-
Travelling – #travel, #holiday, #trip, and many more.
Fashion – #style, #fashion, #beauty, etc.
Daily posts – #instadaily, #selfie, #me, #friends, and else depending on your post.
Fitness – #motivation, #fitness, #development, #gym, and #yoga is the most popular one.
There are also many commonly used but popular hashtags like #love, these hashtags are more popular than that any niche.
Conclusion
A hashtag is one of the very simple though useful features of Instagram which was introduced in 2011. There are still many people who are confused about its uses and importance and also there are many people who have mastered its use of these. There are lots and lots of different hashtags on Instagram and you can use around 30 hashtags on a regular Instagram feed post and 10 on Instagram Story. There are many hashtags available for different niches. Choose the niche, find the suitable hashtags, and place them effectively on your feed post and you are all set. Now you can post your content on the platform and watch it grow along with time. You can consider following the information given above.