A Centre for Economics and Business Research (CEBR) report financially supported by FairFuelUK, the Motorcycle Action Group or MAG, and the Alliance of British Drivers or ABD showed that the 2030 ban on petrol and diesel car sales may cost around £400 billion, which is over five times higher than the initial valuations.
The report further indicated a possible tax revenue loss of approximately £5.8 billion every year in the absence of VAT and fuel duty. The additional costs would amount to almost £1,000 for every household beginning 2022 all the way to 2050.
New AutoMotive chief executive Ben Nelmes criticised the report, though, stating that it used a flawed methodology. For starters, it did not include any data or information about savings in fuel costs. It was also wrong to assume that the price of electric vehicles would remain the same until 2050 or that internal combustion engine vehicles would suddenly become more fuel-efficient.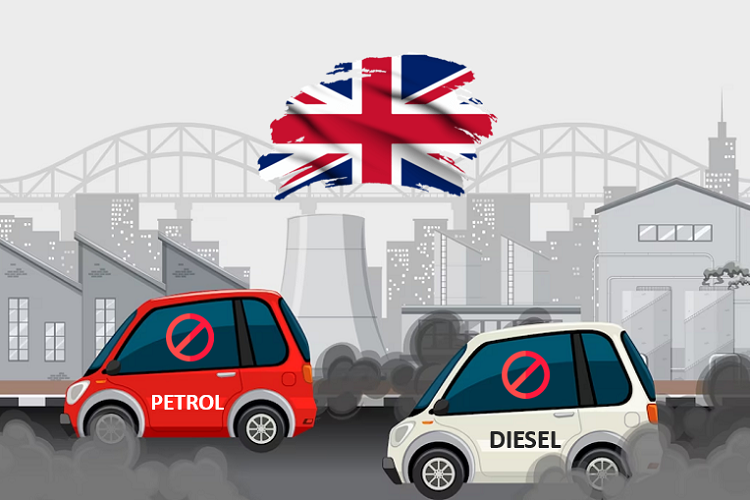 The truth of the matter is that electric vehicles are more affordable and offer medium-to-long-term savings. UK motorists are also expected to save around £193 billion during the transition.
Regardless of what reports say, the ban on new petrol and diesel cars from 2030 onward is a positive step towards a zero-emission future. Initially, the ban was supposed to start by 2040 but in 2019, former Prime Minister Boris Johnson changed the start date to 2035 for a faster and more feasible transition. Early on in 2019, Johnson once again changed the deadline and moved it forward to 2030, with the deadline for hybrids pushed to 2035.
The ban on new petrol and diesel cars is a part of the UK's transition to carbon neutrality and the green industrial revolution.
It's important to know and understand the underlying reasons for the ban on fossil fuel vehicles before considering reports, studies, or predictions.
Things you should know about the ban on new petrol and diesel cars
What's the reason for the ban?
Petrol and diesel cars release massive amounts of toxic emissions. Diesel vehicles, for example, emit high volumes of NOx or nitrogen oxide and PM or particulate matter. These gases are linked to various illnesses, including asthma and other respiratory diseases, cardiovascular conditions, and lung cancer.
Recent studies by the Royal College of Physicians revealed that at least 40,000 premature deaths in the UK are linked to air pollution, specifically to traffic fumes.
The European Union shares the same goal with the UK and has announced that they will be imposing a ban on new petrol and diesel car sales beginning in 2035.
Hybrid vehicles have a different start date and will not be allowed in new vehicle showrooms starting in 2035.
Are there other types of vehicles covered by the ban?
Commercial vehicles and trucks are included in the ban. Once the ban on the sale of new diesel vans starts in 2030, diesel lorries will no longer be allowed on the roads. They will be phased out.
A lot of car owners are worried about the resale value of their petrol and diesel cars.
The resale of ICE (internal combustion engine) vehicles will be affected since the demand for them is expected to decrease. If you're thinking of selling your used car, expect a slightly lower value, especially since carmakers will probably be selling new models with special discounts.
Buying and selling second-hand or used petrol and diesel vehicles will still be allowed after 2030 and used hybrids can still be bought and sold as well. The ban only covers new petrol and diesel vehicles.
Can I convert my petrol or diesel car to a 100% electric vehicle?
While it is possible to convert your current petrol or diesel vehicle to a pure EV, it is going to be expensive. There are electric conversion companies that can do this for you, but costs are estimated to be between £20,000 and £60,000.
Diesel emissions are dangerous
The Dieselgate scandal in 2015 painted a dangerous picture of diesel engines. When the Volkswagen Group was accused of using defeat devices to hide real emission levels, authorities were alarmed because diesel emissions have life-changing effects on a person. With the device, the vehicle appears clean and safe. When it is driven on real roads and without the device, it releases massive volumes of nitrogen oxides.
NOx emissions damage the environment and cause numerous health impacts, such as asthma, cancer, lung problems, and heart conditions. As mentioned earlier, it is also linked to thousands of premature deaths.
VW led their customers to believe that the vehicles they bought were emissions-compliant. Other manufacturers are also implicated in the Dieselgate scandal, including BMW and Mercedes-Benz. Vauxhall became involved in January 2021, after authorities said they found cheat devices in the carmaker's diesel vehicles.
These carmakers should be held responsible for their lies and the dangers they put their customers through. This is why authorities and law firms encourage affected car owners to bring their carmakers to court through an emissions claim.
Vauxhall emissions claim
If you own a Vauxhall diesel vehicle, you may be able to make a Vauxhall emissions claim. However, you need to verify your eligibility first before pushing through with your diesel claim. Get in touch with ClaimExperts and they'll provide you with all the information you need to start your claim.