Being richest people isn't an overnight process, but it takes years of hard work and dedication towards your work and then some brilliant ideas to multiply money. The richest persons in the world have an incredible wealth structure. Many of them are self-made billionaires who possessed a unique vision at some point in time and turned it into fortunes, while others inherit wealth from their family business and enjoy their rest lives.
Numbers suggest that there are over 200,000 billionaires in the world today and have made their and their family's future secured in monetary terms.
Top 10 Richest People in the World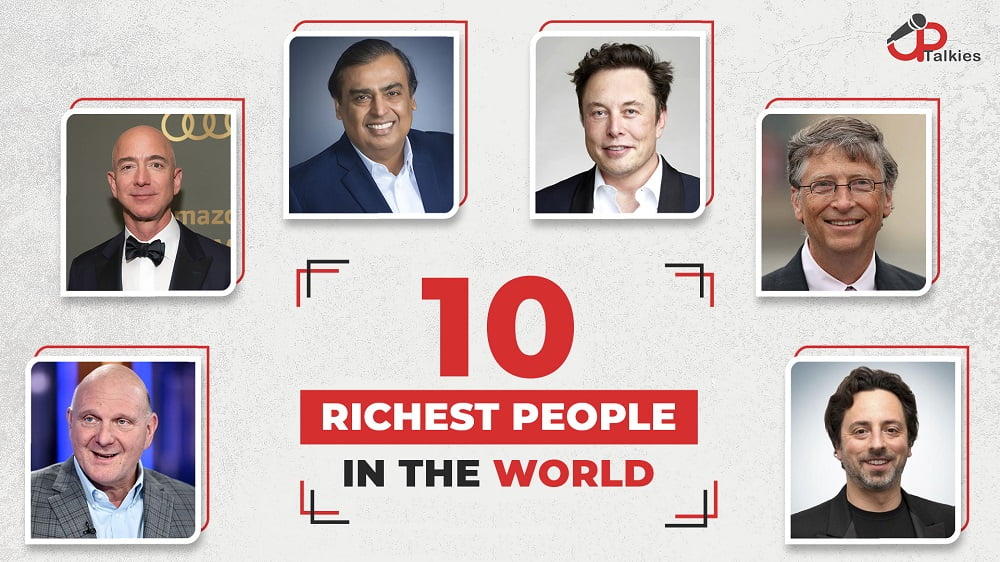 In this post, we have compiled the top ten richest people in the world after extensive research from various sources. So without any further ado, let us start with the compilation.
#10. Elon R. Musk (Tesla Motors, SpaceX)
Making this list at number ten is Elon R. Musk, the chief executive officer of Tesla Motors, a Palo Alto, California-based company that manufactures electric vehicles. Tesla is one of the largest automotive manufacturers in the US and sells different vehicles including Sedans and Sports vehicles.
Musk is also the CEO of Space Exploration Technologies Corp. (SpaceX), an American rocket company established in 2002. The primary objective of the company is to reduce the transportation cost in space. Elon R.Musk has a net worth of $68 billion, and this is the reason why he sits 10th in the list of richest people in the world in 2020.
#9. Sergey Brin (Google)
Sergey Brin makes it on the 9th spot in this list. He is the co-founder of Alphabet, the owner of Google, which got established in 1998 and handles up to 1 trillion searches annually. Alphabet generated about $162 billion alone in the last year i.e. 2019, and also has different brand divisions like Android, Gmail, YouTube, etc.
Sergey Brin, who was the president of Alphabet, stepped down from his role in December 2019. However, he still remains the board member and a controlling shareholder of the company. The estimated value of Sergey Brin currently stands with a net worth of $69.4 billion and is funding a high-tech airship project now.
#8. Warren Buffett (Berkshire Hathaway)
Popularly known as Oracle of Omaha, Warren Buffett is the chairman and largest shareholder of Berkshire Hathaway. The company is Omaha, Nebraska-based, and owns other companies like GEICO, BNSF, Helzberg Diamonds, Lubrizol, Fruit of the Loom, Duracell, Dairy Queen, and others.
Warren was a son of a US congressman who started buying stocks at the age of 13. He also owns a kind-heart as he has donated around $41 billion from his wealth to charity organizations thus far. Warren's total estimated value compiles around $69.7 billion, which makes him hold the 8th position on this list.
#7. Larry Page (Google)
Just like Sergey Brin, Larry Page is also the co-founder of Alphabet. Both Brin and Page invented Google's PageRank Algorithm, a process that powers the search engine. Page served as the CEO of Alphabet in 2015 before stepping down in December 2019. As of now, his estimated value remains around $71.6 billion, and is still a controlling shareholder and board member of Alphabet.
#6. Mukesh Ambani (Petrochemicals, Oil & Gas, Reliance)
Making the list at number 6 is India's richest person, Mukesh Ambani. He is the chairman of Reliance Industries Ltd, one of the giants in Oil and Gas. Reliance was found in 1966 by his father Dhirubhai Ambani as a textile unit, but soon after his exile, it turned into an Oil and Gas company.
Mukesh owns 42% of Reliance Industries Ltd and has a few other businesses, including 4G phone service Jio, across India. Talking about his wealth, he owns a residential property worth about $400 million, and his total net worth is %72.4 billion.
#5. Steve Ballmer (Microsoft)
Former CEO of Microsoft, Steve Ballmer, stands at the fifth spot in the list of richest people in the world. He started at this position in 2000 and served for 14 long years till 2014. Not many people know, but before becoming a CEO, he worked as an employee in Microsoft when he joined in 1980.
After stepping down in 2014, he bought the NBA's Los Angeles Clippers for $2 billion. Also, in 2018, invested around $59 million in Social Solutions, a software manufacturing company for nonprofits and government agencies. His estimated net worth in 2020 is $74.6 billion.
#4. Mark Zuckerberg (Facebook)
Mark Zuckerberg is the co-founder and CEO of the biggest social media platform in the world, Facebook. He stands at the fourth position in this list and has been making billions for a long time now. He started Facebook at the tender age of 19 at Harvard in 2004, and the motive of creating it was to provide aid to the students in the school match names with photos of their classmates. Currently, Zuckerberg has a net worth of $90.8 billion and stands fourth on this list.
#3. Bernard Arnault (LVMH)
Making an entry at number 3 is the richest man of France, Bernard Arnault. He inspects an empire of 70 different brands including, some familiar names like Louis Vuitton and Sephora.
Bernard was able to purchase one of the biggest luxury brands America Jeweler Tiffany & Co., in 2019. Apart from this, he has also managed to hold the stakes of other reputed companies around the world. At present, his total value stands at $94.5 billion.
#2. Bill Gates (Microsoft)
The co-founder of Microsoft, Bill Gates stands at the second position in the list of the world's richest people. Despite being the co-founder, he owns just 1% share of the company after selling off or gifting most of it.
He also owns the world's largest private charitable foundation, called the Bill & Melinda Gates Foundation, along with his wife Melinda. He has now stepped down as the board member of Microsoft but still possesses a value of $115 billion.
#1. Jeff Bezos (Amazon)
The founder of the eCommerce giant Amazon, Jeff Bezos, is the richest person in the world with a value of a whopping $184 billion. He started Amazon out of his garage in Seattle in 1994 and never would have thought of raising the stakes so high worldwide. Still, he remains the CEO of the company and owns a total of 11.1% stake.
Time to wrap up
The names mentioned above are not only the wealthiest people in the world but have contributed a lot to different charities around the globe. These people are high on money and both optimistic and opportunistic.