When the sun shines bright, the waves crash against the shore, and the sound of laughter fills the air, it can only mean one thing – it's beach party season! Beach parties are all about fun, relaxation, and letting loose. Whether it's a tropical getaway, a bonfire gathering, or a casual beach picnic with friends, the dress code is a vital aspect of making a statement and ensuring you stand out in the crowd. In this article, we will uncover the secrets of the beach party dresses code, helping you transform your style and make a lasting impression on everyone around you.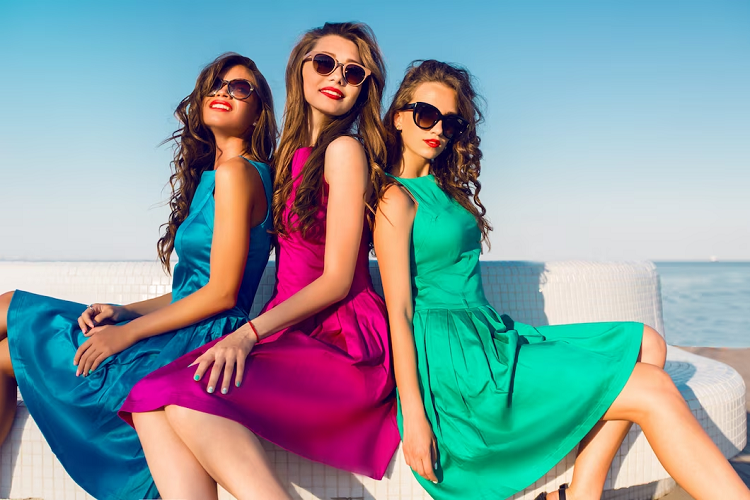 Beach Party Dress Code Ideas
The beach party dress code is typically more relaxed and casual compared to other formal events. The aim is to be comfortable, cool, and stylish while enjoying the beach atmosphere. Here are some secrets and tips to nail the perfect beach party dress code.
1. Embrace Vibrant Colors
The beach is a canvas of natural beauty, and your outfit should complement its vibrancy. Embrace a palette of vibrant colors, inspired by the ocean, sunsets, and tropical flora. Think coral pinks, turquoise blues, sunny yellows, and lush greens. Not only do these hues reflect the beach's ambiance, but they also radiate positivity and energy. A colorful maxi dress, a flowy sarong in a bright print, or a tropical-inspired shirt will instantly elevate your beach party style.
2. Light and Breezy Fabrics
When dressing for a beach party, comfort is key. Choose light and breathable fabrics that allow you to move with ease. Cotton, linen, chiffon, and rayon are excellent options. These fabrics keep you cool even on the hottest days and provide a relaxed and effortless look. Moreover, the flowing nature of such materials adds a touch of elegance to your ensemble, enhancing your overall beach party appearance.
3. The Timeless Appeal of Swimwear
A beach party isn't complete without some time spent in the water. So, why not incorporate swimwear into your outfit? A well-fitted, stylish swimsuit can double up as a top when paired with a sarong or high-waisted shorts. Opt for flattering cuts and designs that suit your body shape, and consider mixing and matching different swimwear pieces to create a unique look that reflects your personality.
4. The Versatility of Cover-Ups
Cover-ups are not only practical but also highly fashionable for beach parties. They provide extra coverage when you need it and can be easily slipped off when you're ready to hit the water. From crochet kimonos to sheer kaftans, cover-ups come in various styles and lengths. These pieces not only add a layer of sophistication to your outfit but also protect your skin from the sun's rays.
5. Accessorize Wisely
Accessorizing is the perfect way to take your beach party outfit to the next level. However, remember to keep it simple and practical. Large, dangling pearl jewelry or delicate pieces might not be suitable for the beach environment. Instead, opt for statement sunglasses, wide-brimmed hats, and colorful, lightweight scarves that can be worn as headbands or tied around your waist. Don't forget to bring a stylish beach tote to carry your essentials and complete your chic look.
6. Comfortable Footwear
When it comes to beach party footwear, ditch the high heels and uncomfortable shoes. Opt for flat sandals, flip-flops, or espadrilles that offer both style and comfort. Not only will these options keep your feet happy throughout the day, but they are also practical for walking on sandy shores. Choose designs with fun patterns or embellishments to add a playful touch to your overall look.
7. Effortlessly Casual Hairstyles
Beach parties are all about embracing the carefree spirit, and your hairstyle should reflect that. Effortlessly casual hairdos like beach waves, messy buns, or braided styles perfectly complement the laid-back atmosphere. You can also accessorize your hair with a floral crown or a colorful headscarf for an extra bohemian touch.
8. Be Sun-Ready
Sun protection is essential when spending time outdoors, especially at the beach. Incorporate sunblock into your beauty routine and make sure to reapply throughout the day. Additionally, a stylish sun hat and a pair of UV-blocking sunglasses will not only protect you from the sun but also add an air of mystery to your beach party attire.
Conclusion
The beach party dress code offers an incredible opportunity to showcase your style and creativity while embracing the essence of summer fun. By embracing vibrant colors, breathable fabrics, stylish swimwear, and well-chosen accessories, you can transform your beach party outfit into a head-turning ensemble. Remember to prioritize comfort and sun protection, allowing you to enjoy the festivities with confidence and grace. So, go ahead and experiment with your beach party wardrobe, and get ready to stand out as the ultimate beach fashionista!