Part of the fun of owning a truck is getting to enjoy the aggressive good looks. Many truck owners like to upgrade their trucks either for aesthetics, function or both. One of the best upgrades that can look great and serve a purpose is a grille guard. Some guards are built into aftermarket bumpers and others can be installed as a standalone component with the factory bumper. Should you buy one for your truck?
What Is a Grille Guard?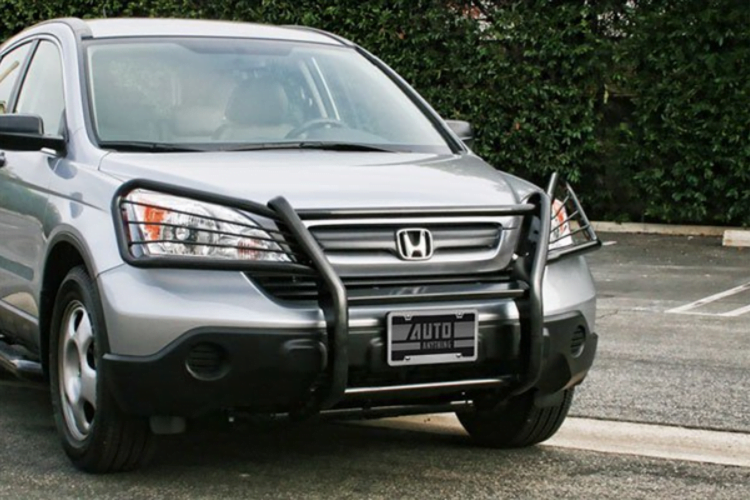 First and foremost, it is a good idea to define exactly what a grille guard is. Grille guards for trucks are protective parts that sit in front of the grille. They are typically made from one or more tubes. These provide rugged protection to the grille without blocking airflow (the grille is the main area that sucks air into the engine and helps cool the radiator).
Guards are popular on commercial trucks because they help to protect a fairly significant capital investment (the truck cab). However, do you really need one if you just use your pickup for light utility work and transportation? What about if you like to take it off-road?
Protecting Yourself in An Accident
There are a few key benefits offered by a grille guard. These are the four main ones for most truck drivers:
Protecting the Grille: A grille guard can help to keep debris away from the grille. If you are in an off-road setting, it can be particularly useful to stop branches and leaves from poking into the grille and getting stuck.
Protecting the Occupants: The front bumper of your vehicle plays an important role in protecting passengers in the event of an accident. Reinforcing the area with a grille guard can help to make the cabin even safer. However, this may not be the case for all guards, so consider looking up safety information when you are researching.
Accessories: Grille guards can often be mounting points for additional accessories such as winches and lights. If you want to have a complete off-road build, this may be a good option to consider.
Aesthetics: Let's face it, we all want our trucks to look cool. With a grille guard, you can achieve a nice, aggressive look that makes the whole package look more rugged.
Is a Grille Guard the Right Upgrade?
Grille guards are very popular off-road accessories. When you are on the trail, there are lots of hazards that could damage the grille and engine, so having protection is worth it. If you only take your truck on paved roads, it may not be as valuable. However, grille guards also have very few drawbacks. So, if you like the look, you should just go for it, regardless of whether you need the protective benefits.
Order a New Grille Guard or Other Bumper Today
Check out some grille guard options for your truck. You can score some really good-looking F150 grille guard parts. However, even if you don't own the best-selling truck in the country, you will find plenty of awesome options. See what you can find today.