Are you a coffee enthusiast? We are, and we have a special place in our home for it. Today, we will provide you with some pointers on setting up your coffee station in a small space! You will construct the ideal area with everything you need if you follow our simple guidelines. Are you ready for the next step?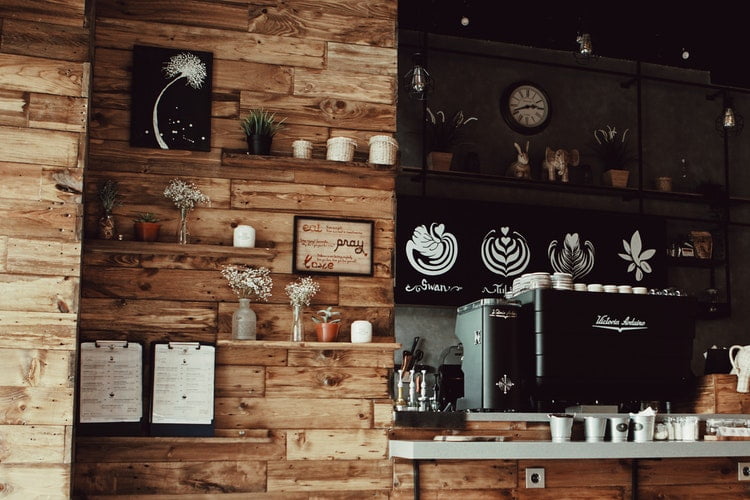 How to make a coffee station:
1. Choose a location
Do you have any extra open space that you might use? With just a modest area set out for your things, you may make the ideal coffee bar. Use a tray to collect all products or install a shelf above your coffee maker to create more space.
If you have additional cabinet space, use it to put your coffee machine for an underground coffee station.
2. Keep it stocked
To make the perfect coffee bar, you will need all of the necessary ingredients. We have got you covered on everything from coffee mugs to the proper creamers!
Check the following items off your list and place them in your coffee station:
Flavored coffee
Coffee maker (selection of beans for guests)
Spoons napkins coffee grinder 6-8 coffee cups
Sugar + creamer in a bowl
Cinnamon
Cookie tray
Bowls/canisters for storing the above-mentioned
And your customized glass jar
3. Customize it
Now it is time to give your coffee shop a personal touch. Whether it is engraved napkins or a lovely framed quote, your touch will make it feel unique. A colorful collection of food-related menu, poster, and custom glass container on the bright yellow wall quickly make this vintage-inspired coffee corner feel more welcoming.
4. Set up your coffee station with the right furniture
If you want something you can move around and align with the wall when you need room, the lightweight home coffee station furniture is a fantastic alternative.
Chalkboard paint is not just for walls anymore! You may also use it on doors and furniture. This improvised coffee bar cabinet is simple to construct. Using a recycled cupboard will suffice!
5. Add an artistic touch
The white moving cart is a clever mobile solution for a coffee station, and the artwork on the wall adds to the artistic vibe. Use a single color with natural wood and a hint of greenery to achieve this look. The word Kaffe, which means coffee in Norwegian, is written on the wall.
6. Mug hanger made of plywood
Put your carpentry talents to the test by creating a heart-shaped sign out of recycled wood planks if having your coffee mugs at your fingers each morning is a priority. After that, connect hooks to the wood for hanging mugs and, if desired, stencil a statement on it.
Pivoting cups free up counter space for additional coffee necessities like cream and sugar.
7. Coffee Station on a Bookshelf
Instead of throwing away an old bookcase, turn it into a coffee station. For additional storage on the shelves, use wire baskets and canisters. Use the top to store your coffee maker and mugs. Make sure there is enough room on the table for you to put your cup of coffee.
8. Cart with a Coffee Bar
Consider converting your bar cart into a coffee buffet if you enjoy hosting friends and family for weekend brunch. Place a coffee maker or a jar on the cart so that people may help themselves. Also, do not forget to bring extra mugs, cream, and sugar, as well as stirring spoons.
DIYs to design your coffee station:
Have you ever fantasized about opening your coffee shop? You may now do it on your own! All you will need is an old kitchen cabinet to get started (you may have, or if not, you can buy one in a thrift store). If necessary, you can refinish it to complement your interior. After that, assemble all coffee-related items and decorate with coffee-themed decorations to create a coffee station like this one!
1. Coffee station made of whitewood
Coffee shops can be just that, or they can be a stylish addition to your home! This coffee station is a must-have if you want to add a decorative element to your living area or kitchen. You have got yourself a special place for the essential thing in the world, coffee, with a cupboard, two shelves, and a wall-mount metal cup display rack.
2. Inspiration for a Christmas coffee bar
If coffee holds a special place in your heart, you must dedicate a space in your home to it! It will be your favorite area of your home, whether you create a space in your kitchen or add a cupboard-based coffee bar to your living room. You may even make a Christmas-themed coffee station, like this one, for the holiday season!
3. Coffee station with floating shelf
A coffee station is a brilliant way to dedicate a space in your home to your favorite beverage. The best part is that it does not have to be a big deal. Even anything as basic as this bar will suffice. Add a couple of floating shelves, a simple stand (likely from Ikea), and your coffee machine!
4. Colorful coffee station in the kitchen
With this coffee station concept, you can turn a corner of your kitchen into a coffee paradise! There is no need to break the bank to get your hands on this little slice of pleasure. All you need is a basic mount wall rack (which you may already have) and a corner of a kitchen cabinet, and you have got yourself a coffee bar.
5. An accessible coffee station
If you are looking for a low-cost coffee shop, this is the place to go. It is the ideal DIY project for a weekend or a free afternoon. Furthermore, its modern style and compactness make it suitable for any interior and area!
6. Coffee bar with pour-over
Do you have some extra space at the back of your kitchen cabinets? It can be used to create your very own coffee haven. Bring together all of your coffee ingredients, utensils, and appliances, along with a wall-mounted shelf and rack, and you have got yourself a cute coffee bar!