Are you a dog owner with a burning passion for all things canine? Imagine a world where you could combine your love for dogs with a successful business venture. The bond we share with our furry friends goes beyond mere companionship – it can also open doors to start-up ideas for dog owners that are both fulfilling and profitable. Keep reading to understand why turning a passion into a product or business is the ultimate idea for success. Understanding your target market, competition, and local regulations is crucial to building a successful start-up catering to dog owners.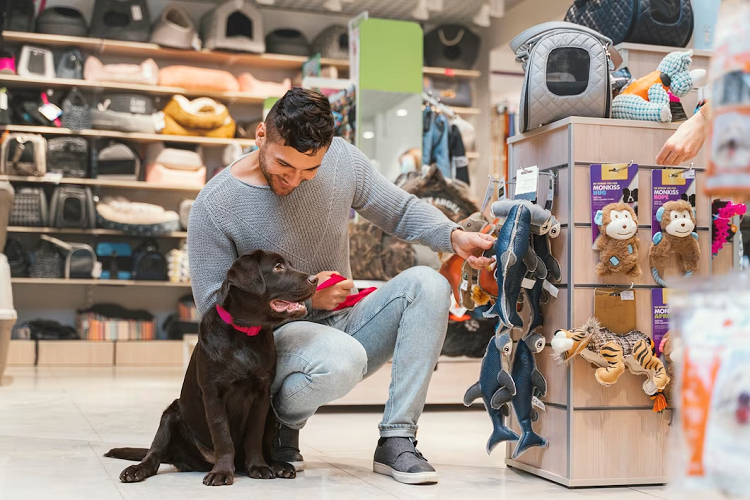 6 Start-Up Ideas for Dog Owners
Starting a business focused on the needs and interests of dog owners can be a rewarding and enjoyable venture. Here are some start-up ideas tailored to dog owners.
1. Woofilicious Delights: The Barkery
If you have a knack for baking and a love for dogs, starting a dog bakery might be your perfect business venture. The Barkery offers an array of gourmet treats and customized cakes, delighting canine taste buds with healthy and delicious options. As a dog owner, you understand the importance of providing high-quality nutrition as it's one of the essentials to owning a dog, and this business allows you to share your passion for baking while promoting the well-being of our four-legged friends.
2. Wagging Tails, Happy Trails: Dog Walking and Pet Sitting Services
Launching a dog walking and pet sitting service can be an excellent business idea for dog owners who enjoy spending time outdoors and connecting with other dog lovers. Many pet owners have busy schedules and rely on trustworthy individuals to ensure their furry companions receive the care and exercise they need. By offering reliable, professional, and personalized services, you can cater to the needs of both dogs and their owners while building a strong reputation in your local community.
3. Raw Dog Food Revolution: Providing Optimal Nutrition
In recent years, the demand for raw dog food has skyrocketed as more pet owners recognize the importance of providing a balanced and natural diet for their dogs. Capitalize on this trend by establishing a business that specializes in raw dog food. Educate pet owners about the benefits of a raw diet, create personalized meal plans, and offer convenient delivery services. By prioritizing the health and well-being of our furry friends, you can make a significant impact while enjoying a profitable business.
4. Up-Centric Apparel: Canine Fashion and Accessories
Dog owners love to spoil their furry companions with stylish and adorable outfits. If you have an eye for fashion and a passion for dogs, launching a canine fashion and accessories business could be an exciting avenue to explore. Design and create trendy apparel, harnesses, collars, and unique accessories that allow dog owners to express their pet's personality. Emphasize the importance of comfort, durability, and style, and watch as dog owners flock to your trendy offerings.
5. Pampering Paradise: Doggy Day Spa and Grooming Salon
A doggy day spa and grooming salon can be a lucrative business venture for dog owners who believe in pampering their pets. Offer a range of services, including professional grooming, therapeutic baths, nail trims, and even doggy massages. Create a calming and welcoming environment for both dogs and their owners, ensuring a stress-free and enjoyable experience. With your love for dogs and dedication to their well-being, you can build a business that brings joy to both humans and their furry companions.
6. Bark-itecture: Dog-Friendly Interior Design Services
Offering dog-friendly interior design services can be a unique and in-demand business opportunity for dog owners who want their homes to be stylish and pet-friendly. Create spaces that cater to the needs of both dogs and their owners, incorporating durable and easy-to-clean materials, innovative storage solutions for pet supplies, and cozy dog-friendly furniture. From custom doggy nooks to pet-friendly flooring options, your expertise in designing spaces that harmonize with the lifestyles of dog owners will set you apart in the interior design industry, while enhancing the bond between dogs and their human companions.
Unleash Your Entrepreneurial Spirit and Succeed
You can combine your love for canines with a successful entrepreneurial journey by turning your passion for dogs into a business. Whether you choose to start a dog bakery or explore the world of canine fashion, the possibilities are endless. Embrace the opportunities that arise from merging your passion and business acumen, and watch your enterprise flourish. Remember, success comes when you follow your heart and pursue your dreams. So, take that leap of faith and embark on a pawsitive venture that will fulfill your entrepreneurial aspirations and bring joy to the lives of countless dogs and their owners. Happy entrepreneuring!