When it comes to submission of an iOS app on the app store or an android app on the play store, it becomes a tough time for any app developer or a mobile app development company until they get an approval of their app. As there are several further processes affects if the app get rejected by the app store or the play store, such as marketing and optimization activities as well as many more relevant activities get stuck.
Hence, it becomes a vital for an app development team to comprehend the basic information need to follow in the condition when the app store rejects their app.
If you are developing a mobile app using iOS, you should know the Apple's app review guidelines to follow in order to make the app submission process trouble-free and avoid the fear of rejection. But, even through your complete attention in developing apps and following all guidelines of development platform, still there are many reasons that cause your app rejection. In such case, there are no reasons to get disappointed or disturb.
Your app rejected does not mean a complete loss of your money and efforts. There are certainly many ways and options that the app store has kept open for you in order to resubmit your app with mandatory updates mentioned in the note at the time of app rejection. You just need to understand it properly and implement your app based on the necessary terms.
Top Reasons for App Rejection in the App Store
According to Apple, the Top 10 reasons for app rejections during the 7‑day period ending December 3, 2016: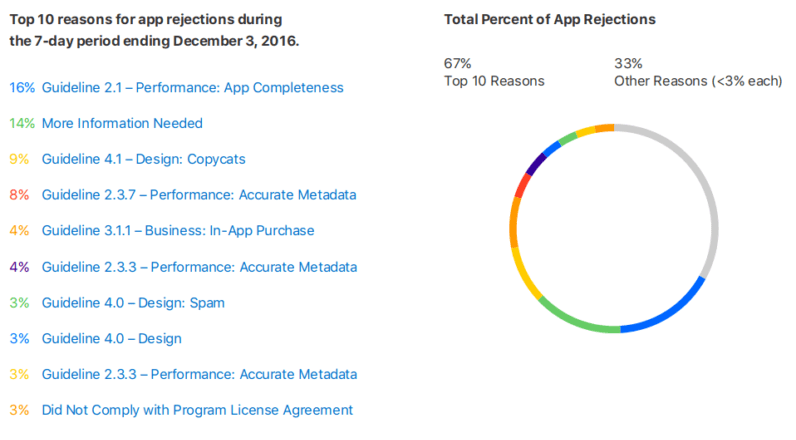 Apple believed that the major culprit for app rejection becomes the lack of enough information that accounted 14% of total rejection. It is necessary to give some information such as details for testing like current contact details and demo account information is vital. According to Apple, it becomes essential to enter all the important information to review your app in the app review information section of iTunes Connect. In case, the feature requires specific hardware, you should be getting ready to provide the hardware or a demo video.
Other reasons for app rejection includes several bugs and crashes, the failure of designs in order to meet the user interface requirement of Apple, failure due to comply with the developer program license agreement, irrelevancy in app name, screenshots, descriptions and other misleading information that confuse users, similar icons which are already existing in the app store can also a cause for app rejection. Hence, once you comprehend the reason for rejecting your app, you should proceed further, carefully to resubmit your app. You should study that helps you to understand the complete process, after you submit your app.
Things to Do when Your App Was Rejected
Identify Rejection Reason/s
You need to study the rejection letter send by the app store mentioning the reason/s for your app rejection. To know the precise reason, you need to login into your iTunes Connect account and click on My Apps. You need to select your app which is rejected from the app list. Once you proceed to view, you can find a message highlighted with red color on the top of the listing.
Get the Rejection Code to fix the bug
You will get a rejection code by clicking on resolution center. You will get a short description with the code. Apple gives the information about your rejected app with crash logs as well as screenshots, sometimes. They also guide you further with some useful tips to fix it in your app and submit it again. Thus, if you understand easily the reason for your app rejection, you can easily fix it and make a try again to launch it on the play store for your target audience.
Look for the help of Experts to understand the problem
even though specifically mentioned by Apple, many times, it becomes complicated to understand the term mentioned in the rejection note. In such situation, you need to seek the help of an experienced iOS developer having proficiency to solve the rejection issues of the app store. Thus, you can take the help of an expert iOS app developer to fix the bug as mentioned in rejection letter and resubmit it again.
Discuss with the App Review Team
If you are sure about the accuracy of your app and precise that all aspects and terms you have included in the app are correct, you can write a letter or discuss with an app store review team and provide them reasons and explain them about the aptness of your app with valid reasons and documents to convince them.
Get the Help of Developer Community Forums
Moreover, if you cannot able to comprehend the reason of app rejection, you can leverage the help of developer communities available online. Using the help of several app developer community forums, you can get solution regarding the rejection problems. You can discuss your issue in the forum and there are several expert developers provide helpful suggestions to solve the problem.
Conclusion
The mobile app development is a challenging task that requires in-depth expertise and experience to launch on the app store or play store successfully. It is very essential to know what you should do when your app was rejected. It not only keeps you tension-free, but, also encourages you to solve the problem efficiently. An experienced iOS mobile app development company offers efficient services in order to get an expert solution to develop your app. With the help of their expert iOS developer team, it becomes easy to comprehend the rejection problems and solve it efficiently to resubmit the app, successfully.