As an entrepreneur, setting up and operating your own pest control business can be both financially lucrative and emotionally draining at times. When you own a pest management company, as with any other, profitability is critical to its survival, growth and success.
Planning for the financial health of your business is essential. A good place to start is to streamline your internal business operations, processes and procedures so that they are as effective and simple as possible. This way, you cut down on spending a disproportionate amount of time on menial tasks that don't contribute to shaping the growth of your company. Pest control software like Jobber can help you do this from the get-go. Once you have this in place, you will have everything you need to focus on all the ways you can make your business more profitable.
Ways to make your pest control business profitable
Profits in the pest control sector have grown steadily over the last five years. Moreover, companies have seen increased demand from clients to address bedbugs in hotels and houses. In addition, according to current industry and consumer statistics, urbanization and climate change are likely to lead to an increase in demand.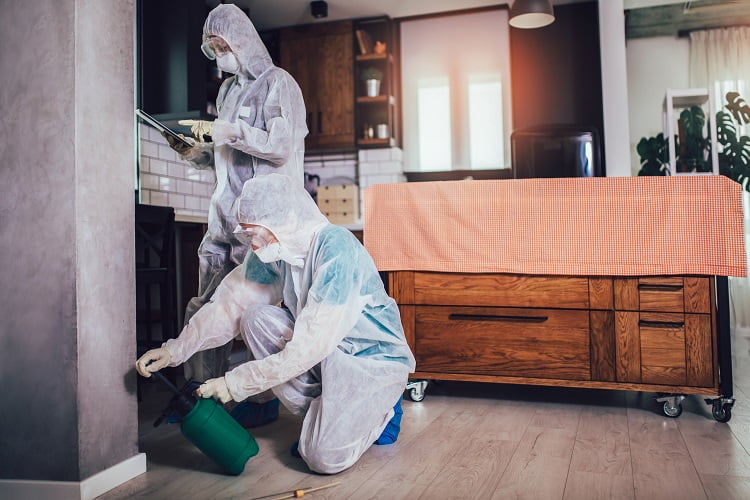 It is more important than ever for pest control firms to differentiate themselves from their competitors to obtain an advantage in the market. So, whether you've been operating a pest control company for years or are considering establishing one, make use of the following tips to make your business profitable:
1. Understand the financial aspect
Every company's fundamental approach to increasing revenue is to analyze processes and cash flow closely. To do this, you can:
create a list of all income sources associated with the business,
check where the funding is flowing from and how it is being used,
determine the areas of spending and the amount of money each of these use.
A pest control company's key expense categories are as follows:
Fixed expenses like rent, salary, and insurance
Variable expenditures, like utility bills
Discretionary costs or unrequired spending, such as marketing and advertising
Capital costs, or large-scale expenditures, including the purchase of new equipment or supplies
Once you've identified all the expenses, you have to maintain a record of income and spending to spot patterns and trends. Use this to ascertain your business's profitability. Additionally, you can use it as a reference to forecast projected income.
It's important to analyze the various spending categories regularly and eliminate unnecessary expenses. Concentrate on investments that will increase efficiency in areas where significant cost reductions are possible.
2. Invest in training
Training is a critical component of a successful pest treatment business. Indeed, effective pest treatment calls for a combination of in-depth industry knowledge and hands-on expertise. Keeping this in mind, make sure your personnel are adequately trained and held accountable for their actions.
You should invite all your staff to participate in regular training sessions that are properly planned and professionally delivered by your company. These training sessions should be interactive and instructive to provide your personnel with the tools and knowledge necessary to continue improving and providing a superior service to your consumers.
Periodic evaluations and tests are advised to ensure best practice is being carried out at all times. A good idea to attract and retain the best talent is to offer your staff the chance to acquire new expertise and develop their professions.
3. Be customer-focused
Always remember that the client is king. Unfortunately, many companies pay merely lip service to this philosophy. According to reports, improved customer experience boosts revenue in 84% of businesses. Customer service is vital to 96% of consumers regarding brand loyalty.
In this sense, customer-centricity helps retain customers. By boosting client retention by 5%, earnings rise by 25% to 95%. In addition, reports also show that selling to current clients succeeds at a rate of 60% to 70% while selling to new consumers succeeds at just 5% to 20%.
In addition, you'll need to reorient your processes and back-end operations to focus on the customer more. Additionally, take into account the impact on consumers of any alterations that you'll implement into your operations.
4. Go digital to get more customers
Consumers are increasingly opting to do their purchasing online. So, if you don't incorporate digital and social advertising into your overall marketing plan, you'll most likely fall behind the competition. One benefit of digital marketing is the opportunity to examine your presence among existing and prospective clients.
Additionally, having a website is a critical component of a successful digital advertising plan. A website's primary objective is to elicit an action or generate leads. Hence, you'll need a professional website with client testimonials, details about the services you provide, and your contact info.
Conclusion
Pest control companies are in high demand all around the world. If you have a pest control business, applying the techniques discussed in this blog post has the potential to secure your business's success. By ensuring that you understand your firm's requirements, invest in training qualified workers, and focus on your customers, you can rest easy knowing that your company will grow and succeed.