While the initial intent for a garage was a secure parking space for your vehicles, garages tend to wear many hats. They are a place to park your car, a storage space, a workshop, and more. If your garage could use some improvement, we have put together this list of DIY ideas to help you improve your garage.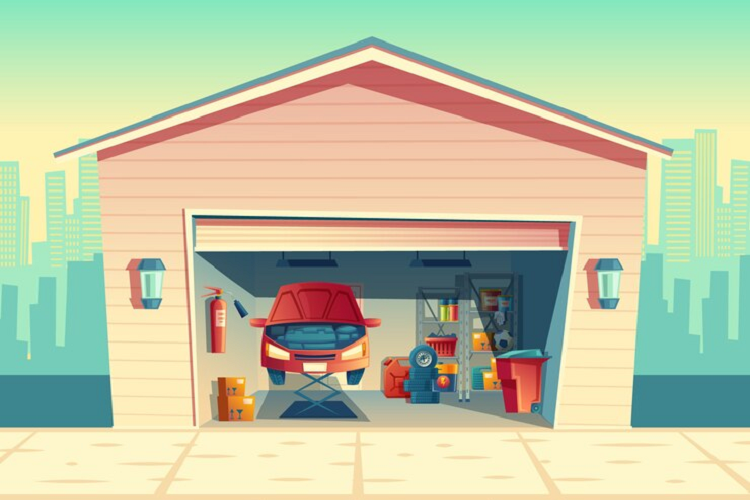 10 DIY Ideas to Improve Your Garage
A well-organized and properly maintained garage can make your life easier and increase the value of your property. Let's delve into the key ways to improve your garage:
1. Add Ceiling Storage
No matter how big your garage is, it could always use more storage space. This means it is time to look up. You can install a ceiling storage system so that you can transform your empty overhead space into something useful. You can install a pulley system to bring bulky items like ladders and bikes down when you need them while keeping them out of the way in the meantime.
Another thing you can do is build some loft space overhead; just make sure you also build some access to it or have a ladder nearby that you can climb to get whatever you need.
There are some motorized options available, too, that you can invest in that will bring everything down for you. You can also hang racks above you to store everything.
Whichever option you choose, make sure you label everything clearly so that you can find things easily. If you can see the bottom of your storage containers, add a label to the bottom of them, too, so you instantly know exactly which bin you are looking for.
2. Upgrade Your Lighting
A lot of garages are pretty dimly lit, but that is unsafe, especially if you are working on a project that you need to be able to see better. Add some new, bright lighting to the garage to ensure that you can see clearly. You can also consider installing some windows in the garage, which can give you more light and some fresh air.
3. Repair Cracks in the Concrete Floor
If your concrete floor is getting some bigger cracks or pits in it, it is time to fill those in. While it is normal for a concrete slab to develop some cracks or flake a little over time, if they get bigger, you should definitely fill them in. You can fill in the cracks with a self-leveling sealer or mortar, then apply a concrete resurfacing product to the whole floor to make it look like new.
4. Paint the Walls
One of the easiest DIY projects you can do to improve the overall look of your garage is to give it a fresh coat of paint. Whether you want your garage to be cheery or stoic, you can choose a color that reflects the overall feel you are going for with your garage design.
5. Install Dedicated Circuits
Garages are often not wired quite right for a workshop. Many tools, including air compressors and welders, need a dedicated circuit to keep the outlets from overloading. If you use your garage as a workshop, it can be worthwhile to have dedicated circuits installed for those tools. If you have electrical experience, it is something that you can DIY, but if not, it might be best to consult an electrician.
6. Save Space with Sliding Shelves
If you need more storage shelves but are low on space, a great way to get that is to buy or build sliding shelves. These can give you a lot more storage space to keep everything organized. You can also put labels on the shelves so that you do not have to spend time digging around on each shelf to find whatever you are looking for. Try to keep similar items stored together to help with this.
7. Install an Exhaust Fan
If your garage is part workshop, and you sand, solder, varnish, weld, or work with chemicals, it is a good idea to have an exhaust fan installed to vent out any fumes or dust. It is not always going to be nice enough outside for you to leave the door open to vent fumes, so having an exhaust vent installed on the exterior walls is a great idea to keep the air in your garage clean.
8. Create Storage for Long Handled Tools
If you have a lot of long-handled tools, having something to help keep everything corralled is a good organization addition to the garage. You can get a wooden pallet for a reasonable price and attach it to the garage wall to keep your tools together and organized. For smaller tools, some hooks or small shelves can be added to the front of the pallet, making it more versatile. It can be painted to match the color scheme of the garage, too, so it does not stand out.
9. Update the Insulation
Garages often do not have the best insulation, but there are a couple of things that you can do to improve the insulation in your garage. The first thing is to seal the space to keep out drafts. Start by replacing the rubber gasket on the bottom of the garage. Then, put up new weatherstripping around other doors in the room. If there are any windows in the garage, apply a new layer of caulk around them.
If you want to get really creative with your garage installation, try installing faux stone or brick. It is easy to DIY install, and it can improve the look of your garage, whether you install it inside or out. This is an easy and affordable project to make the space of your garage have better insulation and to make the garage space stand out and look beautiful.
10. Give the Garage Door a Facelift
Garage doors are often unattractive, but they can be expensive to replace. If yours is becoming an eyesore, there are some DIY ideas you can implement to give the garage door a makeover. You can sand the door to get rid of any rough edges, then add a fresh coat of paint to the door. This is an easy DIY idea that can transform the door and make it look better.
Conclusion
Improving your garage can be a great way to add value and functionality to your home. There are several ways you can do this, such as adding storage solutions or organizing the space for better efficiency. You could also consider installing shelves or cabinets on the walls for extra storage, painting the walls and flooring with durable materials like epoxy paint, or even upgrading lighting fixtures for improved visibility while working in the area.
Additionally, investing in weatherproof insulation will help keep temperatures more comfortable year-round while keeping pests out of your garage space. With these simple improvements you will have a functional and attractive garage that adds value to your home!