If you are thinking about building a digital shopping site, there is no better time than now to do it. Because of the current covid-19 situation, most people prefer online shopping rather than store purchasing. With the increase of digital shopping, the fate of B2B sales has changed completely. Nowadays, B2B eCommerce embraces online shopping more because it provides an extra edge to sales. For making and releasing an eCommerce platform, one should have the basic concept of B2B and the best eCommerce platforms. In this article, we will be venturing through these topics. If you are new to the B2B business or are trying to take more advantage of digital shopping, this article is for you.
What is B2B eCommerce?
B2B eCommerce or Business to Business electronic commerce stands for online orders and transactions between two businesses or, in simple words, the buying and selling of things between two businesses. In a survey conducted on the B2B eCommerce platforms, it was found that more than 45% of the businesses conduct online/digital shopping. And with the technological advancements that have come in the way of digital purchasing, B2B businesses are emerging faster. There are many types of B2B eCommerce; some of them are:
B2B2C
Wholesales
Manufactures
Distributors
Advantages of using B2B eCommerce Platforms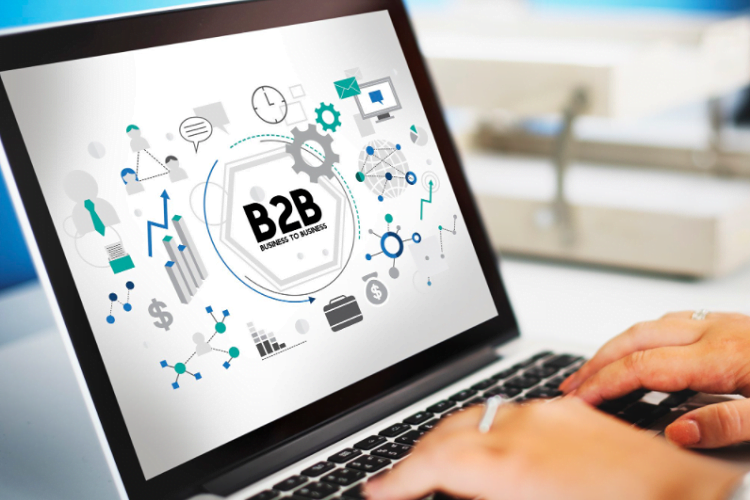 Gaining new customers.
You can reach new B2B clients with a B2B ecommerce site with public-facing catalog pages. You can improve your reach by implementing digital marketing strategies online. The next generation will not only prefer but expect to shop online. These days, B2B buyers expect to be able to purchase online. It is a convenient and efficient way to shop and makes repeat purchases easier.
Increase sales to existing customers.
You can also easily implement an automation program for upsells and cross-sells that takes advantage of ecommerce to reach new customers. The goal here is to personalize shopping experiences for shoppers. Having you as their sales associate will allow you to help them find the products they're looking for without having them ask.
Analyzing data better.
For organizations that wish to launch a comprehensive analytics campaign, B2B ecommerce is the ideal platform. Businesses can make smarter business decisions when they have analytics. Ecommerce platforms for B2B businesses provide an in-depth analysis of sales effectiveness through this feature. Several types of reports can be generated to help you understand your business's progress.
Customers and suppliers are better managed.
Managing supplier and customer relationships through B2B ecommerce is a better management approach. Software solutions for ecommerce business management can help you manage these relationships better. By doing so, you will have access to data about your customers' shopping behavior. Using this information will provide your customers with a better, more personalized shopping experience. This initiative, in its entirety, is a win-win situation for both sides.
Top 12 B2B Ecommerce Platforms
1. Shopify
Shopify became the world's most efficient and accessible eCommerce platform due to its simplicity and ease of use. Many online businesses have discovered how easy it is to sell their goods online using the platform.
Shopify's unique sales feature set it apart from its competitors beyond simple design and configuration. Shopify email marketing, Google Smart Shopping, and Facebook ads can be used to market an e-commerce store's products effectively. By allowing users to update and control every important piece of data via a single dashboard, Shopify offers a time-saving and flexible management solution for busy B2B companies. As far as customer service is concerned, Shopify's support service isn't like anything else in the industry. Support is available 24/7, and experts can help with any issues you encounter.
There's also a wide selection of responsive themes and apps available on Shopify. If you browse Shopify stores, you'll find that you can get all the features you need for your wholesale, retail website.
2. Magento
This open-source platform is one of the most popular B2B eCommerce platforms available. Magento has incredible functionality for any business. A premium version of Magento 2, Magento Commerce is the fastest way for your business to succeed in the current eCommerce landscape through its intuitive features. You can install Magento Commerce on your website. Magento offers an easy-to-use platform that allows users to create websites with minimal coding requirements and editable layouts.
When compared with Magento Opensource, Magento Commerce offers more features, such as customer rewards programs, targeted promotions, and advanced marketing tools. Wholesale businesses can take advantage of Magento Order Management for managing a wide range of products, brands, stores, and warehouses, creating seamless cross-channel experiences.
3. Square Online
Since 2009, Square has offered credit card payment processing. With Square, anyone can now accept credit cards via a smartphone app, and a device plugged into the headphone jack. Initially, Square was an in-person transaction solution, but over time it expanded into online transactions as well.
Square isn't the right platform for you if you have an eCommerce website only. Other platforms are better suited to online transactions. The options are few when you build a Square website – there are no themes or anything of the sort. In less than 30 seconds, you can create a website by choosing a font, picking a color that matches your branding, and uploading a banner image. Your database is then filled with stock items.
A Square product database is created for your online store, and a Square payment system database for back-end processing. Both databases are connected automatically. Nevertheless, it isn't designed for items with a large number of variations. This simplified operating system is designed to simplify the operations for small, independent businesses such as artisans, crafters, thrift shops, small service businesses, and artists with small catalogs with little variation.
4. 3D Cart
With 3DCart, you can build a powerful, simple yet attractive website for B2B wholesale business with a wide range of products that efficiently attracts and converts customers. We enable you to implement the features important to your business without causing you any technical headaches. Your website will start on a high note, as you'll have access to a wide variety of modern and mobile-friendly templates. A fully eCommerce-compatible design theme is included.
Standard features like the placement of important content, the amount of whitespace, and the strength of your calls to action qualify the performance of your website.
5. OpenCart
OpenCart is considered a better option for running an online store since it comes free of charge than its premium option. B2B businesses can launch and run a B2B online marketplace using this system since it offers mobile-responsive design, SEO tools, extensions, beautiful themes, centralized store management, and more.
6. BigCommerce
Another amazing tool for ecommerce wholesale in the B2B platforms is BigCommerce. BigComerce is known as one of the best could ecommerce platforms in the world. It contains powerful tools for making the checkout of customers much easier. They have amazing tools and engines which can be used for various purposes. One of the best features of this ecommerce platform is that you can edit the website without changing the coding. And BigCommerce is a mobile optimizable platform.
7. WooCommerce
Another open-source ecommerce platform is WooCommerce. This ecommerce platform is among the world's most famous ecommerce platforms. WooCommerce platform is built on WordPress. It is highly customizable and known for its user-friendly features. People who have very good knowledge of wordpress can easily adapt to this platform without any problems. This platform has a wide variety of extensions and add-ons from which you can choose the best for your website.
WooCommerce is SEO friendly, wholesale friendly, and has secure payment getaways and multi-optioned shipping. It is completely free and is a fast-growing community. There is also a wide variety of plugins and large community support.
8. NetSuite SuiteCommere
A cloud-based eCommerce platform, Netsuite SuiteCommerce considers multiple selling channels and optimization. Business owners who sell online and in brick-and-mortar locations can use it.
Using an intuitive point of sale system, store owners can connect data from an offline store to their eCommerce websites to manage inventory, orders, marketing, sales, and customer service more effectively. With a wide range of distribution channels available, it is easy and quick to optimize product content. Using this feature, you can effectively handle product information for tons of products at wholesale prices. Professional experts, high-quality services, and an extensive partner ecosystem are just a few of the features NetSuite SuiteCommerce offers to help your business succeed.
9. TrueCommerce
The TrueCommerce company is a pioneer in EDI (Electronic Data Interchange), an automated means of exchanging data and documents, such as purchase orders, invoices, and advanced shipping notes. B2B platform solutions with EDI are especially beneficial to wholesalers for improving their efficiency and reducing time spent on manual tasks.
10. CS-Cart
The CS-Cart ecommerce platform has served over 35,000 customers in over 170 countries since its inception in 2005. Platform's B2B features make it suitable for multi-vendor operations. Manufacturers and wholesalers can automate their purchasing and sales processes with a no-hassle solution and boost sales cost-effectively.
11. eWorldTrade
eWorldTrade is a global B2B e-commerce marketplace that enables businesses to trade with each other online. Our platform provides buyers and sellers with a secure, efficient, and cost-effective way to trade goods and services online.
A global online trading marketplace and platform for buyers and sellers to do business in real-time. The site is fully transactional with advanced payment options and security features that facilitate electronic payment transactions. We offer both fee-based services and free membership plans. A quality service experience including customer support, after-sales services, and more.
12. SeeBiz
SeeBiz is an emerging wholesale marketplace and business networking platform. It's based in the US and completely free to use. It enables manufacturers, distributors, wholesalers, and retailers to interact with one another and easily conduct business transactions. SeeBiz features 650,000+ products from 1000+ verified vendors.
As a seller, you can easily show your products to a wider audience within seconds. All you have to do is to connect with a vendor, negotiate the price, and purchase the items. You'll remain in touch with your connections and competitors as all of their updates will be on your timeline.
One of SeeBiz's most unique features is Group Pricing. This adds your connections to different groups based on past relationships and purchase history. These groups will only see the price you set for them. Moreover, SeeBiz features a lot of vendors on its blog posts and social media platforms. That means free advertising for your business. So sign up today for free and take your wholesale business to the next level!
Conclusion
With this, we come to the end of this article. Now that you have got an idea about the advantages of B2B and the best B2B eCommerce Platforms, you can now choose the best one for your company and progress with digital shopping.