We all played dress up in our childhood, and Oktoberfest allows us to live that dream as adults. The Dirndl dress looks like Cinderalla's godmother created it. The style that keeps up with changing fashion trends.
Chic enough to make any prince charming fall for you. Don't worry if you are still struggling to achieve what I have been raving about. I am about to spill the beans so you can have the secret sauce to achieve the charismatic look.
This detailed read is all about Dirndls. Hear me close and follow all the tips and tricks you are about to know in this blog. You won't need any stylish to help you achieve and serve the ramp looks.
Let's begin with everything saucy and sassy!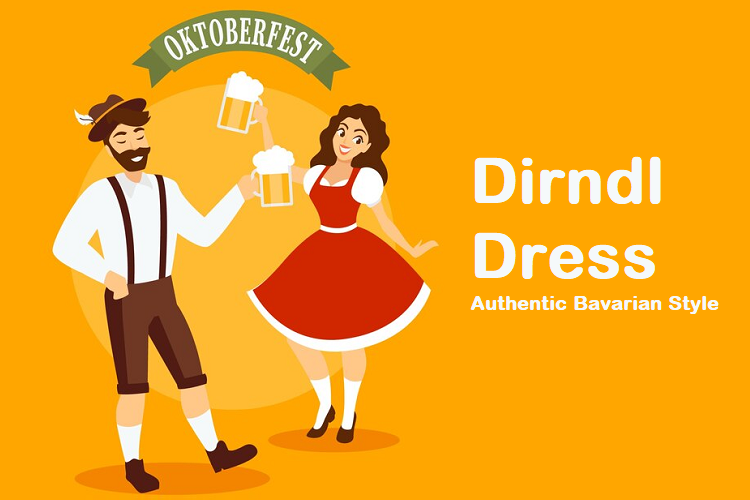 Chapter 1: All that Goes Behind Dirndl!
Dirndl dress is the end product of all the labor of love. It takes lots of love and hard work to design a single dirndl. From the research, to bring the design to life, you may not need to get into itty bitty.
But one thing that is to be worried about is the material used in making these pieces. Oktoberfest and Bavarian tradition is all about authenticity. So, invest in a piece that speaks volumes about its being genuine.
A big question: how do we know the dirndl is genuine?
Yes, with all the counterfeits, you may get confused if you will find authentic dirndl dress. That too if you live outside Germany.
Worry Not!
You can definitely find authentic dirndl dresses. For that, little knowledge of Fabric is very much necessary. The best thing about dirndl is you can find it in different fabrics. From flowy to stiff and cool to warm fabric, everything is up to you.
I am sure you definitely know about the different components of the dirndl dress. For first-timers, let me explain a bit.
Dirndl is made of different components, mainly known as
Now, why I brought it up is a real question. So all these components or parts of dirndl can be made from different fabrics.
The next thing that makes a genuine dirndl different from a cheap one is stitching. A genuine dirndl will have very fine and precise stitching. Certainly, it makes it look like a boutique design.
Oh! Lastly, genuine dirndl will spark the authenticity with its true Bavarian style.
Key Takeaways!
All that makes a dirndl genuine is
Chapter 2: Where to Find THE Dirndl!
Next to knowing all the details is embarking on a voyage to find the Dirndl. This may be a trying but wholesome journey.
This journey has two aspects:
Where do you live (Munich or outside Munich)
Your Shopping Medium ( In-store or Online)
Let's begin to discuss one by one both the aspects in detail
Where Do You Live?
Where do you live? If the answer is munich. It's going to be pretty easy for you.
You will find a lot of places and options to explore your "THE DIRNDL."  And you must have ample knowledge yourself about Dirndl and where to find one.
But If you are outside Germany, you need not to worry. You can surely find a dirndl dress, too. First and foremost, consider everything mentioned above in Chapter 1.
Your Shopping Medium ( In-store or Online)
Secondly, considering mediums, you may find more options online than in-store. There are ample stores that only specialize in Bavarian clothing.
Some may not have a store presence but, surprisingly, have outdone the physically present boutiques.
They provide you with dirndl both have strong Bavarian essences yet serve the contemporary fashion looks.
Now the choice is yours, whether in-store trade satisfies you or you want to rely on reviews.
I strongly believe in buying online, and it has never been a hit-and-miss in my case. Touchwood! To my surprise, I have always found great dirndls online, and that, too, were reasonable buys. Touchwood! Touchwood! Touchwood!

Before I say Touchwood another time, let's dig into the last and final chapter, "How to Style THE DIRNDL."
Chapter 3: How to Style THE DIRNDL??
Now comes the part about which I have been rambling at the start. The Styling and Dressing part!

For that, I have tons and tons of tips and tricks to make you look straight from the red carpet. Trust me; you will look no less than any celebrity at Oktoberfest.
You know what I mean.
Oh! I have heard you. They pay grands to achieve those looks. Just consider these tips, and you won't need a stylist ever.
Let's begin with Tips to look stylish in that Bavarian Dirndl of yours.
DIRNDL STYLING TIPS 101
To achieve a statement look, you need to work along these tips.
1. Know Your Body Type
Understanding your body type is the first step to finding the perfect dirndl. Body positivity and dirndl may seem like a separate topic, but no. You need to find your body type even before styling. Yes, right at the point where you bought the dress.
As we already mentioned, Dirndls typically consist of a bodice, blouse, and full skirt. For different body types, certain styles work better than others.
Here's a quick breakdown along with the details which may help you for future reference:
Apple Shape: Opt for a dirndl with a defined waistline and a slightly A-line skirt. This will help create an hourglass figure and balance out your proportions.
Pear Shape: Look for dirndls with a more prominent bodice and a slightly flared skirt. This will draw attention to your upper body and minimize the focus on your hips.
Hourglass Shape: Embrace your curves with a fitted dirndl that highlights your waist. A dirndl with a corset-style bodice is an excellent choice.
Rectangle Shape: You have the flexibility to choose various dirndl styles. Experiment with different cuts and silhouettes to find what suits you best.
2. Choose the Dirndl According to the Event
I hope you have found the Dirndl that accentuates your curves. Know the Dirndls come in various designs, from casual to formal.
Your choice should align with the event you're attending. Consider these options:
Casual Events: A cotton dirndl is a go-to for such events. Opt for a simpler, more relaxed dirndl with minimal embellishments. Pair it with a comfortable blouse for a laid-back look.
Traditional Festivals: Choose a dirndl with more intricate detailing, such as embroidery, and pair it with a high-quality blouse. Embroidery tells the story about the connection of your outfit with Bavarian heritage. This is the perfect choice for Oktoberfest and similar occasions.
Formal Occasions: For weddings or upscale events, a dirndl made from luxurious fabrics, embellished with fine details, is ideal.  Silk or satin dirndl is great for such events. Accessorize with elegant jewelry to complete the look.
3. Accessorize It Generously!
Well said, Anna Dello Russo: "Accessories are the vitamins to fashion- as such, you should use them liberally." Accessories can make or break your dirndl ensemble.
Here are some key tips for accessorizing to create breathtaking elegance:
Jewelry: A classic choice for dirndl jewelry is a pearl Edelweiss necklace. For a more traditional look, add a necklace with a small Edelweiss pendant. Complement it with small stud earrings.
Footwear: Heels are a popular choice to elevate your dirndl look. They add height and grace to your silhouette. Ensure they are comfortable for long hours of wear.
Purse: Opt for a small, traditional purse that complements your dirndl's color and style. It should be just big enough to carry your essentials. I love to carry along a heart-shaped crossbody.
**Keep Essentials in Your Purse**
While you're enjoying your time in a dirndl, it's essential to stay prepared. In your purse, include
Mouth Freshener Spray: Stay minty fresh throughout the day.
Gum: For a quick breath freshener.
Lipstick: Carry your chosen lipstick shade for touch-ups.
Perfume: And just to smell good, keep a travel-friendly perfume in your bag.
Perfume: Don't forget to spray on your favorite perfume wholeheartedly. The scent should be subtle and not overpowering.
Here are some of my favorite perfume recommendations of all time:
Le Labo- Santal 33
Le Labo- Another 13
YSL- Black Opium
Maison Francis Krukdjian Baccarat- Rouge 540
Maison Margiela- By the Fireplace
Byredo Mojave- Ghost
Armani Beauty- Sí
Tom Ford- Tobacco Vanille
Chanel- No. 5
Gucci- Bloom
Maurice Rouce- Frederic Malle -Musc Ravageur
Chanel-Coco
Victoria Secrets- Bombshell
Shhh, a Secret Tip: If you don't have time for clean legs, wearing seamless stockings can save your day.
4. Wear It All with Confidence
Wisely said, " The most alluring thing a woman can have is confidence." No matter how well you've styled your dirndl, confidence is your best accessory.
Stand tall, smile, and enjoy the attention your stunning dirndl brings. Remember, the most attractive feature of any outfit is the person wearing it.
5. A Good Hairstyle to the Rescue
A well-chosen hairstyle can enhance your dirndl ensemble in several ways. So I have come up with all the hairstyle suggestions that can make you look neat and stylish.
Braided crowns are a classic choice that adds a touch of femininity and elegance to your dirndl dress. Whether you opt for a single braid or a more intricate design, this style complements the dirndl's charm beautifully.
Milkmaid braids are another popular choice, known for their simplicity and practicality. They keep your hair neat and out of the way while providing a timeless and charming look.
Incorporating flowers into your hairstyle is a delightful way to infuse your dirndl attire with a touch of nature. You can use fresh or artificial flowers to match your dirndl's colors and patterns.
Twisted updos are an elegant and sophisticated option. They work exceptionally well for formal Bavarian events and provide a polished appearance that complements your dirndl's style.
For those who prefer a more natural and relaxed look, allowing your hair to flow with loose curls can be an excellent choice. It adds a carefree vibe to your dirndl ensemble.
6. Complete the look with Makeup
Here are some makeup tips for styling while wearing a dirndl:
| | |
| --- | --- |
| Natural Base | Start with a clean and natural base. Use a foundation that matches your skin tone to even out your complexion. |
| Rosy Cheeks | Apply a subtle, rosy blush to your cheeks to give your face a healthy, flushed look. A natural blush will complement the cheerful and outdoorsy atmosphere of Oktoberfest. |
| Neutral Eye Makeup | Opt for neutral eye makeup that enhances your eyes without being too dramatic. |
| Eyeliner and Mascara | Apply a thin line of brown or black eyeliner along your upper lash line to define your eyes. Finish with a coat of mascara to make your lashes pop. |
| Full Brows | Tidy-up eyebrows can frame your face beautifully. Use an eyebrow filler like pomade or pencil to fill in any sparse areas. Keep your brows looking neat. |
| Lipstick of Choice | A classic red lipstick is a great choice for Oktoberfest. It complements the traditional red accents found in many dirndls. Make sure to choose a long-lasting lipstick or lip stain so it stays put throughout the festivities. |
Remember that Oktoberfest is a lively and festive event, so your makeup should enhance your natural beauty. A subtle and natural look will ensure you're ready to celebrate in style while wearing your dirndl.
Summary
Before ending our Dirndl styling tips and tricks guide, let me summarize it for you into points.
Know your body type
Choose the right dirndl dress for the occasion
Accessorize thoughtfully
Elevate the look with a good hairstyle
Finish with full glam or neutral makeup look
Keep a handbag with essentials
Most importantly, wear it with confidence.
Enjoy the Oktoberfest!
Dirndl dress is an art that combines tradition with modern fashion sensibilities. Enjoy your day as much as you can with friends and family. Have a beer, eat pretzels, and sing Ein Prosit.