Is solo trip a good idea for female traveler? Here are list of the best and safest destinations for solo female traveler.
Everyone likes to travel. Taking some time out of your daily monotonous routine and exploring the world, who doesn't want to do that. But it is not that easy. Especially for the female.
While men usually have to think about which places they should visit, what are the expenses of traveling to the place, or what are the popular things to eat there, the first question that pops up in most female's minds is: Is that place safe?
This is the harsh reality of the world we live in today. Especially when it comes to traveling alone.
Statistics say that 1 out of every 3 female has experienced some sort of violence outside their house. Be it on the road, at the movie theaters, or a restaurant. female of all ages, in every part of the world constantly deal with unsafe situations, in public places.
The number only increases when they are traveling to another city for a trip.
Is Solo Traveling Safe for Female?
Female are traveling solo more than ever. But is it safe?
The New York Times published an article in March 2019 titled "Adventurous, Alone, Attacked" which detailed attacks on female traveler. The president of worldwide stated to the Los Angeles Times that it is 100% easier for men to travel alone.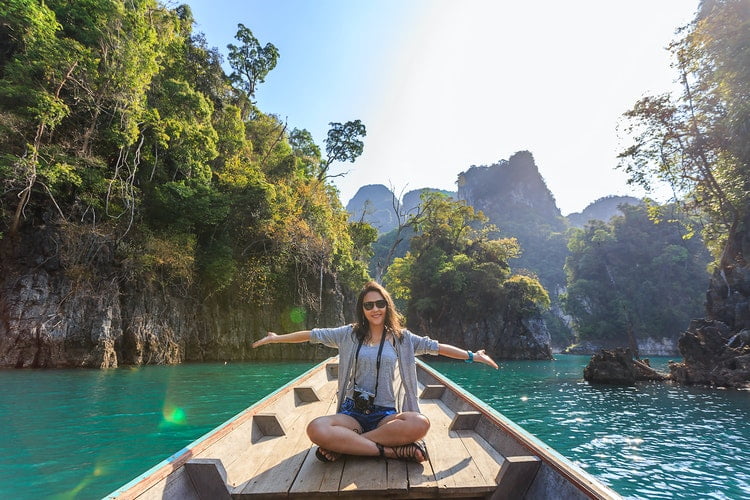 Safety Tips for Solo Female Traveler
Considering the dangers and risks of such endeavors, should female, who make up for almost 50% of the world, stop traveling? Not!
However, some safety measures should be observed to make it a little easier.
Research before you go
Before going to another city or a country, do your research and know the place as much as possible. If you know other female traveler who have already visited the place you are planning to visit, talk to them to gather as much information.
Don't overshare
While it is given that you will be on social media, remember to not post your whereabouts. Particularly while you are on the go. Harmful people can use such information to cause danger.
Beware of your surroundings
Observing people in your surroundings will help you find potential predators if there are any present. Being aware of your surroundings when you are exploring a new place helps you to catch anything that might become.
Carry your phone and other safety devices
Make sure that you are always connected to the network. Being detached from the rest of the world can be dangerous. Let your family and other trusted people know where you are. And keep your safety devices handy.
4 Safest Places for Solo Traveler: Female Edition
1. Finland
Known as the land of the midnight sun, Finland is the northernmost country of the European Union. It is a Northern European nation that shares borders with Sweden, Russia, and Norway. It is famous for being the Happiest Country in the World with the cleanest air.
Often called the Country of a Thousand Lakes, Finland is a treat to nature lovers with wild areas to explore.
Places to visit: Located in Finnish Lapland, Levi is popular for skiing and snowboarding. Lemmenjoki National Park, Europe's largest wooded reserve, is present in Finland.
Vapriikki, a museum complex housing the Natural History Museum and the Finnish Hockey Hall of Fame in Tampere, the iconic snow castle in Kemi are some of the places to visit if you are in Finland.
Other attractions include Olavinlinna (or St. Olaf's Castle) in Savonlinna, the Santa Claus Village in Rovaniemi, and the churches in Helsinki.
2. Canada
The second-largest country in the world, Canada attracts tourists from all over the world for a variety of reasons. It is considered to be the safest destination for female traveler of all countries in America. There is no surprise that visitors flock to this Commonwealth Country for a dose of exuberance.
From mountains to National Parks, this country has it all for the traveler. Especially if you are going solo. Canada will mesmerize you with its raw nature, vibrant landscapes, and soul-filling culture.
Places to visit: Calgary, situated in the foothills of the Rocky Mountains, offers a great view of the snow-capped range from the skyscrapers that fill the city. So if you cannot decide between nature and city life, it has both. You can enjoy skiing, snowboarding, and even bungee jumping in Whistler, listen to music at the Jazz Festival in Montreal, visit Quebec for its European architecture, get the bilingual experience in Ottawa, or see birds and grizzly bears in the ethereal Vancouver island.
3. Spain
Famous for its easy-going and vivacious culture, Spain is a site to visit for its delicious food, vibrant festivals, and unique traditions. Apart from being the second most visited country, it has also been found to be one of the safest places for solo female traveler. History, food, culture, festivals, Spain has everything to offer to different kinds of traveler.
scenic Mediterranean coastlines, rich culture, endless servings of paella, and fabulous architecture, attract tourists from countries afar.
Places to visit: The UNESCO listed churches like the Basilica de la Sagrada Familia, the UNESCO world heritage in the city of Barcelona and Madrid like Park Guell, the Buen Retiro Park, the Magic Fountain, the Montjuic Park, the Royal Palace Of Madrid, the old town of Alcudia and the huge festivals like La Fallas and La Tomatina attract millions of tourists every year.
4. Singapore
This island country is often considered the safest Asian place on the planet with more than 90% of the female claiming that they feel safe here even while walking at night. As the number of female is more in this tiny country, female traveler feel very comfortable.
Singapore is known for its breathtaking beaches, clean streets, street food, and city life surrounded by greenery where the new and the old coexist. The efficient transportation system ensures safe travel throughout the country.
Places to visit: Bath in the sun while gazing at the horizon in Lazarus Island, enjoy nightlife at Marina Bay which has structures like the Esplanade, Merlion Cloud Forest, and the ArtScience Museum. You can also visit the Sea Aquarium with more than 800 species to see and the Open Shark Tank (the largest in the world) located on Sentosa Island
That's a Wrap!
Hope you have found a place to visit among the ones mentioned above. However, know that these are just a few of the places for solo female traveler.
With the right information about the place you are traveling to and the safety tips that have been stated above, you will surely have a fun and safe trip. So what are you waiting for? Pack your bags and go!