Sewing is a timeless craft that has evolved from a basic necessity to a popular hobby and creative outlet. It presents a plethora of profitable business opportunities. Whether you are an avid sewer looking to turn your passion into profit or an entrepreneur seeking a venture in the sewing industry, this article will explore 22 of the best and most profitable sewing business ideas for women entrepreneurs.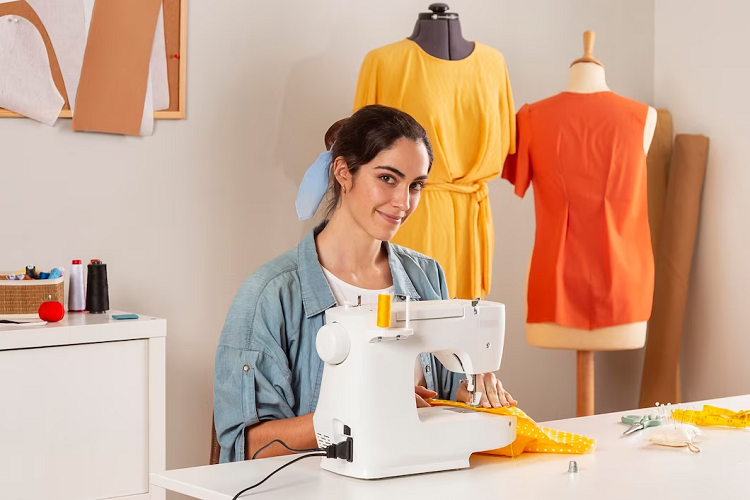 22 Best Sewing Business Ideas
1. Custom Clothing Boutique
A custom clothing boutique is a personalized haven for fashion enthusiasts who seek unique and tailor-made apparel.
This business focuses on delivering bespoke clothing crafted to perfection according to individual and style preferences. Customers can collaborate with skilled designers and tailors to create one-of-a-kind garments that reflect their personality and taste.
From elegant evening gowns to stylish everyday wear, the custom clothing boutique aims to offer a personalized shopping experience that leaves customers feeling confident and satisfied with their fashion choices.
This business can thrive in the competitive fashion industry by combining creativity, attention to detail, and excellent customer service.
2. Home Décor Sewing Services
Home décor sewing services cater to individuals and businesses seeking customized and well-crafted soft furnishings for their living spaces.
Whether revamping existing pieces or designing from scratch, the focus is on providing high-quality fabrics, impeccable stitching, and attention to detail.
By offering a wide range of fabric choices and design options, home decor sewing services can elevate the ambiance of any space, making it cozy, stylish, and uniquely tailored to the client's taste and lifestyle.
3. Online Fabric Store
An online fabric store is a virtual treasure trove for sewing enthusiasts and crafters. This business offers a vast collection of fabrics in various colors, patterns, and materials, conveniently accessible from the comfort of customers' homes.
The online store caters to a diverse range of projects from cotton to silk, from quilting to upholstery fabrics.
With user-friendly navigation and secure transactions, customers can easily find their ideal fabrics to bring their creative visions to life.
4. Sewing for Niche Markets
Sewing for niche markets involves catering to specific, specialized customer segments with unique sewing needs.
These markets could include cosplay enthusiasts, historical reenactors, and dance performers. By focusing on these sewing, businesses can offer customized and authentic designs that cater precisely to their customers' requirements and preferences.
This specialization allows for a more targeted approach and potentially gaining recognition as experts within their respective niche communities.
5. Sewing for Home Organization
Sewing for home organization is a business that revolves around creating practical and aesthetically pleasing storage solutions and organizers for households.
From fabric bins and baskets to drawer dividers and closet organizers, this venture helps individuals declutter and streamline their living spaces.
The focus is on using durable and visually appealing fabrics that complement the home's decor while efficiently organizing belongings. Sewing for a home organization provides functional solutions and adds a touch of style to every corner of the house.
6. Sewing for Athleisure
Sewing for athleisure involves creating stylish, comfortable activewear that seamlessly blends fashion and functionality.
This niche business caters to fitness enthusiasts and individuals seeking trendy workout apparel suitable for exercise and casual wear.
With high-performance fabrics and thoughtful designs, sewing for athleisure meets the demands of an active lifestyle.
7. Sewing Podcast or YouTube Channel
A sewing podcast or YouTube channel is a virtual platform where sewing enthusiasts share their knowledge, tips, and creative ideas with a global audience.
Through engaging videos or audio content, they inspire and educate viewers about various sewing techniques, projects, and the latest trends in the sewing world.
8. Handcrafted Bags and Accessories
Handcrafted bags and accessories businesses offer a delightful array of unique and artisanal products, from stylish handbags and backpacks to chic wallets and clutches. These items are carefully crafted with attention to detail and quality materials.
These businesses cater to fashion-conscious individuals seeking functional accessories that make a fashion statement. Handcrafted bags and accessories bring a touch of individuality and charm to every outfit.
It makes them highly desirable for fashion enthusiasts and those who appreciate the beauty of handmade items.
9. Sewing for Plus Sizes
Sewing for plus sizes focuses on providing fashionable and well-fitted clothing options for individuals with larger body sizes.
This specialized business caters to a market that often faces limited choices in mainstream fashion. Offering a diverse range of stylish designs and sewing for plus sizes empowers customers to embrace their unique curves and confidently express their style.
With a focus on comfort and inclusivity, this venture fills a crucial gap in the fashion industry.
10. Fashion Designing for Special Occasions
Fashion designing for special occasions is a specialized business that creates stunning and exclusive garments for memorable events.
From exquisite evening gowns to sophisticated tuxedos, this venture caters to individuals seeking attire that stands out at weddings, proms, galas, and other significant occasions.
Fashion designers in this niche collaborate closely with clients understanding their vision and preferences to craft one-of-a-kind pieces that evoke elegance and grace.
And impeccable craftsmanship is the hallmark of fashion designing for special occasions, making clients feel confident and extraordinary on their important day.
11. Sewing Subscription Box
Finding time for hobbies and creative pursuits can be challenging in today's fast-paced world. For sewing enthusiasts and the love for crafting never fades.
These subscription services offer a curated selection of sewing materials, patterns, and projects delivered regularly to subscribers' doorsteps.
We will delve into the exciting world of sewing subscription boxes and how they have revolutionized the way people engage with their sewing hobbies.
12. Upcycled Fashion
Upcycled fashion is a sustainable and creative approach to clothing design, transforming old or discarded garments into trendy and unique pieces.
This eco-friendly fashion movement reduces waste and minimizes the fashion industry's environmental impact.
Upcycled fashion designers breathe new life into pre-loved clothing by adding embellishments, altering silhouettes, or combining different pieces, resulting in one-of-a-kind, environmentally-conscious fashion statements.
13. Costume Design & Rental
Costume design and rental businesses cater to theatrical productions, events, and costume parties. These businesses create and provide various costumes to suit different themes and characters.
Costume designers collaborate closely with clients to bring their visions to life, ensuring that the costumes enhance the overall experience and add authenticity to the performances or events.
14. Sewing Workshops
Sewing workshops offer invaluable learning opportunities for sewing enthusiasts of all skill levels. Experienced instructors and guide participants conduct these hands-on classes in creating exciting projects.
From basic sewing skills to advanced garment construction, sewing workshops empower participants to develop their creativity and proficiency.
These workshops foster a supportive learning environment, encouraging participants to share ideas and bond with fellow sewers while honing their craft.
15. Pet Apparel and Accessories
Pet apparel and accessories businesses cater to the growing demand for stylish and functional pet clothing and accessories.
From cozy sweaters and adorable costumes to durable collars and harnesses, these businesses create fashionable and comfortable options for dogs and pets. Pet owners love to dress up their furry companions, making this a thriving niche market in the sewing industry.
16. Uniform Tailoring
Uniform tailoring businesses specialize in creating professional and custom-made uniforms for various industries. Whether for corporate offices, schools, healthcare facilities, or hospitality establishments, these businesses design uniforms that align with the brand image and requirements of the organization.
Focusing on impeccable fit and uniform tailoring ensures that employees project a polished and unified appearance.
17. Baby and Children's Clothing
Baby and children's clothing businesses cater to the youngest fashion enthusiasts, offering a wide range of adorable and comfortable garments.
From cute onesies and infant rompers to trendy outfits for older kids, these businesses create age-appropriate designs using soft, child-friendly fabrics.
The focus on style and children's clothing is a rewarding niche cherished by parents and caregivers in the sewing industry.
18. Sewing Pattern Design
Sewing pattern designers create templates and instructions for making various garments and items. These designs guide sewers through the process and accurate results.
Whether sold individually or as part of sewing magazines or online platforms, sewing patterns provide a valuable resource for sewers seeking to create professionally designed projects.
19. Embroidery Services
Embroidery Services businesses offer custom embroidery for clothing and accessories items.
These businesses can recreate logos, monograms, and intricate designs on various fabrics and materials. From personalized gifts to branded merchandise for companies, embroidery services add a touch of elegance and individuality to items. We make them stand out and leave a lasting impression on customers and recipients.
20. Quilting Business
Quilting businesses focus on creating stunning and functional quilts and quilted products, from bedspreads and wall hangings to pot holders and tote bags.
These businesses utilize a variety of fabrics and quilting techniques to produce unique and cherished items. Quilting remains a beloved and timeless craft that crafters and art lovers cherish.
21. Sewing Machine Repair
Sewing machine repair specialists offer sewers essential services, ensuring their machines operate smoothly and efficiently.
These skilled professionals diagnose and fix mechanical issues, perform maintenance tasks, and replace worn-out parts.
Sewing machine repair businesses play a vital role in prolonging the lifespan of sewing machines enabling sewers to continue pursuing their passion without interruptions.
With expertise and technical know-how, sewing machine repair specialists are valuable assets in the sewing community. They keep machines in top condition and support sewers in their creative endeavors.
22. Fashion Consultancy
Fashion consultancy services offer expert advice and guidance on style and personal image enhancement.
These professionals work closely with clients and understand their preferences and body types to curate wardrobes that reflect their personalities and lifestyles.
Fashion consultancy services empower individuals to make confident fashion choices boosting self-esteem and leaving a lasting impression.
Conclusion
The sewing industry offers numerous exciting and profitable business ideas for those passionate about crafting and creativity.
Whether you choose to focus on custom designs and alterations, the key to success lies in providing quality products and services while leveraging digital platforms for marketing and sales.
With dedication, innovation, and a keen eye for design, you can turn your love for sewing into a successful and rewarding entrepreneurial journey.
So, pick a sewing business idea that resonates with you, put in the hard work, and watch your venture flourish!
FAQs
What are some profitable sewing business ideas I can consider?
Custom clothing and tailoring services
Handmade accessories and jewelry
Home décor and interior design sewing
Baby and children's clothing
Eco-friendly and sustainable fashion items
Sewing classes and workshops
Embroidery and monogramming services
Sewing pattern creation and selling
How can I start a custom clothing and tailoring service as a sewing business?
Begin by identifying your target market and the type of clothing you want to specialize in.
Acquire the necessary sewing equipment and materials.
Create a portfolio showcasing your work and start promoting your services locally.
Offer personalized fittings and consultations to provide a unique customer experience.
Is it profitable to sell handmade accessories and jewelry through a sewing business?
Yes, selling handmade accessories and jewelry can be highly profitable, especially when you offer unique and stylish designs.
Focus on using high-quality materials and staying updated with the latest fashion trends to attract customers.
What are some eco-friendly sewing business ideas?
Utilize sustainable fabrics and materials for your products.
Implement eco-friendly packaging and shipping practices.
Offer recycling or upcycling services to repurpose old garments and textiles.
How can I make my sewing classes and workshops profitable?
Offer a variety of classes catering to different skill levels and interests.
Advertise your courses on social media, community bulletin boards, and local publications.
Consider organizing special events or themed workshops to attract more participants.
Provide a comfortable and inspiring learning environment for your students.
How can I set myself apart in the competitive sewing market?
Find a niche or specialization that makes your sewing business unique, such as creating clothing for specific body types or unique design aesthetics.
Offer excellent customer service and personalized attention to each client.
Showcase your work through a professional website and social media to reach a broader audience.
What legal and financial considerations should I consider when starting a sewing business?
Register your business and obtain any necessary licenses or permits.
Open a separate bank account for your business finances.
Keep detailed records of your income and expenses for tax purposes.
Consider liability insurance to protect yourself and your business.
How can I market my sewing business effectively?
Use social media platforms to showcase your products and services.
Collaborate with local boutiques or online marketplaces to expand your reach.
Participate in craft fairs, trade shows, and community events to gain exposure.
Offer promotions, discounts, or loyalty programs to attract and retain customers.