We bring you a list of our favourite food influencers you must follow on Instagram for #foodinspo and meal ideas.
#1. Gordon Ramsay

Username: @gordongram
Followers: 10.3 million
#1 on our list has to be the talented television personality, writer, restauranteur and British chef, Gordon Ramsay. With 16 Michelin stars awarded to his restaurants, he's one of the top influential chefs in the world.
#2 Jamie Oliver

Username: @jamieoliver
Followers: 8.4 million
Another British chef and a restauranter, Oliver started as a pastry chef. Today, he is one of the most renowned personalities in the food industry. Oliver supports healthy eating and nutrition and hosts television programs such as 'Jamie's Kitchen' and 'The Naked Chef.'
What sets him apart is his clean cooking style with a preference to cook using organic and garden-fresh ingredients.
#3. Rosanna Pansino

Username: @rosannapansino
Followers: 4.4 million
Originally from Seattle, Pansino is an author, singer, actress, baker and an American Youtuber. Her cooking series the 'Nerdy Nummies' has become one of the most viewed baking shows on YouTube.
Since then, she has won 5 awards, written 2 cookbooks and launched her baking line.
#4. Martha Stewart

Username: @marthastewart
Followers: 3.4 million
Former model Stewart is a television personality, writer, retail businesswoman and an excellent chef. Today, she has two syndicated television programs, is a publisher of Stewart Living Magazine and has published several cookbooks.
#5. Ree Drummond

Username: @thepioneerwoman
Followers: 3.5 million
Drummond isn't just a food blogger. In fact, she's a television personality, photographer, food writer, author and an American blogger.
She's written several cookbook and stars on the famous show 'The Pioneer Woman'.
#6. Rena

Username: @healthyfitnessmeals
Followers: 3.5 million
Rena is the founder of Healthyfitnessmeals.com that features wholesome recipes using real foods that are healthy and delicious. She believes in healthy eating and regularly shares the same with her followers.
#7. Yolanda Gampp
Username: @yolanda_gampp
Followers: 2.8 million
Gampp is a self-taught cake designer and baker. She started making customised cakes in her mum's kitchen and today has her own TV show 'How to Cake it.'
Her Youtube channel has over 4 million subscribers and her most popular video has 11 million+ views.
#8. Antonio Cannavacciuolo

Username: @antoninochef
Followers: 2.8 million
An Italian chef, Cannavacciuolo is also an extraordinary TV personality. From his first internship in 1995, he's worked his way up and today has a whopping 2.8 million followers.
#9. Shonda Wagner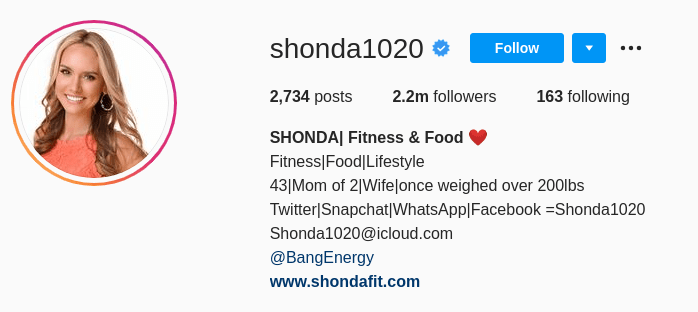 Username: @ashonda1020
Followers: 2.2 million
Wagner's an amazing wonder girl. She's on a transformational journey of weight loss from 203 pounds. She's become a fitness fanatic from being an overweight woman and has shared her journey with her followers.
#10. Yumna Jawad

Username: @feelgoodfoodie
Followers: 2.3 million
Jawad is the founder of feelgoodfoodie.com where she shares healthy eating tips with her readers. Apart from that, she also shares nourishing meals, classic favourites and basic dishes that make you feel good.
#11. Mariam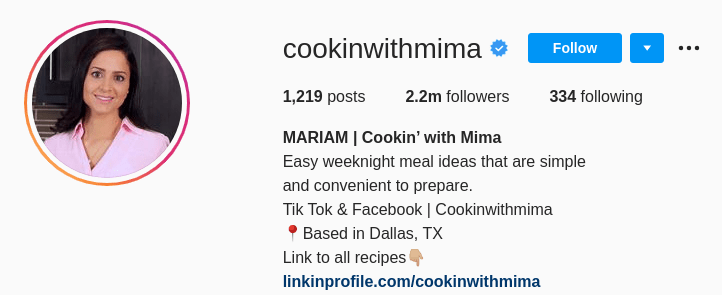 Username: @cookinwithmima
Followers: 2.2 million
Born and brought up in Sierra Leone, Mariam's a self-taught cook. She started experimenting with flavours she saw in her mother, aunt and grandmother's kitchen and today has a following of 2.2 million followers.
#12. Nigella Lawson

Username: @nigellalawson
Followers: 2.3 million
Lawson started working as a book reviewer and food critic. Today, she is a British chef, writer and a cooking show host. Her first cookbook was launched in 1998 and sold over three hundred thousand copies.
Her articles have also been featured by New York Times. She also brought a kitchenware line 'Living Kitchen.'
#13. Ella Mills

Username: @deliciouslyella
Followers: 2 million
Mills is an entrepreneur and a food writer. She has written a series of fad diet cookbooks and has a tremendous following of — million followers.
#14. Tieghan Gerard

Username: @halfbakedharvest
Followers: 2.2 million
Gerard is a cookbook author, recipe developer, food stylist and photographer. She's also the founder of Harlfbakedharvest.com where she shares indulgent recipes with her readers.
#15. Kevin Curry

Username: @fitmencook
Followers: 1.6 million
Fitmencook.com is a community that inspires its readers to eat healthily and be fit with food that's not boring. Curry is one of the most sought-after influencers in wellness, health, fitness and nutrition.
#16. Amanda Rocchio

Username: @meowmeix
Followers: 1.5 million
LA-based food blogger and nutrition guru, Rocchio is a renowned food influencer. She shares health tips that actually work, meal preps and recipes and food facts along with customised meal plans.
#17. Rachel Maser

Username: @cleanfoodcrush
Followers: 1.3 million
A meth-addicted single mom, Maser turned her life around as is a million-dollar empire businesswoman. She promotes healthy eating on her Instagram and food blog under the name Cleanfoodcrush.com.
#18. Yovana

Username: @yovana
Followers: 1.1 million
A Youtuber and blogger, Yovana is popular for her Rawvana brand. Healthy recipes, vlogs and blogs are regularly produced by Yovana to help her readers understand the food benefits of eating healthy foods.
The Takeaway
And there you have it — Top 18 food influencers you should follow on Instagram in 2020. Follow them to get food inspirations and inculcate healthy eating habits that'll keep you fit in the longer run.