You have probably spent a lot of time and money creating the website and its content, and now it's time to maintain it so it can continue to serve you well. Website maintenance services are just like that of cars: you must regularly check and repair them. Regular maintenance is crucial to make the website look and function properly. Here are a few essential tips to keep your website running smoothly: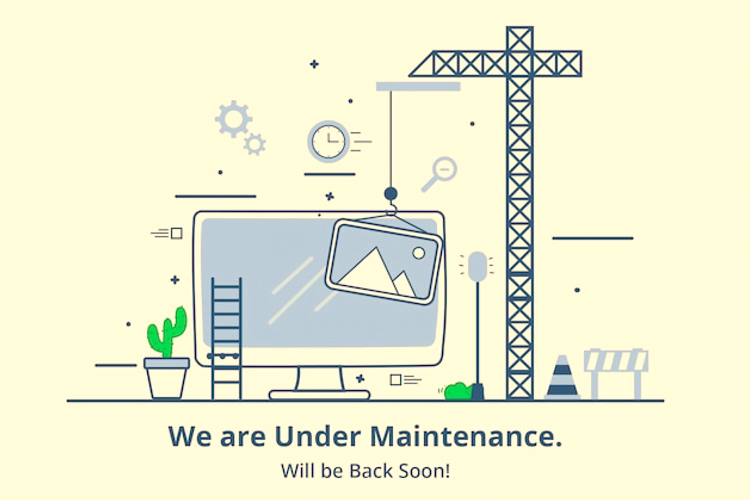 Secure Your Website
Security exploits are a big concern for website owners because they can affect websites, operating systems, and end-user devices. Unpatched security vulnerabilities can lead to website hacking, website under-maintenance errors, and even legal repercussions. Not only that, but unpatched sites can also allow hackers to steal your customer's data. Therefore, it is imperative to install updates for all this software and keep your website current.
Another way to keep your website up-to-date is by reviewing your site's source code. Most websites are built using a framework that consists of a set of libraries. These frameworks are updated frequently to improve performance and prevent security vulnerabilities.
Lastly, third-party APIs and frameworks require regular maintenance updates to prevent security vulnerabilities and other problems. If you haven't updated your code, you may be missing out on important updates that can improve your site.
The most important part of keeping your website up-to-date is scheduling your updates. Whether you're adding new content, monitoring analytics, or keeping your website secure, you need to plan ahead of time. You should also schedule your updates so that you can be sure you get them done on time.
Don't forget HTTPS! You must install an SSL certificate for website security over the internet, it will help to encrypt your information that are transmitted between a browser and a server.
Check For Malware
It's critical to check for malware when using website maintenance services. Hackers often hide their malware in plugins and themes, which they can install on your website and later delete. You can also locate malware via your website's SEO rankings.
There are multiple ways to find malware, including manual scans and automated malware removal utilities. Manual scans use manual procedures, and they have a low success rate. The best way to detect and remove malware is to use malware removal plugins.
The scan report from the malware removal service will list the files that are infected. However, it's important to note that this report may contain false positives. Sometimes, malicious code is added to legitimate files, causing a false positive.
It's best to keep a backup of your website in case of malware infection. To identify these files, you must compare the backup of your website against the latest version. Then, you can clean the infected files.
Malware does not cause immediate hacker attacks but instead silently infects visitors' PCs. Another way to protect your website is to install a Web Application Firewall or a Security Proxy. These tools can filter malicious traffic and grant only legitimate safe traffic.
Malware is a problem that can lead to devastating consequences for your website. Fortunately, there are many online tools available to help protect your website from malicious attacks. You can use free tools to scan your website for malware and detect any security vulnerabilities.
Sucuri is a security solution provider that offers a free malware scan of your website. It works on all website platforms, including WordPress. The free malware scan will flag malicious links and malware. The tool also scans local files and performs a security audit. It will also flag any blacklistings and SEO spam. Astra Security also offers a premium all-in-one security solution called MalCare.
Update Your Content
One of the most important things to do to stay ahead of your competition is to keep your website updated and fresh with new content. Not only that, but you should also remain updated with technical updates to prevent vulnerabilities in your site. If you're using a content management system, such as WordPress, you'll need WordPress website maintenance quite frequently.
You should install security updates immediately and the other updates at less-traffic times. Then, you can begin the process of updating plugins, theme code, and WordPress itself. Once you've completed this, make sure you test the updated versions to make sure they're safe and effective. The order of updates should also be consistent across all your sites.
If you are unable to do it on a regular basis, it's probably best to hire someone who can do the updating for you. An expert in website maintenance services will ensure that your site is updated regularly and will keep your visitors engaged.
Monitor For Outages
One of the most important things the best website maintenance companies do is monitor website outages. An outage can occur when your website becomes unavailable or is unable to perform its primary task. This is referred to as downtime. However, it is not always easy to monitor the website for outages. Even if you have a team to monitor your website around the clock, you may not always be able to find out what caused the outage.
When performing website maintenance, you may be tempted to skip monitoring for outages, thinking that you can afford the time it takes to fix any problems before the outage begins. In reality, though, most outages begin as routine maintenance and eventually progress to full-blown "website under maintenance" outages. Therefore, it's essential to monitor for outages during your scheduled maintenance period. If you have a status page set up, it will be a great tool for notifying visitors of your maintenance period.
You can also choose a custom period for monitoring. For example, you can select a period of one day for maintenance while selecting a day to monitor the entire website. By limiting the monitoring period, you can significantly improve your Availability Percentage.
Another popular option is to use a service like Downtime Report. This service monitors over 650 popular websites and platforms and lets you send reports to developers. They can even suggest new sites for web monitoring.
Pingdom is another service worth considering, though Solarwinds now own it. For $10 a month, you can get uptime, page speed, and 50 SMS alerts. You can also opt to install a plugin like Pingability to monitor your site at regular intervals.
Create A Website Backup
Backing up your site is extremely important because you never know when something will go wrong. For example, you might forget to renew your hosting or accidentally delete a page or post. The consequences of doing this can be catastrophic!
In these cases, a backup is essential to restore your website to a previous version. It is also wise to back up your site frequently and before making major changes to it. This way, if something goes wrong, you can quickly restore it to its previous state.
Performing a regular backup is crucial to the health of your website and its SEO. It also helps to make a good impression on your visitors. The best way to back up your website is to automate it every week. This will help you ensure that you have the latest version of your website. It's important to make sure that you capture as much data as possible and store your backups separately from your website.
Most web hosting plans include the ability to create manual backups. But that doesn't mean you should skip backups altogether. You need to make sure you do it regularly, and you should use your web host's calendar to help you remember.
In addition to manual backups, you should also set up email alerts to help you remember. It's best to make sure that you have at least two backups so that you can restore your site quickly in case of an emergency.
Backups are essential to ensure that you won't lose all your work. Even though web hosting companies and software development services in the UK provide backups, you should still make sure that you back up your site on a daily or weekly basis.
Daily backups are enough if you are updating blog posts, while weekly or monthly backups should be sufficient for most purposes. You should also make sure that you have at least one backup for your site before making any major changes to it. Losing even a day's worth of data can be extremely damaging to your business.
Conclusion
If you own a website, you probably already know about the importance of checking for updates on a regular basis. Not only update crucial for security purposes, but they also prevent hackers from exploiting vulnerabilities in your website. By regularly updating your website, you'll be reducing your website's vulnerability to hackers and improving the overall performance of your site. Whether you're managing your own website or outsourcing the work to the best website maintenance companies, you can never be too safe.