Artificial intelligence (AI) technologies open up the prospect of human-machine interaction. If machines develop certain intelligence, they will understand queries, better identify connections between data, and draw well-founded conclusions.
Data science uses AI to analyze data and extract valuable information from it. It overlaps with areas such as machine learning and big data. Data science and AI will actively change the world of programming and business, just as the invention of the steam engine and the personal computer did in its day. In fact, they are already changing it, as evidenced by many startups that arise in the field of artificial intelligence, capitalizing on its profound usefulness and benefits.
Data science, artificial intelligence technologies allow marketers to learn more about what a consumer prefers by collecting, analyzing relevant data, allow forming closer connections with them, create more personalized offers, etc.
When it comes to the IT industry, the newfound ability to work with tremendous amounts of data so swiftly and efficiently allows smart entrepreneurs and visionaries to follow modern AI trends and seize the opportunity for creating new innovative solutions. Today we will look into the most prominent data science and AI startups you should definitely keep an eye on this year!
Companies that Bring the Future Here
According to Crunchbase, there are about 6,261 AI startups in the world today. Additionally, such brave new companies tend to get good support for their endeavors, which confirms that their choice of product was spot-on. As Crunchbase informs, artificial intelligence, machine learning companies received a record $28 billion in funding in 2020. 
This indicates that the creation of IT technologies based on machine learning, data science, and artificial intelligence is an emerging market that will reach millions of users in the next few years. Moreover, AI solutions infiltrated not only in the areas of business, marketing, finance, but also health care, real estate, agriculture, education, other important areas of everyday life, which speaks volumes on the benefits of its practical application.
Many people use AI solutions without even noticing it, while others are doing it purposefully, are well aware of their usefulness. For example, when it comes to education, many translation companies, writing agencies use AI-based software for fast translations, data management, keeping extensive glossaries, etc.
Did you know that we can use AI-based solutions in our everyday life too? If you are fascinated by AI, you will appreciate these AI assistants that will make your life easier in 2021!

Analysis by Crunchbase shows the top 10 global locations where AI and machine learning startups received funding within the last year. So, when searching for support, better to start in San Francisco, New York, or London.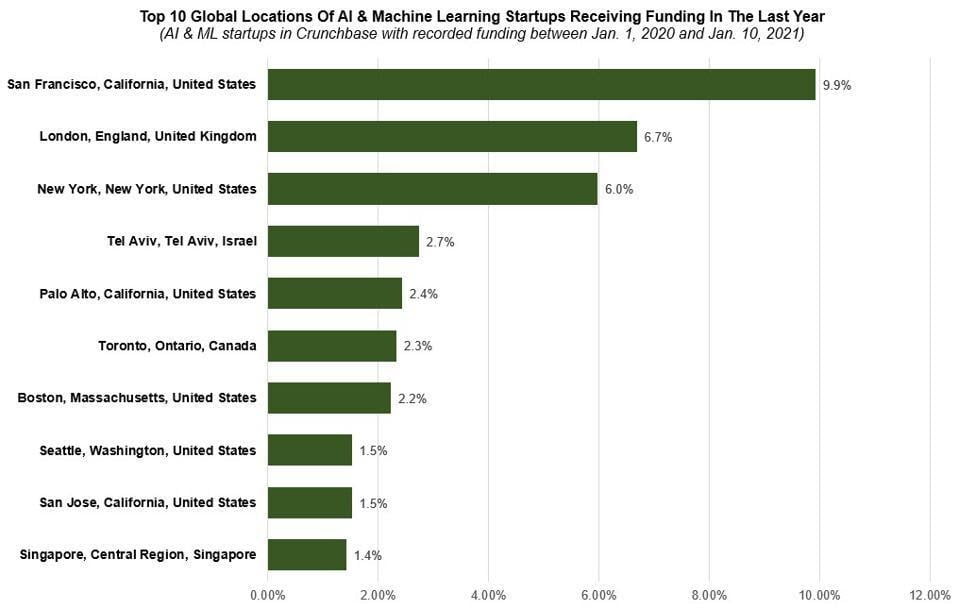 10 Outstanding Data Science & AI Startups
We did a little of our own research to find the most exciting data science and AI startups you should track in 2021. Keep reading to find out more!
Dataiku
This prominent well-known company was founded in 2013 in France but currently resides on American soil. In March 2021 Dataiku, which many consider being the world's most advanced enterprise AI platform, was named a leader in 2021 Magic Quadrant for Data Science, Machine-Learning Platforms, marking its second consecutive year at such a position.
People at Dataiku believe that the placement of AI tools in the fast-growing marketplace strengthens its position as a driving force behind enterprise AI breakthroughs in organizations around the world. Dataiku operates at a time when there is an incredibly fast-growing demand for maximum data production and analysis. As reflected in its growth and profitability since its inception, Dataiku has anticipated this demand with its unique enterprise platform designed to enhance the productivity and collaboration of data scientists, programmers, analysts within and between organizations. Its flagship product, Dataiku DSS, provides a solution for developing and deploying predictive analytics with high speed and accuracy.
Augury
Augury is an Israeli company, founded in 2011. It combines real-time monitoring data from manufacturing equipment with artificial intelligence and machine learning algorithms. This way, it easily determines machine health, manages asset performance, and manages preventive maintenance. The digital technology of machine maintenance offered by this company allows data analysis and early detection of any malfunctions. The platform is applicable to work with heating, ventilation, air conditioning systems, industrial enterprises, commercial facilities.
Alation
A prominent American startup, operating since 2012, Alation is considered a pioneer in the data catalog market. It is appreciated by the financial services community for its use of AI in interpreting data for analysis. Alation employs behavioral analysis, has built-in collaboration capabilities, and open interfaces. The company combines machine learning with human expertise to successfully tackle data management challenges. Today, the Alation platform is used by over 200 businesses across the globe, including Cisco, New Balance, Pfizer just to name a few.
BigML
This Oregon-based startup was founded in 2011 with the goal of developing a platform that makes machine learning accessible to everyone. Since then the company has created a machine learning platform that makes it easy to automate various machine learning processes. According to BigML, the startup's technology was used by more than 131,000 users. It also promotes machine learning through its educational program, which has reached over 600 universities.
Apheris
Apheris is a Berlin-based artificial intelligence startup founded in 2019 to help companies conduct data analyses based on decentralized datasets. People behind Apheris have created technology that allows companies to securely collaborate, build privacy-preserving data ecosystems using cryptography. Apheris has implemented its technology into industries such as pharmaceuticals, manufacturing, insurance, cybersecurity, telecommunications.
Cinnamon AI
Tokyo-based Cinnamon AI was founded in 2012. This company has developed an artificial intelligence-based document reader, Flex Scanner, which can automate the extraction of data from unstructured documents. This technology is primarily focused on financial services, and aims to eliminate repetitive tasks, expand human potential.
In addition to the company's in Tokyo, Vietnam, Taiwan, it expanded into the United States in 2018, opening an office in Silicon Valley to drive the development of its AI platform and products. In addition to its data extraction tool, Cinnamon AI has also created a recommendation engine that matches users with products, an effective chatbot for decrypting call center records.
DataKitchen
DataKitchen, headquartered in Massachusetts, was founded in 2013. This company has built a platform that automates end-to-end workflows, helps manage teams, toolchains, environments within or across organizations, starting with orchestration, testing, and monitoring to development and deployment. This technology aims to help data analysis companies use their favorite tools, reduce errors in the development and production pipeline, create an effective work environment to help teams make changes, experiment without disrupting production, as well as deploy new features with a single touch of a button.
DataRobot
DataRobot is a Boston-based company that has created artificial intelligence technologies and ROI services for businesses. This startup was founded in 2012 and has raised $431 million in funding since then. Its technology has been used by companies such as Walmart Canada, Deloitte, Kroger, etc. This platform can be used by executives, analysts, data scientists, software developers, and IT professionals.
Skin Analytics
Skin Analytics is a British startup established in 2012. It developed and tested an artificial intelligence platform that aims to detect skin cancer at an early stage to help those in need of medical care get it as early as possible. This startup's technology creates a digital history of each user's skin for doctors to measure, track, better understand processes within. The company has received awards from the NHS Innovation Accelerator, Digital Health London, the UK Business Angels Association. Skin Analytics also partnered with Bupa to provide remote skin assessment services. The company successfully received funding that will allow its expansion to the United States.
Algorithmia
This Seattle-based company was founded in 2013. The Algorithmia platform is a crowdfunding platform for algorithm creators. Algorithmia startup allows developers to create their algorithms, profit from them. The Algorithmia service can be interesting for scientists, programmers, and independent developers alike. Users can post their algorithms on the Algorithmia website and, looking for a buyer. One can also order custom algorithms through their service. If desired, algorithms can be posted on the site for free. It's an extremely handy service that is appreciated by people of many industries.
Drawing our Research to a Close
As the world of data science continues to evolve, it is not surprising that increasingly more startups appear each year, keep developing innovative, interesting, most importantly useful technologies for people and industries across the globe. As the world changes, science and progress follow along, driving the creation of innovative AI-based technologies.
It is comforting to see that many individuals and teams of like-minded people recognize the demands and issues of the modern world, do their best to develop and offer effective solutions. Following the progress of such companies is fascinating, even eye-opening.
We hope that our article drew your attention to startups that conquered the world of AI solutions, taking the technology by storm, giving back a hundredfold!